May 9, 2018-My 4th #ulog - Lesson I Learned From The Book I Read Today.
I am a certified bibliophile. I love reading all kinds of books.When I was younger it was really my beloved mother who would read us books before going to sleep.But I was an elder sister to my other siblings, I was assigned to read books for them.And they love it very much!!
I am an introvert and I have the difficulty to stand none sense conversation especially topics I'm not really interested in. I also find watching TV as a boring hobby.It's like the TV channel are just feeding you with information you don't really need and manipulating your thoughts. I have trust issues too.I don't always believe in the mainstream media. I know that they are not always delivering truthful news.
I found a friend and tranquility in reading.It has made me look crazy .I cried , I laughed , I smirked and sometimes made me bawl.I was annoyed with my other siblings when they were lazy to read.They just asked me to summarize the story for them.It's just that, when the story is funny, I laughed hard first after stating the first sentence and can't finish the whole humorous scenario.I laughed alone and I really can not finish telling them the funny part of the story.I'm a horrible storyteller of funny stories.
As I grow older , my preferences had changed. While I found novels and fictions to be soothing and imagination- challenging , I shifted on to reading financial literacy and self-help books.It gave me an impression that life is the way we live now.These are the reality we are facing.The world has rapidly changed and it is getting polluted with competition and technological advancement. As the technology helps us to have our convenience and makes things happen in an instant, We seem to be lacking in time to accomplish more of what we need to do.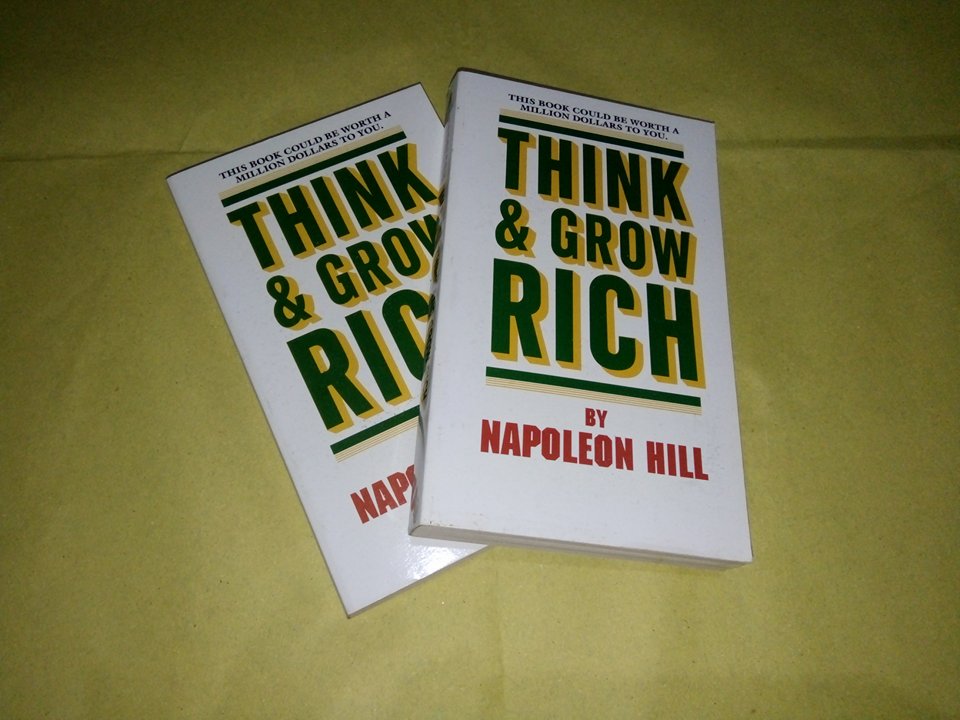 In every book that I read there's always a lesson I treasure from the authors.But what book really influenced me the most?Actually, it's really hard to choose.I am currently reading a book of Napoleon Hill. And his book I love the most is Think and Grow Rich..I will quote here below the lines I really loved form his book;
Lack of persistence is one of the major causes of failure .Moreover ,experience with thousands of people has proved that lack of persistence is a weakness common to majority of men.It is a weakness which may be overcome by effort.The ease with which lack of persistence may be conquered will depend entirely upon the intensity of one's desire .
Without persistence , you will be defeated ,even before you start.With persistence you will win.
Napoleon Hill really emphasized the significance of persistence in winning in LIFE.I may add other statements from him,
Those who have cultivated the habit of persistence seem to enjoy insurance against failure.No matter how many times they are defeated , they finally arrive up toward the top of the ladder.Sometimes it appears that there is a hidden GUIDE whose duty is to test men through all sorts of discouraging experiences.Those who pick themselves up after defeat and keep on trying , arrive:and the world cries , " Bravo ! I know you could do it! "
Those who cantake it are bountifully rewarded for their persistence .They receive , as their compensation , whatever goal they are pursuing .That is not all!They receive something infinitely more important than material compensation-The knowledge that every failure brings with it the seed of an equivalent advantage.
Persistence is a state of mind.Therefore , it can be cultivated.it is habit forming and based upon definite causes.
Upon reading his book , I evaluated myself if I am persistent enough. Yes, I am definitely persistent because I always hold on to my goals. Whatever distractions there is, I cling to my what I really want in life.
This is just one among the lessons I learned from my fave author.Tomorrow in my next #ulog I will tell you more about this book.
Happy Reading!
May 9, 2018
@2:46 pm


I thank @iwrite and @purpledaisy57 for mentoring me.
Our mentor @surpassinggoogle has been very supportive of our group #Steemitdiversify and other groups too. Please support him as a witness by voting him at https://steemit.com/~witnesses and type in "steemgigs" at the first search box.
If you want to give him witness voting decisions on your behalf, visit https://steemit.com/~witnesses again and type in "surpassinggoogle" in the second box as a proxy.
Others that we should support are: @henry-gant, @kenny-crane, @beanz, @teamsteem, @good-karma, @busy.org, @esteemapp, @hr1, @arcange @bayanihan, @acidyo, @anomadsoul, @steemitph, @jerrybanfield, @darthnava, @paradise-found, @bobbylee @geetharao, @stephenkendal, and @richq11; they also have supported us. Thank you very much.