My 5th #Ulog- A Challenging Day
Hello fellow Steemians. How have you been these days? While everyone were busy doing their #ulogs and #blogs. I was also hurdling with challenges and so many issues that had happen yesterday.
Last night I slept at around 4:00 am in in the morning I had difficulty in falling asleep because I drank a cup-of-Joe in the afternoon.I really cannot sleep that I opened my laptop.@sitiaisha was online so we had a little chat.
I got up at 10:00 am and I did the laundry while my husband was cooking. I usually have our laundry picked by the Laundry Service Centers but I'm not satisfied with how they washed our clothes.I'm an OC and somewhat sensitive when it comes to cleanliness. After eating my brunch , I went to the money remittance centers to claim the payments from my book customers.
I bought also some bed sheets and blankets for my Mom.It would be my gift for this coming "Mother's Day".On Saturday, we'll be travelling to Iloilo so I will personally hand her my gift.SM is still on sale , I got 20% off from what I bought.I have the difficulty looking for a cotton blanket because most of the branded items are expensive. I just "lunok-laway " while paying the cashier.But it's fine because I know, mom will be happy. The cashiers really insist to buy the SM Advantage Card but I refused for so many reasons. I am not into shopping. I am a minimalist, so I seldom buy at SM Department Stores.And We usually buy from the market or "tumpok-tumpok".We are not only buyers soap, oil , shampoos in the supermarket. We feed ourselves with fish, fruits and vegetables.Every weekend we buy in front of NHA in Quezon City , the fruits and vegetables from Baguio City.
When I arrived home, my husband looked do worried and frustrated. Before settling down to sit.He told me what had happen to one of our distributors. We are supplying car accessories exclusively for the physician's.And one distributor scammed her customers. Since we are selling online, they searched for other suppliers offering the same products. He was worried because there's many of them. The money were sent to her husband's name via money remittances and other's to my husband's bank account. The products were given to the reseller but she didn't ship the orders , instead , she got the money only and sell to other clients who wants to buy via meet -up basis.That's very deceiving of her.
Since all clients are doctors /physician's they formed a group and reported the reseller's page. They even told my husband that they filed a blotter to the policemen already.So my husband told them that he just need proofs of payment and their complete details. He will send their orders ASAP.It somehow calmed them down.Everything went well and the reseller cannot be contacted already. So if we have to replaced all the paid orders it would cost us a lot of expenses and losses. So, I said, we need to protect our credibility , losses are just temporary.Still you'd get their trust again.
After eating our "merienda" at 3:00 pm , I have my scheduled interview .Three applicants had been interviewed .They are applying for as a home based online teachers. I had fun talking to them because they are perky and determined to start working.I finished the interview in less than 15 minutes in each one of them.
I have noticed that nowadays, most moms really want to work home based. There's nothing comforting that seeing your children around while you are working.That is why, most applicants have the urge to have a good internet connection, so that could be more productive. Whether we admit it or not, poor internet connection can really give us a "bad day".
It has been a productive day with ups and downs today. A roller-coaster ride happening in a day.After that interview I had my online classes.And I did this #ulog before my online training as a Virtual Assistant. Yes, I'm busy but , I need to improve myself even more. I will be entering the virtual assistant world next week.I did the training and was hired so, I will be travelling to Iloilo for business and leisure on Saturday. I will be starting anew career , still I'd continue being an online teacher. I always love to do the things I'm afraid of.I don't limit myself, so I think I can do loads of responsibilities and still keep my sanity.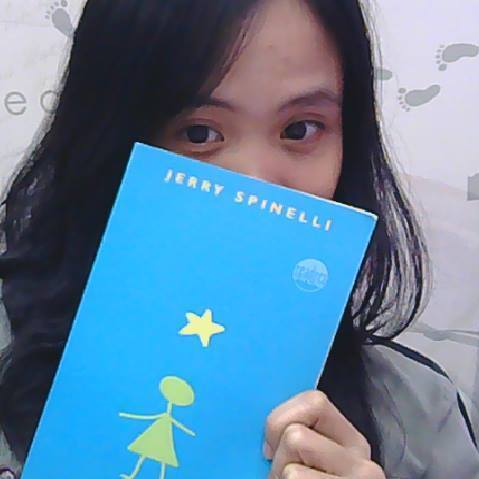 Star Girl Book by Jerry Spinelli
Thank you for Reading !
May 11, 2018
@12:39 am

I thank @iwrite and @purpledaisy57 for mentoring me.
Our mentor @surpassinggoogle has been very supportive of our group #Steemitdiversify and other groups too. Please support him as a witness by voting him at https://steemit.com/~witnesses and type in "steemgigs" at the first search box.
If you want to give him witness voting decisions on your behalf, visit https://steemit.com/~witnesses again and type in "surpassinggoogle" in the second box as a proxy.