Create Handcrafts Out Of "Quotes By @surpassinggoogle" (Quote #2) - @lemedieval
---
Hola amigos ¿cómo están? / Hello friends ¿how are you doing?
---
Aquí está mi entrada la iniciativa: Crea manualidades de las "Citas por @surpassinggoogle". Ya vamos por el Quote #2 :). Utilicé pabilo esta vez para hacer la frase.
Here is my entry the initiative: Create handcrafts out of "Quotes by @surpassinggoogle". We are already on Quote # 2 :). I used wick to make this quote.
---
Today's quote:
"Even talent is not that impressive without the substance of the human, for there are many talents" by @surpassinggoogle
---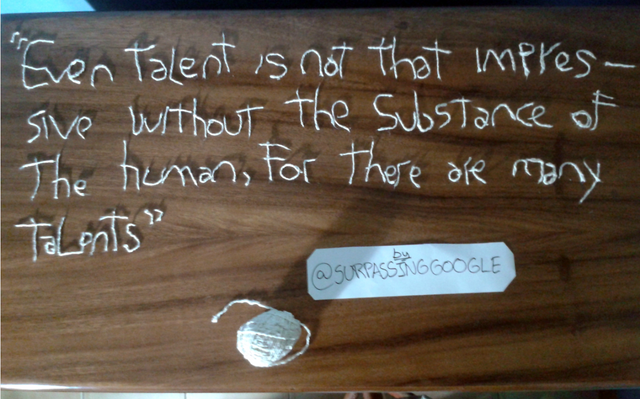 Prueba: / Proof: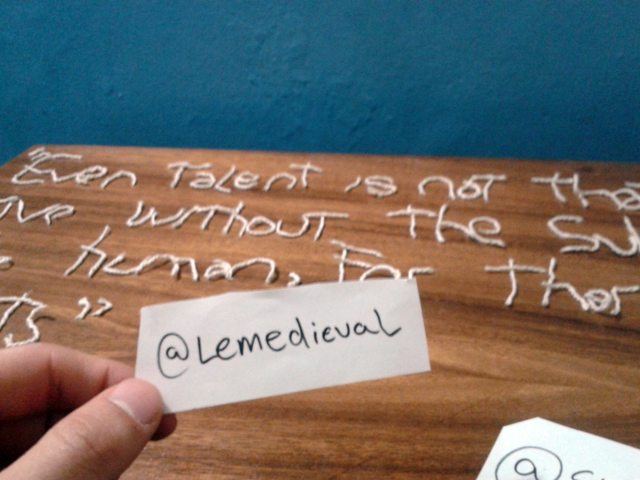 ---
Fue bastante complicado darle la forma de las letras al pabilo. De hecho llevo desde ayer haciendo esto por eso mismo. De todas formas creo que valió la pena por el resultado.
It was quite complicated to give the shape of the letters to thewick. In fact I have been crafting this since yesterday for that reason. Anyway, I think it was worth the effort.
---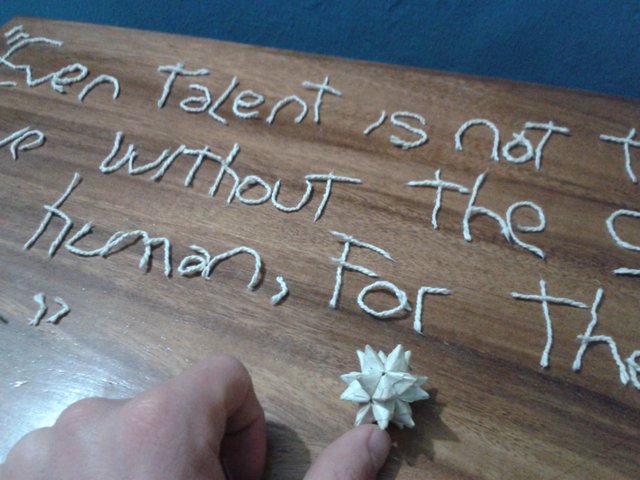 ---
¡Participen! Post original: https://steemit.com/ulog/@samic/ulog-surpassinggoogle-create-handcrafts-out-of-quotes-by-surpassinggoogle-quote-2
---
¡Chao!
---
@lemedieval