Hello everyone!
My sister's boyfriend (@jepoyasinas) told me about this and I quickly search to learn more about it.
I was grateful that Sir Terry (@surpassinggoogle) come up with an idea of creating "Ulogs", these are steemit posts that records your daily activities; celebrating "YOU" and life are "Ulogs".
And because of ulogs, everyone in the Steemit community has an opportunity to post a blog about themselves, and to share some new, unique and realistic stories to everyone.
It is helpful to everyone because it will be easier for us to think what will our post would be for everyday.
Now, I'm going to join in this new trend, and this post will be about some facts about me.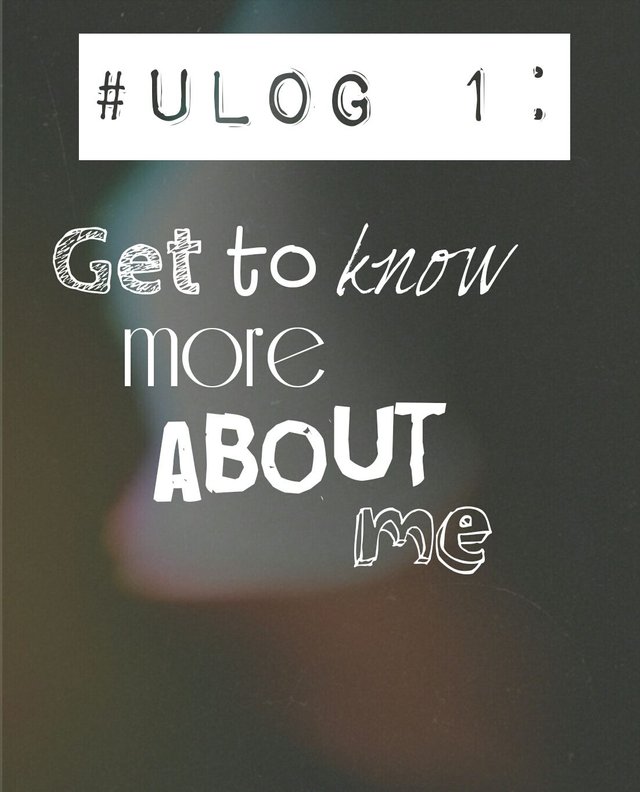 Today, I'm still confused on what course should I choose for college. I know that there's so much time to think for that because I'm still an incoming Grade 12 student. But, I have to be prepared for it because it will only take some 10 months or over then, boom! I'm already a college student. It makes me sad thinking how fast the time flies.
I'm a General Academic Strand (GAS) student, meaning I'm still undecided on what career should I pursue.
I have a career on my mind and that is to be a Film Director.
But, sometimes, it comes to my mind that maybe being a film director doesn't suit me, and maybe I should just think for another career because there are no near schools in my hometown that offers a course like that. I also don't want to be far away from my family, because I'll miss them so much. And there are more reasons that will make me think that I maybe I should not take that course anymore. It's kinda heartbreaking though.
Good thing, I have some things that I think I'm good at:
Writing poems
Photo Editing
Video Editing
Photography
Remixing of Songs
I'm just using my mobile phone so you'll expect that some of my works are somehow, simple. It would be much better if I have a computer so that, I will edit all of them there.
So, this is some few facts about me and I hope you guys like this post! You guys should create ulogs too, so that you can share your own stories too! Have a nice day everyone! :)