名画欣赏--红色葡萄园
名画欣赏(梵高)--红色葡萄园
An appreciation of great painting
The Red Wineyard (Vincent van Gogh)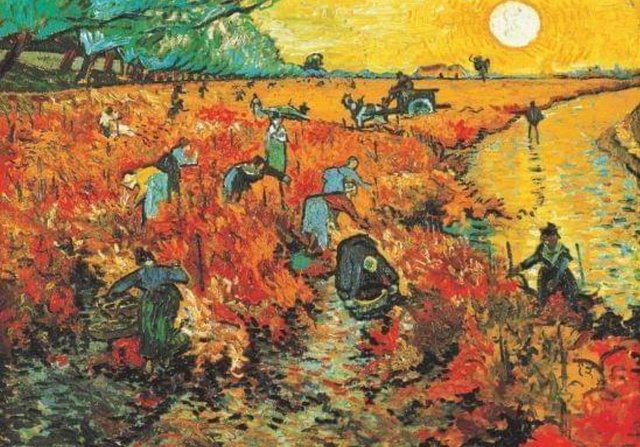 Source
Did you know that Vincent sold a few paintings during his lifetime? This painting: The Red Wineyard was sold!
你知道梵高生前卖出过一些画吗?这幅"红色葡萄园"被成功卖掉了咦!
The atmosphere, the extraordinary colour, the movements of the working people in the field are somehow bounded by one flow smoothly passing from one to the other. Added to it is the easy flowing knee deep stream, the silvery sun, the yellow sky....each and every loose items in the painting combined resulted into one whole, and that, leads the spectators to an unseen world of simple joy and happiness never to be found anywhere. Only a great artist can reach to that highest point of dreamy imagination not forgetting the reality!
该画里的氛围,绚烂的颜色以及葡萄园中工人的活动姿势仿佛在彼此之间流动着。再加上流淌的没膝河流,银色太阳黄色天空,画中每一个松散的单位构成一个整体,引领观者进入一个充满欢快和幸福的隐形世界。
只有伟大的画家才能画出这样的高度--似是梦境而又写实!