A good friend and I were talking the other day.  We weren't really complaining.  It was more... commiserating on our inability to find meaning in the mundane.  Well, that sounds extra depressing.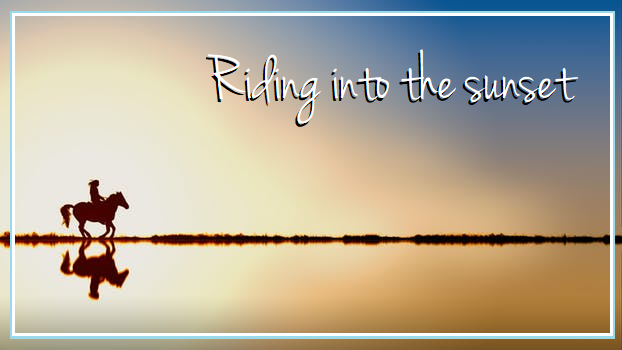 There is something so alluring about that ride into the sunset, when the hero leaps up onto his trusty horse, gives a gentle squeeze and they both meander lazily towards that giant, red orb descending behind the mountains.  The orange hues that play off the rock and road, while spirals of dust swirl at the hooves of good ol' Trigger.   or Pioneer.  or Silver.  Whoever, really.
It just evokes that feeling of "Job well done" and "I can finally rest".  But we only really have one true ride into the sunset, and I do believe that is far off into the distance for me.  Until then, if you get onto that horse prematurely, you're going to be expecting closing credits, experiencing a long ride, saddle sore - and then, realizing the inevitable sunrise behind you. And then what?
Hm. Then what, indeed.
Continue what you started.
Find joy in the places where it's unexpected.
Do what you should, not what you feel.
Surround yourself with people who remind you of your "why".
Enjoy some sunshine. (really, it's like medicine)
Laugh too.  (also - even better medicine)
Pour into others, and stick close to the ones who pour into you.
Your sunset ride will eventually come. Until then...
Ride like the wind, Bullseye!  - Woody, Toy Story
Sunset Ride