TECH101- My Journey to Technopreneurship (Blog #6)

Technopreneur Blog
By: Dinmark Taguic
"Technology has become an integral part of mankind. Technopreneurs and Technopreneurship is a course that aims to motivate more people to consider their entrepreneurial potential using technology. "
---
Week 6 - The Interviews (December 17,2018)
After our first proposal to our professor/instructor. Our ideas was fine but he said that we need to conduct more interviews regarding what is the "problem", both our customer the "businesses" and "users" of our website. So by the help of social media I stated to my last blog. I ask the users about the problems why they choose to use catering service online.
So me and my team, Use this strategy to conduct interview and survey using "Facebook" to get more people to ask. After that, We conduct meetings to talk about what answer we got.
Sample of answer we got using social media:
My Question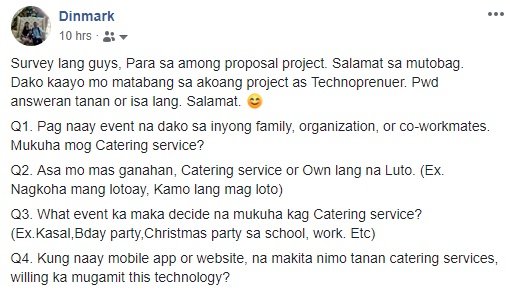 ---
Sample Answers we got:
1.)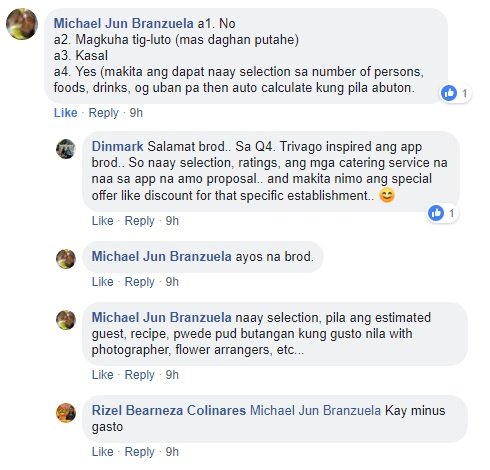 ---
2.)


---
3.)


---
By the help of our fb friends we learned that not all people want to use online services but 90% of them answer positively that they want to use catering service online because it is hassle free that finding establishment one by one and asking what was their price listing about their services.
So our individual information give us hope about our proposal. So we decide before January 5, We need to ask the businesses about their problems why they should choose us and need help using our website/app to promote their business.
---
Thank you for reading my blogs, Don't forget to follow and upvote my post. :) :)
---
>> I am a Member <<