The Lord Jehovah has been working wonders in our lives which we know nothing about. Perhaps we will never know in this lifetime until that day when we join Him in that eternal home He prepared for us. Our thoughts are not His thoughts. He is greater in all things as He is the omniscient God who created all things.
We wonder how things work in nature and try to find explanation and meaning from books, intellectuals, and other sources we can find. But we cannot simply fathom the work of God. And for this reason, we simply have to put our trust in Him.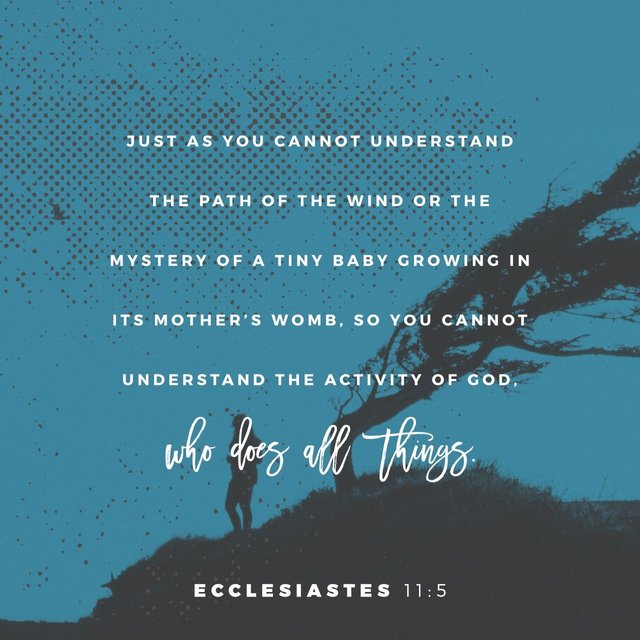 Our limited knowledge of God and our efforts to understand His ways are fruitless and vain at best. We try to predict weather, dissect God's creation in nature, and explore the human psyche just to understand how life works on this planet only to come up with more wonders to think about.
We try to contain God and His work into our small and limited mind. Just as earth is a small speck in the universe, so our minds are smaller than the smallest dot on this earth. Our sinful nature hides God and His wondrous ways from our understanding. The only way to truly understand His ways is to trust Him with your mind, soul, and heart.

Just as you do not know the way and path of the wind or how the bones are formed in the womb of a pregnant woman, even so you do not know the activity of God who makes all things.
ECCLESIASTES 11:5 AMP
https://bible.com/bible/1588/ecc.11.5.AMP
Upvote and Resteem, pretty please...
FOLLOW
@cjclaro
if you are blessed by God's Word today or you are into rainbow, sunset, golden hour, black and white, macro, rain, nature, or smartphone photography and just about anything on photography.