I grew up in a small family. I don't have any siblings. I just have my mom and my dad. Growing up, I was used to my parents being protective and strict. And yes I really do understand why and life was very okay with that. My dad is the more guarded parent. He used to accompany me to school and fetch me everyday, right after the school day is over. We're really super close when I was a kid but that sort of changed when I hit puberty stage. I became quite rebellious during high school days since for me, his being protective is already too much and I felt like I have no freedom anymore, even if I ask permission from them about everything that I do all the time.
Because of those times, I felt like I'm being disconnected from him emotionally because of all these other things I'm feeling. My relationship with him was challenged a couple of times more when I hit college. That's when I started to do things even without his permission and have learned to talk back to him or going home very late. That's when I actually started traveling on my own or going to places far away from home and riding on the bus just to feel really free (some of these things I haven't confessed to him yet).
I started to hate him a little. But when that happens, mom intervenes and tells me stories I didn't know. Stories of how my father strived when I was a baby, of all the difficulties they had to go through starting a family, of how my father sacrificed so much through working far away from home just to provide for me. Of how my father loves me. And then I heard this heartbreaking story of how much my father really cares about me. There was a time when he used to work in Manila (far away from Cebu) when I was still very young, and he'd actually send all of his salary to us without leaving something for himself. Mom told me that dad only buys rice every lunch time in the canteen and then asks the waitress for some soup (sabaw) just to be able to save money. He doesn't even buy himself some decent lunch, he sends all of his salary to Cebu just because I'm always sick. And that story broke my heart so much. Mom doesn't want my dad to know that she told me that story. And I became guilty of all the hatred that had slowly formed in my heart over the years. I realize I love my dad so much too.
That was maybe a year ago. Right now, I'm already a member of the working community. I'm very much thankful for my parents that I was able to graduate college and have a very good job and that's because of all their sacrifices, especially dad's. Without his ultra supervision, I would not have achieved what I have today. And right now that I understand better and have realized the things in life that really matter, I started to rekindle my relationship with him and get to be close to him again. Just like how we were when I was young. And so today, since It's Father's day, I made sure to make him feel special.
---
Dining out is something that we don't usually do. And it's actually very hard to have my parents get out of the house since they are both home buddies and loves to stay at home all the time. But luckily, tonight I got them to come with me. I said I'll treat them both to dinner and bribed them by saying that I'll pay for everything.
I brought them to eat pizza, chicken, spaghetti, and lasagna with me in Greenwich. It's the first time we've had this kind of dinner together since we mostly have dinner in the house. And so, I did not miss this opportunity to have our family photo taken.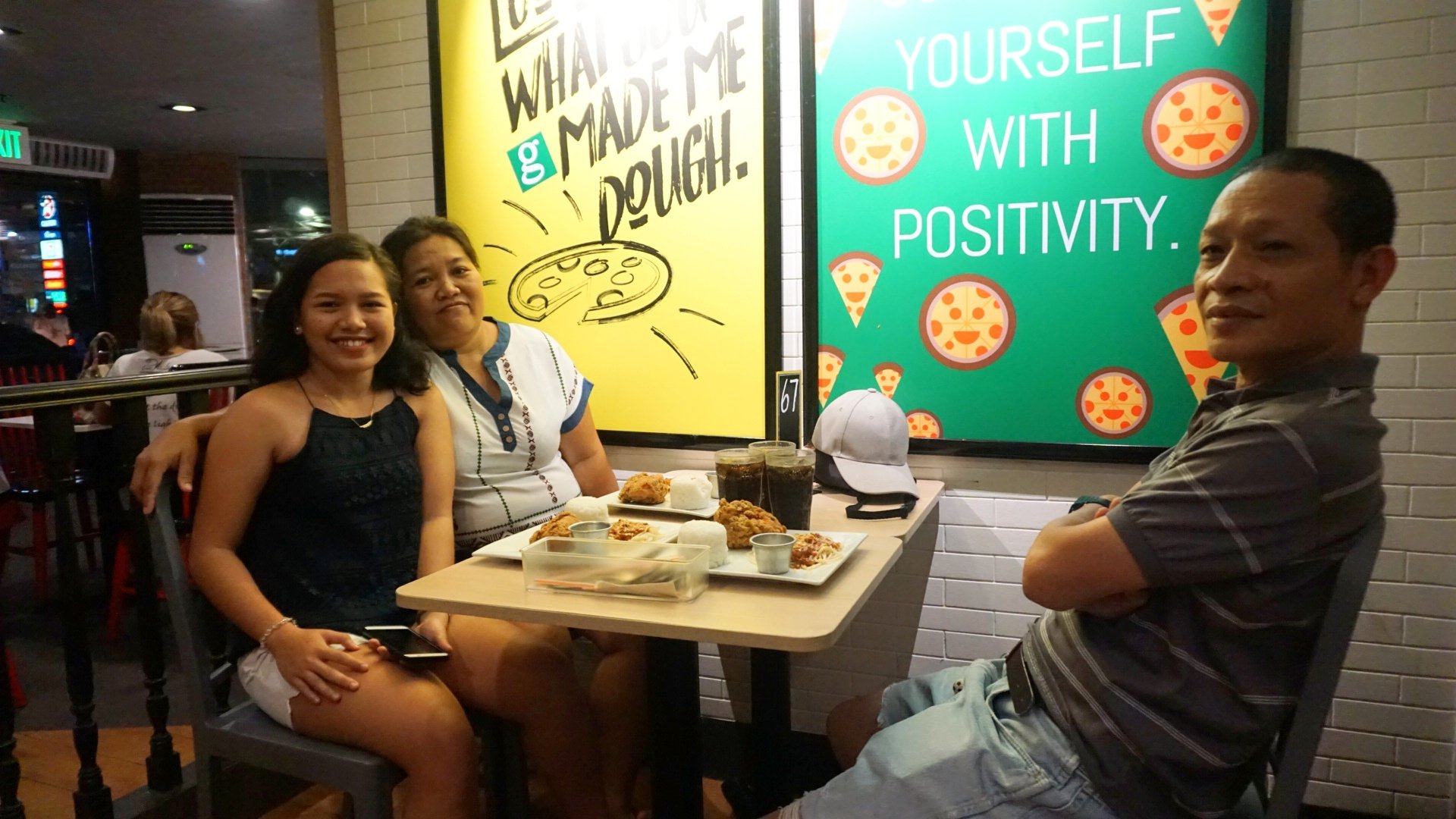 This is actually one of those rare moments that my dad poses for a photo. He's very camera shy and only have his photo taken for an ID or something. I'm blessed I have this to keep for a lifetime.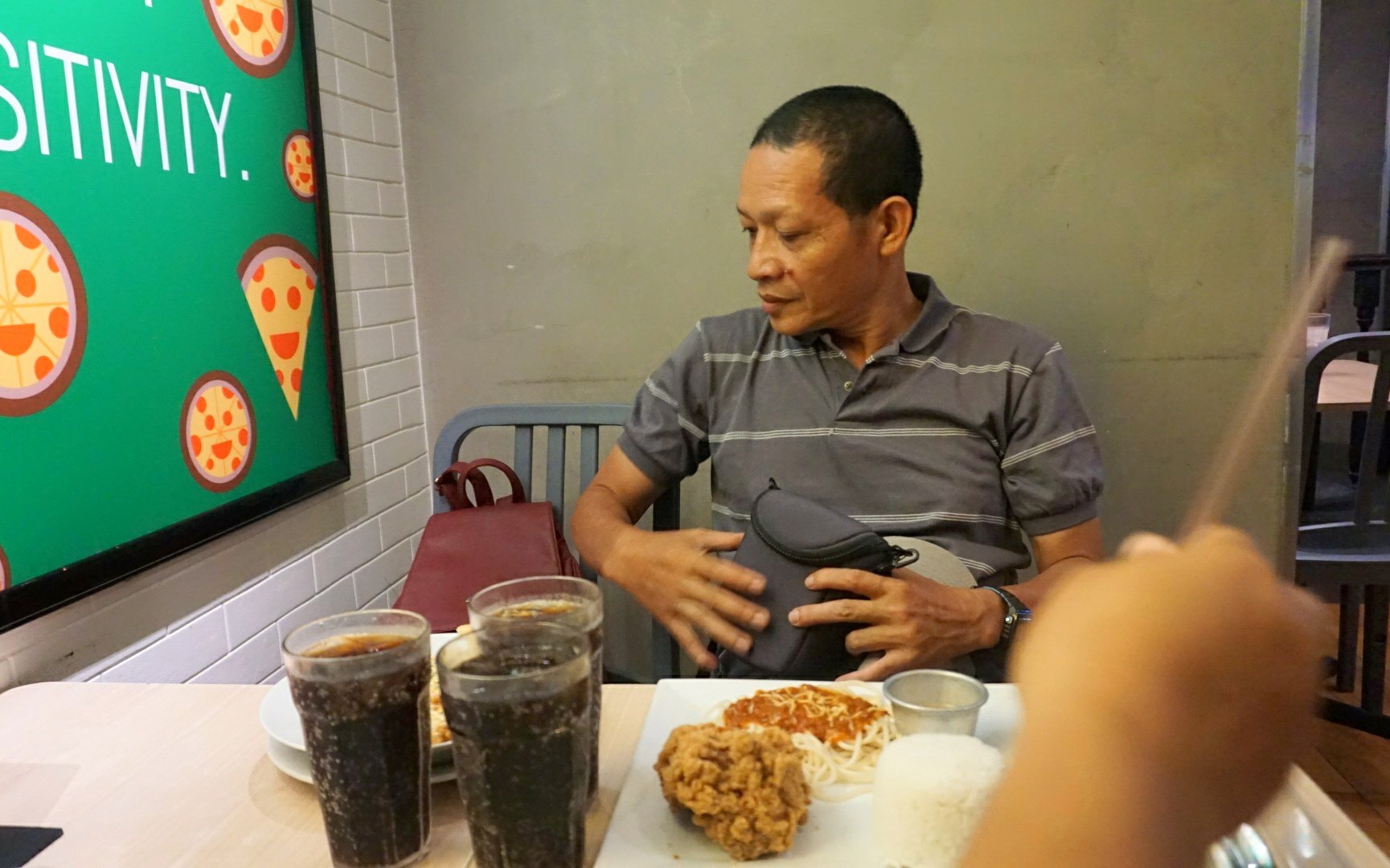 I tried to capture a photo of him without him knowing instead 😅 I also bought him that shirt he's wearing as a Father's Day present.
Overall, I enjoyed this night as much as my parents did. It just feels so good to spend some good and quality time with each other. I'm glad I have them as my parents. I don't ever regret anymore the way they are as I grow up. I certainly understand everything. And I'm so thankful for them being like that. I'm thankful that I can tell them anything that goes on in my head. I would trade anything just to have more nights like this. Tonight, I did not hesitate to tell my dad that I love him. It kind of felt awkward after all the years of sulking and not-so-good relationship but hey I know I have a lot of catching up and making up to do. I greeted my dad with a Happy Father's Day too with a hug and I know he felt that, because I did too. cries
To all the daughters and sons out there, never miss a chance to tell your parents how much you love them. Never miss the opportunity of spending time with them. Treasure them. Appreciate them. That's the only reward satisfying enough for all their hardworks.
To all dads, Happy Father's Day. You make the world a better place.
To my dad, I'll spend the remaining days of my life making it up to you. I know I have not been a good daughter but I promise I'll work hard to become one. I love you always and thank you for everything. ✨
Once again, Happy Father's Day.