ULOG: 17 "The Police Confiscated 12 Kg Methamphetamine (sabu) from Malaysia on the Border"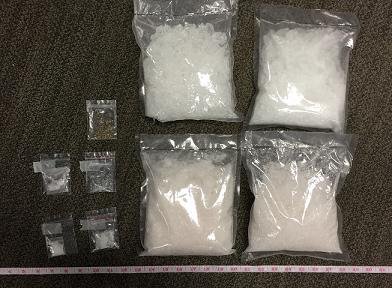 Img source : thestandart.com
The North Kalimantan Nunukan Resort Police succeeded in securing 12 kilograms of methamphetamine smuggled from Malaysia.
Nunukan Police Chief Adjunct Senior Commissioner Jepri Yuniardi through the AKP Rescue Narcotics Muhammad Hasan Setyabudi said the 12 kilograms of methamphetamine was secured from a hotel in the border area of Sebatik Island when police conducted a sweep operation.
"Secured on Saturday (16/09), 6 perpetrators were secured. We secure 12 kilograms of methamphetamine and 3 cellphone perpetrators, "he said, Monday (09/24/2018).
The Nunukan Police Reskoba Unit then conducts control delivery to Parepare, South Sulawesi, the destination of the 12 kilograms of methamphetamine.
From Parepare, the police managed to secure 3 other suspects, Wahid (40), a fisherman from Banggai, and Awaluddin (21) and Muhajir (19) who were in charge of picking up methamphetamine.
The police also secured Fahri (27) and Andi Riko (18), residents of Sidrap who are also members of the methamphetamine network from Malaysia.
"We also secured 7 mobile units and 3 motorbike units as evidence," Hasan added.
Unfortunately, the owner of the goods Andi Umrin (55), a resident of Sidrap City was not at his house when members of the police raided his residence.
Ditreskoba Kaltara Regional Police finally issued a DPO status for Andi Umrin.
The police also coordinated with the Malaysian National Police through the Consulate General in Tawau Malaysia to arrest DPO on behalf of Adi and Hendri in Kota Kinabalu Malaysia.