UFC 229 Conor McGregor vs Khabib Nurmagomedov (10/6/18 - 10PM/7PM ET/PT)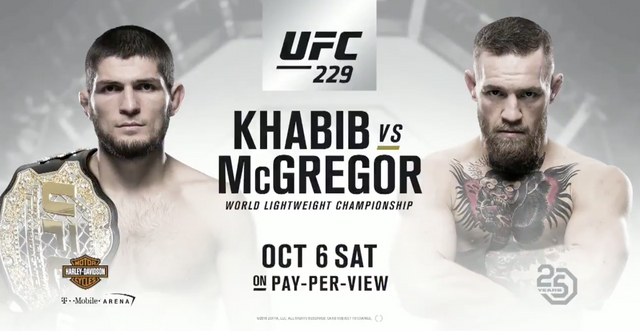 In 24 hours, fight fans around the globe will be watching to see who walks away as the new Lightweight Champion of Mixed Martial Arts!
---
How to watch
Main Event Starts:
10PM ET / 7PM PT / 2AM UTC / 2PM AEST / 3PM NZDT
---
The Moment We've All Been Waiting For!
Whether you're a fighter, a fan, or neither, the hype behind this fight is so large that almost everybody seems to have an opinion of which fighter should win.
I've been following mixed martial arts for some time now, since a good friend of mine became a professional mixed martial artist and personally, I've always enjoy the thrill of a fight (Lightweight is also my weight class so I'll be sitting on the edge of my seat watching every movement).
There's no sense in me explaining what events transpired prior to UFC 229. It's been covered by every media outlet imaginable & honestly, there's a lot to cover...
For those that need to know, here's a full-length clip from the UFC called "Bad Blood".
---
---
Both fighters have admitted that this fight is personal, which is nothing new when watching a Conor McGregor fight.
Conor is notorious for his mind games & making his opponents loathe him. Getting inside an opponents head is half the game, yet we're still unsure whether he has or has not gotten inside Khabibs'.
Khabib has shown full composure, despite all the accusations & abuse that's been slung at him. Khabib is adamant on humbling Conor during the fight & believes Allah will help him win.
The world's greatest grappler boasting a record of 26-0 verses one of the greatest strikers in fighting history with a record of 21-3.
This fight is not just a fight, it's a war.
The style match up alone, between these two fighters, is what a lot of fighters are paying most attention too.
How is Conor going to negate Khabib's takedowns to avoid an inevitable submission?
How is Khabib going to pressure Conor without getting struck with his heavy left?
It's anyone's guess at this point though the sentiment remains the same amongst fans.
Khabib will submit Conor within the 5 allotted rounds, or Conor will knock out Khabib within the first 3 rounds.
Everyone knows that the Irish do not compete in professional wrestling on the world's stage & is McGregor's one flaw. The country of Dagestan however is one of the most decorated regions for wrestling in the world & as such Nurmagomedov is unmatched on the ground.
Despite this, I'm a Conor McGregor fan boy (simply because he continues to prove me wrong). Though I feel tomorrow's outcome will be the more obvious one, I will still be supporting Conor "The Notorious" McGregor against Khabib "The Eagle" Nurmagomedov.
Let's see another first round K.O from The Notorious One!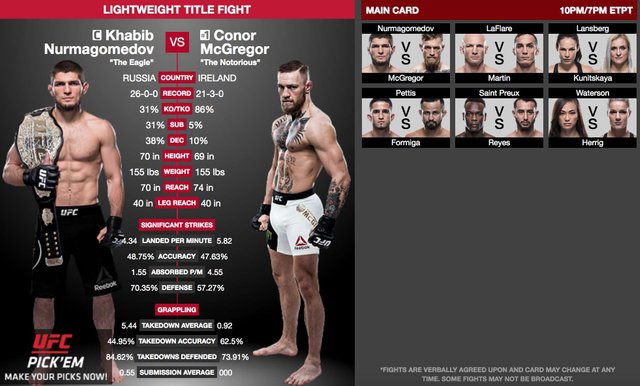 UFC 229 Fight Card
Post your predictions in the comments below & let us know where in the world you're watching from!
---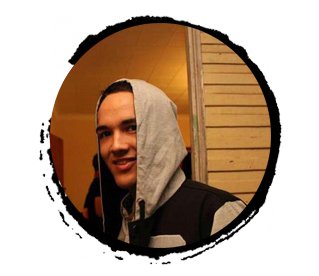 Thomas Te Aroha Kohi
25
Blogger | Music Producer
"Our lives begin to end the day we become silent about things that matter"