Hola amigos, en esta oportunidad quiero darles mi opinión acerca UFC 221, especificamente de la pelea entre YOEL ROMERO y LUKE ROCKHOLD.
LUKE ROCKHOLD, excelente peleador tiene victorias contra grandes peleadores tales como CHRIS WEIDMAN, el dragón LYOTO MACHIDA, DAVID BRANCH entre otros. No cabe duda el arsenal de este hombre que tiene a la hora de pelear, y sin duda tiene un mejor cardio que el de YOEL ROMERO; LUKE fue campeón de peso medio de Strikeforce y campeón de peso medio de UFC, por todo lo anterior no cabe duda que será un excelente contendiente.
YOEL ROMERO, hombre cubano con un cuerpo sumamente atlético, campeón mundial de lucha libre, ha conseguido nocaut sorprendete, recuerden aquella rodilla voladora en el tercer raund que impactó al arriba nombrado CHRIS WEIDMAN, dejándolo a su merced por tan fuerte impacto (nocaut técnico); derrotó también a JACARE SOUZA, quien hace poco ganó una excelente pelea.
Asimismo, ha derrotado a grandes peleadores tales como DEREK BRUNSON, LYOTO MACHIDA.
Una de las derrotas que tiene YOEL ROMERO, fue el último combate contra ROBERT WHITTAKER, derrota esta que a mi parecer no fue así todo lo contrario, pero se debe respetar la decisión de los jueces.
Este cubano tiene una debilidad que es el cardio, sin duda ha mejorado muchisimo, peleando inteligentemente y gastando energía en momentos precisos de sus peleas.
Finiquito diciendo que el ganador será YOEL ROMERO, dado su nivel de lucha, fuerza superior a la de LUKE ROCKHOLD, y una rápidez en sus golpes que pocos peleadores tienen. Amigos no duden que el cubano ganará y por nocaut.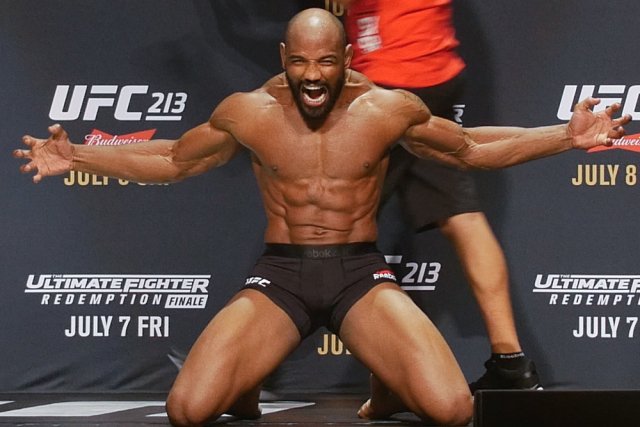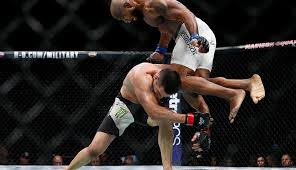 Hello friends, in this opportunity I want to give you my opinion about UFC 221, specifically of the fight between YOEL ROMERO and LUKE ROCKHOLD.
LUKE ROCKHOLD, excellent fighter has victories against great fighters such as CHRIS WEIDMAN, the dragon LYOTO MACHIDA, DAVID BRANCH among others. There is no doubt about the arsenal of this man he has when it comes to fighting, and he certainly has a better cardio than that of YOEL ROMERO; LUKE was the middleweight champion of Strikeforce and UFC middleweight champion, for all the above there is no doubt that he will be an excellent contender.
YOEL ROMERO, Cuban man with an extremely athletic body, wrestling world champion, has achieved knockout surprise, remember that flying knee in the third raund that hit the top named CHRIS WEIDMAN, leaving him at his mercy for such a strong impact (TKO) ; He also defeated JACARE SOUZA, who recently won an excellent fight.
He has also defeated great fighters such as DEREK BRUNSON, LYOTO MACHIDA.
One of the defeats that YOEL ROMERO has, was the last fight against ROBERT WHITTAKER, this defeat that in my opinion was not quite the opposite, but the decision of the judges must be respected.
This Cuban has a weakness that is cardio, no doubt has improved a lot, fighting intelligently and spending energy at precise moments of their fights.
I finish saying that the winner will be YOEL ROMERO, given his level of fight, strength superior to that of LUKE ROCKHOLD, and a quickness in his blows that few fighters have. Friends do not doubt that the Cuban will win and by knockout.