Better than UBI: Human Reason To Work... what the proponents MISS!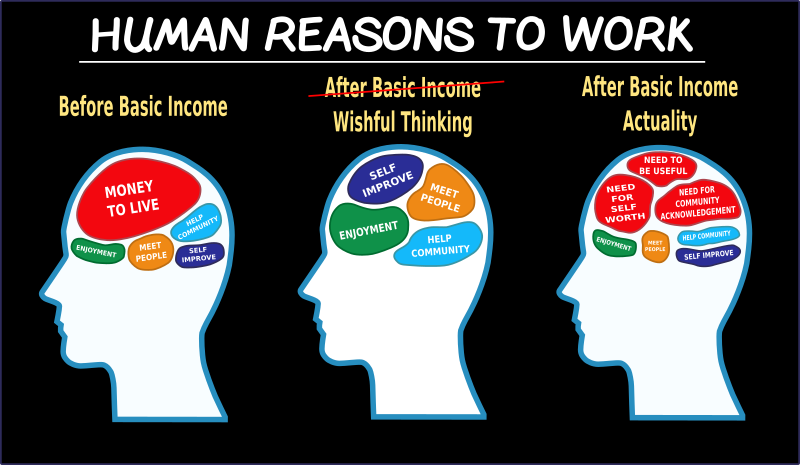 This image shows it all.
The entire reason why people believe in UBI (universal basic income)
And why it really fails.
After the fall of the soviet union, many workers were still getting paid, but they had no work. So, many of them ended up drinking themselves to death.
Imagine that, a world were all the limits were taken off, and one could do almost anything, and had still had money coming in and a place to sleep. All of the things the people clamouring for UBI want. But, did it produce more self actualized, life enjoying people? NO. It created a bunch of people who's self image was destroyed.
Currently a person's self worth is based on their job. Their pay is a indicator that they are helping the community; that they are doing something meaningful. You take that away, and what you get is a person who is missing their self worth.
We do not get happy, self improving, community minded people.

Here in The US, one can get by living on couches are in halfway houses. They can learn almost anything from the internet. They are free to start businesses. Freer than many places in the world, and most will never do more than thinking of starting.
Here in america, we have had a self-help book craze! And how many people actually got actualized? Not many.
Jim Rohn has a well known speech, "Walk Away From the 97%".
It is simple to become financially independent, so why do only 3% of the people do it?
97% of the people are not living well below the poverty line.
It isn't 97% of the people who need just a little more money (from the govern-cement) so that they can finally turn their lives around.
No, there is something far deeper that needs to be fixed if we want more people to work on self improvement.
We have people today who can't even walk around a store.
The human body needs at 30 minutes of walking a day. And people will not even do this simple, minimal, almost free exercise.

So, the proponents of UBI believe that just a little more money will solve everything. With just a little more money everyone can get a house and food.
And when asked, where will they money from UBI come from, they often answer with a fancy wording for taxing the rich.
Well, there are no rich. They don't exist. All that money is just on paper. Bill Gates can't just go and sell all of his stock for the current market price. He has to fill out forms telling the market specifically when and what he is going to sell. And usually, this will drive down the market. Further, this transaction is completely different tax and tax structure.
We can't tax the rich. The govern-cement works for the rich, and gives them all kinds of loop-holes and tax laws for them to avoid it.
Back to the money, even if we had piles of money for UBI, it wouldn't do what the proponents of UBI desire.
Entire populations of section 8 housing. Where millions of women have their living expenses paid.
How many of these people are financially fit? Financially literate? Are working on improving their lives?
How many of these women have used their copious free time to write the next great american novel?
Any great artists?
No! Nothing. In fact, if you have to go into one of these houses and prepare it for a new tenant, bring a shovel and a gas mask. MINIMUM. It is truly hell.
So many real world examples of throwing money at the problem not working and the proponents of UBI continue beating the drums.

All images in this post are my own original creations.
"Human Reasons To Work" is modelled after an image on a steemit post, that was taken from a site (that steals everything) that i found was actually a cut down version marked from freeworldchart.org