Typeearn Update: Revamping Typeearn, Progress on Compete, Game mode, Task, Typeearn for schools and Fastest fingers.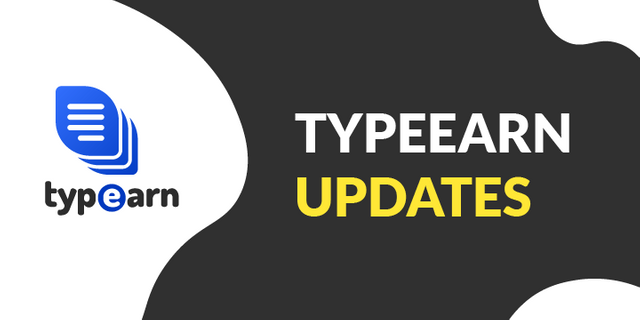 Happy 2020 everyone,
We launched Typeearn a few months ago as the only project on Steem that reward its users for typing and improving. We declare the features to expect on Typeearn within a given time in our intro post. While it seems we have been silent, we are working hard behind the scene revamping and changing many things about the project for better. We consider our current system and front-end as a proof of concept (POC). Huge changes will come up soon, and we would like to share some of our progress.
Compete: We understand that there are little to do on Typeearn with the current features available, and some of our users are still committed and mining the TPC coin. However, we want to create more than just mining. Within the last few weeks, the Typeearn internal team guys have been working on the "compete" feature, and this feature will be live within the next couple of days as we are close to finishing it. This will allow two or more people to compete in typing race.
Game mode: There will be a couple of typing options to choose on the Typeearn interface after the Compete feature. This is to experience more fun while learning to type fast.
Task: This part of the project has been on "Coming soon" since the time we launch. We like to affirm that work has also started on this part, and it will be a marketplace for different tasks and sales of different commodities. TPC, STEEM AND TRX will be the means of payment.
Typeearn for schools: We are also making Typeearn a tool for schools and institutions. This will also be live in a couple of days. In the course to see how effective this would be, we have been reaching us to some schools locally, and we are getting good feeds. Already, a few schools have adopted Typeearn. The concept is to ensure learning and typing for students and pupils.
Fastest fingers will take some new shapes soon this year. We will continue the discord contest and also have a live video fastest fingers show. This year, Typeearn Fastest fingers will be known as "the Fastest fingers of vim" The change of the name is eminent from this moment. The rules remain the same for the time being, and any changes that would affect it will be for the better and the growth of the contest.
These are the information we like to share with the community for now. Stay tuned and keep having fun on Typeearn. We solidly believe that 2020 is the year of Typeearn.
Remember to always follow the upward trend of the TPC with your sell biddings. Do not be too anxious and bid at lower prices, for this hurts TPC and reduces its market value.
---
Thank you for following our updates and being part of this wonderful family. Continue to type and earn!
---
Our Wonderful Team
@tykee | @ckole | @sahmmie | @katerinaramm | @anharismail | @forykw

@darewealth | @alokkumar121| @alvinckc| @lanzjoseg

---
Follow Us On Social Media