Typeearn is back, big and better (Brief of the work done so far).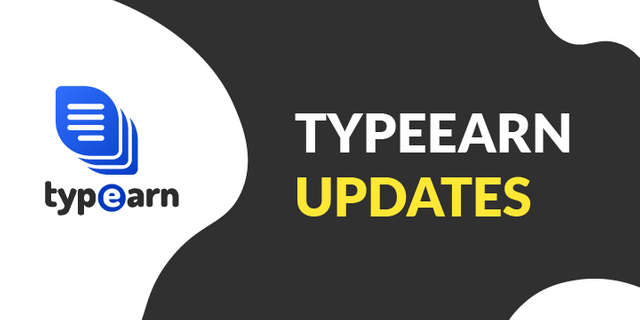 Hello everyone, and special greetings to all Typeearn users. We have made many promises for the improvement of the project, but because we had only a few developers, the speed of the development was quite slow.
We projected that before January 2020, more features such as play with friends, compete, tournaments, and different typing modes, would be implemented, but we had many more features on the list, which are considered more important than those listed.
Therefore we took the turn on our implementation. We already have the codes for the play with friends and others, but we want to make sure they function well before we push down to the project. In light of this, we would like to talk about the current improvement in typeearn.com.
New User Interface
In the previous interface, it was quite hard for many non-steemian and blockchain users to understand what we really do. Thus, we revamp and add more information to make it clearer, and we will continue to add more when needed.
The Logins functionality
On the verge of taking typeearn to the right market, we found a way to make typeearn useable for schools and relevant institutions, which we name as ''Typeearn for schools''. On the new UI, we expanded the login options to 3 (three), and each login has different functionalities.
Login with Steem
The section to login to steem is subjected only to steem users, and the functionality is still the same, but with slight changes. We will be pushing in changes such as play with friends, and others in a few weeks once we are done with the projected features.
Login as a School
To bring the real value to steem, we created a server for schools through steem login. This means, the login as a school also requires a steem account. The school server was created for schools to have control over their students and to get benefits from their student activities on Typeearn.
How the Typeearn for schools works.

Schools must have a steem account, and when logged in, there is a special functionality to enable students on the server through subscription. There is a constant fee of a different time frame to enable students on the server. There are monthly, quarterly, half a year, and yearly subscription. The subscription is done when a certain amount of TPC enough to upload the number of students they want is burnt. Therefore, to upload students on our saver, Schools must burn TPC. Schools will manually upload their student details to use typeearn. We will write a post solely for this purpose in a couple of days
How the student login works
To make it pretty easy for the students, the details uploaded by the school will contain their school reg number with a simple password for login. There are exciting features for the student to get acquainted with, and we already have over 2000 definitions for students within their class ranges. This means that elementary students will be getting texts within their class range, so for high schools and others.
The Marketplace
We continue to build the Marketplace on Typeearn, and we already have many things done behind the codes, but there are far many works to do. We want full stability in the typing section before we focus on the market fully.
Typeearn mining. (Adding Badge Power)

There have been many issues with the mining of TPC, and it is apparent that immediate changes need to be done, considering the ROI on investment for huge stake holders. We are planning to incorporate power to every badge. Every project is a business, and we must consider huge stake holders. Therefore, we'll make another separate post to explain this comprehensively and ask for opinions.
TPN Members
Also, part of what will be coming up is the TPN MEMBERS. They will be the ones to decide the changes and improvements to typeearn. Anyone can be a member, but there is a lot to it, which we will explain in a couple of days.
We will be rolling out more improvements, and we will be sharing the information promptly.
---
Thank you for following our updates and being part of this wonderful family. Continue to type and earn!
---
Our Wonderful Team
@ckole | @sahmmie | @katerinaramm | @anharismail |@alokkumar121 | @alvinckc | @darewealth
Inspectors
@lanzjoseg

---
Follow Us On Social Media