# Typeearn News: Fastest finger contest, Dose and tips.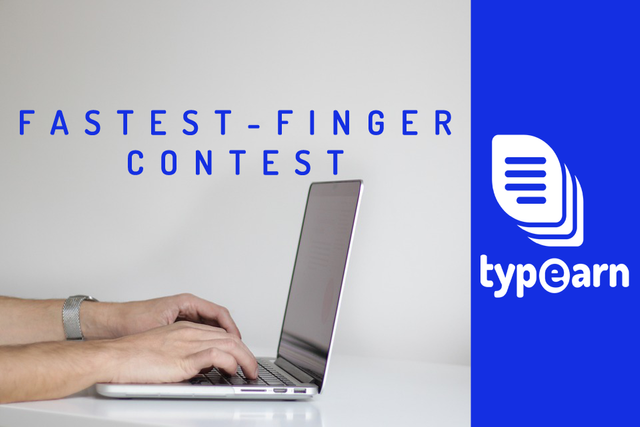 It's another day, and we are glad to commence with the fastest finger as usual. @kamchore won the last edition with almost a 100% accuracy, while @karamyog was the runner up. We recorded more accuracy compared to when we started, which denotes that our contestants are more careful while typing, which as a result, helps their typing accuracy.
Guide recap
_The time for everyone to put in their texts on the Fastest finger channel is five(5) minutes. Texts coming in after this time will not be considered. The first person to drop the correct texts will be the ultimate winner. This doesn't have to be the first to drop the texts because of accuracy matters. If the first person to drop the text did in 1 min, but had a typo, and another person drops in 3 minutes, but fully accurate. The person who drops the accurate texts first will be the ultimate winner. _
Also, to be considered as a runner-up, your texts must not have over 2 typos. If you send in your texts first but had 3 typos, you will not get any reward, rather, we will consider the second person with the most accuracy.
Reward: 20TPC with a tip of 1 steem for the winner, and the second will get 8TPC.
This is all for fun and engagement. Every day give us the chance to make Typeearn better, and we are getting closer to our destination.
If you wish to take part in today's round, join us by 5 pm UTC on our discord server.
Rules/Guides
Ensure your texts are correct before pushing the enter key.
No editing should be made after submitting the texts.
Again, ensure your texts are 100% accurate before you push the enter button.
Days for the contests
Mondays, Wednesdays, and Saturdays. All through 5 PM UTC.
Channel Name
#fastest-finger on our discord server.
Dose
"Business opportunities are like buses, there's always another one coming." – Richard Branson
As much as this is true, you must be aware that constant lost of opportunities leads to poverty. So don't allow opportunities to fly away. Always grab it when it comes.
Tips
Find a good position and sit upright. Your sitting position will affect your typing speed, so make sure you are comfortable.
Always scan the words you are typing a word or more in advance. This will allow you to type the words without looking at the content you are reading while typing.
Do not rush. Make sure you hit the right word when your finger is on it. This will improve your accuracy, and your speed will increase as you practice more often.
---
Remember to always follow the upward trend of the TPC with your sell biddings. Do not be too anxious and bid at lower prices, for this hurts TPC and reduces its market value.
---
Thank you for following our updates and being part of this wonderful family. Continue to type and earn!
---
Our Wonderful Team
@tykee | @ckole | @sahmmie | @katerinaramm | @anharismail | @teekingtv | @forykw

Our Influencers/Inspectors
@darewealth | @alokkumar121| @alvinckc| @lanzjoseg

---
Follow Us On Social Media