I think I will pull the trigger tomorrow on this setup.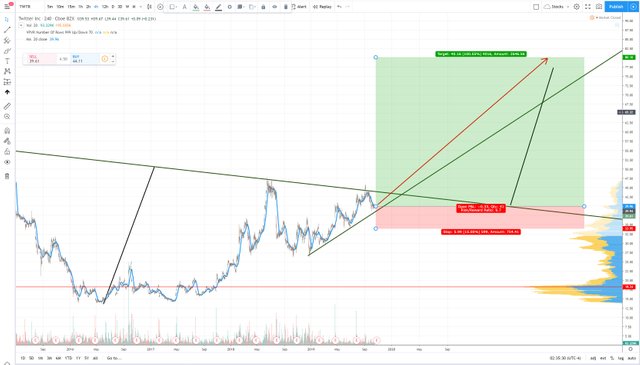 I like twitter and always wanted to own it. But I missed the bottom.
I love great companies with monopoly products when they get hammered by the market, especially after they IPO'd. That gives a great cheap way of getting in early and riding a long HODL wave.
Twitter has already 3Xed from its bottom, but just now is forming a cup and handle and seems close to breaking out.
This to me looks like a nice long term trade setup with good risk/reward ratio. A nice combo of fundamentals and technical analysis that is coming together.
My target is around $80 for clean double up from the 40ish price of today. My stop will be around 33. But I will will sell as soon as a break of the short term uptrend is not holding and that break is confirmed with two daily closes below it, around $36 currently.