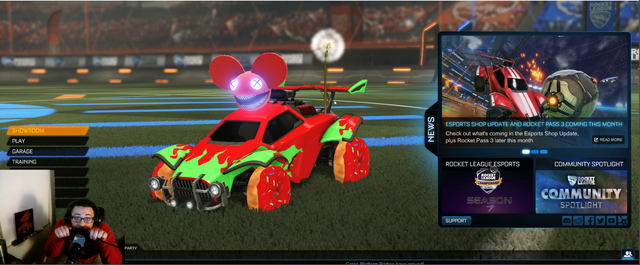 Hello Steem friends,
I will be streaming LIVE on Twitch for the first time today. I'll be hopping on in about 30 minutes. Join me while I struggle to play Rocket League and listen to some Petit Biscuit. I thought it would be fun to share my experience with everyone so I will be streaming every time I pick up a controller for my PC and Nintendo Switch. I frequently play Rocket League on PC as well as Super Smash Bros on Nintendo Switch. I've also picked up Octopath Traveler and I am playing through that.
Titles I will stream
Titles I plan to stream include (but not limited to): Rocket League, Borderlands Pre-Sequel and Borderlands 2 (first time playthrough), Sea of Thieves, Octopath Traveler, Super Smash Bros, and eventually Animal Crossing and Pokemon for Switch (when those are released).
Titles I might stream
Fallout 1, 2, 3, and New Vegas, Dragon Ball FighterZ, Apex Legends, and maybe Fortnite but I got to admit I'm not really good at all.
Other stuff I might stream
I am also a Game Developer, so I might stream parts of the development process if I can figure out a format that isn't just boring to watch live. Development could be painfully slow at times, trust me... unless I can make it entertaining I won't bore anyone with those details. I also enjoy anime and will consider streaming what I'm watching so we can watch it together... or something like that.
Why would you watch me?
I'm probably not that entertaining. In fact, there are thousands of other streamers you can choose to watch instead that are probably better than me at playing games. I'm just a dude who loves video games. Since I also create video games as well, so maybe you can get some hot takes from me, (as if that's worth anything... eyeroll). I might also start streaming parts of the development process, which might be cool eventually. But until then, you can watch me fail over and over and over again, maybe you'll get a laugh out of it... who knows. Either way, I'm just going to have fun with it and hopefully meet some cool people along the way.
See you soon.
Watch here: