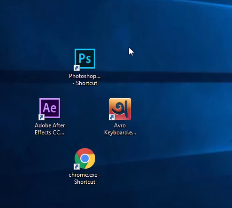 When we keep our needy software on desktop, an arrow icon appears by default on the bottom left of the software's icon. If the arrow sign is annoying to you then just follow below steps to remove the symbol. I personally don't like it
Steps:
First you need to go to run. To open run click on Windows+R Key and type regedit
A new window will pop up. You will see many options there
Select HKEY_CLASSES_ROOT
After selecting type ln from your keyboard
You will see a folder selected name lnkfile. Click on it.
After clicking have a look on right side of the window. You will see some options there.
Select IsShortcut and right click on mouse and select rename.
Add _old after the name. It will be like IsShortcut_old and click enter.
And you are done. Now just restart your pc.

It will look like this after restarting.
---
This is the end of my blog. Thanks for your time to read my blog.
---
Join our community where we help Bangladeshi writer and good content creator growing on steemit-


See you guys later.
Till then stay safe, be happy and keep doing good things.
To connect me on facebook click below gif-