Bittrex Enhanced Account Verification Tutorial!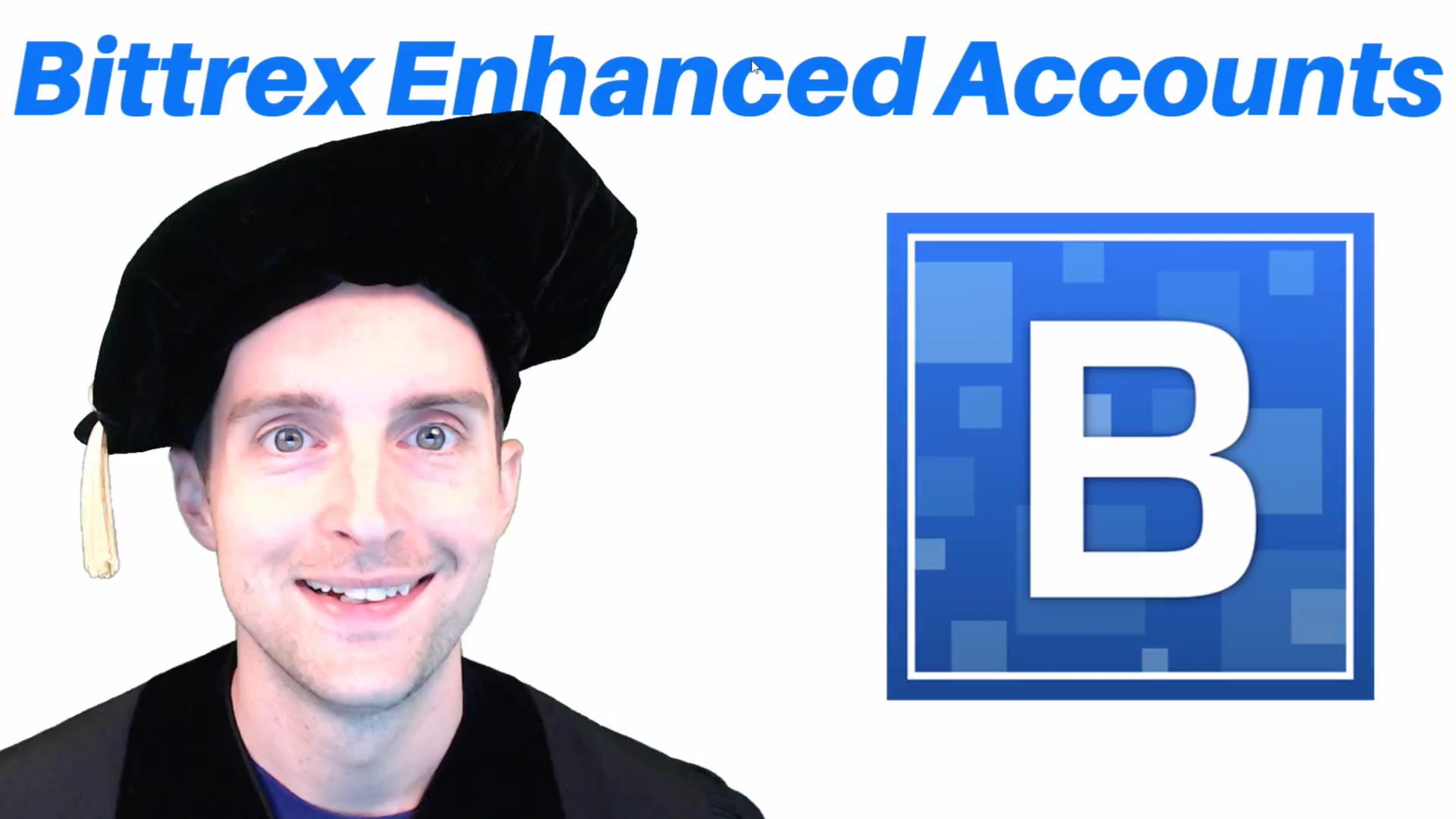 Would you like to learn how to get a Bittrex Enhanced Account verified and finished within just an hour?  I'll share with you exactly how to do that, based on my experience getting my own Bittrex account enhanced and verified in just an hour on the day I signed up.
If you haven't used Bittrex before, but you've used other exchanges, I've found that the verification process, the withdrawals and the deposits are very fast here, which is why I use it.  For changing Steem to Bitcoin, Litecoin, or Ethereum, Bittrex is my favorite option to get the very lowest fees especially on orders of $1,000+.
Finish Bittrex Enhanced Account Verification in 1 Hour!

Why bother taking the time to verify an enhanced account?
You might think that the default three Bitcoin withdrawal limit per day with two-factor authentication enabled is fine. However, what happens when you find a rare opportunity and you need to make a lot more transactions?
For example, one day I found a little exploit, where one exchange website was using the Poloniex exchange rate, which happened to be way higher than Bittrex, where I then went through in just a little while and went through several Bitcoin and might have been five or ten Bitcoin at the time, where I instantly bought on Bittrex, I then went through that exchange at a higher rate, put it back on Bittrex, sold/bought more, and then repeated that process a bunch of times.
Now, you might not think you need a higher withdrawal limit, but any day you might find a rare opportunity and if you don't have enhanced account verification complete, then you're stuck with the three Bitcoin withdrawal. Also you might not think three Bitcoin is something you'd ever reach, but as you continue to work your portfolio up, you may run into this all at once. It's much easier to just make sure you can get the enhanced verification immediately. I'll show you more here about Bittrex security in this tutorial as well.
Here is my account. I would imagine you want me to show that I definitely actually have my own verified account. This is what it looks like when your application gets approved.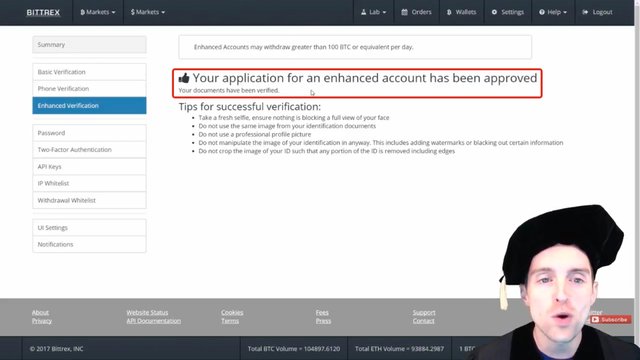 I can withdraw a hundred Bitcoin or more every day, which means that I pretty much have unlimited ability to transact in and out of my Bittrex account, which is outstanding. If some amazing opportunity comes along, I'm ready.
With enhanced verification I also have two-factor authentication set up, which I think is critical for the security of your account. You can only withdraw three Bitcoin a day if you don't have two-factor authentication set up and you need two-factor authentication set up for enhanced verification as well.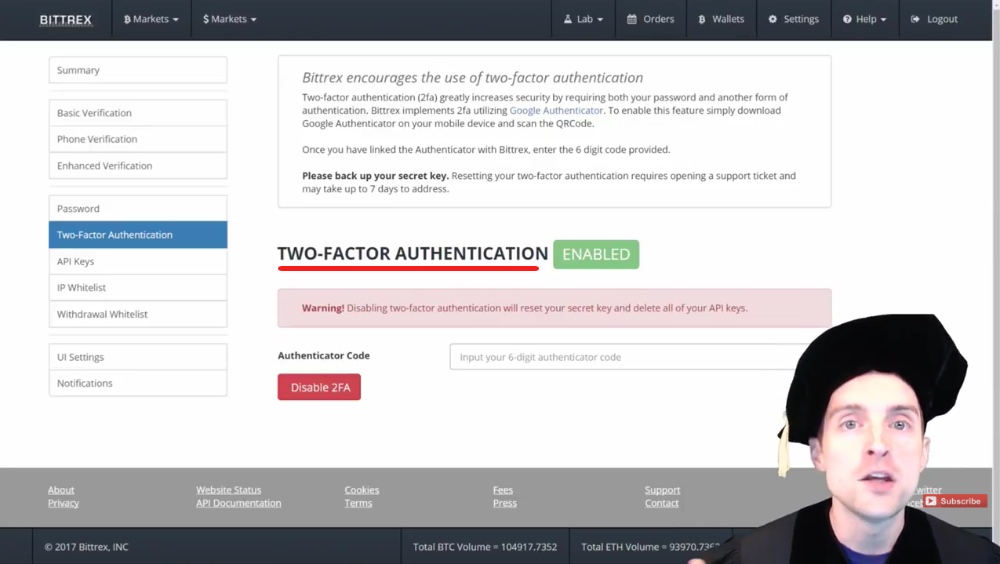 Bittrex uses Google Authenticator, which means that I get a code on my iPhone. In order to sign into my Bittrex account, I have to be able to also have the Google Authenticator code that matches my phone.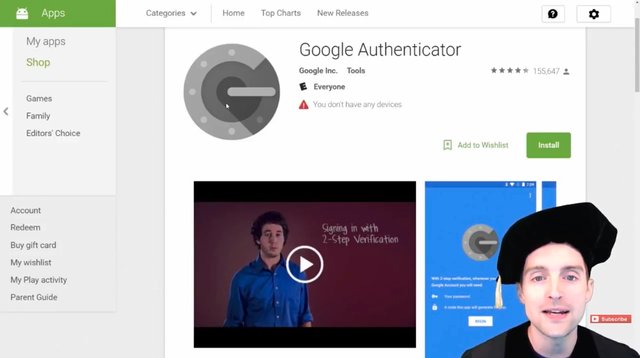 That gives me a much better security because you can't just steal my password and my account address and sign into my Bittrex account. You also have to have hacked my phone and be into the Google Authenticator for it.
That provides much greater security, especially if you just step out for a minute and you have a roommate, who then decides to withdraw all your Bitcoin, they have to also put in your Google Authenticator code. Make sure, if you want them to be able to steal your Bitcoin, to also leave your phone there, so they can go through two-factor authentication as well.
How do you get two-factor authentication and why do I love Bittrex?
I've had an application on Poloniex, applying for three or four months, that hasn't been responded. The nice thing is that Bittrex has a partner that helps with the verification, it is named Jumio, and they process the verification application almost immediately.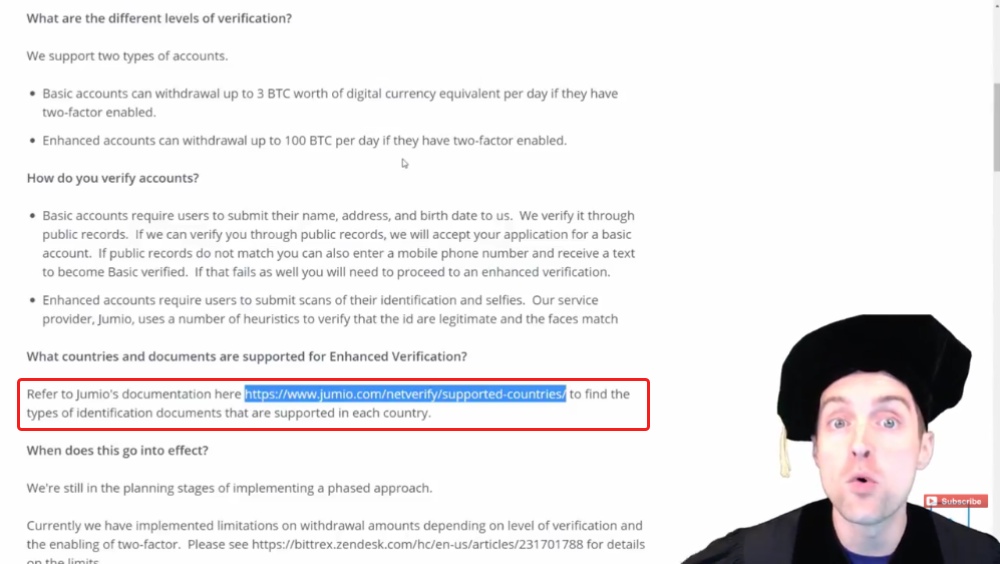 I signed up at four or five in the morning in the USA and the enhanced verification went through in about an hour. This is the specific help article on Bittrex.com, which explains the verification process and the list of verified and supported countries.
If you're in the USA, you will need a passport that makes this really easy, but you can also use other IDs, like a Driver's License. You may also need a local utility bill. I believe I needed a power bill or a phone bill to prove that I actually lived where I said I lived.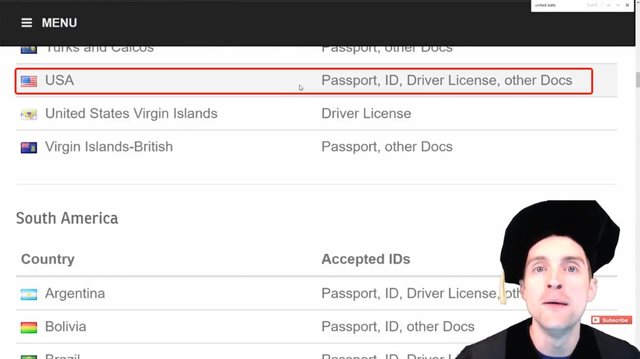 I also had to take a selfie with my passport. I had to use my iPhone and take a selfie holding my passport to show that I, in fact, was in possession of my own passport. They also asked to put the exact date on it. That way, I was in possession of my passport, on the exact day that I submitted for verification.
This way, someone can't just steal my passport, and then go try to get verified. The purpose for all of this verification is to comply in the US and other countries participating with the Anti-Money Laundering and Know Your Customer program.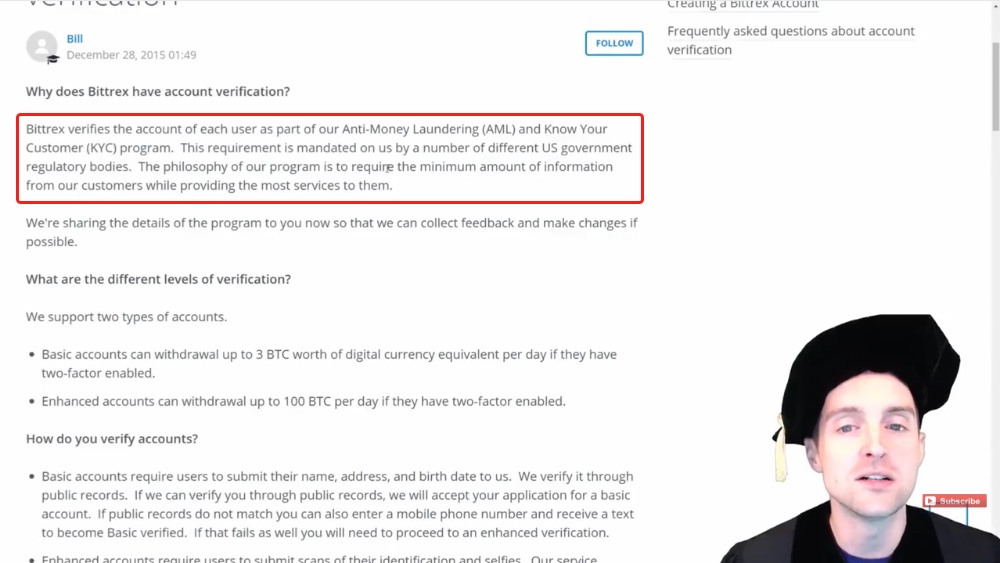 It's mandated by the US government and many other regulatory bodies I would imagine have similar rules, where you'd want to make sure you know who is bringing this money in and taking it out to prevent money laundering and black market activities.
If you are accepting payments on behalf of someone else and putting them through an exchange, as far as I can tell this very much applies to you as well.
That is all you need to do the Bittrex enhanced account verification. You simply go up to "Settings" in your account. You also need your phone to do the phone verification, but if you're setting up two-factor authentication, I assume that you're using your phone with that as well.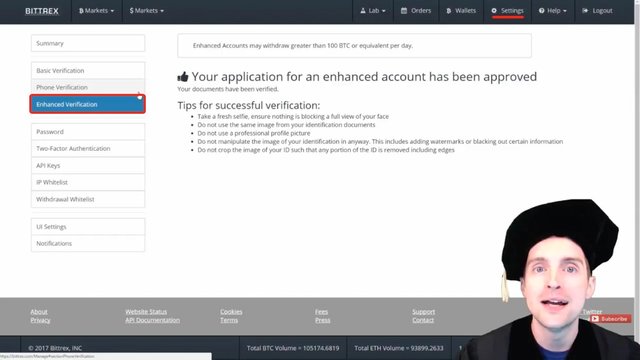 Therefore, if you want to sit down and do this right now, the easiest way to do it is get your passport, get your phone out, take a selfie with your phone, holding your passport or other form of ID, and then be prepared to submit all of that as well.
Don't alter anything or modify it, don't you a stock or professional photo. You want to use something that just is natural in your own home or wherever you're doing this. You go to "Settings," do the Enhanced Verification, and get Google Authenticator.
One key thing to mention that I did not do the first time, and then I fortunately saw to go do this immediately, is to back up your secret key.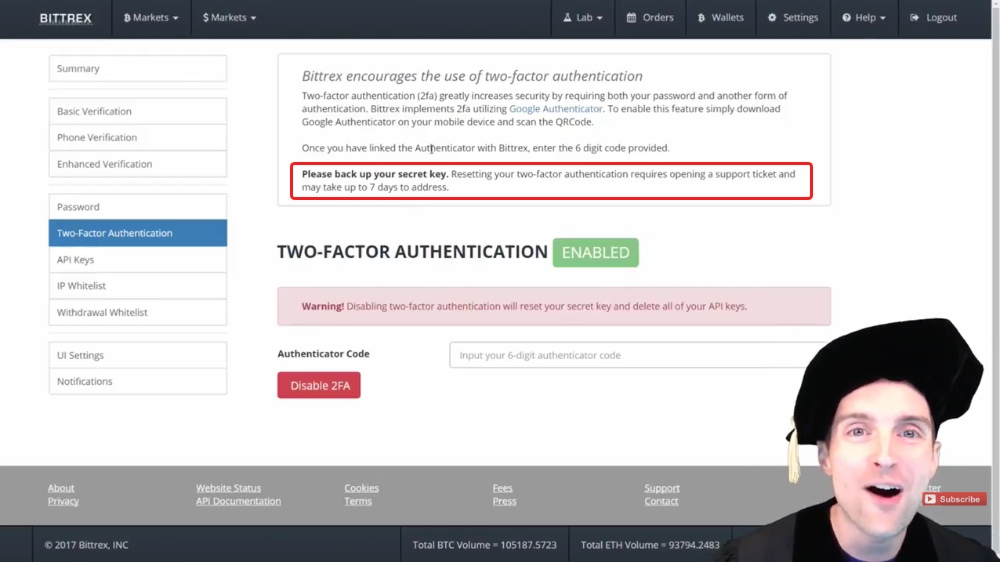 I read the reviews on Google Authenticator and there are a lot of people upset, because if you fool around and lose your phone with Google Authenticator on it and you fail to back up the secret key, you won't be able to log in into your account.
Google Authenticator works off of a secret key, which gives you a key that then syncs up the code as they are generated. Bittrex has the secret key, and then I have that same secret key. Bittrex can pull the same code that my phone pulls to put the secret key. The idea is then my code matches the Bittrex code.
If you lose access to your phone, but you haven't backed up your secret key, you've lost your end of the deal. It can be difficult or you may even become locked out of your Bittrex account.
As you can imagine, one of the ways people would try to break into a Bittrex account if they got your email and password, and it had two-factor authentication, they would likely say: "Oh, I lost my phone or blah-blah-blah. I don't have my secret key."
You therefore could get locked out of your account or have difficulty getting back into it, if you lose your secret key.
Use some kind of system to back up your secret key, because if you lose your phone and you have your secret key, you can then put your secret key into any new device you use and immediately pull that back up on Google Authenticator.
I hope that sharing this has been really helpful for you.
If you haven't even used Bittrex yet, or you're just starting it, or you've been using it for a while and you didn't bother to do the enhanced verification, you can also take some additional security measures.
If you want to, you can whitelist your IP.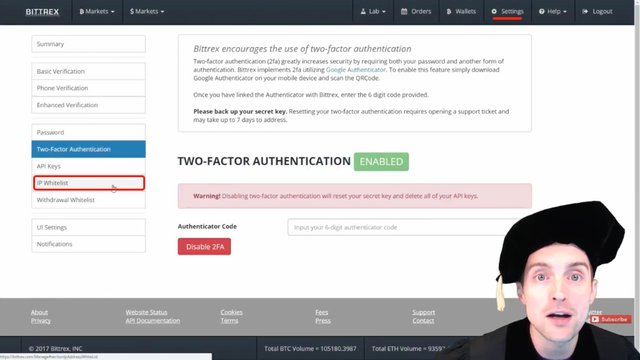 Of course, the problem with that is if you sign in on a different device, or if your IP is dynamic for your Internet service provider, then you could have a problem with that.
You can also do a Withdrawal Whitelist, although that has some of the same problems. This is nice for Steem, because I can lock in my Steem account for example and only withdraw to my Steem account, but then I have also locked into the wallet I am using.
If I lock my Coinbase wallet in a Withdrawal Whitelist, if I lose access to my Coinbase wallet, then I now have to modify the whitelist.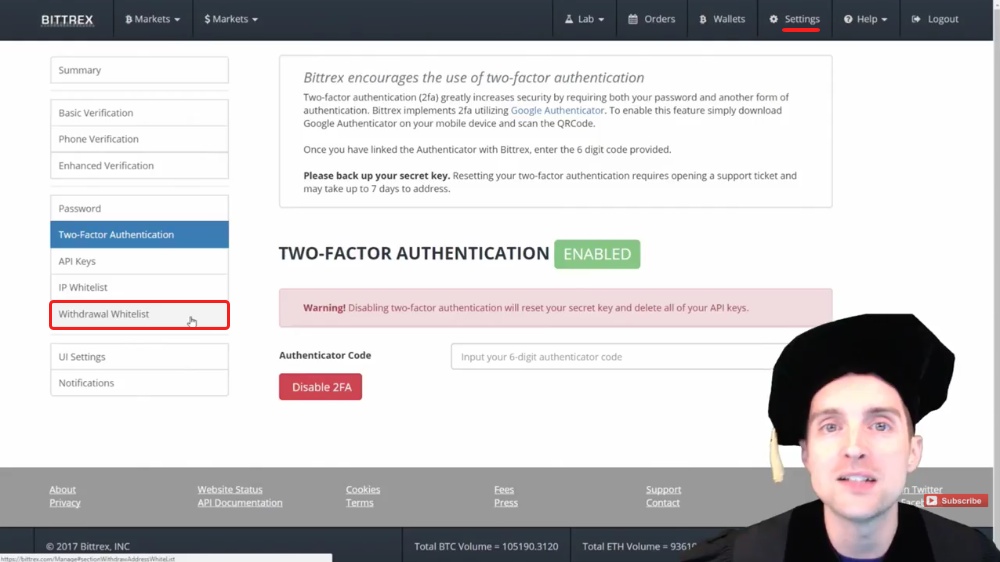 It still can be nice though if you want to set your account up for greater security to keep things more intact in case of a problem. That said, if you are properly securing your account, there should be very little to worry about as far as on our end as the users, we still have to have faith in Bittrex as an exchange.
I keep the majority of my cryptocurrency off of Bittrex in my wallets, and I think that's the safest because keeping a whole bunch of money in one place on an exchange online can mean a very lucrative target for hackers to take that money, in which case, the users may or may not get it back.
Thank you for learning about the enhanced verification with me. I hope this tutorial has been helpful. I searched on YouTube before I decided to make this, I looked and I said, "Is there any tutorial on Bittrex enhanced verification?" I could not find one, therefore, I went ahead and made one.
If you'd like me to do more tutorials like this, would you please leave a like on the video or an upvote on the post, and suggest the exact topic you would like me to talk about in the comments because that will help me see what to give to you next.
If you'd like to keep watching the videos I make every day, on things I hope will be the most useful for you, would you please subscribe on YouTube or if you're watching on Facebook, like the Facebook page because that will help you see more.
Thank you. I love you.
I hope you have a wonderful day today.


Final words

Thank you very much for reading this post, which was originally filmed as the video below!
Would you join me today, by leaving a like on this video or upvote this post on Steemit?
The feedback on the video was so positive that I spent about $100 to get this post created for you here out of the video, and then edited it prior to publishing! I appreciate you being here and I hope you have a wonderful day today.
If you found this post helpful on Steemit, would you please upvote it and follow me because you will then be able to see more posts like this in your home feed?
Love,
Jerry Banfield with edits by @gmichelbkk


Shared on:
PS: Witness votes are the most powerful votes we make on Steem because one vote for a witness lasts indefinitely! Would you please make a vote for jerrybanfield as a witness or set jerrybanfield as a proxy to handle all witness votes at https://steemit.com/~witnesses because when we make our votes, we feel in control of our future together?

Or