Hello everyone, I hope you are doing well. It's been a long time since I last made a post. In this post, I bring to you, several features of the instant messaging application called Telegram.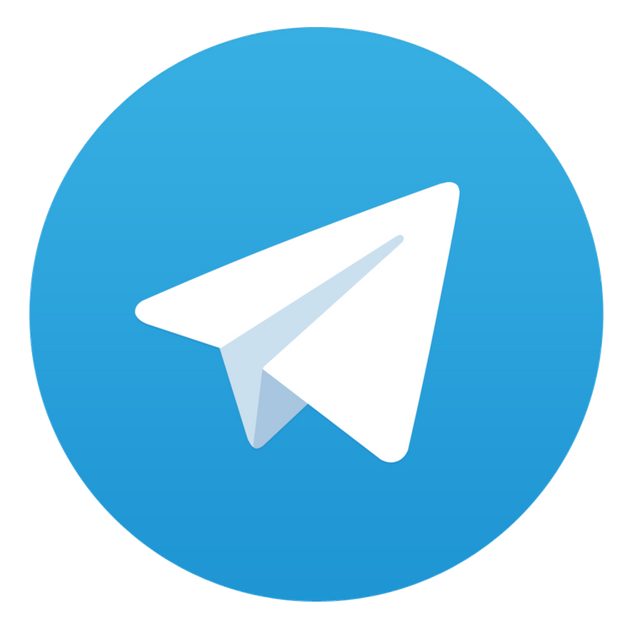 It's more than an Instant Messaging Application
There are many Instant messaging applications but Telegram is comparatively richer in terms of features provided by it. In this post, we'll look into some of those features to make our lives easier. I'll also be giving out some personal hacks that I use to make my life easier.
Let's look at two of the features of Telegram that makes it really interesting. There are more features but these two are most relevant for this post.
---
What are Telegram Bots?
Telegram bots are programs with accounts that accept a list of predefined commands and return relevant results by processing those commands. The best part of Telegram Bots is that anyone can develop a bot using the Telegram API and many users have experimented with creating bots to solve some kind of problem or just for fun.
One way to distinguish the bot account from a user account is to look at the last three alphabets of the Telegram username. If the last three alphabets of a telegram username is bot , then it is a bot account.
How to find Telegram Bots?
Open the Telegram messenger
Navigate to the search box
type the username/accountname of the bot that ends with bot . This is also how you'd look for any other Telegram user.
select on the account that appears in suggestion or just press enter
You're usually presented with the description and just a start button.
Press the start button. If no sart-button is present, type /start in the text box.
/help also works in most cases, they give you the detail of all the commands that the bot accepts.
VISUAL GUIDE

------------------------------------------


------------------------------------------


------------------------------------------




What can you do with Bots?


There are immense possibilities of tasks that can be accomplished by bots. They're a piece of code after all. With some Telegram bots, you can get push notifications for tasks triggered on some website, you can even download and listen to any kind of music or perhaps download movies or TV show or even check prices of different cryptocurrencies from different exchanges.

Download any music from the Russian giant VK. - @vkmusic_bot



---

Fetch crypto rates and alerts. - @CryptoAlerterBot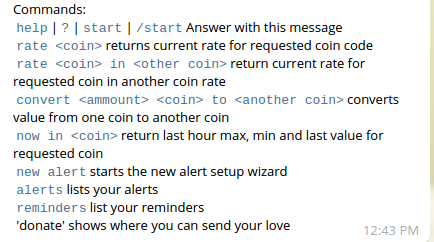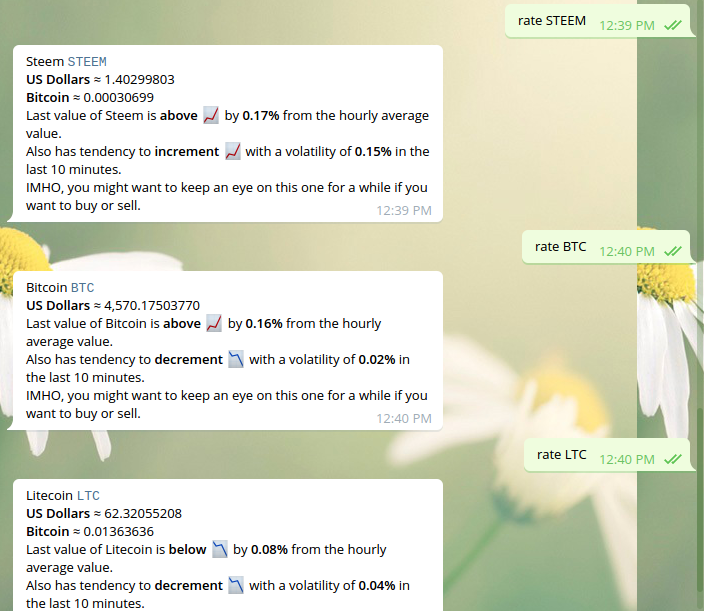 ---
Get Notifications on several event triggers - @hooks_bot

---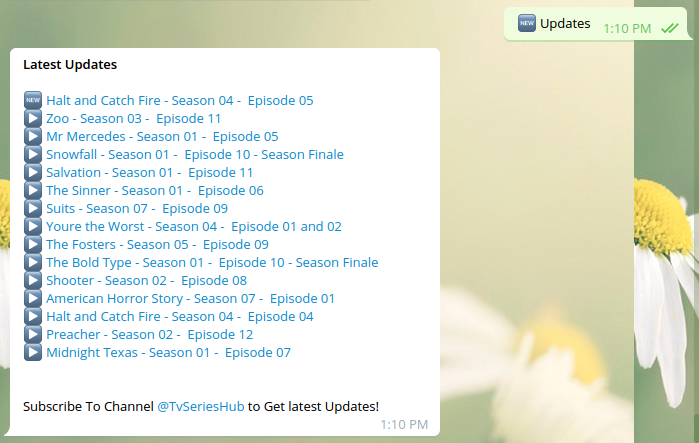 ---
---
What are channels?
Channels are one way communicating chats where you receive feeds from a source, quite much like push-notifications but right inside Telegram, from a dedicated account.
Channels support over 5000 members and it is a great way to reach out to a large group of people.
There are various channels which are extremely handy. Some of them are as follows:
---
Get TV show files directly into your Telgram. Not Links but files. You can download them with a single click.
https://telegram.me/joinchat/ACzuljvGFUjzJf4ambpzTA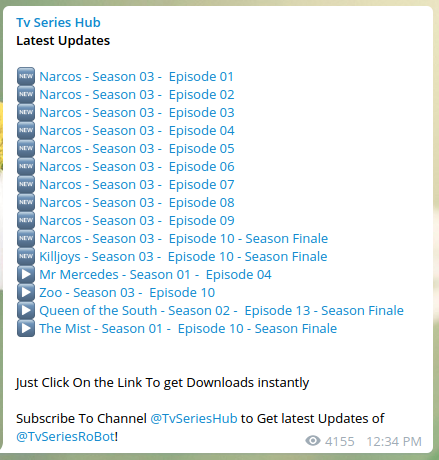 ---
---
Get latest articles on Science


---
Telegram Hacks:
Send yourself a message to keep track of useful notes, information.
You need not give out your phone number to converse using Telegram, you've to set up and share only your username for that.
You can create a channel with only you in it and share useful links in it. It becomes a private repository of all your links, a perfect bookmark.
Since Telegram is available for all the platforms, I recommend you to install a Desktop application as well. Now, if you want to open a link on your phone on your laptop/Desktop-computer, you can just copy the link in your phone, paste it in the private channel with only you in it or in the chat with yourself and open Telegram in Desktop/Laptop. Telegram messages sync in near-realtime.
---
Downloading Movies, TV Series or Songs that are copyrighted are not legal. This post merely shows what's possible with Telegram for Educational purposes. Use it at your own risk.