How to Create a Facebook Custom Audience for Remarketing Website Visitors
Retargeting or remarketing website visitors is not difficult and all you have to do is install the Facebook Pixel on all the pages of your site and create an Audience.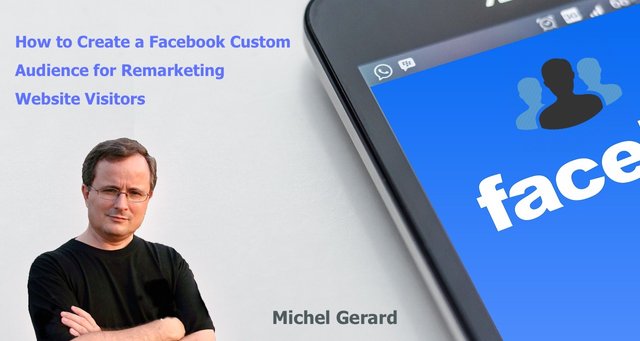 Create your Website Audience
I am going to show you the steps and the different possibilities that you have.
Go to the "Ads Manager" menu, then "All Tools" and select "Audiences."

This screen will show. Click on the "Create Audience" button and "Custom Audience."

What we want in this case is to remarket to our website visitors, so select "Website Traffic."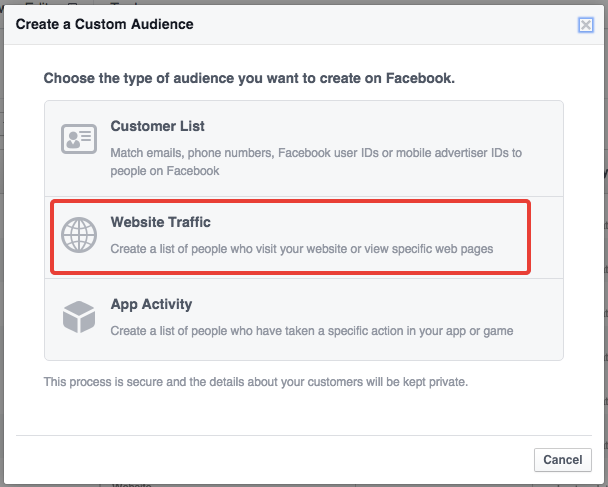 A pop-up shows and you should see your pixel with a Green Dot if it has been installed properly.
There are different Website Traffic options you can choose from and the first one is "Anyone who visits your website."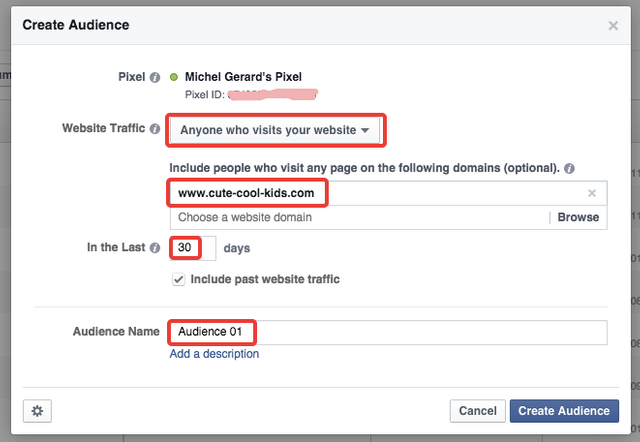 Enter your domain and all visitors on the site will go in the audience. Select the period of time, in this case I chose 30 days.
Type a name for the audience. The second option you have is "People who visit specific pages."

In this example I chose to include people who visit any URL that contains "shop" in it and it is the eCommerce part of the site. A blog section will not be included for example.
You can of course use an exact URL if you want to target a specific page and product.
The next option is "People visiting specific web pages but not others."

In this example, I still have the "shop" section for the audience, but exclude the category "Toys."
The next option is "People who haven't visited in a certain amount of time."

Then, you can use a "Custom Combination."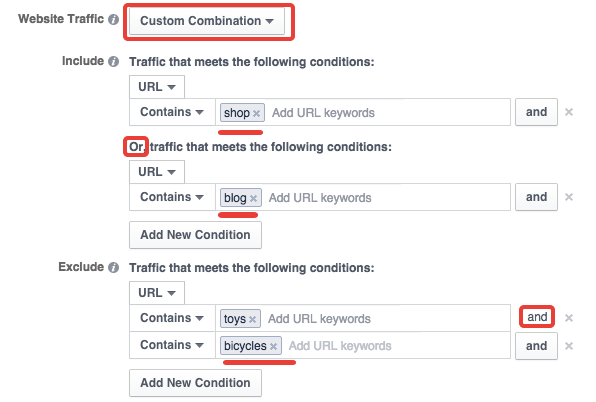 In this example I include people who go to the "shop" section or the "blog" section of the site. I also exclude "bicycles" from the "toys" category.
As you can see, you can do pretty much everything. When you are done click the "Create Audience" button.

And you will see this.

When you go to your newly created audience, it will be inactive at first with a red dot.

Audiences must include at least 20 people to be used for ads. After a while, when you had enough traffic going through your site it will become Green and you will be ready to create a remarketing campaign.

You do not have to include any specific event or custom URL in the pixel, but just use the base pixel.
I hope this is helpful and I await your questions if any.
Michel Gerard