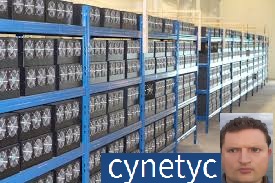 Hello Friends!
Today I will do a guide for Genesis Mining, affiliates and traffic sources. I mention that this guide is not easy made as I use my tools and/or information based on a 2 years span. So I done my homework.
Let us start our guide!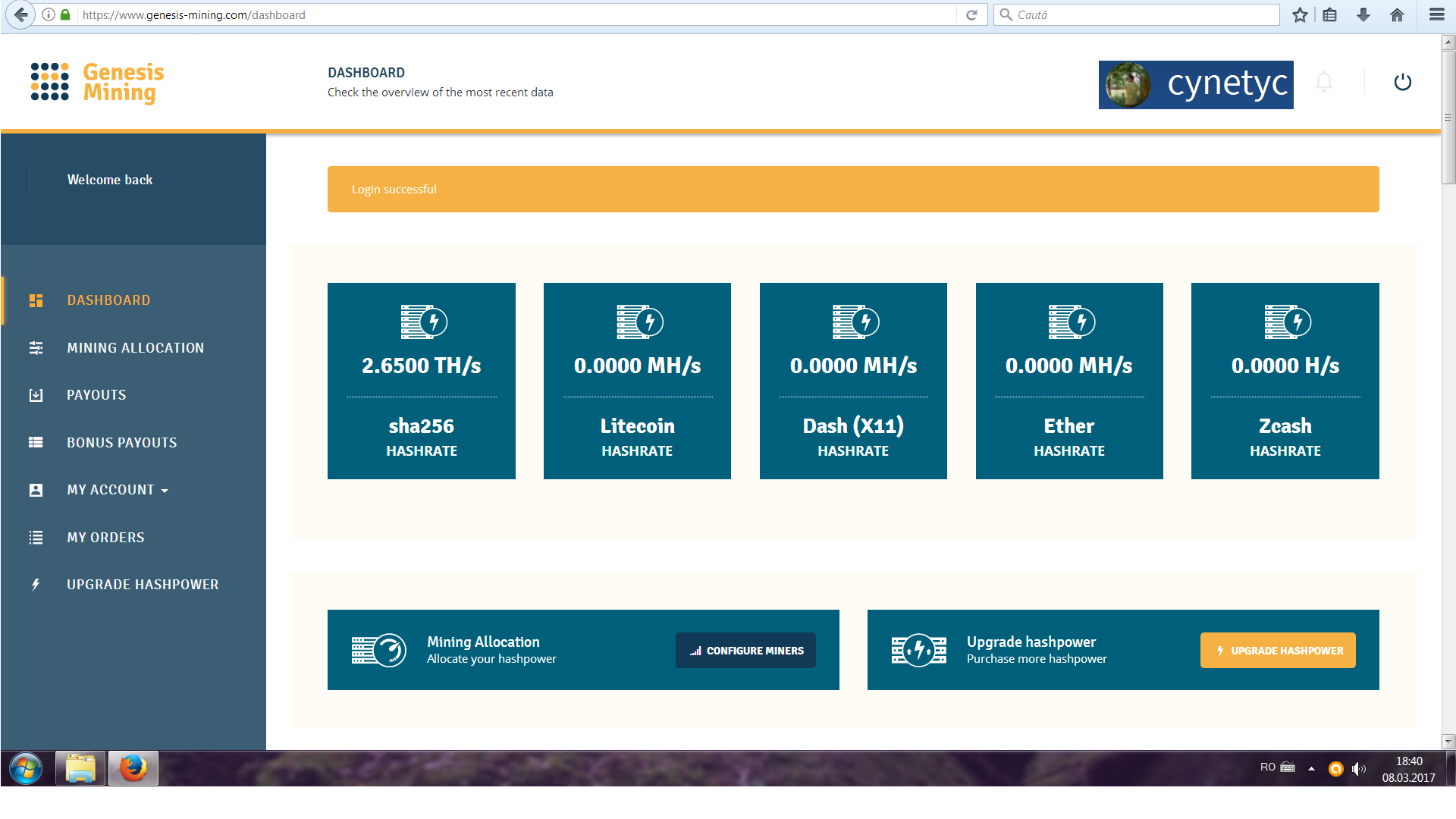 First thing you do is just go and register, fill your information as you see fit and the you will have a dashboard similar to this!
Then go on mining allocation and chose what to mine :dash, bitcoin, zec or other coins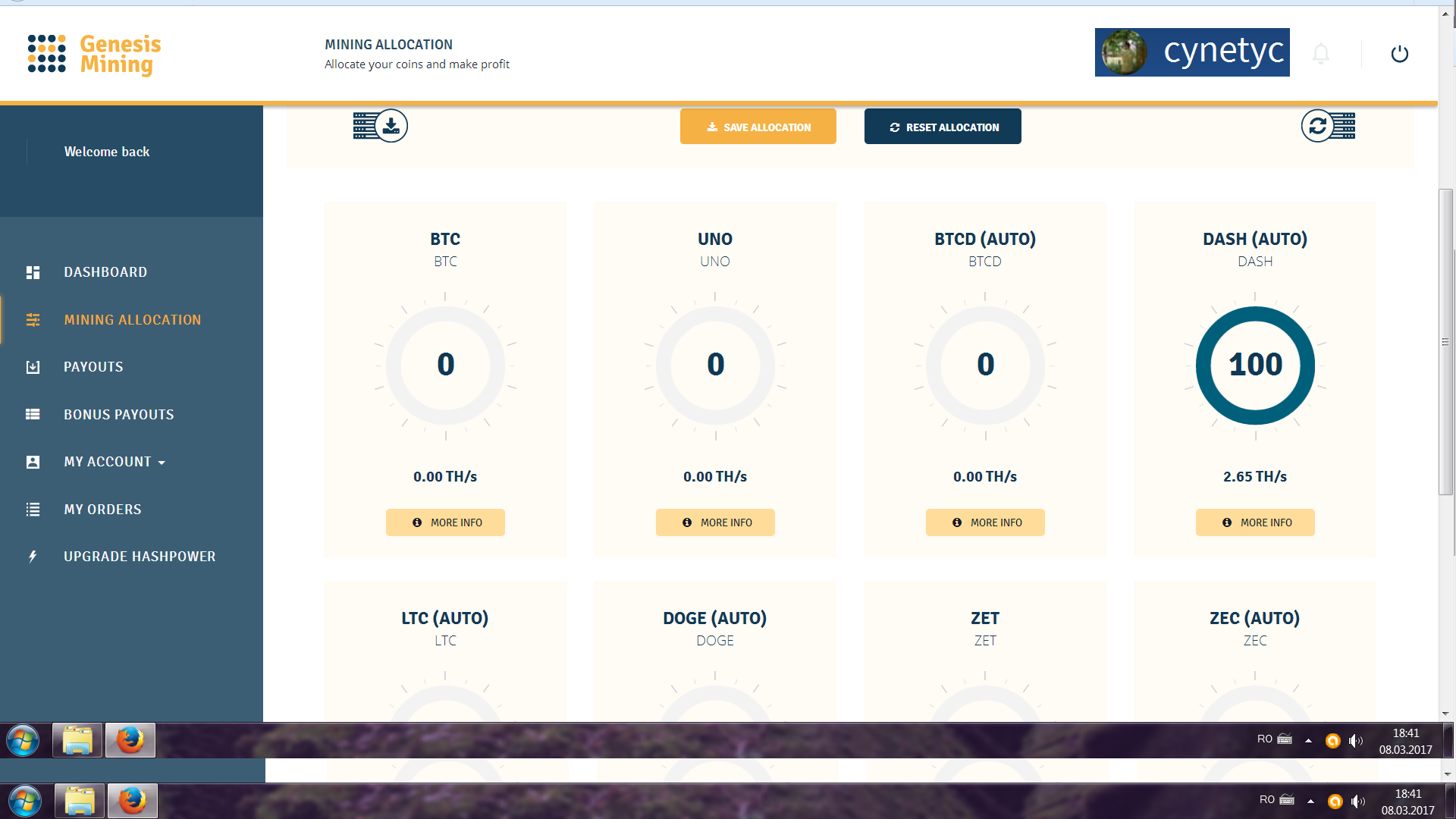 Here you can see my payouts and if you look close you can see the exact amount that I was receiving per day . Important here is to mention is that my hash rate was 2.3 TH/s. On the last day I upgraded to 2.65 TH/s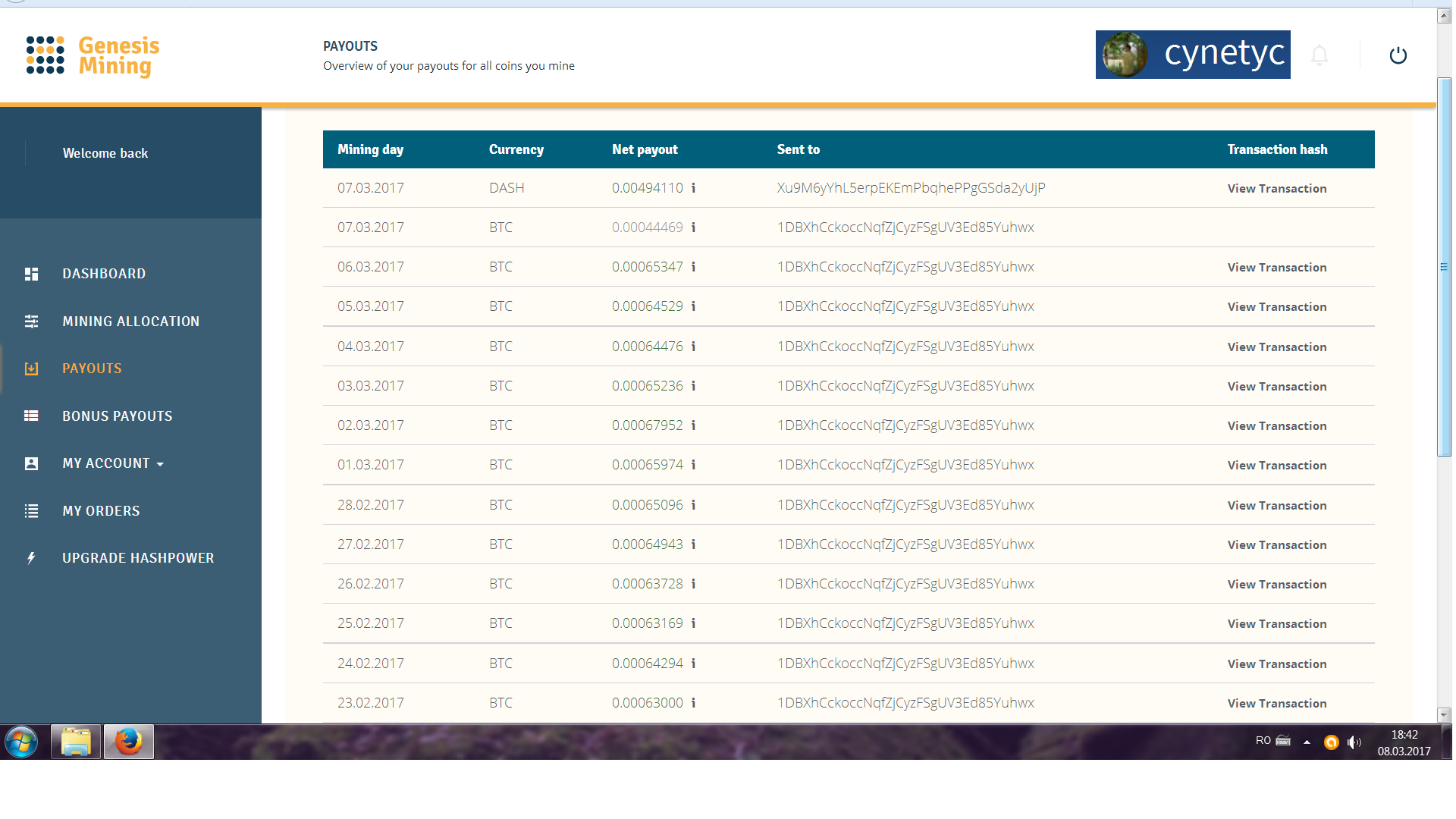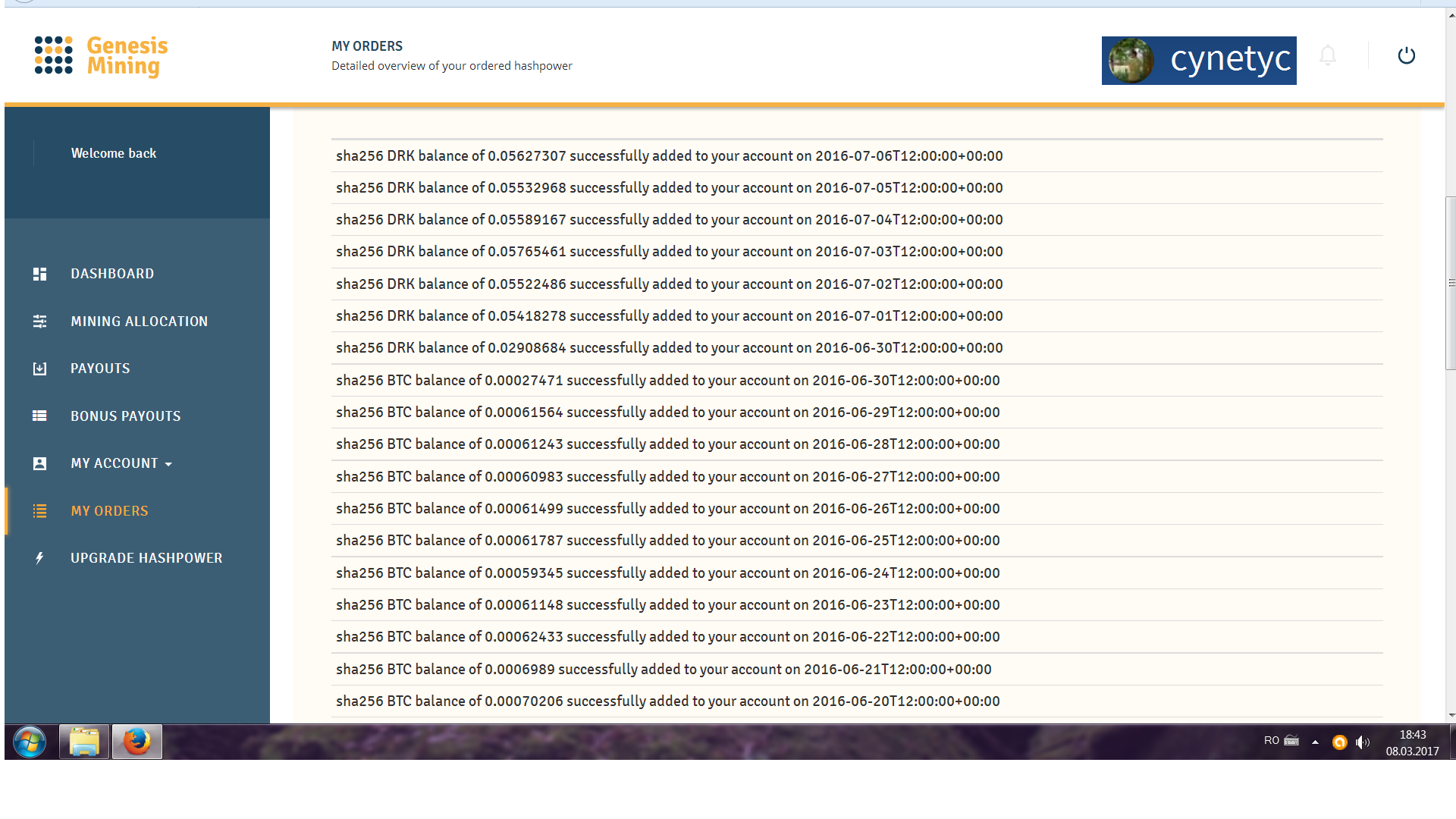 Payment system is easy and you can chose : credit card, bitcoin. dash, litecoin and dogecoin.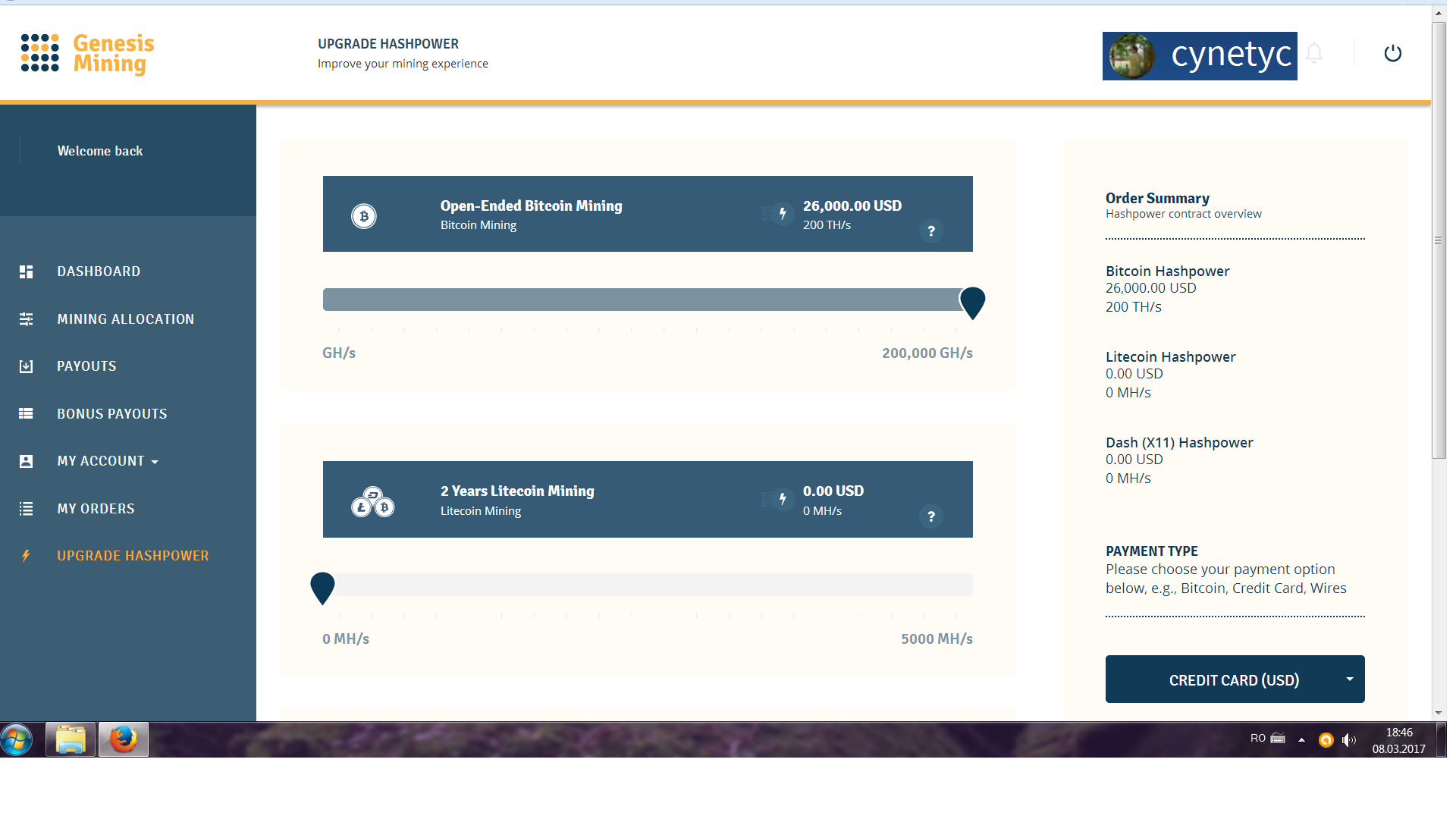 In this screenshot you can see my wallet, which it is called JAXX (it is from bitcoin platform or just type jaxx in google to download and use it). This type of wallet is a simple one used for sending and receiving coins and it houses many types of coins from bitcoin and eth till dash zec and even ETC (classic) . In a normal day with 2.3 TH/s I got from 72-70k satoshi to 62-60k satoshi.
For those who are new and don't understand satoshi is the smallest unit of the bitcoin currency recorded on the block chain. It is a one hundred millionth of a single bitcoin (0.00000001 BTC)
But why I make less?
For me this is a positive thing and HERE is why:
In the past when I was a beginner I invested a lot in other cloud mining sites that proved to be ponzi. I lost a lot and learned a lot too.
This site - Genesis Mining- actually has the software and hardware or more exact the REAL miners to mine.
For a miner to work it needs electricity, space and an air filtering system to cool and replace the hot air.
The site informs you about the electric cost, more exact that they will deduct this from your earnings.

That is normal
A fake site will never tell you this . Actually I never found another cloud mining site that has done this !
A lot of users are really concerned about that thing and say on youtube or facebook that the ROI ( return of investment is really low)
It is ...but again this is normal....
Why?
Because bitcoin is always upgrading its mining difficulty so the ROI becomes less and less and less until it will be nothing left.
This means that you need to keep increase your hashing power to keep up . But again this is a normal thing to do and again proves that Genesis Mining is real.
In this chart you can see what is my earning until now.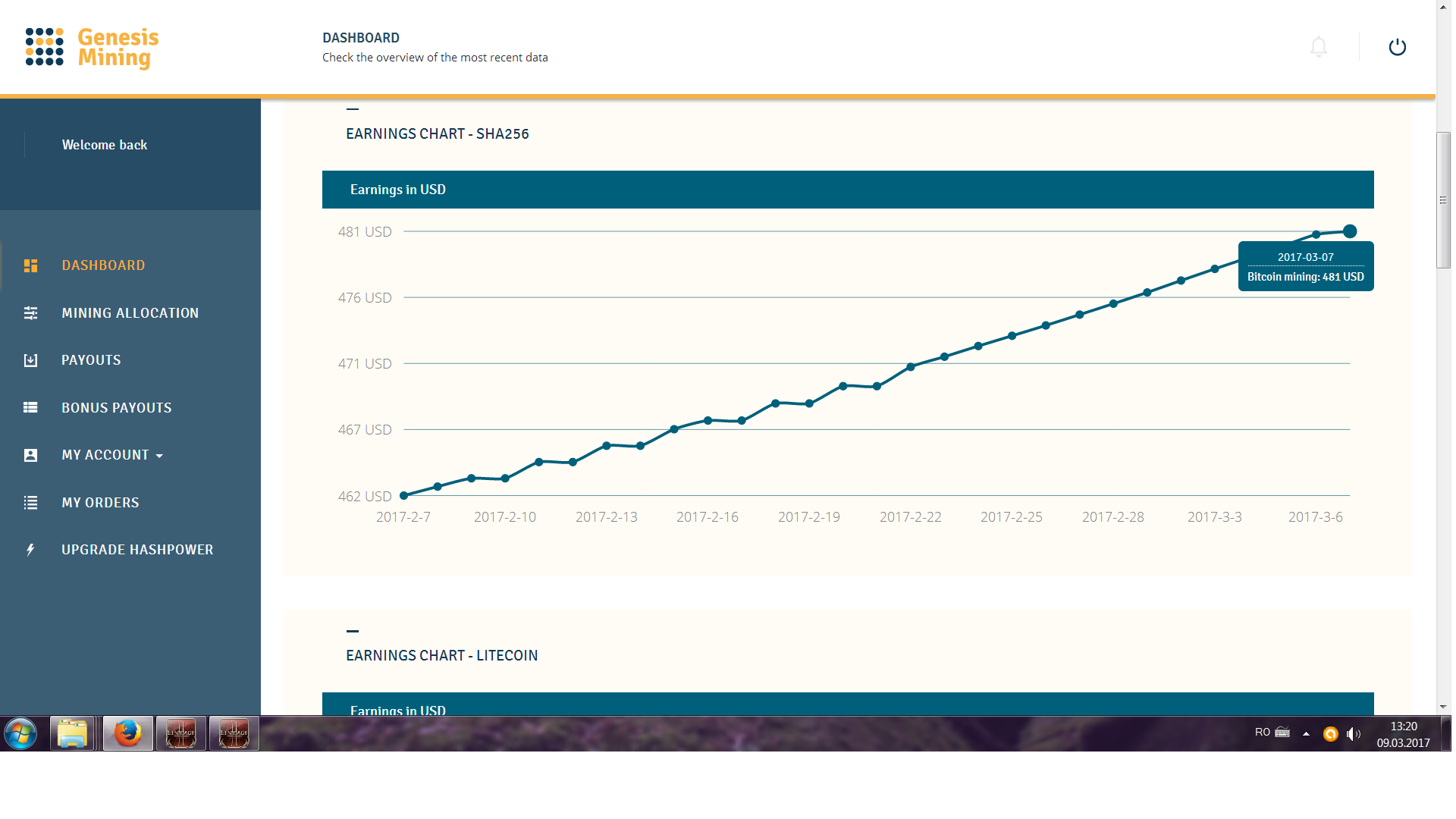 I started with only 30 usd and I re-invested it over and over again. First I invested in dash and then in bitcoin.
Dash was at first 7 usd when I started and bitcoin was at 700 usd , in few months dash got till 46 usd and bitcoin till 1200 usd and that translated into the profit that you see on the chart.
After re-investing the real profit that was in my hands was 100 bucks. Not bad after investing 30 bucks in 2016 !
I don't plan to go full on mining on Genesis Mining, I just want to keep it simple and fun and what I had shown to you guys I am sure it is clear that you can make a profit here if you invest.
But for this what you will need?
Let us see here:
I use bitcoin lifetime mining contracts only and my hash rate is 2.3 TH/s (in my examples) and that gives me about 73 cents per day (sometimes1-1.3 usd )
so if 2.3 TH/s = 73 cents:
23 TH/s = 7.3 USD/day or 219-226.3 USD per month or 2715.6 USD per one 1 full mining year
230 TH/s = 73 USD/day or 2190-2263 USD per month or 27156 USD per one 1 full mining year
As I seen in the last year after the halving each month after the electric cost and the huge rise of the mining difficulty
I can deduct this :
23 TH/s -120K satoshi per year
230 TH/s - 120k satoshi per year
---
The result is that to keep up you must re-invest and update your mining contracts.
My results are not perfect and a low or higher value than this is possible. I calculated this based on a 2 years mining contract and of course I put the huge drop after the halving from 2016.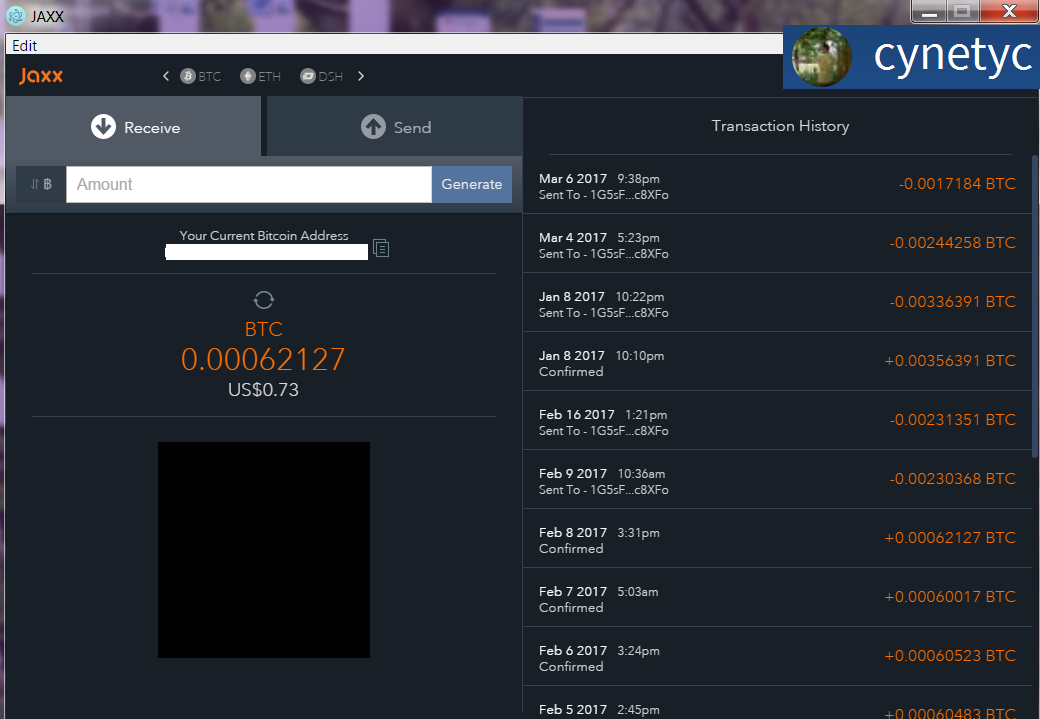 Ok then so let us continue with our guide/tutorial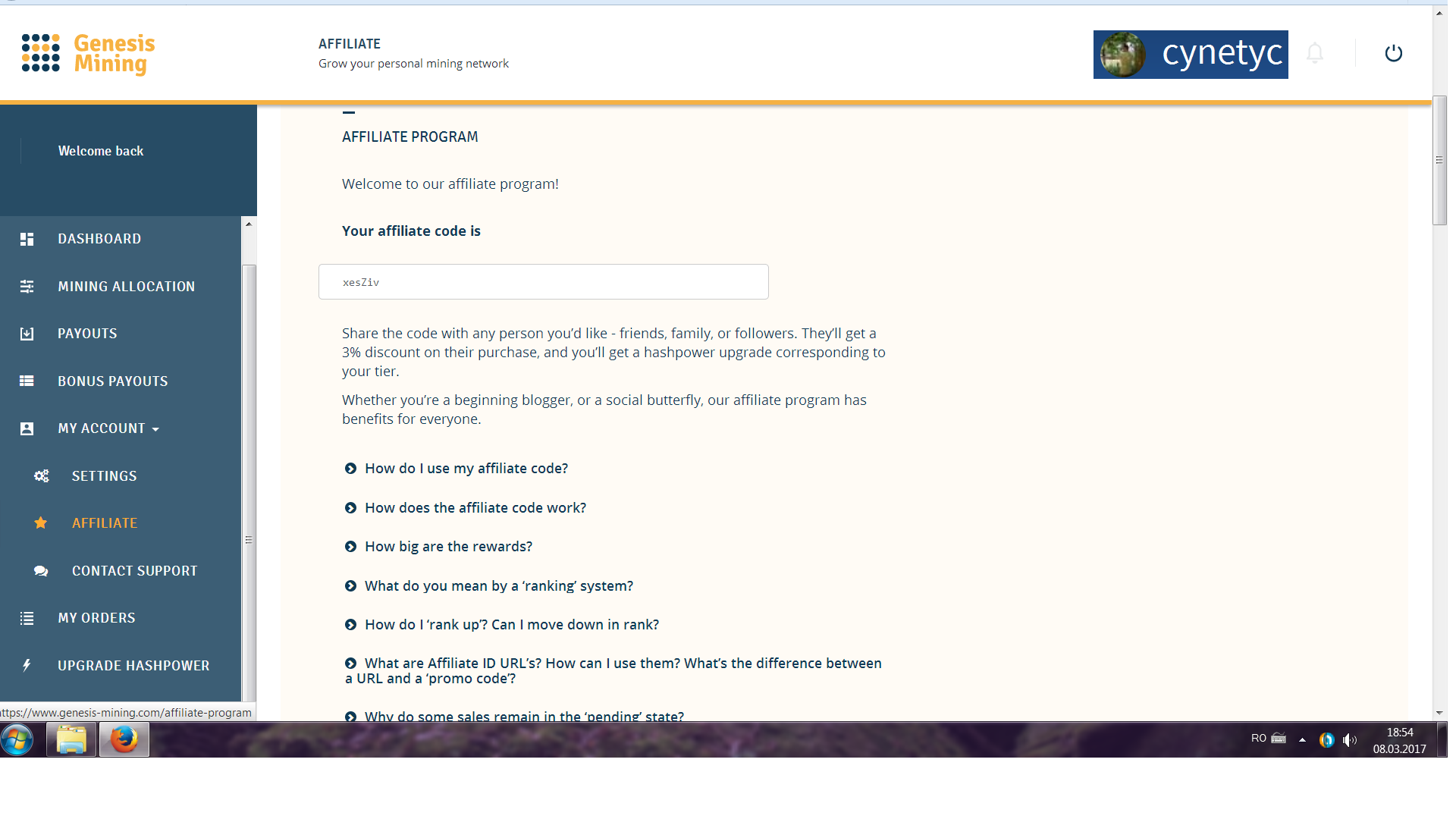 We are at the affiliate page and here we can see:
each user has an affiliate code mine is -- xesZiv . You can use this code and get 3 % off each contract you buy.
With each stage the bonus will increase and make it more easy to buy contracts.
Ok then so how we spread the word about this to other people?
Well you can put it on Youtube in a video or link or facebook, redit, here on Steemit like me or just plain old word of mouth.
Or you can use traffic sources to bring more people !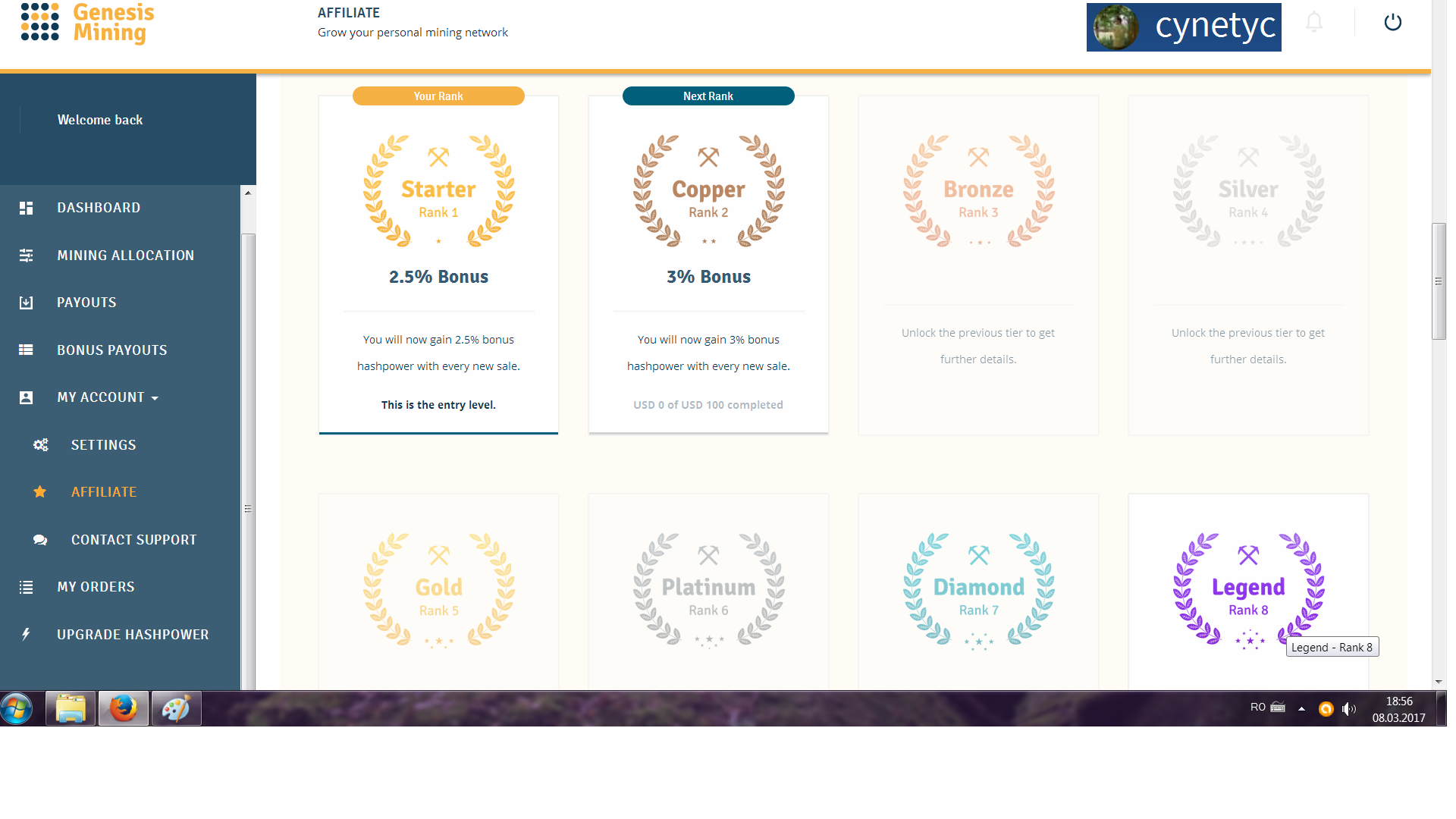 If you go down you can see different tools like banners and gifs that you can use. Perfect! Now let us find a site that can bring on the traffic!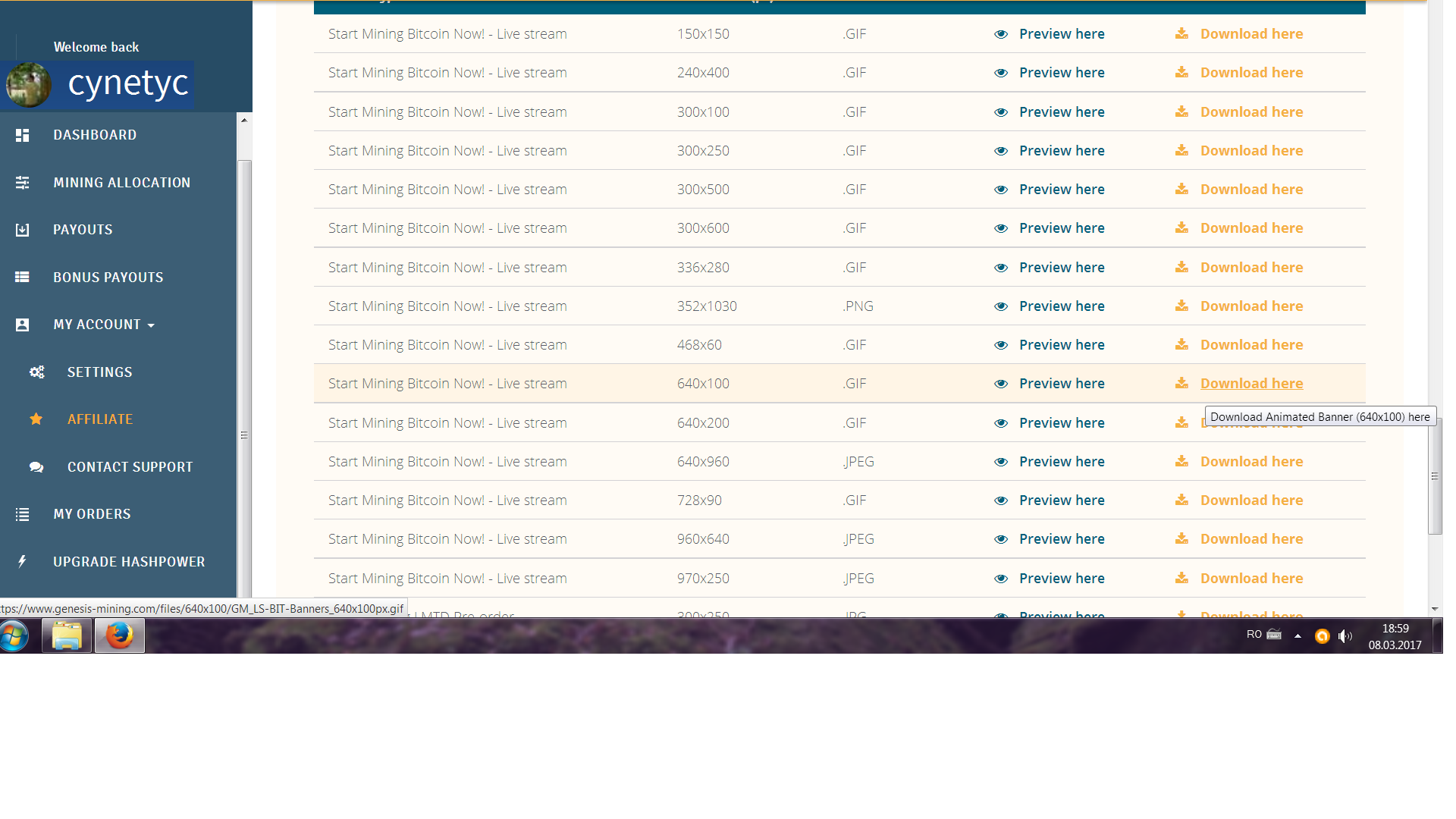 I present to you AdHitz!
You can see the date that I made my account witch it was august 2015. Now first register and put your information and then chose the option from the left side of the screen to make a user account . You can create a publisher account too if you want...those are for people who have sites and/or businesses and need huge traffic for their sites.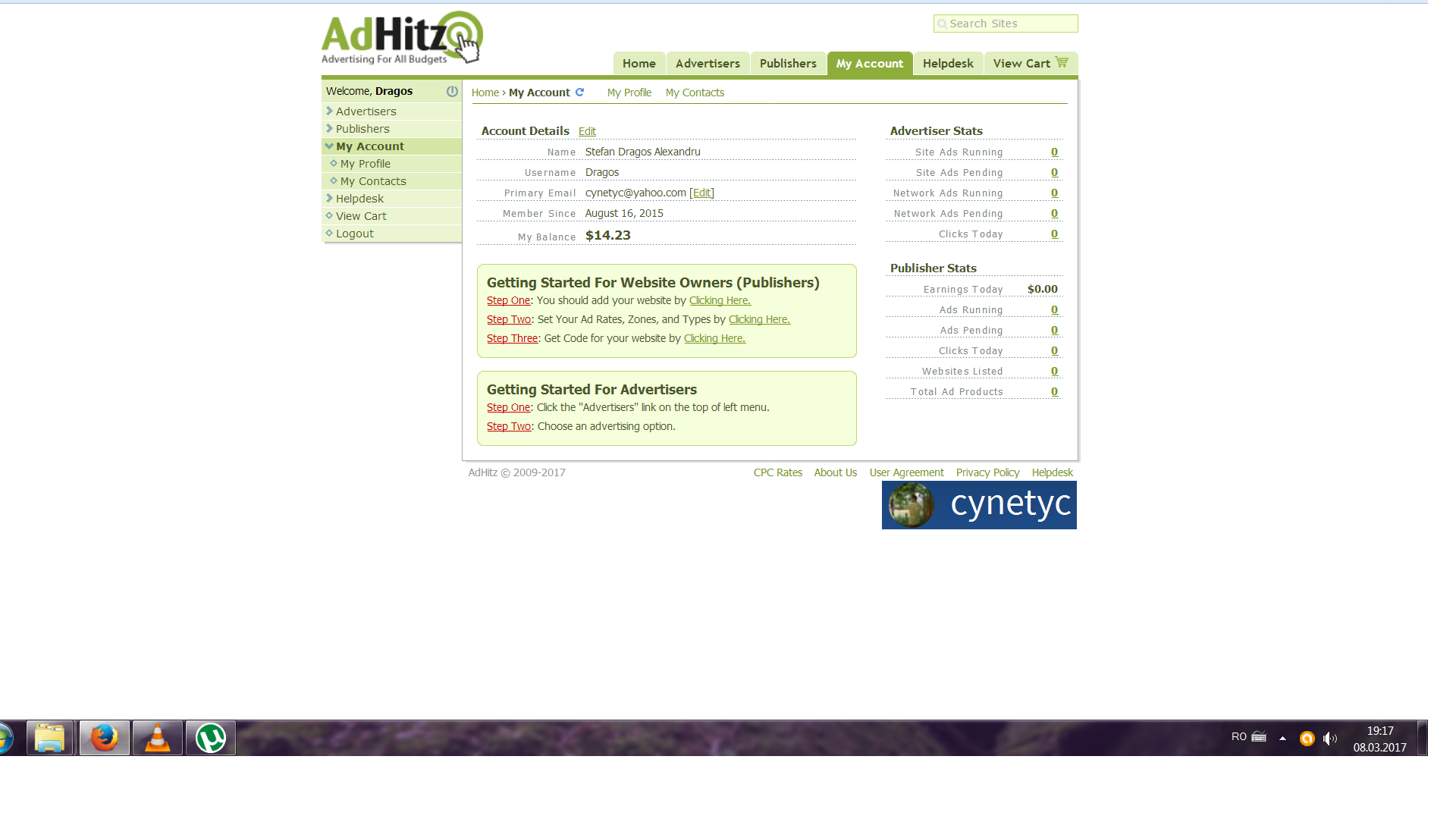 Now pick advertisers ( to make your custom banner) and press buy network ads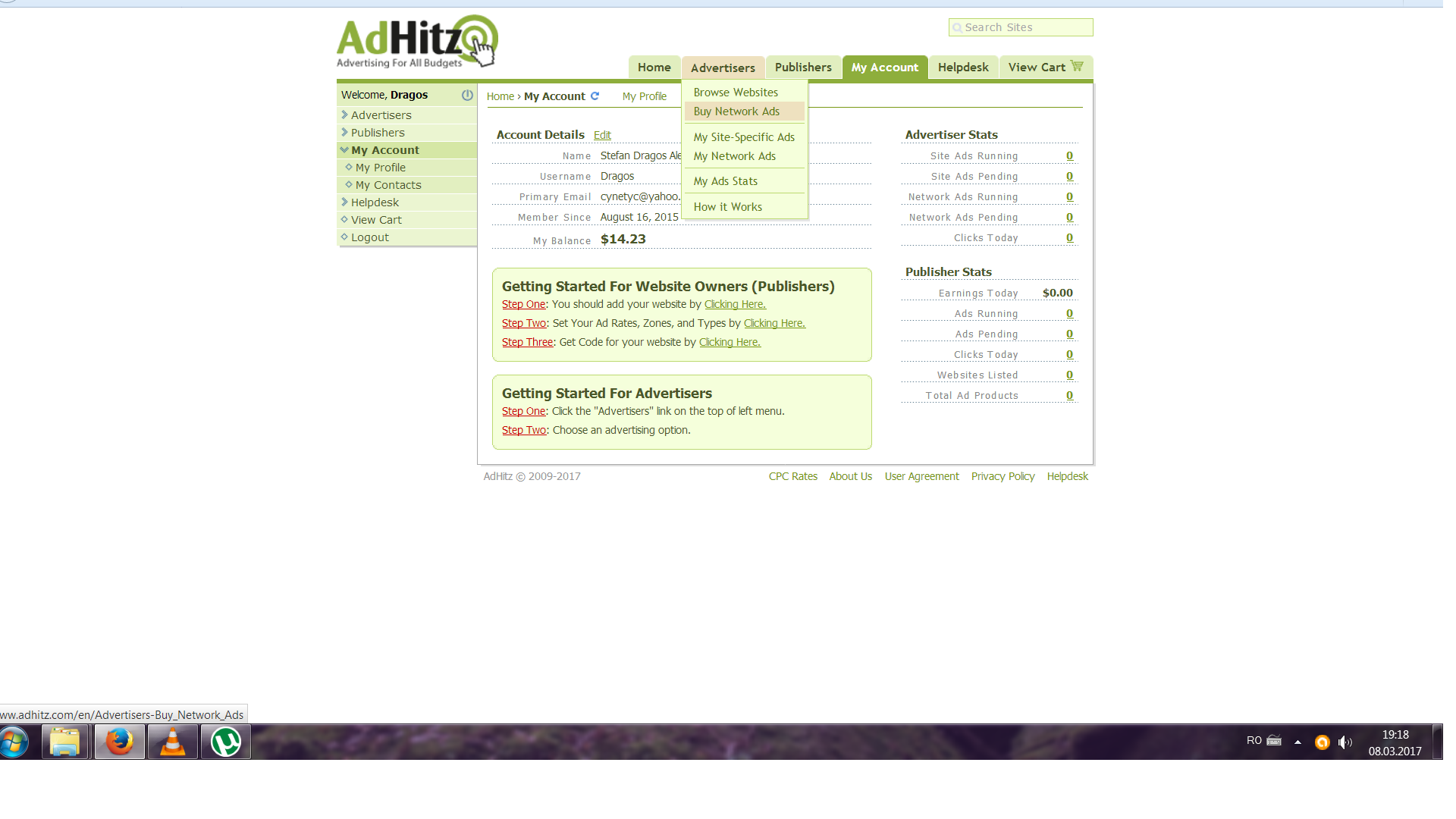 Now you can just copy my options:
chose the title
chose image ads (728*90)
and chose South America for a better traffic source. Also Europe works perfect. Remember the ads run but you want engagement, that means people clicking on your ad and subscribing


Now just chose daily rate and amount and chose to pay .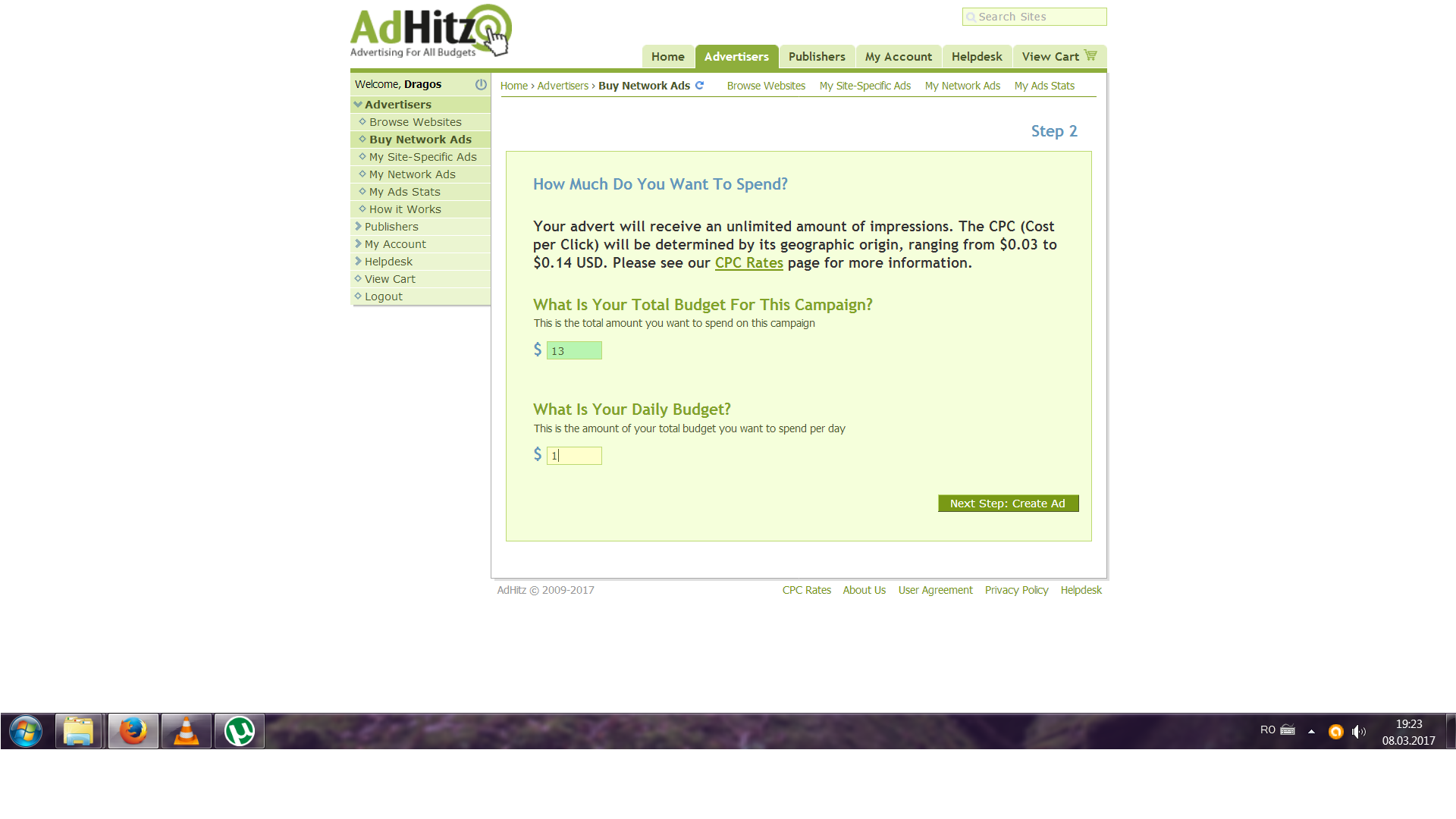 In the next image I show to you :
AdF.ly
This site is a web-based url shorter that pays you money for shortening urls and puts and add that can be skipped after 5 seconds. The register is simple. Just fill your information and put the link of your site and short it.

NOW! PAY ATTENTION!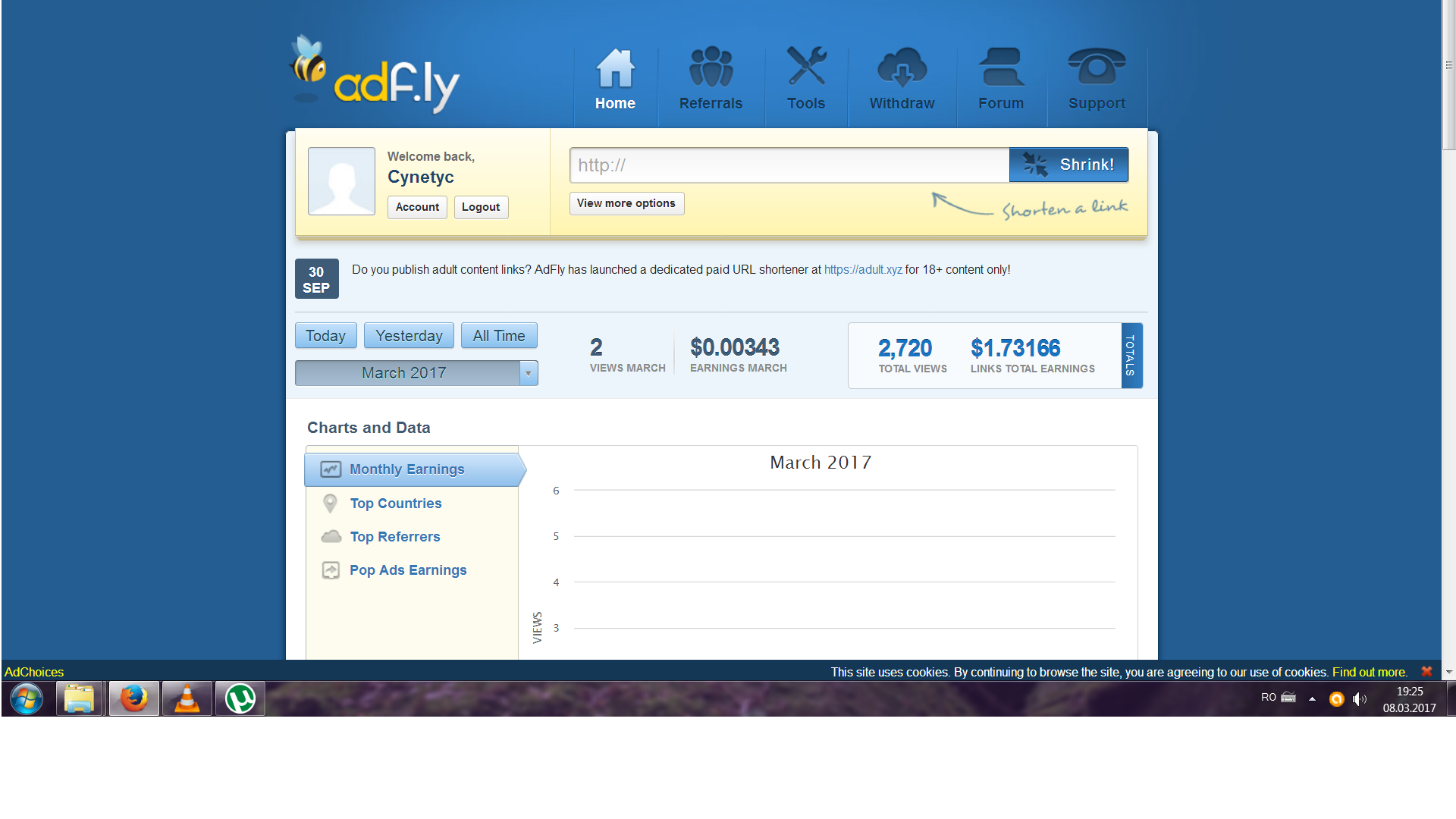 I put my affiliate link from genesis mining and shorten it at adf.ly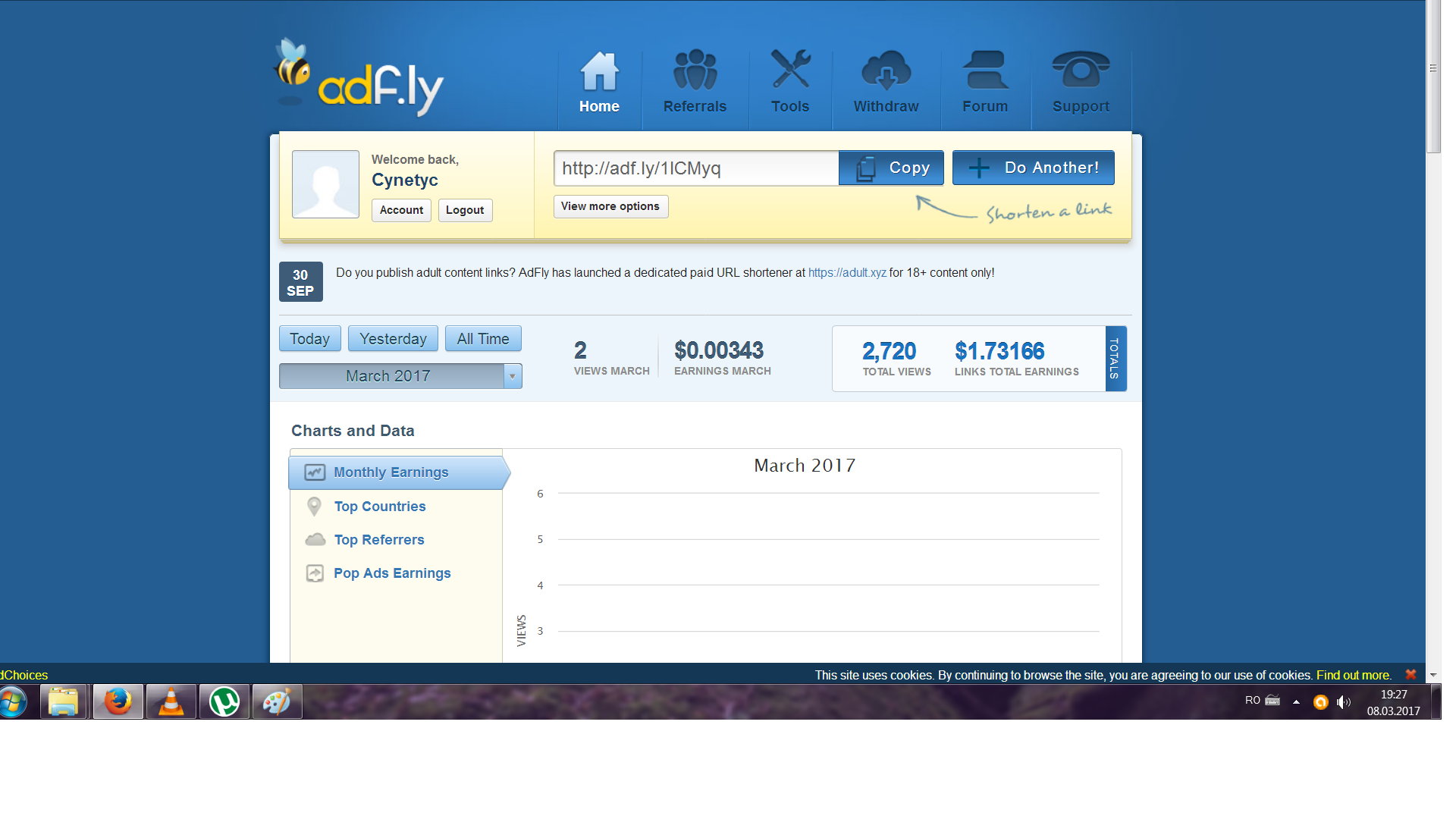 And then i put it here where they ask for the url and other information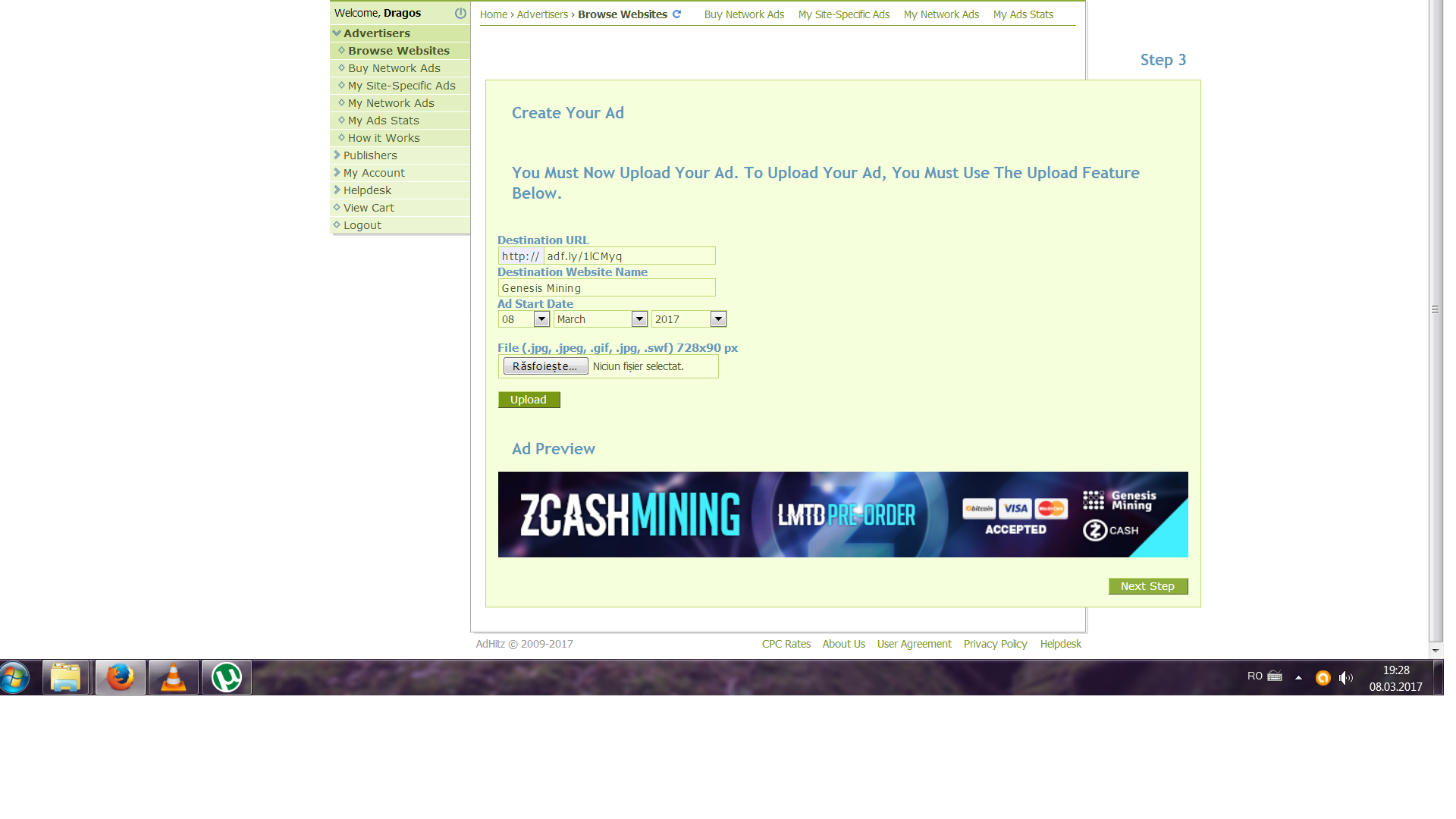 Now remember that at genesis mining at affiliates are some banners chose the one 720x90 and download it to your computer then just upload it using the button on the screen.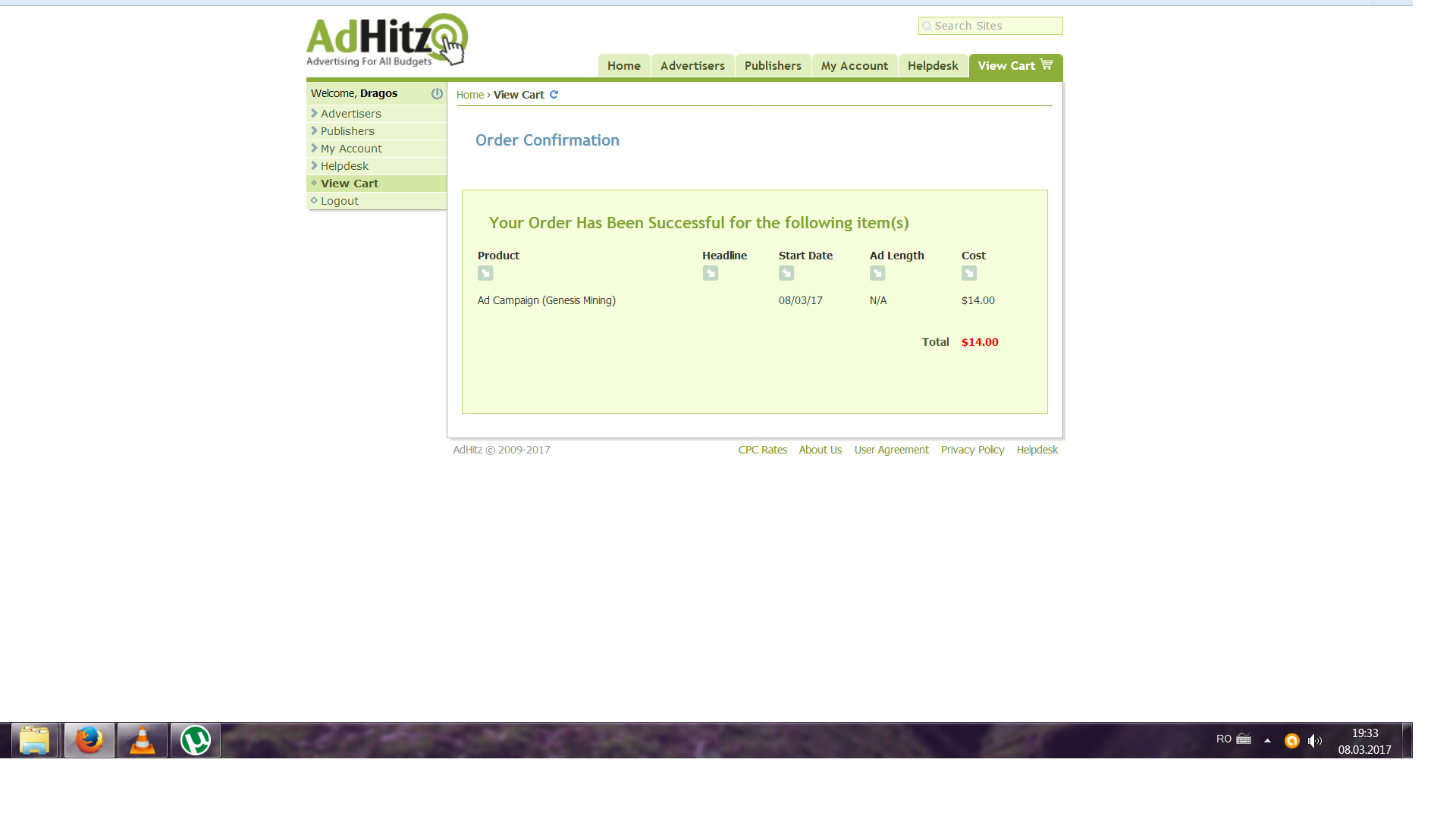 Now just press next and chose how to pay and VOILA you are done!
The rest of the images are to show that the account is mine :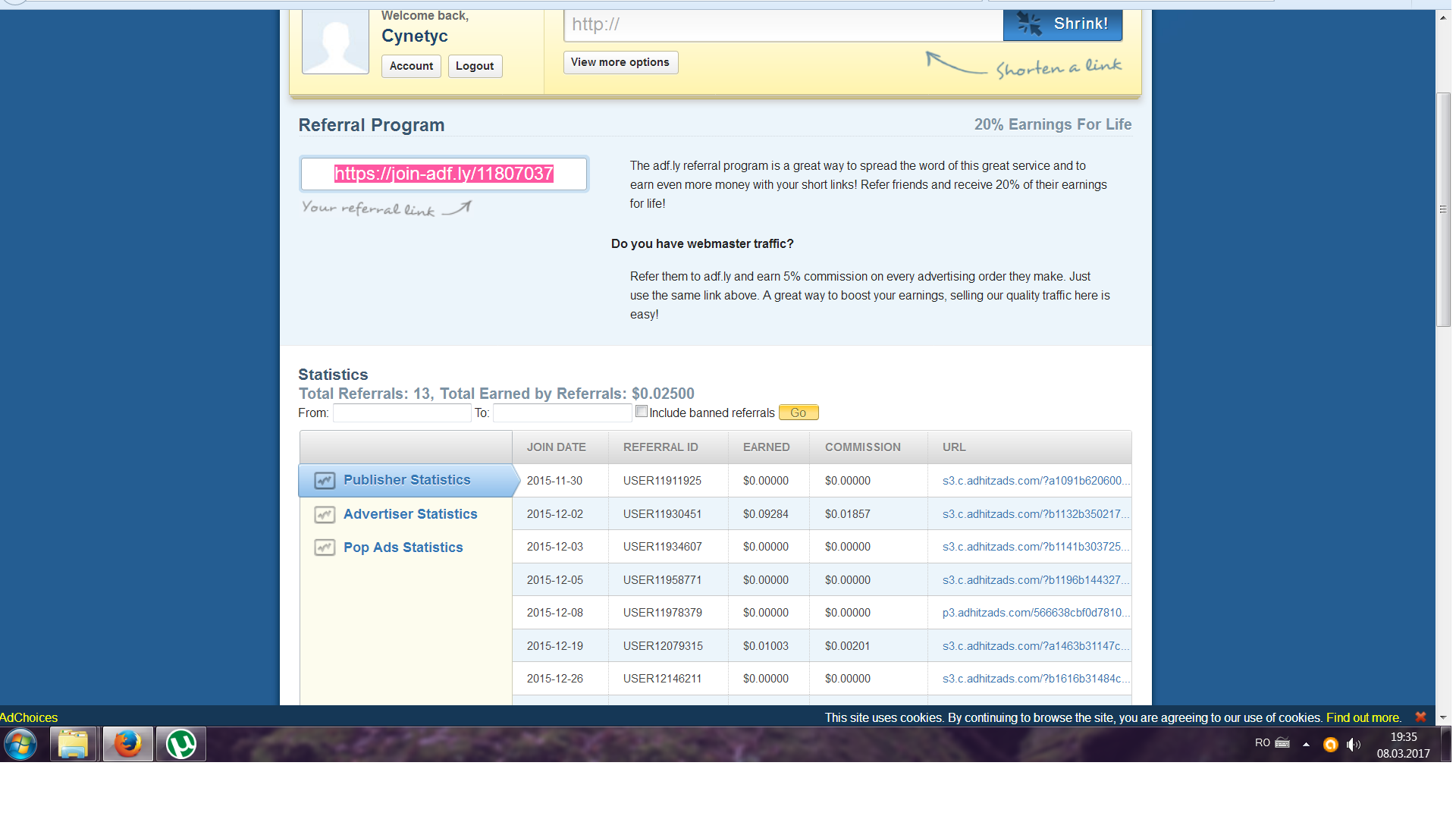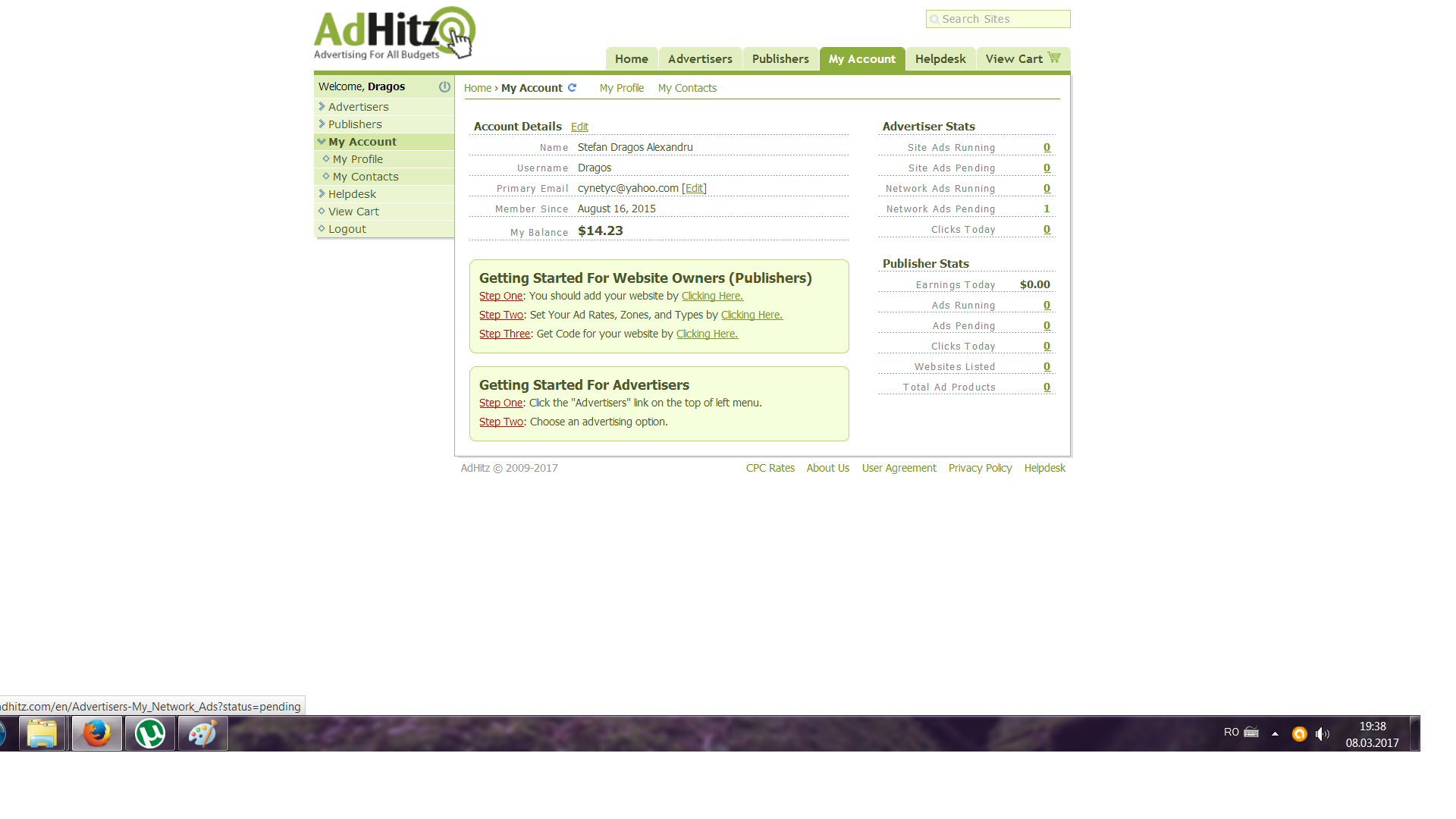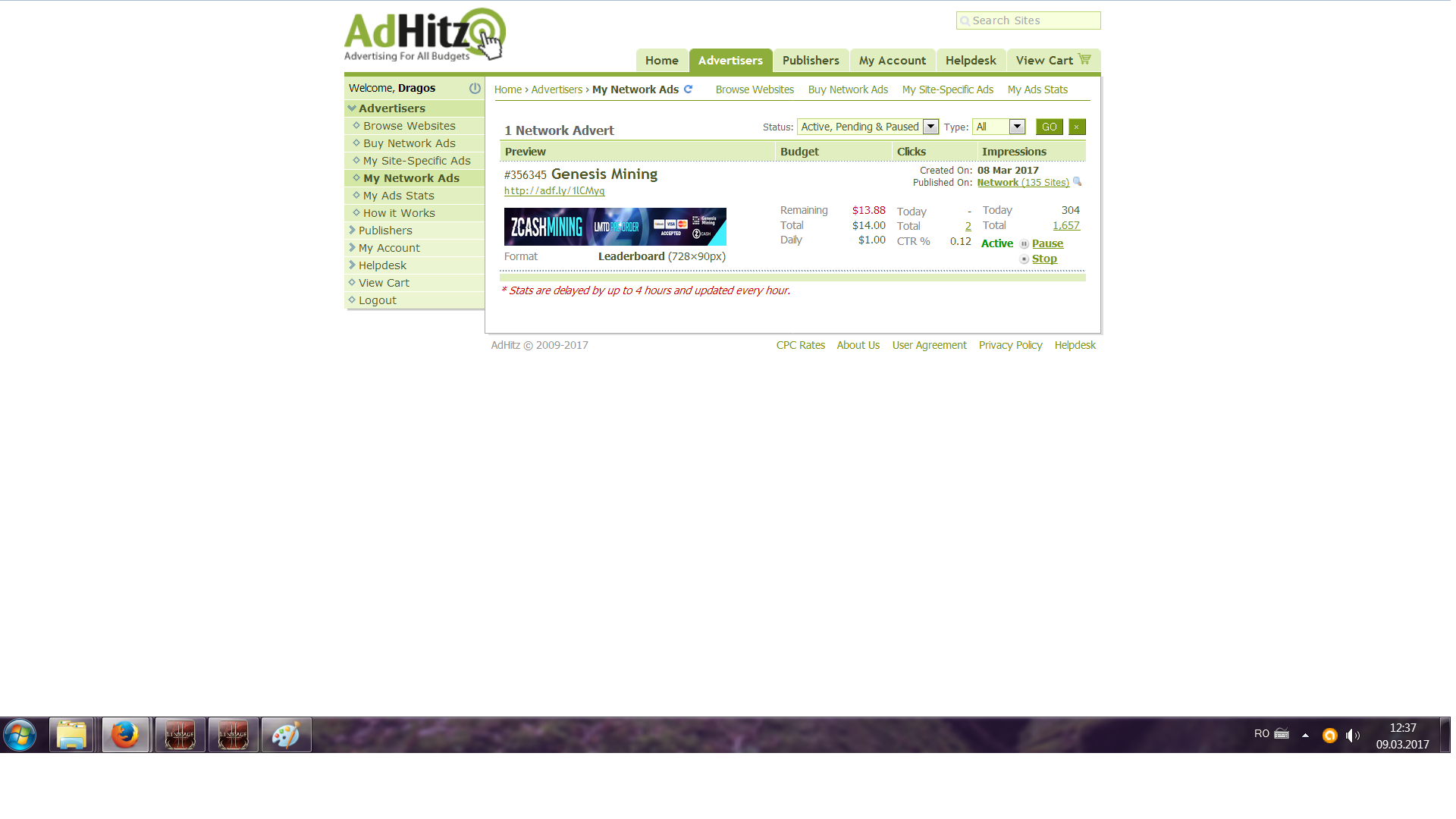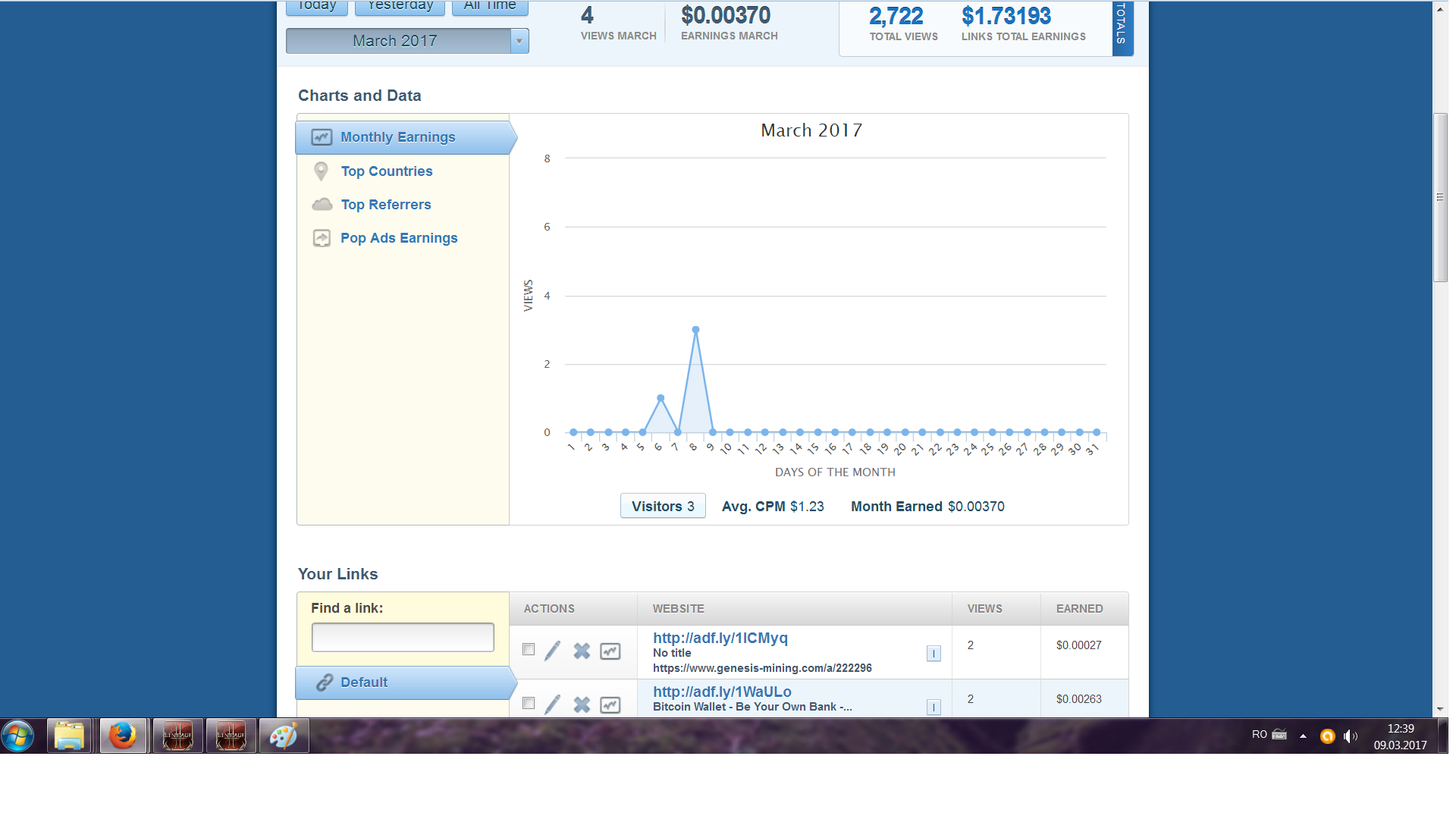 So in conclusion that was my guide and if you want to register to genesis mining use this link:
If you want to buy a contract just use this code and you will have 3 % off : xesZiv
If you want to register on adf.ly : https://join-adf.ly/11807037
If you want to register to adhitz ...just type it on google )))
I am Cynetyc and I approve this message!Cheers!