Kapadokya Peri Bacaları
Merhaba Türkiyede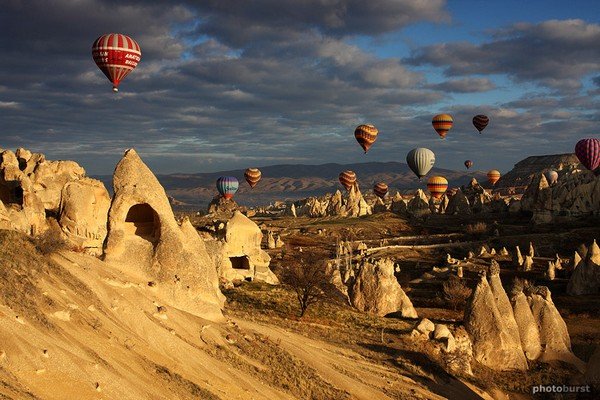 Nevşehir'e 7 km mesafede bulunan Kapadokya, olağan üstü güzelliğiyle hem yerli hem de yabancı turistler açısından ilgi çekici bir yerdir. Peri bacaları, yabancıların hazırladığı Türkiye'deki gezilmesi gereken yerler listesinde bile çoğu listede ilk sırada yer alır. Burayı gezerken sanki başka bir çağda, hatta başka bir gezegende dolaşıyormuşsunuz hissine kapılırsınız. Fotoğrafçılar için adeta eşsiz bir yer olup, çoğu turistik kısa filmde bahsi geçer. Her noktası ilgiyle gezilen peri bacaları, daha çok yabancı turistlerin, fotoğraf makinalarını elinden düşürmediği yer haline gelmişti.
Cappadocia, 7 km from Nevşehir, is an interesting place for both local and foreign tourists with its extraordinary beauty. Fairy chimneys, even in the list of places that must be visited in Turkey prepared by the foreign takes first place in most lists. As you travel here, you feel as if you are traveling in another age or even on another planet. It is a unique place for photographers and most of them are mentioned in touristic short films. Fairy chimneys, each of which was visited with interest, became the place where foreign tourists mostly did not drop their cameras.
Каппадокия, расположенная в 7 км от Невшехира, представляет собой интересное место как для местных, так и для иностранных туристов своей необычайной красотой. Сказочные дымоходы, даже в список мест, которые необходимо посетить в Турции, подготовленный иностранный занимает первое место в большинстве списков. Когда вы путешествуете сюда, вы чувствуете, что путешествуете в другой век или даже на другую планету. Это уникальное место для фотографов, и большинство из них упоминаются в туристических короткометражных фильмах. Сказочные дымоходы, каждую из которых с интересом посещали, стали местом, где иностранные туристы в основном не бросали свои камеры.
卡帕多細亞(Cappadocia)距離內夫謝希爾(Nevşehir)7公里,以其非凡的美感吸引著本地和外國遊客。童話煙囪,甚至在必須在土耳其訪問的位置列表編寫了國外發生在大多數列表首位。 當您在這裡旅行時,您會覺得自己好像在另一個時代甚至在另一個星球上旅行。 對於攝影師來說,這是一個獨特的地方,其中大多數是在旅遊短片中提到的。 童話般的煙囪,每一個都被有興趣地參觀了,變成了外國遊客大多不掉下相機的地方