Turin
After cancelling my original plans to Turin in August for a work trip to Hyderabad and Mumbai, I was very excited to finally be able to head to the capital of Piedmont in North Italy. This is the start of my long weekend in the state, exploring the city full of piazzas and baroque architecture, before wine tasting along the beautiful Italian countrysides. The start of this trip was a short visit to Turin, famous for their chocolates, historical cafes, for being Italy's only royal city and of course for being the food capital of Italy. This is a quick list of to dos and eats in this capital of North Italy!
Walking in Turin
The centre of Turin is easily accessible by foot and everything is just close enough together. You can spend hours walking around and seeing different piazzas and little streets with the incredible architecture. There isn't a better place to start than at Porta Palazzo, a market that has been around since 1913, serving up aisle after aisle of fresh produce. It is the best way to start your day with a stroll along the food market and catching a glimpse of the local ways of life via a bit of grocery shopping!
Before you know it, you will have hit the iconic Palatine Towers, a Roman aged city gate that once gave entry to the walled city. It is really impressive to see how well preserved this 1st century BC archaeological gate has been kept. It also reminds me a lot of Porta Nigra at Germany's Trier.
Just after the towers is the Cathedral of Saint John the Baptist which was built around 1498. This is an iconic and impressively large cathedral with a large bell tower. The grand entrance really makes you feel tiny next to the massive church!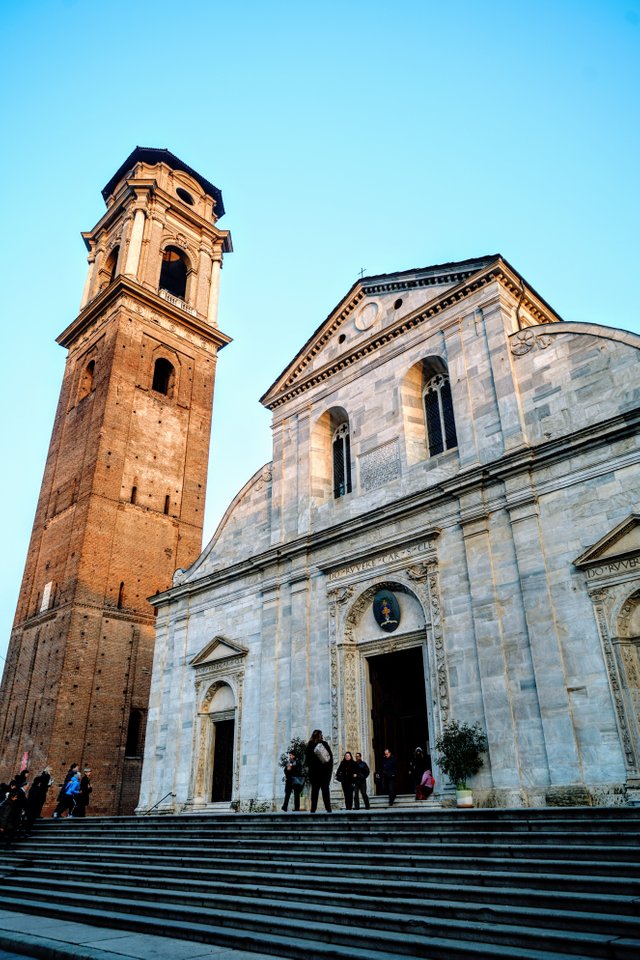 Just behind the church is the courtyard to the Royal Palace of Turin, originally built in the 16th century before being modernised in the 17th century with baroque influences. As you walk into the grand courtyard, it makes you realise how extensively large the whole thing is! I particularly liked the symmetrical features of the whole building, from the window sizes to the evenly distributed structures. You can actually head into the palace and visit the whole place – tour like a royal!
Having visited in early December, there were bound to be some form of Christmas market somewhere. Just outside the entrance of the palace in Piazza Castello are cutely lined Christmas huts. There were stalls filled with amazingly created chocolates (in all shapes and sizes), cheeses, pastries and more. It is the best way to get into the festive feeling with a proper walk around at the Christmas market and a cup of hot mulled wine! Perfect in the cold!
Something that I found particularly interesting about Turin was that there were literally piazzas everywhere. Walk a few blocks down Via Roma and you will be in another massive square. Each of these piazzas were created for a reason or dedicated to someone, so it is all quite interesting to walk around and see what each piazza was built for. I really do enjoy getting lost while travelling and Turin was pretty much the perfect place for that. You will be walking around, checking out stores and before you know it, walked into another piazza or courtyard. The best thing is that you probably feel like you have been there before but you definitely have not. The joys of travelling is just getting lost and seeing what you can discover or find. There is always something around the corner! Other places worth mentioning are Piazza Carignano and Piazza San Carlo.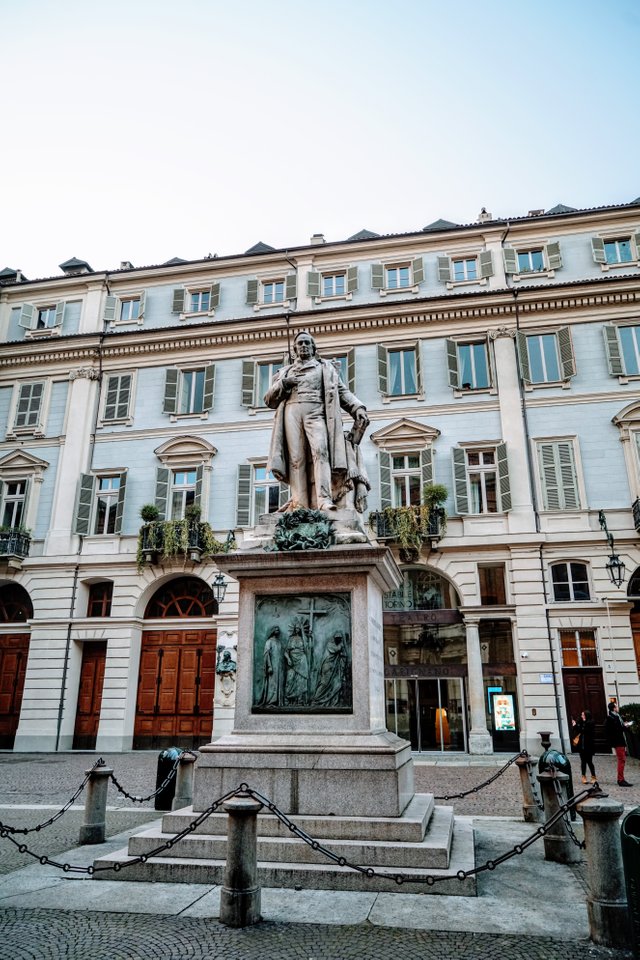 A little short walk towards the river is the towering Mole Antonelliana. This enormous building sticks out in the skyline of Turin like a sore thumb and is iconic to the city. Construction began in 1863 and it took around 25 years to complete. This iconic building was originally built as a synagogue and is now the home to the Museo Nazionale del Cinema. The viewing platform at the top gives the best views of the city and it is well worth the queue to get up the old elevator for the views! I had to queue for about an hour and by the time I got up it was really dark, but the peacefulness and city lights were well worth the time.
For the best day view of the city, head up to Bascilica di Superga. This is a Roman Catholic church built in a late baroque style around 1731. The church itself was under construction while I was there but the views from the grounds are just spectacular. The best part of the visit was climbing the tiny little stairs up to the roof for an even better view. I seriously didn't think the view could get any better. Don't forget to head into the cafe for a much deserved espresso after those stairs!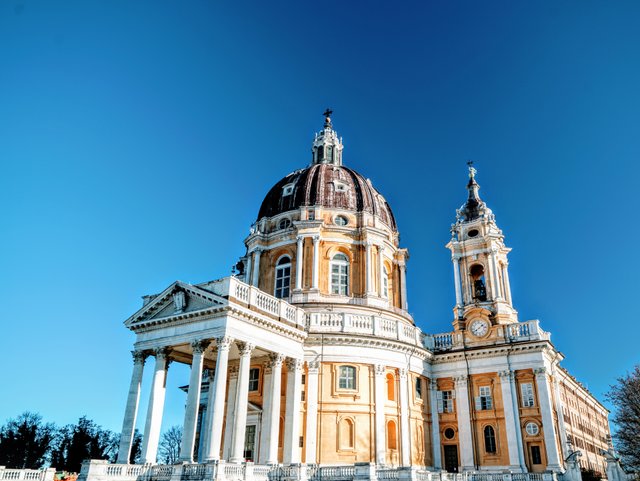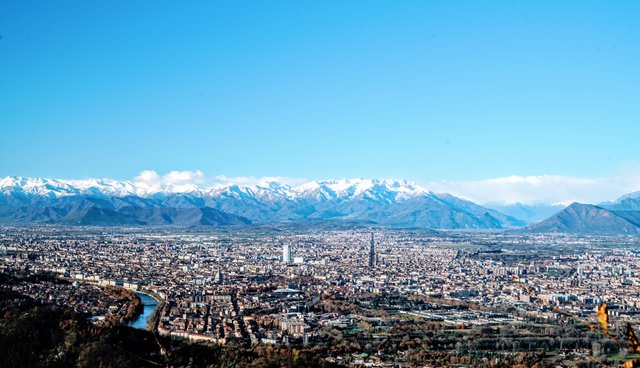 If I had more than a half day in town, I would definitely have visited a few more of the following spots!
Museo Nazionale dell'Automobile
Santa Maria del Monte dei Cappuccini
Castello del Valentino
Allianz Stadium
Where to eat in Turin
You cannot write a whole blog post about Turin and not mentioned about the food scene. The cuisine of Piedmont is simply out of the world. Type into google "Piedmonte food" and you will be faced with article after article of dishes to try in the region. A reason I have avoided Italy for so long was because of the perception of Italian food being based around pizzas, pastas and the like. With a low0-carb diet in mind, I was delighted to see the meatier dishes, salads and amazing cheeses and meats. From Bagna Cauda (anchovy fondue) to truffles, Brasato al Barolo (overnight veal) and bollito misto (mixture of boiled meats), I was more than satisfied with my options. They were simply so flavourful and delicious (the local wines of Barolo and Barbaresco helped immensely too!). I was lucky enough to fit two meals in while I was in town.
Bar Ristorante Pizzeria Conte Verde
Ironically, my first meal in Turin was at a pizzeria! Having arrived into town past lunch time, most of the restaurants and cafes were all closed until dinner. I was lucky to have wondered around and walked into this little joint. Here is where I managed to try brasato, something that is slow cooked in the King of Wines – Barolo. Deep with red wine flavours and immense taste, this was a softly cooked bit of meat filled with richness and boldness!
If I had a chance to come back to area, I would definitely book ahead for lunch at either Coffee Wine Emilio Ranzini, Piola da Cianci Torino or Ristorante Consorzio. Eataly Torino is also another highly rated spot, from the owners that initiated the slow food movement!
Tre Galline
This restaurant was the one place that I was not leaving Turin without trying. Every food blogger seems to be raving about this spot and a lot of people are surprised they don't have a star (me included!). I managed to book this in advance and was glad I did! You might have to pop into Pastis next door while you wait for them to open (well worth the atmosphere and local wines!).
Tre Galline is a hot spot that has this really home like feeling, with very old school styled decorations. The restaurant focuses on locally sourced ingredients with local dishes and cuisine. This restaurant has been mentioned in novels and books since the 18th century, serving up delicious local meals since then!
Here is where I managed to try the Piedmontese local dish of bollito misto – a selection of boiled meats. It might not sound very appetizing but it was delicious! There were around 7 different cuts of meats boiled and cut up in front of you and served on a plate. There was definitely one chicken and then 6 different cuts of veal. They are a big fan of the young cow meat here. The food was fresh, delicious and went really well with all the side dips and sauces.
Trolleys are a real big thing at this restaurant. First, the selection of wine to choose from was immense considering the wine by glass options, the meat also came along in a trolley and of course cheese! Make sure to try the local semi hard cheese of castelmagno. A perfect way to end my short trip to Turin!
All in All
I don't think you can get a better introduction to Northern Italy than a quick stop tour at Turin. It is a perfect walking city with lots of piazzas to see and check out. Stay tuned for the next part of my North Italy Tour!
Check out some of my other travel posts!