Mini TurboGrafx 16 gaming system Raspberry pi 3 installed 64Gb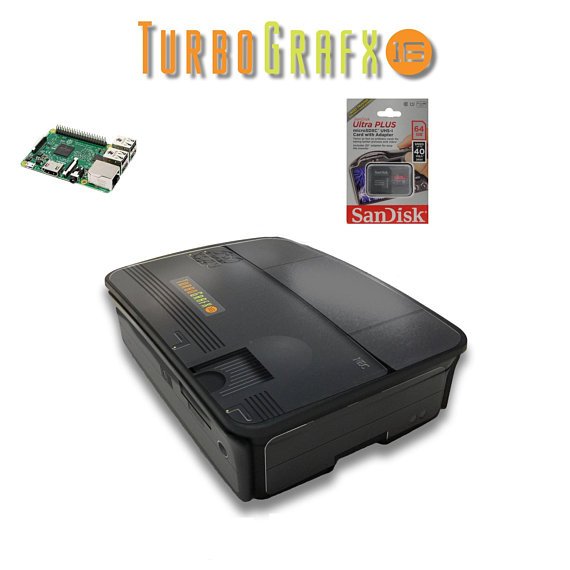 This is Raspberry Pi 3 that has been installed into a mini turbografx 16 themed case. The case is the official Raspberry Pi 3 case with a turbo grafx 16 skin applied to it. It can emulate 30+ different game systems from Atari to Playstation. It has both HDMI out and an AV jack (adapter sold separately) for old-school RCA TVs. It is powered by a 5v 2.5a usb adapter (included) and has 4 usb ports for up to 4 controllers. It has built in Wi-Fi and Bluetooth so it supports most of the Bluetooth controllers out there. Comes with a 64gb micro sd with RetroPie 4.3, games (approximately 10,000) and kodi pre-installed and configured. Has a functional power switch. Kodi 17 installed. Raspberry Pi has a heatsink installed for cooling. Complete and ready to play. Comes with easy to follow instructions.

**Please note: these are built and configured to order and take 5 - 7 business days before they can ship.

** Note: You may need a usb keyboard if you would like to configure any additional settings.

Please Note: As per Etsy rules and policies, we are unable to provide or sell game controllers with our systems. Those sellers that you see selling controllers are breaking Etsy's rules and risk having their account suspended or deleted. We value our account and good standing and do not want to risk that problem.

Sorry, but we do not have a game list for this system, it's just too many games to sort through and make a list of. With this many games, odds are the game you're looking for is on here as long as it's one of the retro game systems. Also, please note, while I did test a very large number of the games on this system, it is literally impossible for me to test them all. There will be games here and there that may not work or not work correctly - that's just the nature of Retropie and emulators in general. 
Purchase here https://www.etsy.com/shop/CXPStore