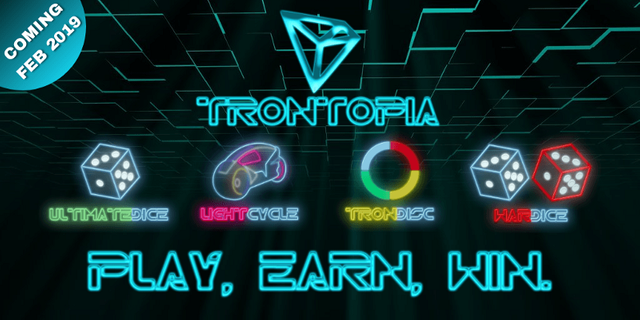 TRONtopia is coming in February!
We are pleased to bring you the first truly provably fair e-Gaming platform operating on the TRON (TRX) blockchain!
What is TRONtopia?
TRONtopia is a fully decentralized e-Gaming platform running on the TRX blockchain. Our first game, Ultimate Dice, will be released in February 2019.
• We offer a range of games for your enjoyment.
• Daily dividend payments.
• Referrals. Get 0.2% of every bet your referral wins!
• Multiple daily leader board challenges. Not only will the biggest players be rewarded, but so will the players who end up on the shorter end of the stick! We will reward both sides!
• Player vs. House, and Player vs. Player games.
• Dividend token burn! We will allow betting with the dividend tokens, and all lost bets are BURNED forever!
• BE THE HOUSE.
Why do we claim to be the first truly provably fair platform?
Most current e-Gaming platforms incorporate multiple hashes for their random number generation, one of which is provided by the platform themselves, and this is the piece of the random generation that is not decentralized, and it opens the door for doubt.
We have developed a methodology for roll generation that does not utilize any single hash that is provided by TRONtopia. All hashes involved in the calculation are provided by either the player, or the blockchain. TRONtopia has no possible way to alter these hashes. We have completely ruled out any possible doubt of our fairness by implementing our method for random number generation.
How do you get involved?
We will be releasing daily updates leading up to our official launch on our social media. We recommend you follow us if you want to stay up-to-date, and if you want to be involved in the platform. We are focused on building a strong community that helps us drive the platform in the direction the community wants us to take it.
Social Media Links
Telegram, Facebook, Twitter, Instagram
We highly recommend at the minimum joining our Telegram, as most of our announcements will be made there first.
LET THE GAMES…. BEGIN!