Tron base USDT Staking Platform is now online
Hello every one an Staking Platform is now live! As we know USDT is a stable coin where the price will always be 1:1 Dolar ratio, not like BTC, Ether and other cryptocurrency are volatile price change every now and then.
In USDT staking platform the price is stable and it will not fluctuate it will stay stable and that's what makes this staking platform unique from other staking platform Stake USDT PlatformThe best wallet to us in staking platform is the tronlink extension wallet.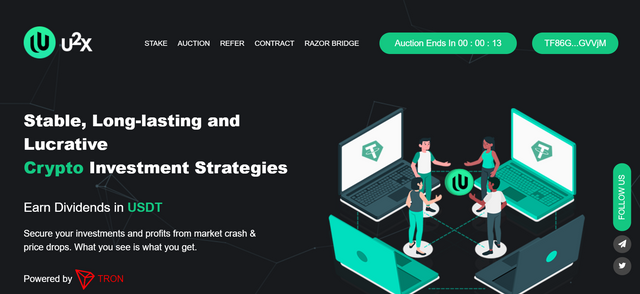 Step by Step in staking USDT
Install Tronlink Wallet in your browsers extension
You need to have Tron in your wallet and you can convert your Tron to USDT you can do it in https://justswap.io/
After you done all the things you need go in U2X site here U2X Staking Platform
Click Auction to enter auction lobby
Click Enter Auction Lobby or Enter , pop up box will appear
Then enter the amount of USDT you want to stake and click Enter The Auction
Your Tron wallet will pop up , Click Approve
You can see now your Entry in the Auction , just wait for the time to reset
After the time is reset, A COLLECT button will appear, just click collect
Click Stake in the up left on the site
You will see now you U2X balance , In Enter the amount in the box then the Total Day you want to stake it
That's It you are now Staking, You will Earn U2X token and USDT and you can collect it on the day that you put in.
HAPPY STAKING