STEEM TRON AMA : 10 SUMMARY POINTS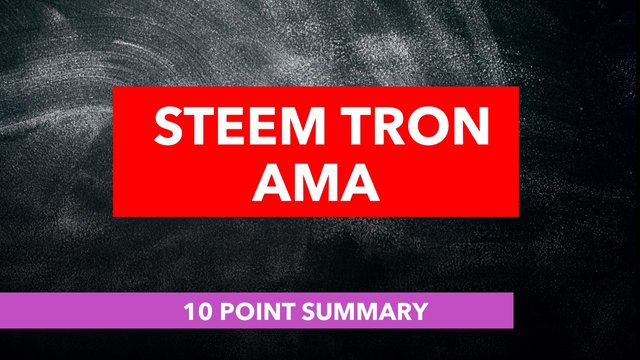 NED & JUSTIN AMA:
I have just listened to the Ned Scott & Justin Sun AMA about the recent announcement of Ned selling his stake in Steemit to Justin (Tron). If by any chance anyone missed the announcements; they are well catalogued here by our Steem news man @pennsif here.
I watched recording of the AMA on YouTube here
Whilst it wasn't quite the AMA I was expecting and I'm sure some technical steemians will feel short-changed by the lack of technical information. If you think of this as two chairmen talking generally about the topic it gave me a fair amount of comfort that there will be no dramatic change and a general positive tone was set on the sense of direction.
Perhaps some of the panic I saw in the steemian posts over the last 24 hours will dissipate!
10 THINGS I NOTED:
No plans to use the very large stake Justin/Tron controls for voting on content or witness voting. And plans to keep the governance structure as it is.
Justin is encouraged by the steemian community and traffic we have on the blockchain and this has been a big part of the motive behind the investment. Justin will seek community insight and thoughts on future developments.
They are releasing a new product within the next week which has been beta tested. I'm thinking this is an investment in the user interface steemit.com - with new "product features". Let's see, it sounds interesting – I'm sure we will hear more on this very soon.
There is a plan to invest development capital into human resources and marketing and to ultimately add more value to the whole blockchain
Justin is well aligned with the idea of growing the value of the Steem Token
Justin plans to invest in marketing to attract new users through initiatives including partner and distribution channels
No plans for a token swap at the minute. it is very much status quo message.
SMTs is still on the roadmap for release, especially as much work has been done to date.
Justin encouraged Tron users to open up Steem accounts and test out the blockchain.
Justin referred to some of the Tron projects and how Steemians can access them at 44:45secs into the video
Also Justin may attend SteemFest5.
I hope he has a strong c-suite of executives that can help bring growth and high professional standards of leadership.
Never a boring day on the Steem Blockchain!