What makes me so excited in playing games with 888Tron?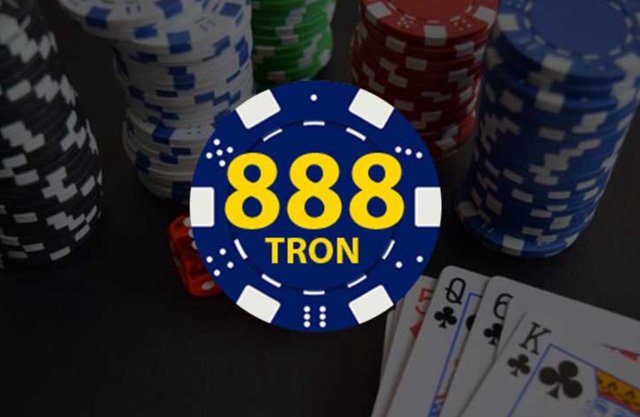 I'm a huge fan of TRON! I really am! 
I even bought tokens the time when TRX reaches all-time high!
Not only that, I've met Justin Sun not just once, but twice! Check out my pictures with him below: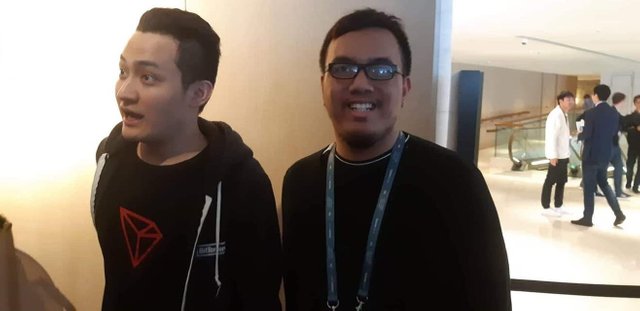 Token 2049 Hongkong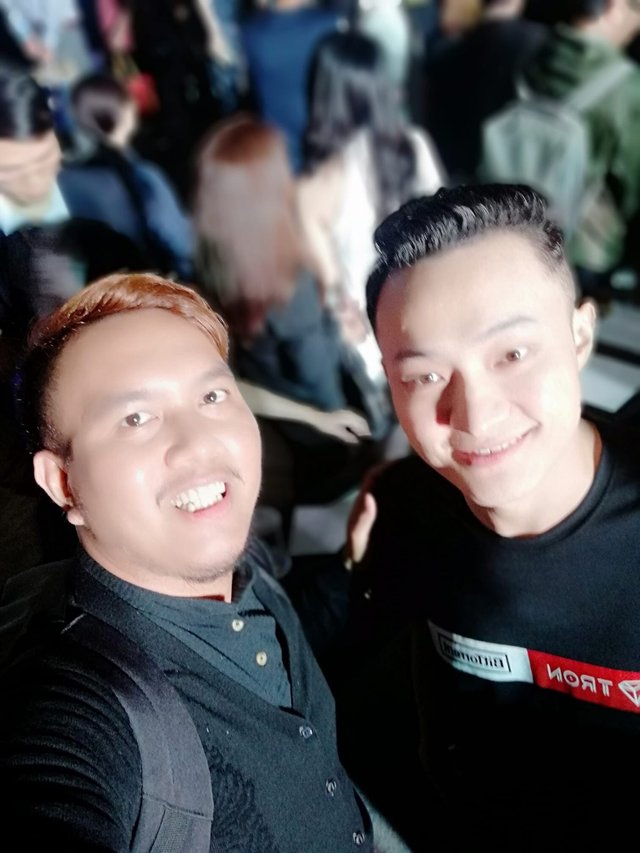 Asia Blockchain Summit Taipei
I've got to be honest with all of you here. TRON was a promising blockchain next to Ethereum and EOS. It's not just like any other blockchain around the corner. It's really something else, especially in real use cases.
Speaking of the real use cases, online gambling or betting is one of those. 
Like Ethereum and EOS, Tron is also capable in hosting blockchain-based gambling. One of them is 888Tron. I have been trying various online gambling and betting platforms in both centralised and decentralised versions. 
But what makes me really excited about 888Tron? Let's get started, shall we?
1. More games to choose from
When I opened their website, I am so impressed on what I've seen. As of today, there are five games that are ready to play, one teaser, and three are upcoming soon. And here are they: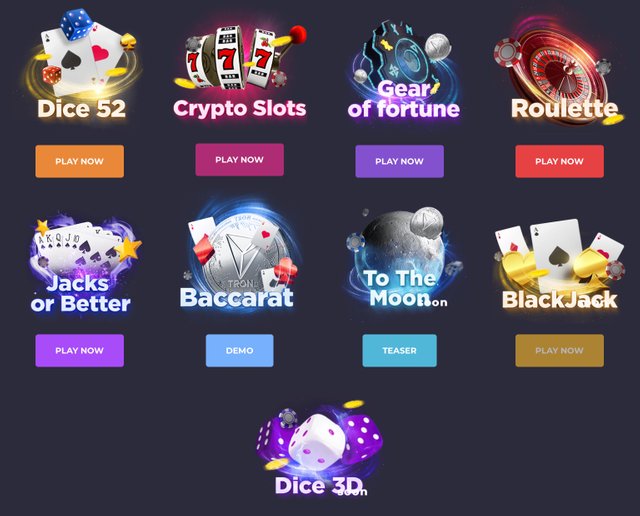 I've got to be honest with you guys. If "To The Moon" game will be launched, I would be so excited to play it! I just don't know when would this game be officially activated, but I am so pumped up with this. But for now, the games I have played most of the time are Dice 52, Crypto Slot and Roulette.
My crypto friends also started to take notice of the game that I'm playing, and they're seem to be interested despite playing in other existing gambling platforms. With all of the games being introduced in 888Tron, there is no doubt that crypto gamers are gonna be intrigued in playing here. 
2. The 888 Buy Back Pool
This is something that no other crypto gambling platforms have. It's also the first time that I've seen this kind of feature and I am so blown away on this one. You know why? I've never seen any kind of platform who does the buy back feature from the founders.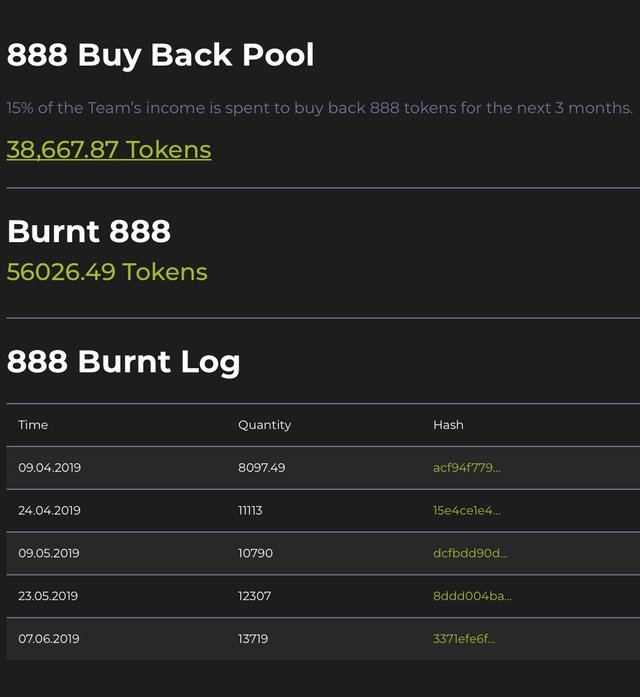 As what you have seen in the image above, the team themselves are going to spend 15% of their income for the next 3 months to buy back 888 tokens. Not only that, they are burning some tokens as well for the supply to decrease that may result to the increase of its demand. 
I also liked them because of their transparency, as they've shown their burnt log as well. It means that they are here to stay for a long time and they want their users to actually see their activity for the benefit of this platform. Sounds good to me!
3. Mining 888 tokens and having the option to freeze and unfreeze them
I am honestly a fan of mining tokens since I was introduced to Bitcoin. My dad and I used to plan in setting up several mining rigs at home, but electricity and maintenance is the major concern these days.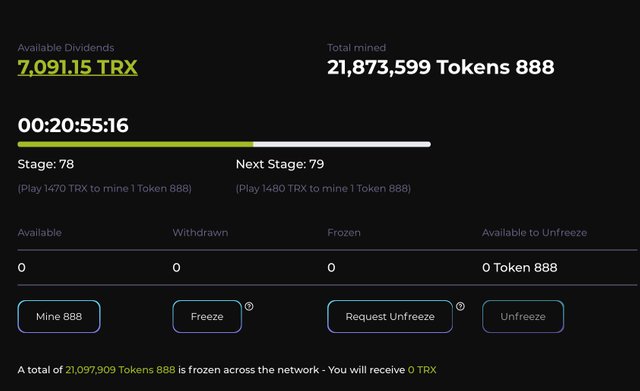 With 888Tron, it gives me the opportunity to mine as many 888 tokens as I want. Not only that, I have the option to request in freezing or unfreezing my tokens. There are benefits for us to freeze our tokens, in which may not tempt us to sell it when the price isn't what we expect. If the price is right, we can also request for them to unfreeze tokens in our account. For me, this sounds so cool!
4. Earn more by referring friends
I did mentioned earlier that my friends are starting to watch me playing games in 888Tron. Since they are interested, I gave them my referral link.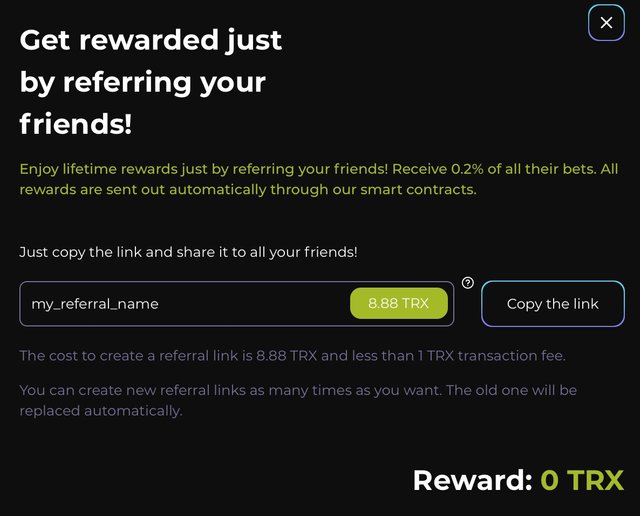 That's right peeps! 888Tron has a referral program that would let you earn 0.2% of their bets. The more friends who joined under your referral link and start betting along the way, the more bonus tokens you can earn. The good thing about it is that your commissions are sent automatically through the platform's smart contract. 
However, there's a catch! In order for you to be eligible in 888Tron's referral program, you need to link your Tron wallet and have at least 8.88 TRX and one existing TRX transaction fee. 
5. A promising future ahead with their roadmap
In order for a project to become successful and to be on demand for both old and new players in the market, it needs to have a clear and concise roadmap.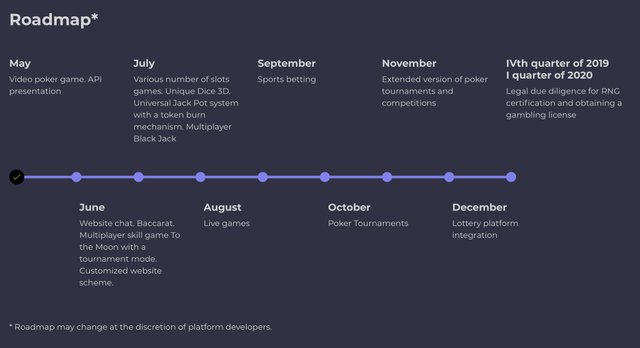 As you can see in their image above, I am so convinced on what I've seen so far with 888Tron. In their roadmap, one of the things that I am excited about are the live games that will be initiated next month (August), and sports betting on September. 
By the way, I'm a huge fan of sports betting for a long time and I can't wait for 888Tron to fully implement this one. Of course, the most essential part in their roadmap is the legal stuff that will be implemented in the final quarter of this year onwards. I'm also looking forward for the poker competitions and tournaments and the integration of their lottery platform.
I have no second thoughts that 888Tron is on the right track even if they do change their roadmap in the near future.
Final thoughts about 888Tron
All I can say is that 888Tron is doing a wonderful job for its community, especially those who are supporting Justin Sun and TRX's blockchain. I'm so totally blown away of what I've seen so far in their platform, including some features that are totally new to me. It's completely mind blowing, which is why I've enjoyed my spare time in playing games with 888Tron. 
I would like to thank the people who are behind this project. I believe that with their passion, dedication and perseverance in making a huge difference with 888Tron, I have no second thoughts that they're going to become successful with lots of users in the next few years. I can feel it! 
Anyways, thank you so much for taking your time in reading my blog post about 888Tron. If you think that my post helps you in any way before trying out their platform, feel free to share this with your crypto and gambling friends out there.
If you would like to check out 888Tron, you can visit and start playing by clicking here. However, if you want to dig deeply on how their ecosystem really works, it's better for you to download and take time to read their whitepaper here. 
And peeps, don't forget to follow me on Steemit. If you want to stay updated with my latest posts, just click the "Follow" button. Let's also connect on Facebook, Twitter, Youtube, Telegram and LinkedIn! 
Way to go 888Tron!
My Bitcointalk profile link: https://bitcointalk.org/index.php?action=profile;u=254229