Jessica Yaniv REFUSED Gynaecology Appointment - Thats BIGOTRY!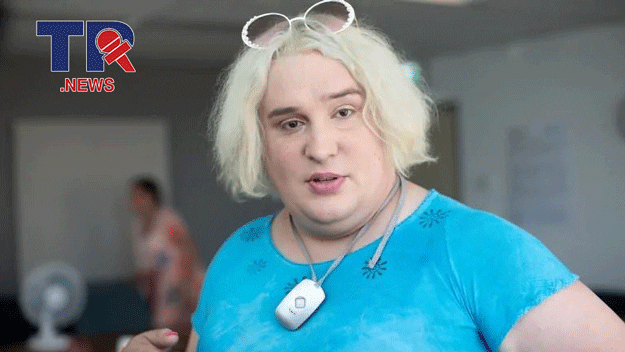 A beautiful, gorgeous, larger than life transgender woman with meat and two veg is outraged again! Jessica Yaniv REFUSED Gynaecology Appointment - That's BIGOTRY!
Beautiful Bigotry
Jessica Yaniv is an online transgender celebrity who has a penchant for predation and loves to pick a fight. Jessica identifies as a woman but still has a penis and testicles. Before her beautiful buxom transition, Jennifer was known as Jonathan.
Jessica became famous for her attempted extortion of waxing salons where staff refused to "trim her pubic hair and leave her with a neat line." The waxers were not learned in the art of scrotum shaving and did not want to touch "male genitals". Jennifer became so incensed and outraged at this bigotted refusal of service she promised to sue the waxing salons on the grounds of gender identity discrimination.
Jessica ended up losing her case, the British Columbia Human Rights Tribunal ruled in favour of the salons because they didn't advertise waxes for male genitalia. The buxom beauty ended up having to pay 2,000 Canadian dollars to three of the businesses for 'improper conduct'.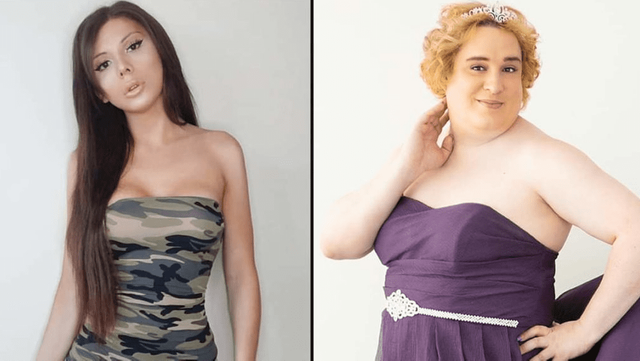 Blaire On The Left - Jessica On The Right
An Act Of Gynaecological Gratuity

Jessica has an eye for egregious bigotry, a gynaecologist office told her that
"we don't serve transgender patients"
leaving her
"shocked, confused and hurt".
Again she referred to her
"human rights"
however someone didn't tell Jessica that a gynaecologist specialises in biological
FEMALE
reproductive organs, not a biological
MALE'S
meat and two veg.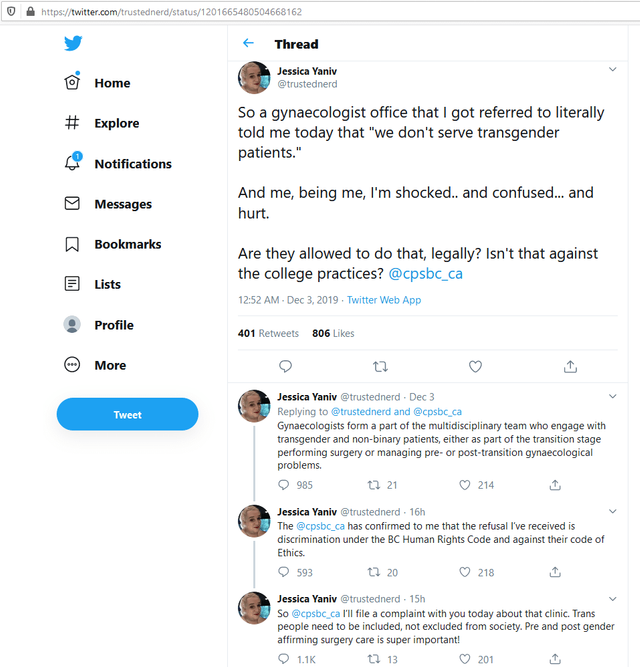 Jessica's Online Outrage
The Twitterstorm that Jessica fired off online caught the attention of Blaire White, a transgender woman who "made the effort". Because of Jessica's previous attempts to have female waxing staff touch and shave "her scrotum", Blaire came out with a scathing retort.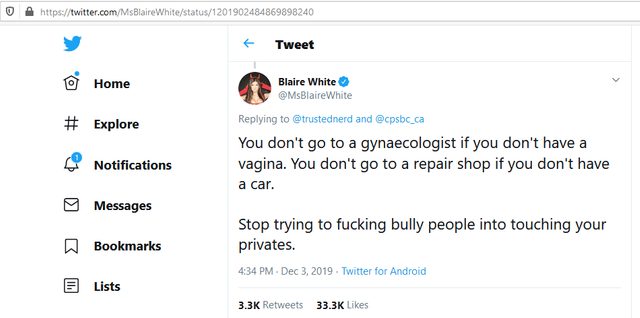 Blaire White Replies To Jessica On Twitter
Blaire has a right to point out the obvious, and being a transgender woman herself decided to hit the proverbial nail on the head as it were. Jessica's obsession with "tits, pussy and periods" goes much much further. We found a website calling out "Jonathan Yaniv" as a sexual predator who has an "unhealthy" fascination for young girls.
It has been alledged that Jonathan reached out to young girls on social media to give them his phone number. Apparently, a girl complained to an adult that he made comments of a sexual nature to her, such as asking her to be his girlfriend, which caused her to feel uncomfortable.
You can and perhaps should read more about that by clicking HERE.
There can be no acceptance of misogyny and paedophilia in the name of "gender equality".
Little girls have human rights too!

---
Posted from TR.News with SteemPress : https://www.tr.news/jessica-yaniv-refused-gynaecology-appointment-thats-bigotry/
---