Weekly Trivia Contest #1 - 40 SBD + 100% STEEM Payout for Correct Answers!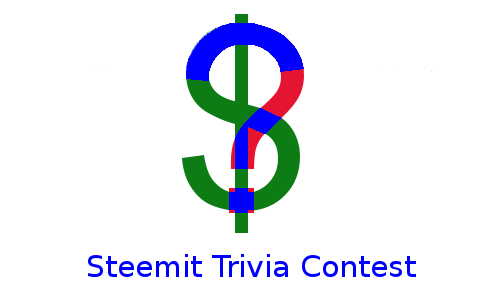 ** Update: The Payout Pool is now seeded with 40 SBD! **
Who doesn't love a good trivia contest?
Alright, so here's the deal. This is a bit of an experiment, but I think it should be pretty fun. I want to start a weekly four question trivia contest which pays out the STEEM generated by the post. What this means is that the more upvotes that these posts get, the more payout there is for correct answers. I haven't done this before, so I don't know exactly how the payouts work or exactly when the payout period ends, but I'll figure that out when we get to that point.
Here are the rules (PLEASE READ THEM ALL):
Please DO NOT post answers as replies to this post. If you do so, you will be disqualified from the contest.
All answers must be sent as a direct message to @misko on Steemit Chat (https://steemit.chat). Please include your Steemit account name in the message for potential payouts. Once you have submitted your answers on Steemit Chat, please comment on this post letting me know that you've submitted your answers.
Only one answer message per user is allowed. The message should include your Steemit account name and your answers for any of the questions. This means you only get one shot to answer any of the questions! Subsequent answer messages will be ignored.
You may use any resources at your disposal to answer the questions.
Here's how the payouts will work:
Each question will be worth 25% of the STEEM generated by the post.
The amount of STEEM that each question is worth will be split evenly among the users who answer the question correctly.
You will be paid out for all correct answers that you submit. You do not need to answer all four questions correctly to receive a payout.
Example Payout:
The post generates 400 STEEM.
Each question is worth 100 STEEM.
20 users answer Question #1 correctly, and each receive 5 STEEM for their correct answer.
100 users answer Question #2 correctly, and each receive 1 STEEM for their correct answer.
5 users answer Question #3 correctly, and each receive 20 STEEM for their correct answer.
1 user answers Question #4 correctly, and they receive all 100 STEEM for their correct answer.
These questions are intended to be difficult. I want to make these questions challenging enough that those users who do get them correct are adequately compensated. This compensation also depends on the amount of STEEM that the post generates, so upvote and spread the word! Also, if any questions go unanswered, the payout for those questions will rollover into the payout pool for the next week.
Please keep in mind that this is the first iteration of this contest, so even though I hope everything goes smoothly, there are likely to be some issues that I've overlooked. If you have any suggestions about how the contest could be improved, please comment on the post.
This Contest Ends on Friday July 14th at 11:59 PM Central Time (UTC-06:00)
Okay, without further ado, here are the questions for Trivia Contest #1:
Question 1
In a 2017 issue of a popular satirical magazine, the controversial Olympic athlete pictured below was featured in an advertisement for a fictional movie. What is the name of that fictional movie?

Question 2
The cover of this rock album shows a rock duo standing against a painted brick wall surrounded by people dressed in black body suits. What is the name of this album?
Question 3
In a recent science fiction film, you see a television news broadcast with the caption "Alien Crisis, Day 25". What are the call letters of the TV station broadcasting this news story?
Question 4
At the "fictional" Tiger Eye Boxing Gym, you see a promotional poster for a Heavyweight Championship bout between Mike "Copycat" Flieghmann and John "Quickdraw" Lavin. According to this poster, what is the name of the venue in which this fictional fight took place?
Correct Answers Submitted
Question #1: 0
Question #2: 1
Question #3: 3
Question #4: 1
---
---
Quick Bio and Trivia Background
My name is Mitch, and I'm a computer engineer living in Wisconsin. I play in the World's Largest Trivia Contest, which is held every April in Stevens Point, WI. The contest is a fundraiser for the University of Wisconsin - Stevens Point radio station, WWSP. It is a 54 hour long contest that spans an entire weekend. I am a co-captain of the team "Festivus For The Rest Of Us", who have won the contest 3 times, and are currently defending champs. The questions that I write for the Steemit Weekly Trivia Contest are similar to those asked during WWSP contest, albeit intentionally more difficult on average. If you've enjoyed searching for the answers to the questions that I've written, or really just like trivia in general, please check out the WWSP trivia contest.
WWSP Trivia Website:
http://90fmtrivia.org/
Article and Short Documentary about WWSP Trivia:
https://theoutline.com/post/1469/stevens-point-worlds-biggest-trivia-contest
-Mitch


---
---