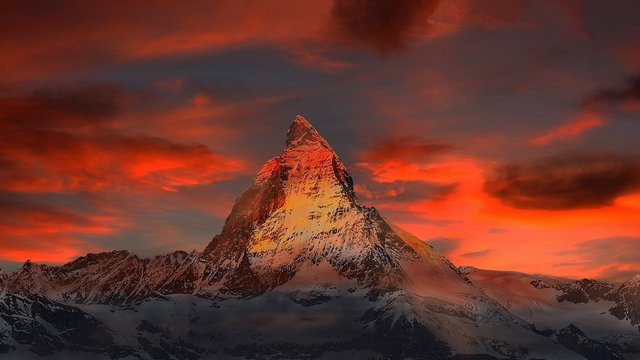 When you chase the impossible, you'll find that you have the motivation that can never be found when chasing the reasonable.
Big goals beget big actions.
"Everything is possible. The impossible just takes longer." Dan Brown
When I set goals for myself, I like to set the bar really really high. If the bar is low, then I won't be motivated enough to achieve those goals.
Would you rather work 10 hours a day to achieve your loftiest dreams and make them a reality or would you rather work 1 hour a day for very little change, almost unnoticeable change?
Keep this in mind:
99% of people in the world are chasing small goals. They're chasing the low-hanging fruit in life.
This means that it's both overcrowded and competitive to achieve small goals. Raising $100k for a project is far more competitive than raising $10m...
If you have a huge dream and a huge vision AND you back that up with huge actions and incredible feats of strength, then you will achieve those dreams.
It requires that you stay consistent and stay hungry.
It's hard to be consistent and hungry when your dreams are tiny. When your dreams are easy to achieve.
When your dreams are easy to achieve, you'll simply allow yourself to lay back and relax. You'll say "oh, I've got plenty of time to do that, it's not hard."
That type of mindset is a defeated one. You've lost before you've begun. How will you achieve anything in life when the payoff isn't big enough to get you off the couch?
I always love to remind myself that I'm chasing big dreams and it requires that I think outside the box and do what others aren't willing to do.
I'm willing (and becoming more so) to put myself out into the world. To work hard. To give my heart and soul to whatever project I'm pursuing.
This is how I plan on achieving my greatest goals and my wildest dreams - by putting in the work and actions that nobody else is willing to do.
And my motivation for doing it every single day? Big dreams.
There's an amazing book called "The Magic of Thinking Big" - I highly recommend it to anyone who's interested in creating huge goals and then taking huge actions to achieve those goals!!
---
What huge dreams are you striving to achieve?
---
---
---