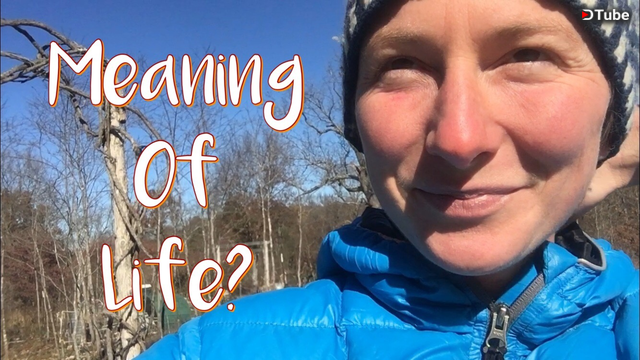 ---
---
What is the meaning of life? Why are we here?
---
I suppose for the @tribesteemup biweekly question there is no subject that is off limits. This question, in particular, may seem daunting because of its depth and enormity, but something about it also delights me to no end for it is a question I have asked myself my entire life.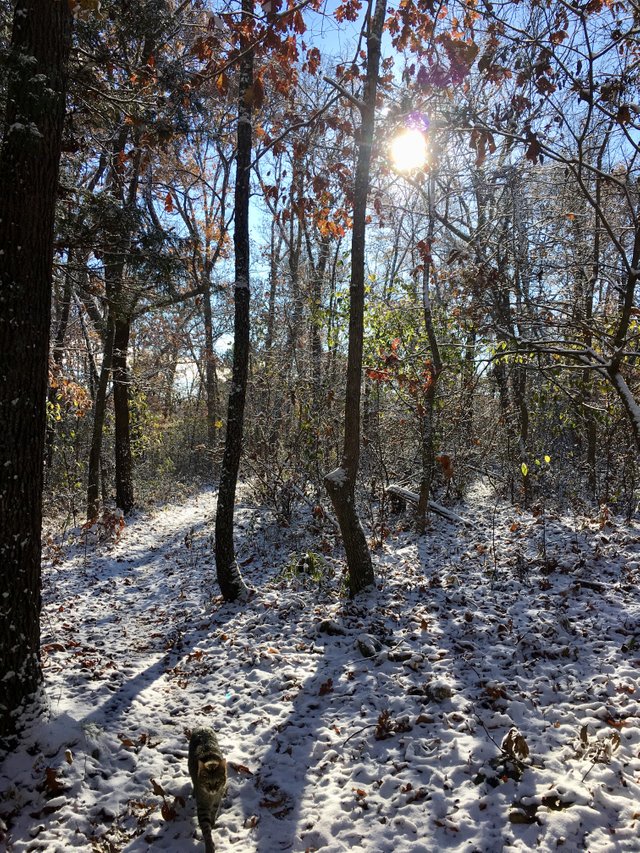 First snow of the year!
For some, life is straightforward.
They follow along with the norms and dictates of their mother culture, rarely stopping to ask what the meaning behind all of the hubbub is about.
Or perhaps they are fulfilled by the furtherance of culture, family, love of the life they were given or created.
There is nothing inherently wrong in this, except that the blind furtherance of a destructive culture is doing none but the very wealthy any favors, but I digress.
For others, and I include myself in this category, life must have meaning or we cannot live it.
The question, "Why are we here?" haunts and even debilitates living! This happened to me. In college I entered into a deep depression feeling life was meaningless and that I was tired of it. Why am I here, anyway? If there was a reason, I was keen to hunt it down.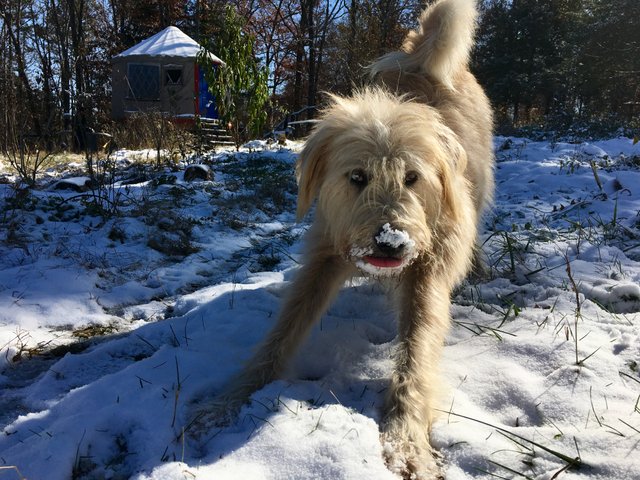 Is the meaning of life dogs? (God spelled backwards...)
That question led and propelled me along the way and though those years of depression were quite difficult while I was in the midst of them, I am acutely and exquisitely thankful for them. I think I will ponder the meaning of life and our being here my life long and be the better for it. Indeed, I think a question like this is beneficial to those who ask it. And, at certain stages of life, it may even be satisfied to the point that we can live out the answer.
---
So "What is the meaning of life?," you ask?
Ultimately, and I talk about this in the vlog, the meaning of life is to bring meaning to life! Life inherently has no meaning, but we each are faced with the responsibility of figuring out that meaning for ourselves or bringing life meaning.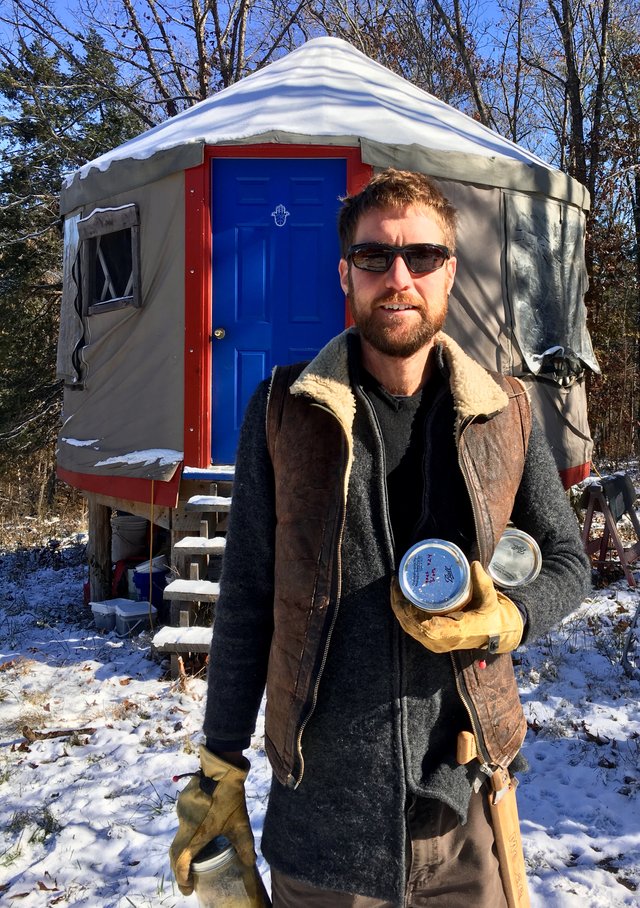 This guy and I share a lot of meaning -- and delicious chicken soups
This is exciting news because there isn't a one size fits all meaning that we're all tied to, but we get to flex our creativity and consult and hone our inner compasses until we uncover the meaning that we then can live out in the world.
For some, meaning will be found on a spiritual journey – living from oneness, not just having a mental understanding of it, or seeking to have a heart full of love. For others, family and passing something of benefit and value onto future generations brings meaning. For others, we philosophize about the best way to live on earth seeking sustainable solutions and appropriate technologies.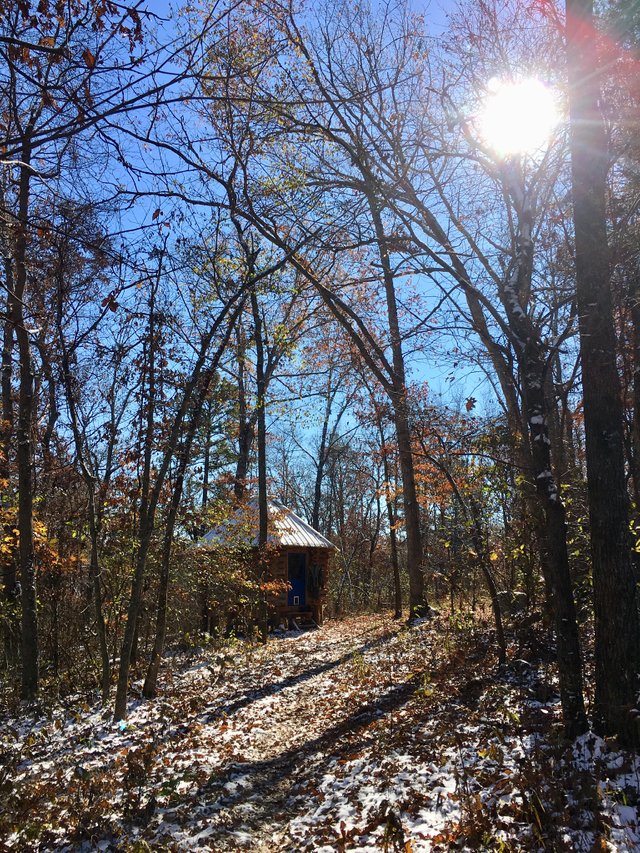 My personal meaning is found in living in close connection with the earth and seasons
Those who have drank deeply at the well of this question and met their raison d'etre full on come back richer and bring their gifts to all of us. It is a true blessing when someone is willing to wrestle with this question.
Because, let's face it, we all can't avoid it.
It is the type of question that rests in the belly like a stone to an oyster. It's a meal we must digest or at least attempt to, lest it digest us.
As Rilke says to the young poet, I also believe we must love the questions themselves lest they strangle and overwhelm us. The process of questioning is the pearl itself.
"Be patient toward all that is unsolved in your heart and try to love the questions themselves, like locked rooms and like books that are now written in a very foreign tongue. Do not now seek the answers, which cannot be given you because you would not be able to live them. And the point is, to live everything. Live the questions now. Perhaps you will then gradually, without noticing it, live along some distant day into the answer."
― Rainer Maria Rilke source
---
We are meaning making machines.
---
Give a human a lot in life and they'll make meaning from it. Aside from supernatural occurrences, this is the foundation and impetus of religion. We Make Meaning on the daily- and we can't help it. It's what our brains and even our hearts do.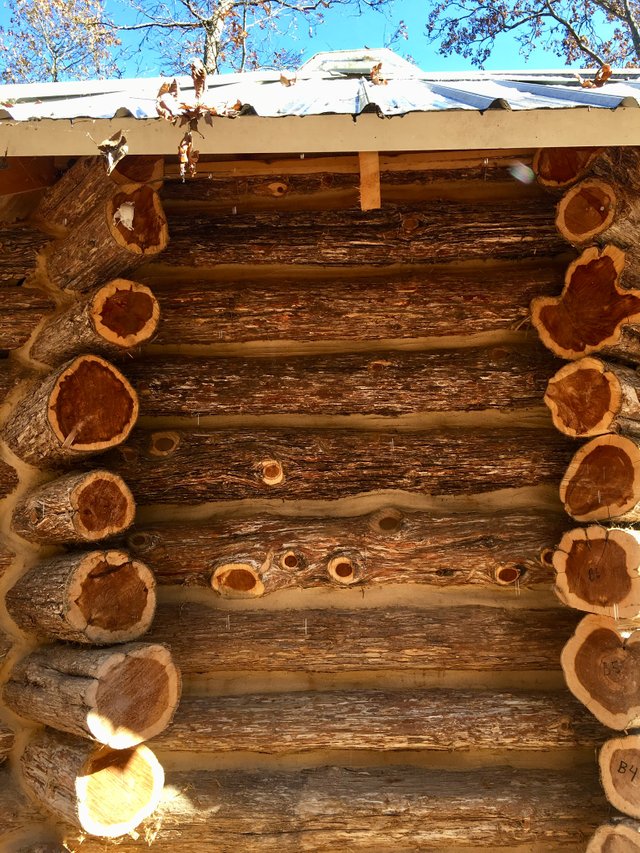 Detail of our cabin. Do the trees have meaning?
While I do think the question "Why are we here?" is a bit different than "What is the meaning of life?" (because it directly asks why WE are here, not why YOU or I are here- and I'm not sure that there is an overarching one size fits all reason we ALL are here), they run along similar enough lines that this one answer will suffice for today.
We are here to learn, to evolve, to grow, to unlearn, to chip off, to build, to discover, to laugh, cry, emote the entire spectrum… in short, to experience being human.
We are here, that is certain, what meaning have you given to this experience?
---
Feel free to make a post of your own or leave your thoughts below.
---
---
▶️ DTube
▶️ IPFS