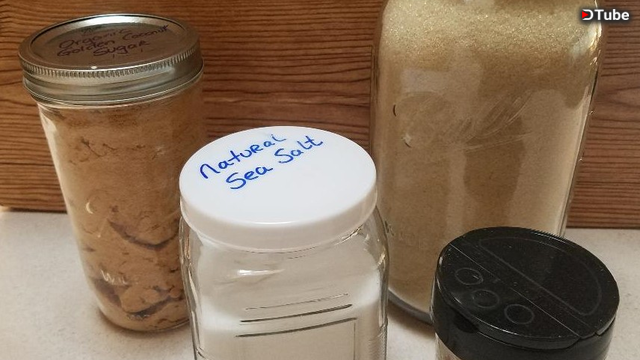 ---
Yes... most people who know me, know how OCD I am and how I like to have EVERYTHING uniform and a certain way.
So my OCD ways is moving into the pantry again!
This is a perfect chore and task to do on rainy days and into the approaching cooler (non gardening) months.
As you can see from the above picture, I have various size jars and glass containers I am using. From the 1/2 gallon Mason jars to the smaller 1/2-pint jars. Each size has a purpose and, as I said I like everything uniform, this will hopefully be a task I can keep up with as I add new spices, herbs or organic sugars and seasonings to my stock.
Since I buy items like my Himalayan Pink Salt, Organic coconut sugar and pure cane sugar in bulk online, I need larger jars (1/2 gallon Mason) to keep items stored in the pantry and I use the smaller ones (with the white lids I purchase at the Dollar Tree) for every day items.
I am in the process of getting even more organized in the kitchen. Yeah..yeah... I know most of you are saying.. organized? Again? But yes, I am.
I have been wanting to get my pantry in tip-top shape for some time now and starting with my herbs, spices and sugars is the starting point for me.
This will be a step process that will occur over the course of some time. I believe I have most, if not all, of the jars, containers and storage pieces I will need; so we'll see how it goes as I delve into this task.
I'm hoping in between harvesting garden vegetables and herbs and then canning or dehydrating everything; plus being active on steemit and Discord, I'll be able to slowly start the transformation of all the pantry changes I want to accomplish over the next month.
---
▶️ DTube
▶️ IPFS