Hello Friends of Steemit, this time I present a drawing to enter the contest proposed by the friend
@kommienezuspadt
, this being my second entry. The challenge is to create an original character. Now I want to share with you the procedure to achieve it.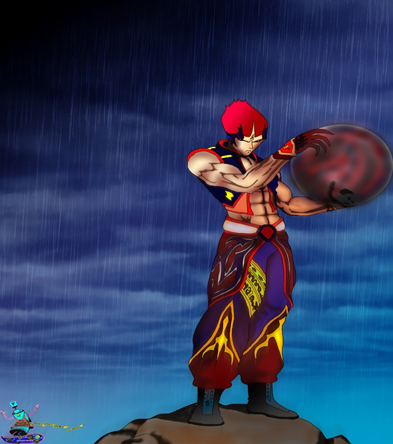 📌 The idea:
I really like the anime, so I've had to someday propose to make my own manga, for this it takes a lot of work and practice, so this is part of my practice. This time I made a person taking the ideas of the ideas that I like. This character represents a warrior who can manifest his powers as well as they do in Dragon Ball. I confess that when a new character is made it is to try not to look like the others you have seen. It's the main challenge indeed.
📌 The Sketch:
In my case the sketch begins in the program in which the illustration is made. This stage is divided into two stages: the layout of lines of large spaces (legs, arms, chest among others) and other paths to denote the details that carry the character (including mouth, eyes marks of the body among others). I invite you to see how it was this part of the process below: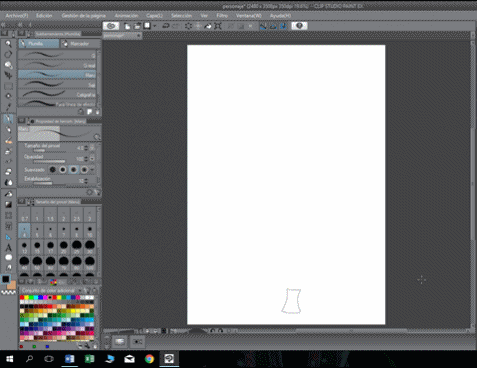 ---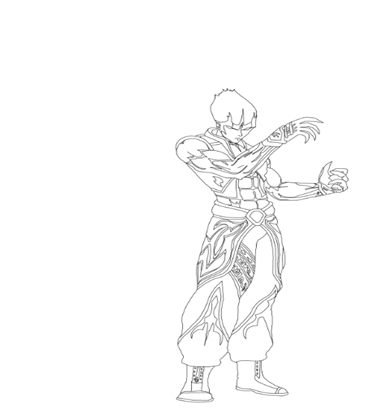 📌 Colors:
The color this time was complicated, because besides that the character should not look like others, should not be dressed the same. This stage is divided into three parts, the first is to place a base color in large spaces. Then I apply the shadows that will make the effect paper and finally the brightness as desired. See how it was done: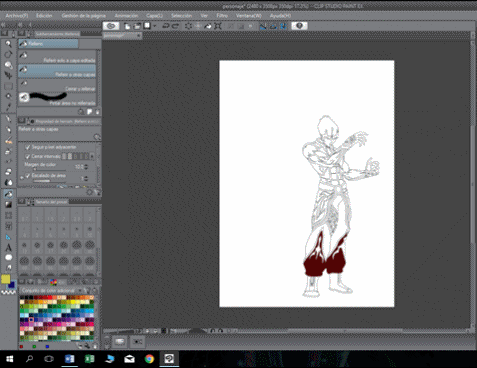 ---
Those who saw the displayed GIF would realize that I had to make change and the amount of colors I tried and bypass to finish the GIF one day. The defect of the left arm that they saw from the beginning was premeditated, since it was intended to place the sphere of power, therefore the final would not be seen. The base colors almost convince me not to give shadows or effects, as it looked good, but when applied I realized I was wrong with effects and the shadows was better.
So far we achieved our character, staying this way:
📌 The background:
The background of the drawing has as function to make the character more striking and not to see so empty the spaces where it was captured the character. This time I did not want to overload the image but give that prominence to the character created by doing something simple but pleasing to the eye.
In the realization of the background is to repeat the procedure that was applied with the character, this is because we must create objects shapes and add colors.
As last detail is placed my signature as author of this drawing. If you want to see how it was done you can see it here:


---
Leaving us the full picture in this way and hoping that it is to your liking: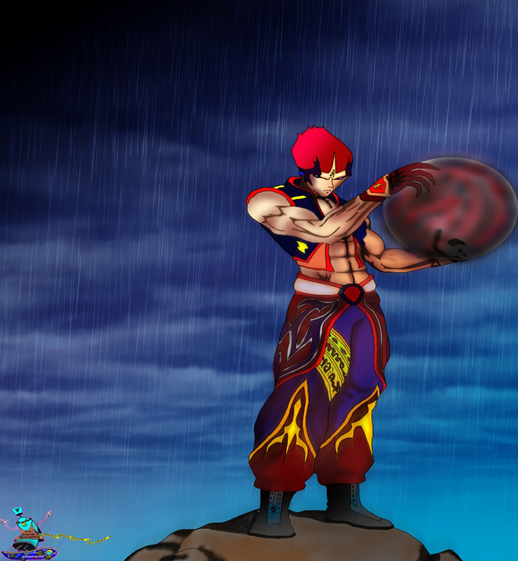 📌 Tools:
Table Computer
Mouse
Software Clip Paint
📌 Original file:
Author: @cain1914
Document: DOWNLOAD
If you want to see my previous works you can visit the most recent by clicking here: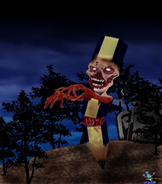 Look me
---