Syncing Your TREZOR With EFOLIO
Tired of plugging in your TREZOR every time you want to check your portfolio's balance? With EFOLIO you can sync your TREZOR positions  so that you can check your portfolio's value without having to plug in your TREZOR.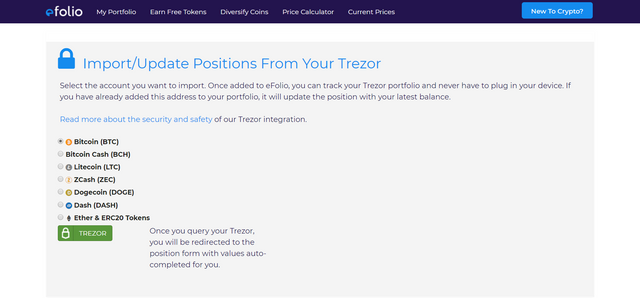 To sync your coin balances with EFOLIO, first navigate to the Trezor Import page. Then, select the coin you want to sync and click the TREZOR button. TREZOR Connect prompt will pop up, asking you to plug in your TREZOR device. Enter your PIN and Passphrase (if you have it enabled). Then, Connect will ask you to export account information.Once exported, you will be redirected to the 'Add Position' screen on EFOLIO. 
Here you will be able to add any additional information about this position, like the cost paid in fiat currency or other notes. You can then save the position and it is added to your portfolio.If you are adding ether, you can additionally click 'Add ERC20 Tokens' which will use your ethereum address to sync with the blockchain and find your ERC20 token balances.If you have already added this coin from your TREZOR, you will be able to edit the position; EFOLIO will recognize it is the same address. 
This functionality allows you to easily update your portfolio position if you have bought or sold any of your coins.
For a complete tutorial on importing your Trezor balances into EFOLIO, watch this tutorial video on YouTube.