Tree Tuesday – Disc Golf, Trees, and Faith
I've been having fun playing at a new (to me) eighteen hole Disc Golf course. It is a lot more technical than the one I usually play at and has a few holes that are not very forgiving for bad throws.
The first time I played the course it was very muddy and a bit windy. When I came to this hole shown below I had to look it over a lot to decide if it was worth it for me to continue.
The long tee (where you throw the disc from) is close to the camera location and just to the left of the muddy path you see going down the slope. Here's a close-up picture showing where the basket is that you are supposed to throw to.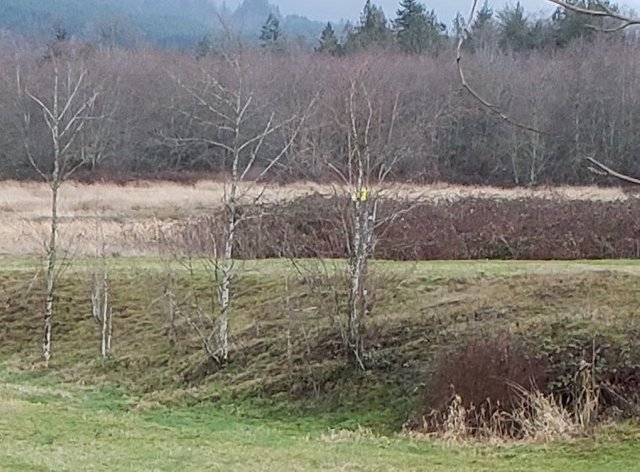 Close-up of the Disc Golf Hole, the top of basket has a little yellow flag barely visible behind the tree in the center – click for viewing full screen
There's so many thorny bushes and weeds around both sides of the fairway. You can't really see it but the entire slope by the path has a bunch of bramble bushes too. If you have a really bad throw it could bounce off the nearby tree or something, and wind up in any number of bad places. Luckily this time of year things are not that overgrown and the disc would be easier to see. Still though, I had some new shoes on and didn't really want to walk down the muddy path.
So I walked around and threw off of the short tee. The drive landed pretty close to the basket and I managed to make par (with three throws to get the disc in the basket)
The next time I played the course the path had dried out a lot and wind was minimal so I threw off of the long tee, and the disc faded over into the brush just to the right of the path near the hill by the basket. Luckily it was not hard to find and I completed the hole at par again.
The Old Christmas Tree Hole
Another fun challenging hole on the course is what I think of as: "The Old Christmas Tree Hole." It appears to be someone's abandoned tree farm. There are a lot of closely planted trees on the hole with basically no fairway and a single path going up the middle. The tee sits up on a slope and there is a narrow gap between trees to throw though to get into the area where all the smaller trees are growing.
I threw a nice drive off the tee which landed just to the left of the path. The easy throw would have been a short toss to the path and a few tosses up the path to get to the basket. I didn't think I could make par with that, so I tried a harder throw. The trees were short enough so I though I might be able to throw up and over them and get to a small clearing near the basket.
I tossed the disc fairly hard up over the trees thinking it might level out and curve over to the open area. I thought maybe if I moved fast enough after I tossed the disc I could see where it landed. I tried to move but the ground was really muddy and I heard a giant, "THUD" of the a disc hitting a tree before I got to see where it went to.
I started walking to where I thought it went figuring it would be pretty easy to find. It was nowhere to be seen. I walked and walked all over the place and lost my bearing completely. I couldn't even locate the spot I initially threw it from.
It was over an hour later and was still walking around looking for my favorite disc, "Little Pinky." Tunnel vision had set in and I couldn't see the forest for the trees, if you know what I mean. (This wasn't the first time I had lost Little Pinky in the deep dark woods.)
I started praying, "You know this is really kind of trivial but could you possibly help me find 'Little Pinky?'"
Just after that a younger disc golfer came by and saw me hunting around in the woods. We got to talking and I explained my predicament. I told him I was looking for a pink disc.
He looked at me and said, "It's not a pink disk with a white strip around the edge is it?"
I said it was and he looked at me and pointed at a nearby tree, "Is that it?"
I stared right at the tree and at first I couldn't see anything but then right in the center of the tree I noticed my disc. He helped me get it out with a short branch and I thanked him profusely.
This was the second time this happened to me with this exact disk on a heavily wooded course. Sometimes all it takes is another set of eyes, (especially for some people who insist on not wearing their glasses when they go disc golfing,) LOL.
Disc Tracking
So it seems like many technological people have the same idea around having a tracking device built into a disc. After talking to a few people, I heard there was a company making such a thing. A short search and I found this: TOBU
Apparently they make a couple discs with tracking devices and have plans for doing a bunch of different designs with advanced features for measuring throws.
I ended up purchasing a factory second Tobu Charge disc from them to try out. I would have liked to try their other model but it was considerably more and I wasn't sure how well it would work.
I can't wait to try out the Tobu disc. It comes with an Android phone application to track the location of the disc up to fifty feet away. I hope it will be a good solution to reduce disc donations to the Elves in the Old Christmas Tree Hole or other places where you toss the disc and know not where it lands, LOL.
It is always fun to post something for #TreeTuesday as hosted by @old-guy-photos
---
Thanks for reading! I always value your support and comments. The pictures were taken by me with my Galaxy S9+. Text and graphics copyright 1/29/2019 lightsplasher & litesplasher.