Sticky Resin Tree with Miniature Metropolises
When we walk in the woods today we find out about another tree in Africa with some high rise homes. Different from previous trees it is not birds, but ants find a home up high.
Broad-leaf resin Tree doesn't grow too tall about 6 to 8 meters, an evergreen tree with a flat crown, with a fascinating bark that appears to attract ants.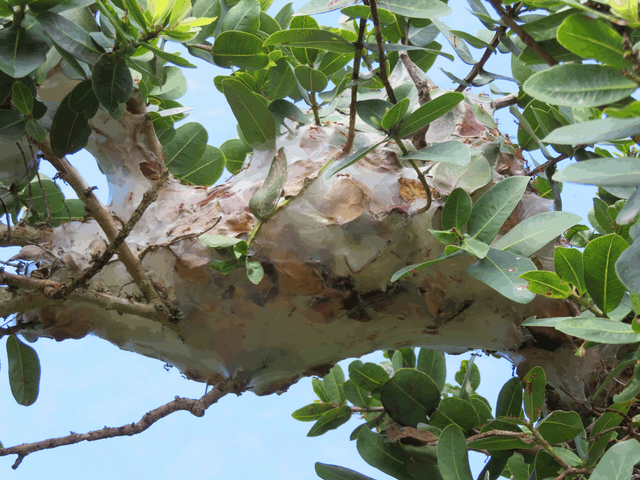 Here is the official name of the tree, life gets easier when the parks take the initiative to tell you what you are looking at, research is easier to find out more when interested what the tree offers.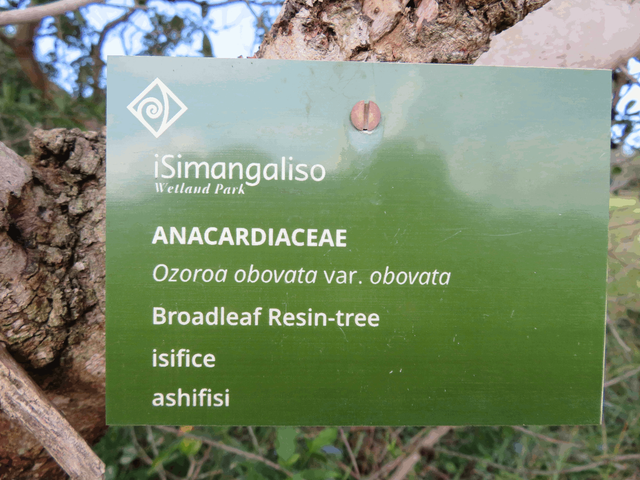 The leaves are eaten by browsers (game animals that eat leaves) while the bark is chewed and eaten by elephants and the fruits are eaten by some bird species such as hornbills.
The nectar produced by small spots on the green fruits is utilized by ants. - http://pza.sanbi.org/ozoroa-obovata-var-elliptica
I had seen ants in trees like this on a previous visit in the region, found it fascinating to learn ants not only spin leaves but also build nests in trees with mud like substance (in our area).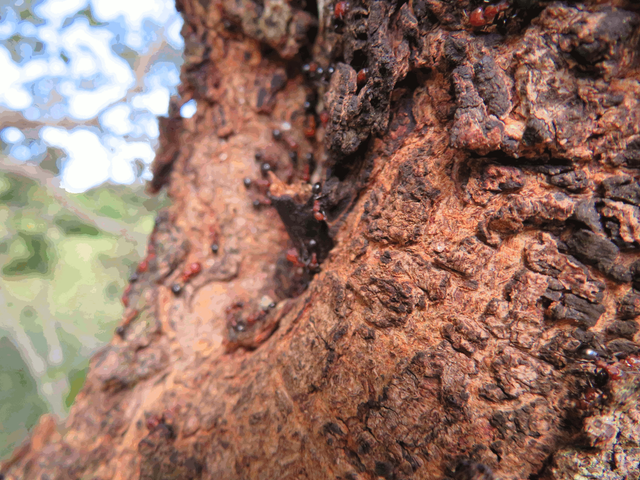 Having food on 'tap', right outside your home, what a pleasure. Here the ants are collecting resin from an gnarled bark showing a collection point similar to the tea room in offices, except they are there to work, not chat.
Next are the kidney shaped fruit that forms after the flowers have fallen, ripening into a black colour when fully ripened. Feast for birds and ants when the fruit is ready to eat, (balanced diet for ants having resin and fruit).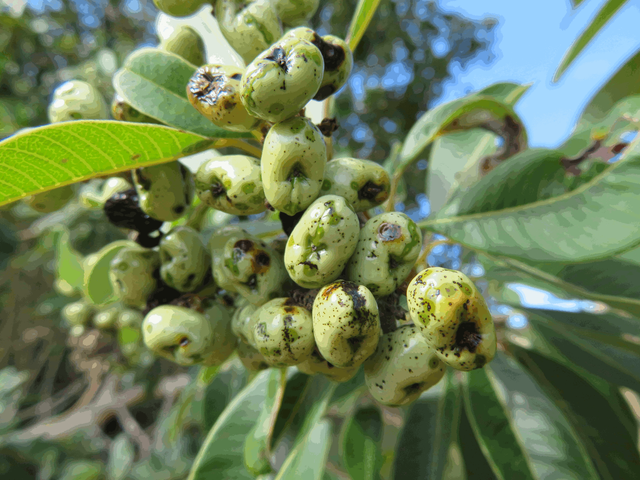 Another peek at the fascinating tree house built by ants with silk, silk has never been replicated by humans in strength/strand.
Tree Houses of Tropical Africa and Asia
As we journey farther south, we encounter the weaver ants of Africa and Asia. This society weaves nests out of leaves in trees. The nests are amazingly intricate and can be scattered among several trees.
Bending live leaves into position can require incredible strength. A leaf is too big for one ant to move into place to make an appropriate shelter, so she needs help. The construction begins when one worker grabs onto a leaf with her jaws, and then hundreds of her fellow workers come alongside to grab each other's bodies and pull together. With their combined strength, the ants pull the edge of the leaf against a nearby leaf. Then they hold the leaf down, while others sew the leaves together.
Sewing the leaves together is a feat all by itself. Workers search for larval ants, grasp them in their jaws, and bring them up to the construction site. The larvae produce silk (also used for cocoons), so certain workers skillfully maneuver these living silk-dispensers back and forth "sewing" the leaves together, while other workers hold the leaves in position until they are held fast by the silk threads into waterproof shelters as large as a man's head.
Weavers in East Africa will change their homes from one side of a tree to the other, depending on the season, to maximize their exposure to light and regulate temperatures. - https://answersingenesis.org/creepy-crawlies/insects/miniature-metropolises/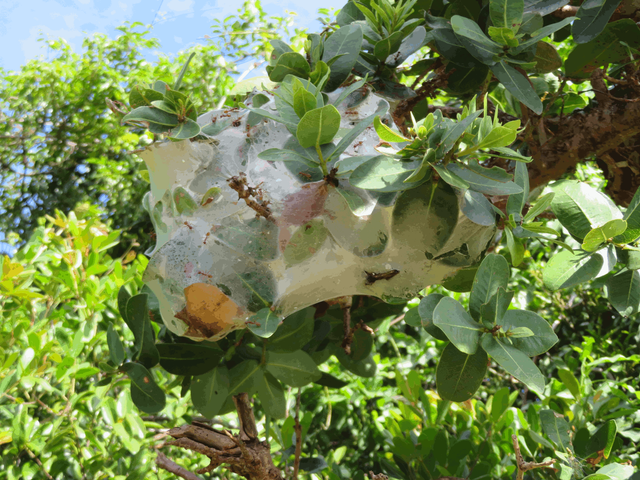 Here is where we witnessed this in May this year. Dense woodland area, the tree is on the right hand side of the path as you enter, always be aware you may walk into animals being in a wildlife reserve, never let your guard down, even when you think you are safe.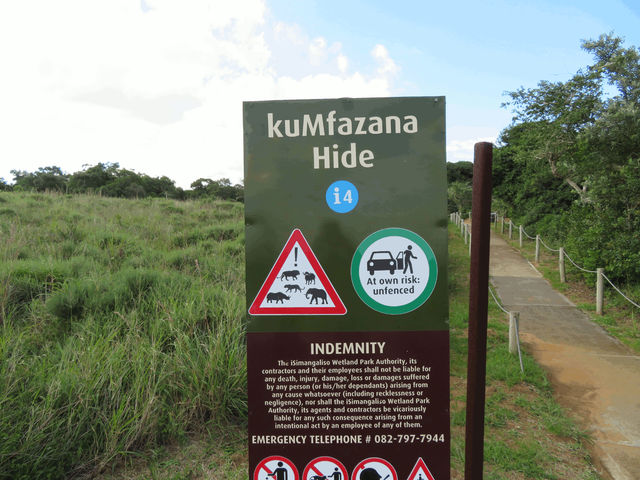 Photography has been resized for Steemit (to allow easier transfer on slow internet connection), no software manipulation on my photography, keep it true to what you see.
Thought for Today: A family tie is like a tree, it can bend but it cannot break. ~ African proverb
All photography is my own taken with a Canon Powershot SX730 HS
Tree Tuesday - my contibution to @old-guy-photos
---
!steemitworldmap -28.1232 lat 32.5564 long Isimangaliso Wetlands Park D3SCR