Treeplanter's team meeting
Hi friends,
Recently I ran into a question while I was reading and reviewing @treeplanter's report. The question is a very valid one and one that many people might have asked it themselves.
Are we a real project?
I talked with @martin.mikes mostly via email and he recently started a road trip (as part of his efforts to promote change and provide visibility to its project). #forestfriendlyfamily is his most recent project which its main goal is to get people involved in preserve nature and aware people of the facts that are destroying mother earth.
I got involved in @treeplanter about a year ago and I've been talking with @martin.mikes for a couple reasons usually bot related. As the project has grown and @martin.mikes requires more time doing the dirty work (planting trees, educating others, preserving , etc) he couldn't cope up with all the work that is require.
Communication has been kind of hard when there has been outages and cuts in Cameroon and because of the war @martin.mikes had to go back to Czech Republic. The project keeps going and with everything that we have done so far there are many more possibilities, side projects and cool stuff to do. An this is why we have our latest member: @manka
If you read one of the latest post that welcomes @manka to the @treeplanter's team and @kedjom-keku project. She will be mostly handing the content creation and communication of @kedjom-keku and also working closely with @raserrano.

We had a fun meeting with some bumps along the way that I will explain in a little moment. We started to set up new project goals, tasks and some other fun stuff to keep growing and creating a lovely community. Communication issues are present still while we tried our best to provide insights, tips, advice and guidance to our newer team member we had to be patient with lagging connection and connectivity issues.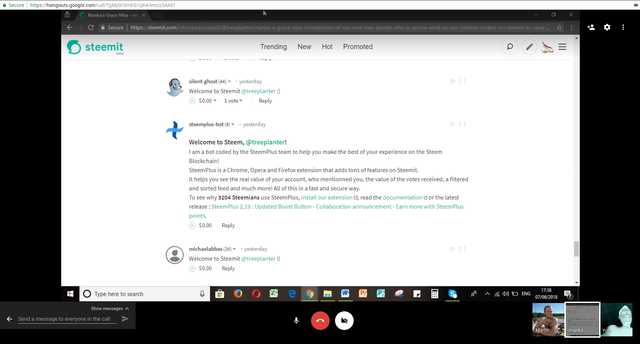 I also started to introduce some very cool projects that have been growing alot like @steembasicincome, @tipu and @qurator. I will also start guiding our newest members on their steemit journey helping to ease the learning curve while also speed up their growth.
Please join us in our efforts to preserve the forest.
---
What is my role in this project?
I wrote the @treeplanter bot and I've been providing my skills in the use of the project. I wish I could do more but that is what is in my hands at the moment. Maybe I could visit @kedjom-keku in Cameroon in the near future.
---