TRDO Stake Based Comment Bot Version 1.1 Development Started - [TRDO Update]
Dear Steemians / Trendo'ians,
We started developments of the new Version of Trendo Stake Based Comment Bot project as
TRENDO STAKE BASED COMMENT BOT Version 1.1
.
---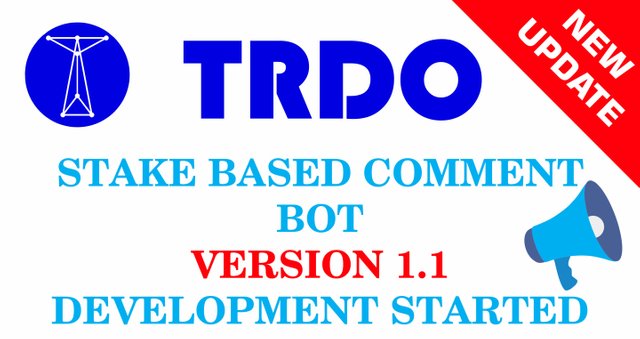 ---
New Features?
From this upgraded version we wish to add
TRDO Caller's Total Number of Daily Reward Distribution Calls
to the comment section.
---
What More?
We are planning to develop the back-end code of
TRDO STAKE BASED COMMENT BOT PROJECT
to get maximum performance.
---
Next?
TRDO team is at the final stage of a new featured project.
We hope to implement a web portal to TRDO based projects.
---
"Call TRDO, Your Comment Worth Something!"
Join us at DISCORDAPP.COM
Join us at TWITTER.COM
Join us at FACEBOOK.COM
Join us at REDDIT.COM
Join us at TUMBLR.COM
Join us at MEDIUM.COM