TRDO Quick Update
Dear Steemians / Trendo'ians,
Here we are sharing you a quick update of the weekly progress of the
TRDO token project
.
---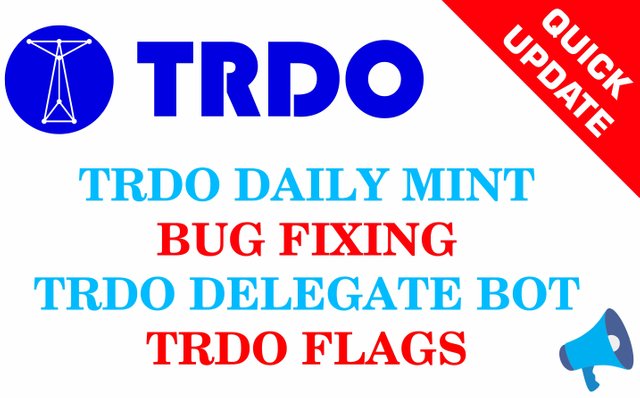 ---
Reduce TRDO Daily Minting Rate
We (Team TRDO) decided to
reduce
our daily minting rate of the
TRDO
token until we develop
all features
of the
TRDO
Token Project as follows:
TRDO Developer Stake: 15% (reduced to 7.5%)
TRDO Comment Bot: 20% (not reduced)
TRDO Proof of Stake: 20% (not reduced)
TRDO Delegation Bot: 20% (reduced to 0%)
TRDO Bounty: 25% (reduced to 0%)
---
Bug Fixing
We have encountered a
connection error
of MongoDB, due to that error some data were missing from the DB end. As a result of that we had to
Re-Run from Old Blocks
, not to loose any of the
Trendo Comment Bot Calls
. We fixed that error and now monitoring the system as well.
---
TRDO Delegation Bot
We have started developments of the
TRDO Token Delegation Bot
script. This might take time. Because STEEM API has
no method to capture Incoming Delegations
. Therefore, we will try our own solution to retrieve those data from the STEEM Blockchain.
---
TRDO Flags (Down Vote Calls)
Like we said before,
TRDO token project
is trying to give you an
alternative solution
for sharing rewards similar to STEEM and other Vote based reward systems, but we use Comment Section instead of utilizing your Vote Power. Therefore, we are planning to build a mechanism to Initiate TRDO Flags with our token project as well.
---
What's Next?
Automate DB backup process (It's runs manually at the current stage).
Add (advanced) restore script.
TRENO Trending Page.
---
Do You Have Any Other Suggestion? Please Comment Below~
---
"Call TRDO, Your Comment Worth Something!"
Join us at DISCORDAPP.COM
Join us at TWITTER.COM
Join us at FACEBOOK.COM
Join us at REDDIT.COM
Join us at TUMBLR.COM
Join us at MEDIUM.COM