TRDO Comment Bot - Resource Credits (RC) Problem
Dear Steemians / Trendo'ians,
We have encountered a problem by
less amount of Resource Credits (RCs)
to fully functioning the
TRDO Stake based Comment Bot
.
---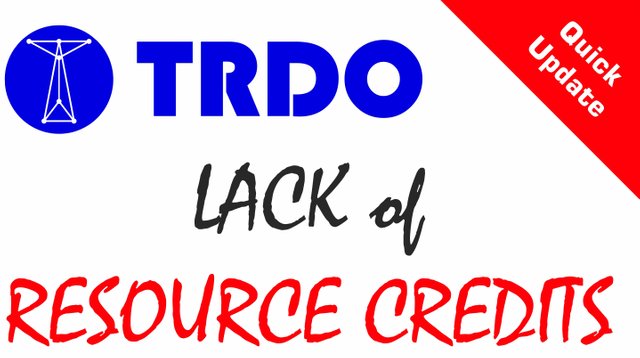 ---
What Happened?
Unlike most of other SCOT based token projects, our token project is
utilizing a large amount of Resource Credits (RCs) per day for commenting & rewarding calls
. As a result of that we have experienced this Lack of RCs problem.
---
What We Supposed To Do?
We are planning to add more SP (Steem Power) by delegations to the Stake based Comment Bot project and as a
temporal solution
we had to remove all comment notifications. But the
system is working perfectly
.
---
A Fix Time?
Within
6 days
of time, we will add
more SP delegations
and we will start
optimizing our comment messages
further. Until that most of Bot Comment Notifications will be shut down.
---
Do You Have Any Other Suggestion To Solve This Issue, Please Comment Below~
---
"Call TRDO, Your Comment Worth Something!"
Join us at DISCORDAPP.COM
Join us at TWITTER.COM
Join us at FACEBOOK.COM
Join us at REDDIT.COM
Join us at TUMBLR.COM
Join us at MEDIUM.COM