Hi Steemians! Today I am sharing a really special trip with you all! Last week I went to try and find the "Fairy Bridge" in Western Scotland. There is much mystery surrounding this bridge so I hope you enjoy the post! - Verity x
There are so many places I want to go in Scotland and every time I go up I am trying to tick them off one by one! One of those has always been the so called "Fairy Bridge" there is littler to no information on it online apart from a few people who have been there before with guides on how to get there. We were prepared for a long, hard walk to find this place as from what we gathered it was extremely hard to find! Our day started with the drive to the car park of a nature walk. Along the way I grabbed this shot over to the islands, it was a relatively dark day but that didn't deter us!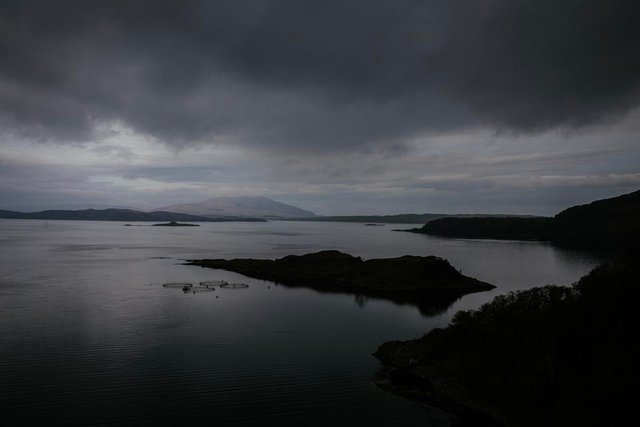 Once we had got to the spot we were welcomed with easy to follow markers on the track!
And also a very interesting trail map that showed the path that it took through the hill side. What was weird was that on the map there were initials "FB" off the route, we assumed this meant the "Fairy Bridge" but maybe due to its almost secretive location we took it to mean that they didn't want too many people finding out it was there or how to get to it to avoid it getting damaged! Excited to see if we could find it we headed on the route!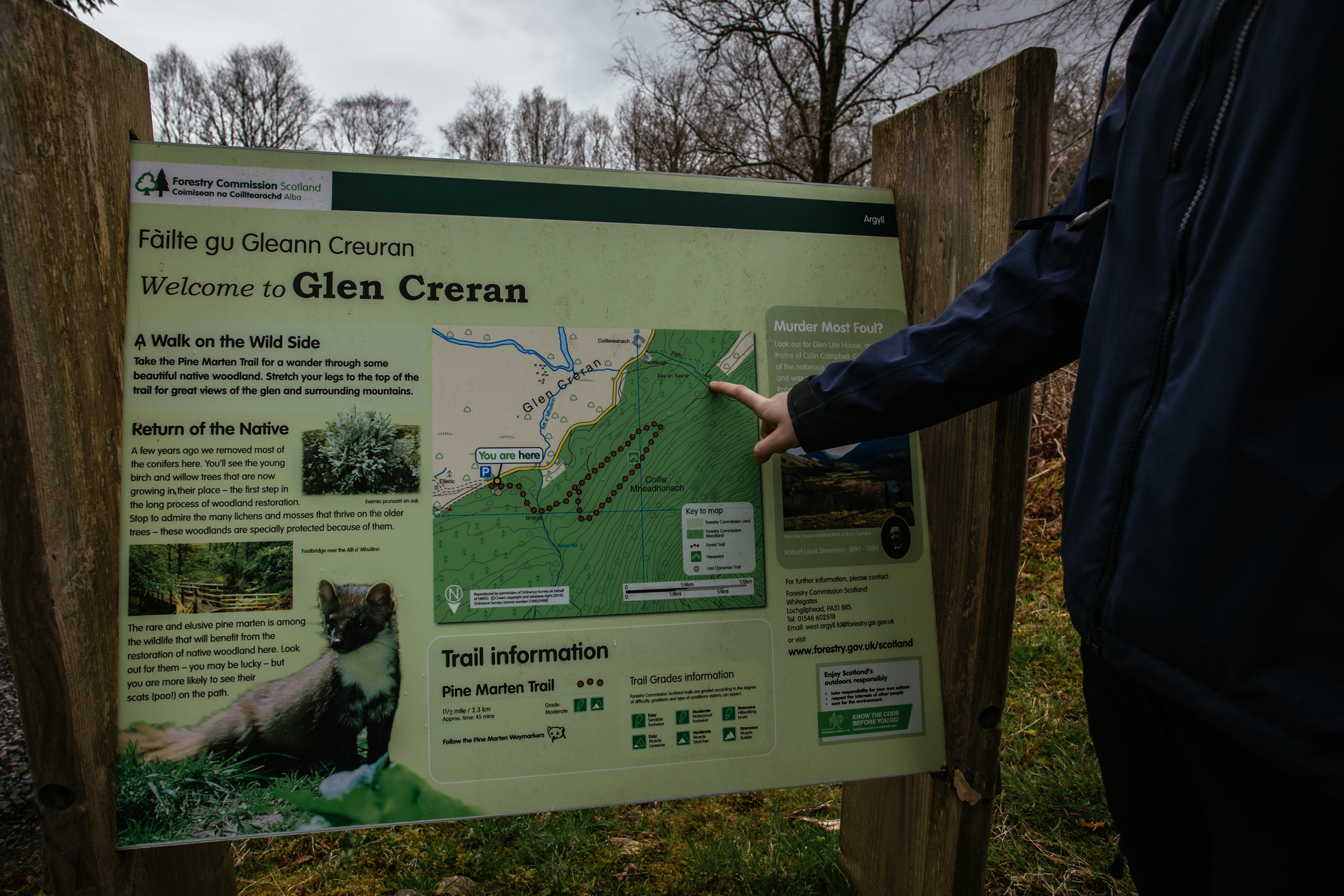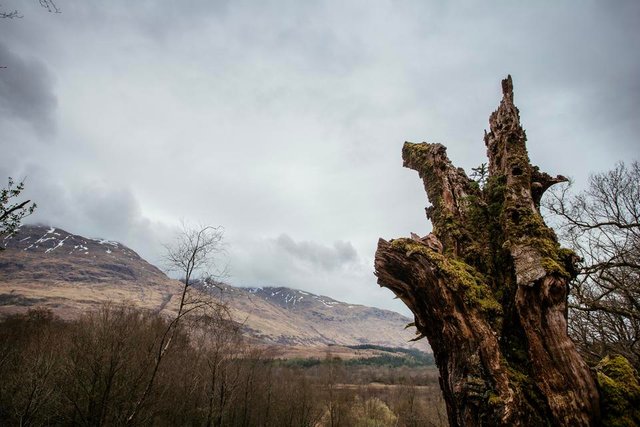 The views were already really pretty, some of the mountains still covered in mist and the trees still not showing signs of going green anytime soon! Amazing bits of old wood and trees lined the paths, they looked so old and ancient it was a great start!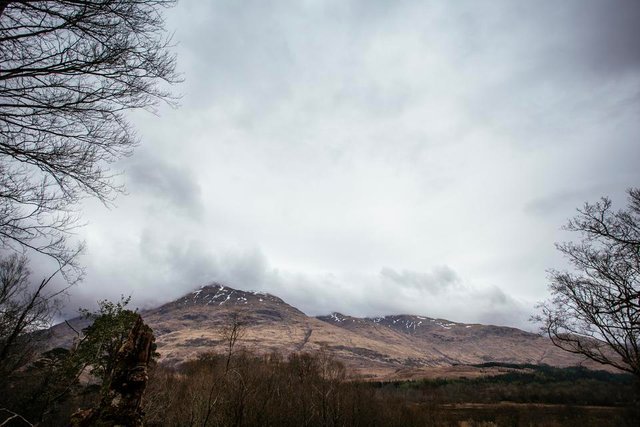 We noticed this really unusual fungus on the tree, it was shaped like half an egg! Really smooth, and one I have never seen before!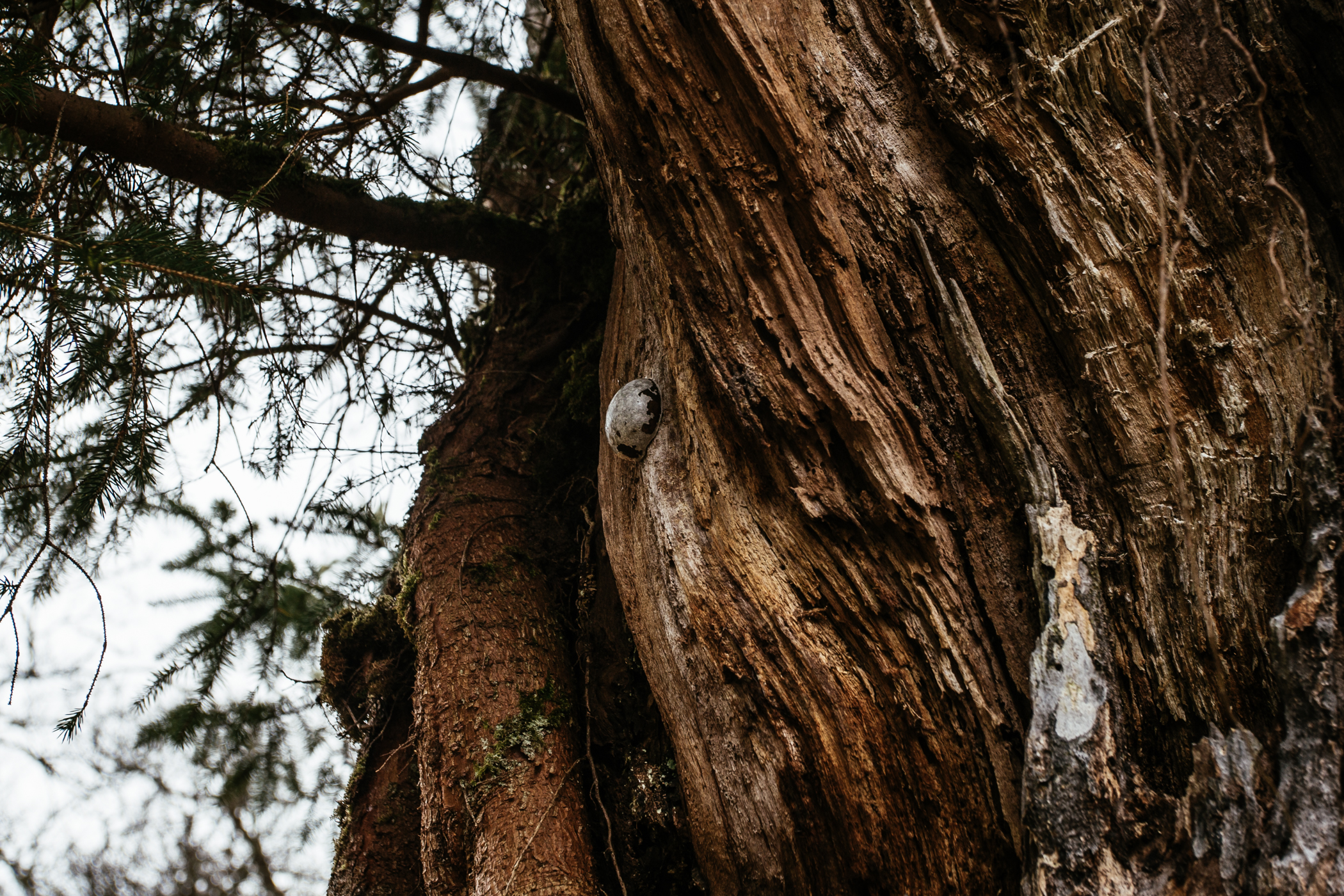 The paths were so nice to walk along. All mossy and green. This forest you could tell was really special. The lichen was growing everywhere and all the mist in the air was creating a very atmospheric setting! If we were going to find a "Fairy Bridge" this certainly looked like somewhere where it would be so far!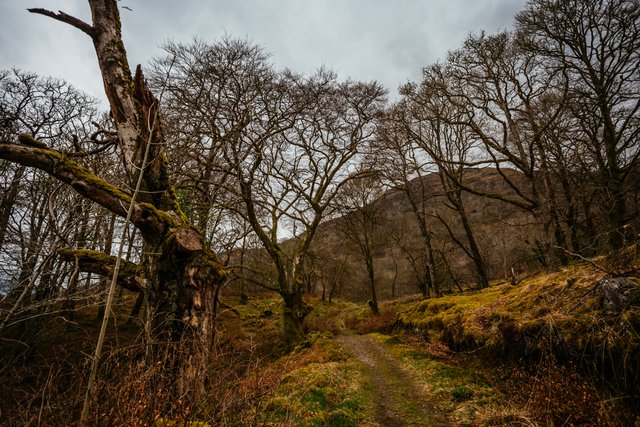 We came to this lovely bridge that was crossing a small waterfall, another good sign that we were on the right tracks! Surely this means that there would be more waterfalls and more bridges along the way?!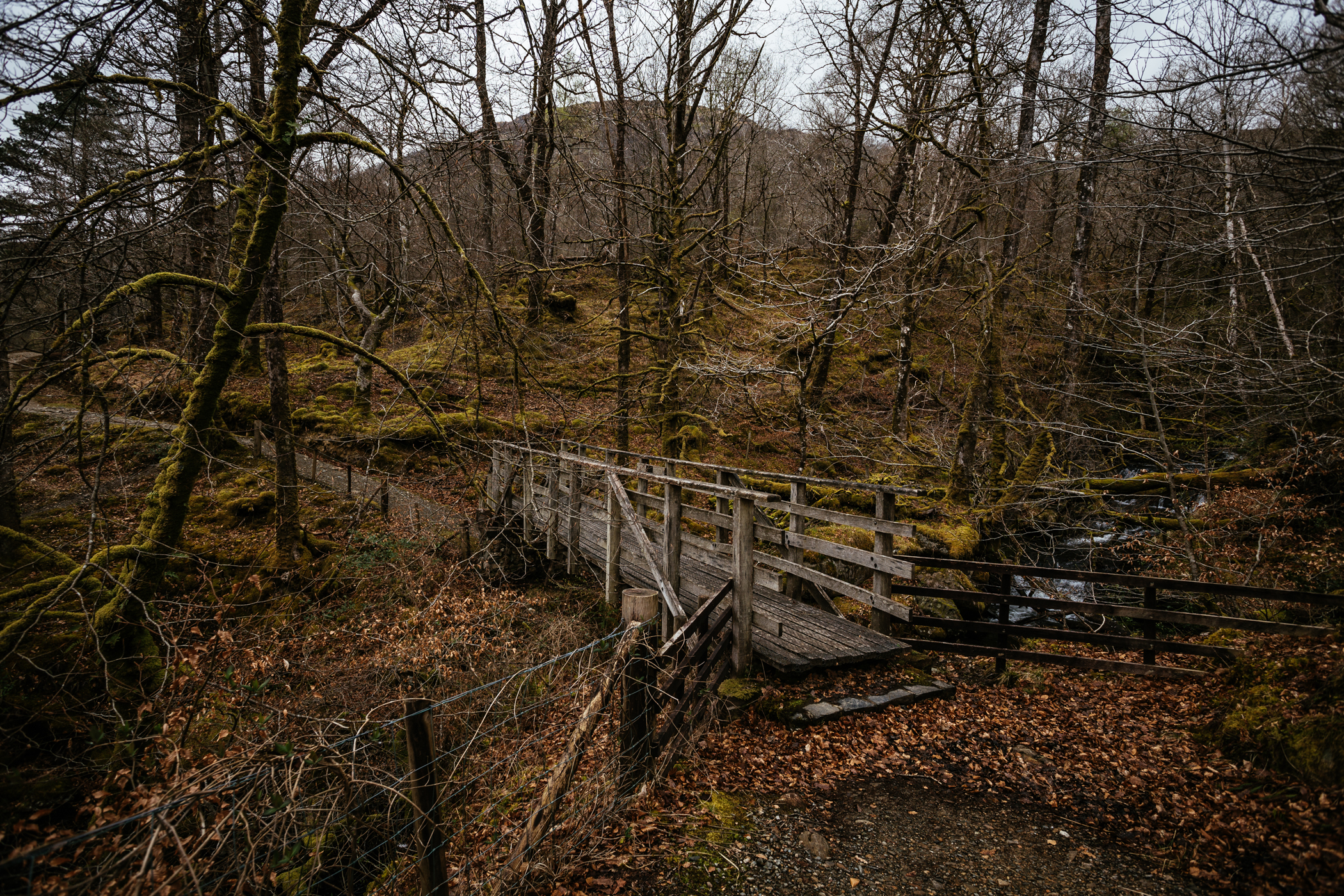 Looking across the bridge you could see more enchanting looking trees, all bending and growing in unusual and strange ways! I loved the forest floor, it looked so alive and green.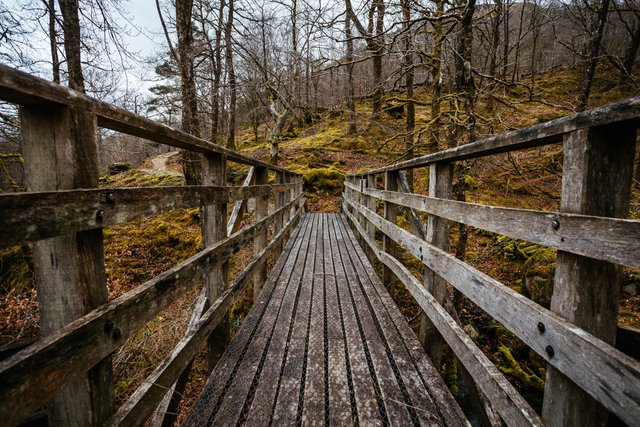 Here is the view up to the small pretty waterfall that we were crossing over the bridge. It made a lovely sound and was so nice to just take it all in. The forest had a lovely smell, one that you get just after rain, just of nature!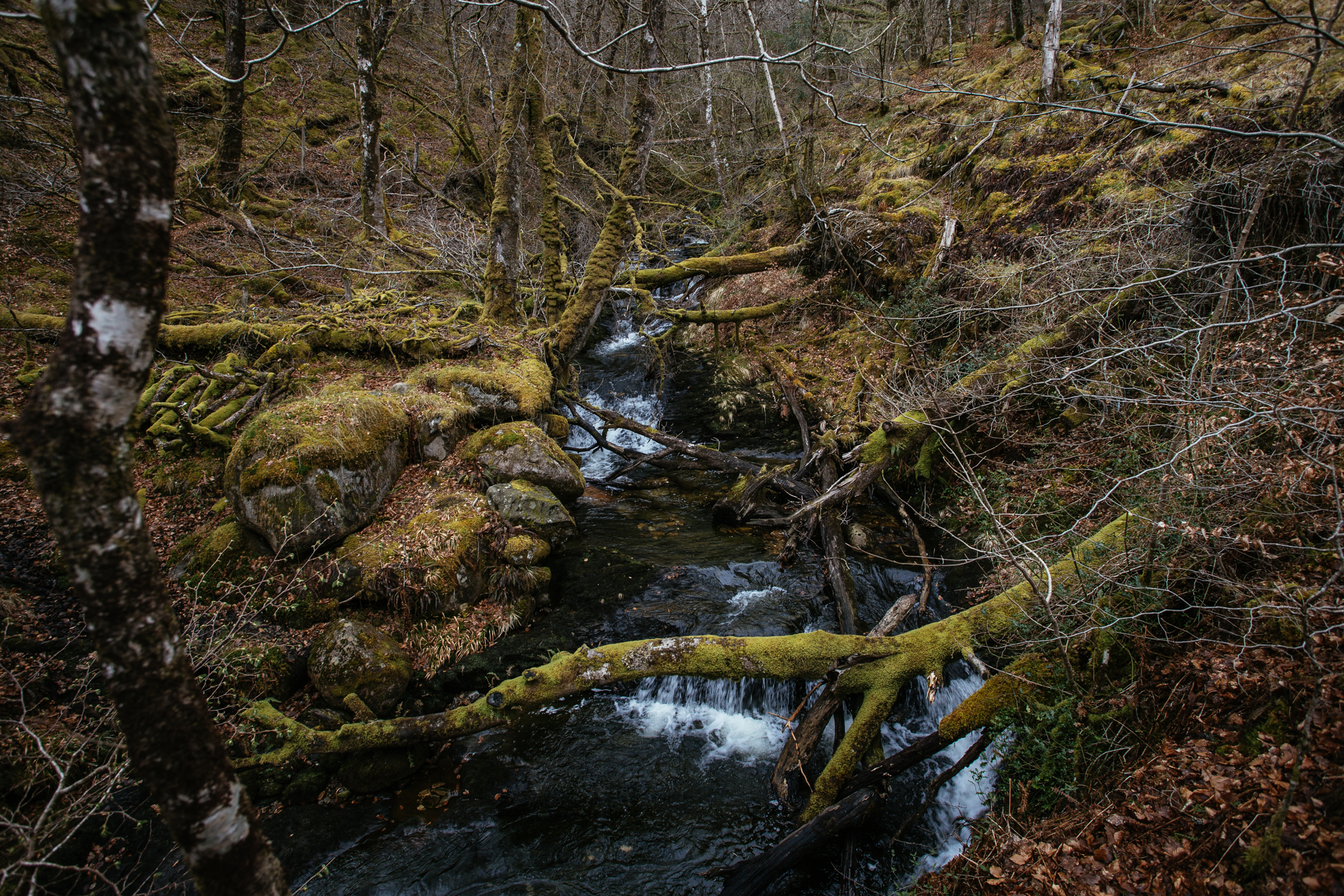 I was loving the walk so far! And I really love trees. This one in particular caught my eye. It was situated just after the waterfall and was nearly completely covered in lichen and moss. It looks so amazing, trees to me always looks like they have a character, like the ones out of Lord of the Rings. So far on this nature walk I was definitely getting vibes of Lord of the Rings along the way, we could have been stepping into that World!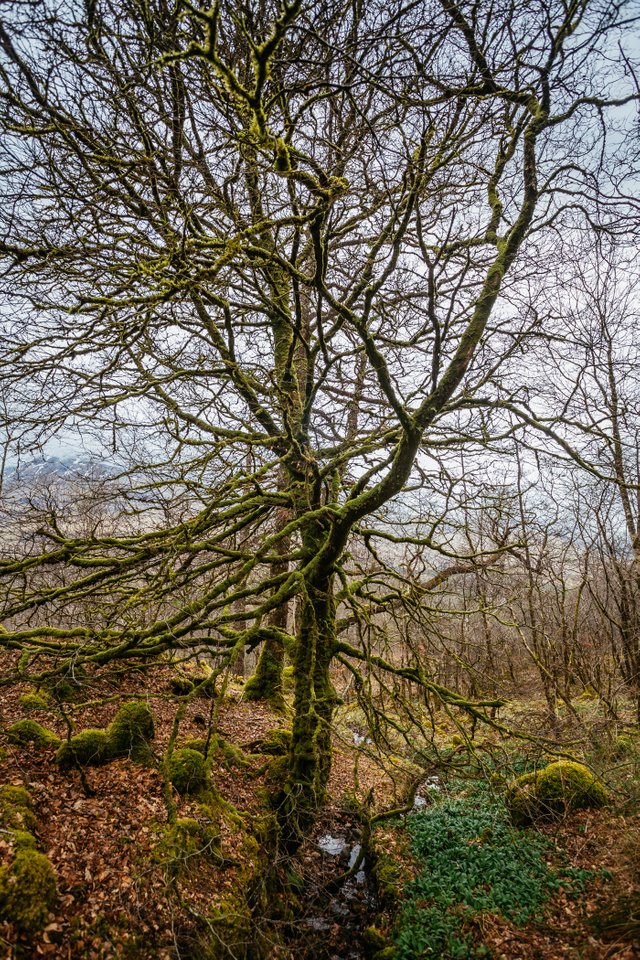 As we continued up the hill more trees were lining the path on the side. These ones were tall and thin and I'm sure once they got their leaves back would be so impressive all together. Whilst they are bare like this they gave nice views onto the mountains in the background!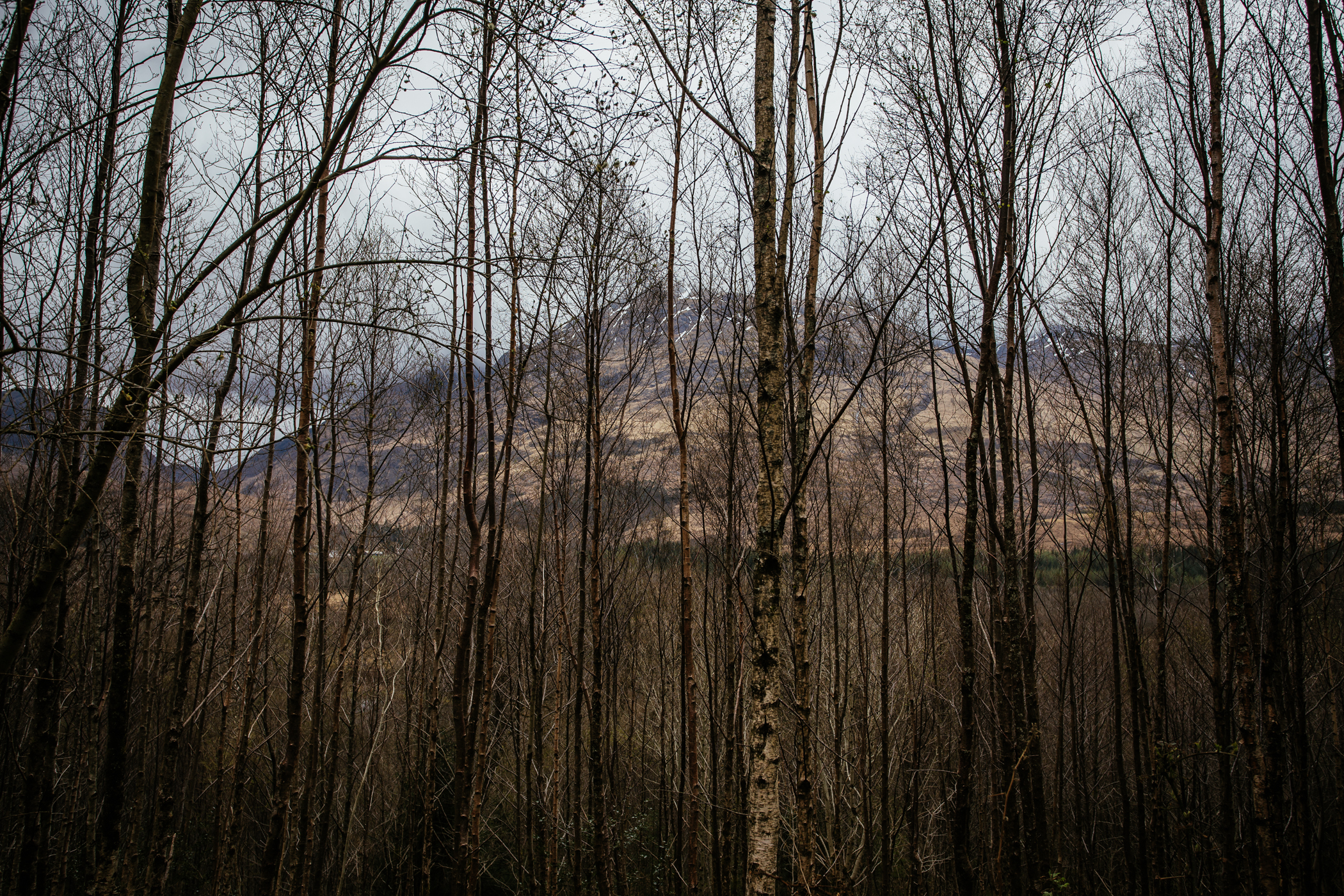 The forest floor and banks were also so alive with nature. The primroses this year have been so amazing, for some reason they are just flourishing this year more than ever. They must love the wet damp weather that's for sure! It was so pretty to see the yellow flowers popping out everywhere of the green undergrowth.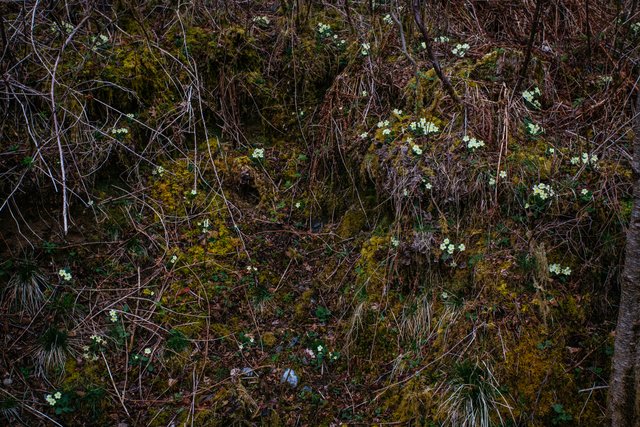 I made a little friend along the way too! Some kind of tent caterpillar! I took this lovely photo of him and put him back on his way, I'm sure he will turn out to be a pretty little moth one day!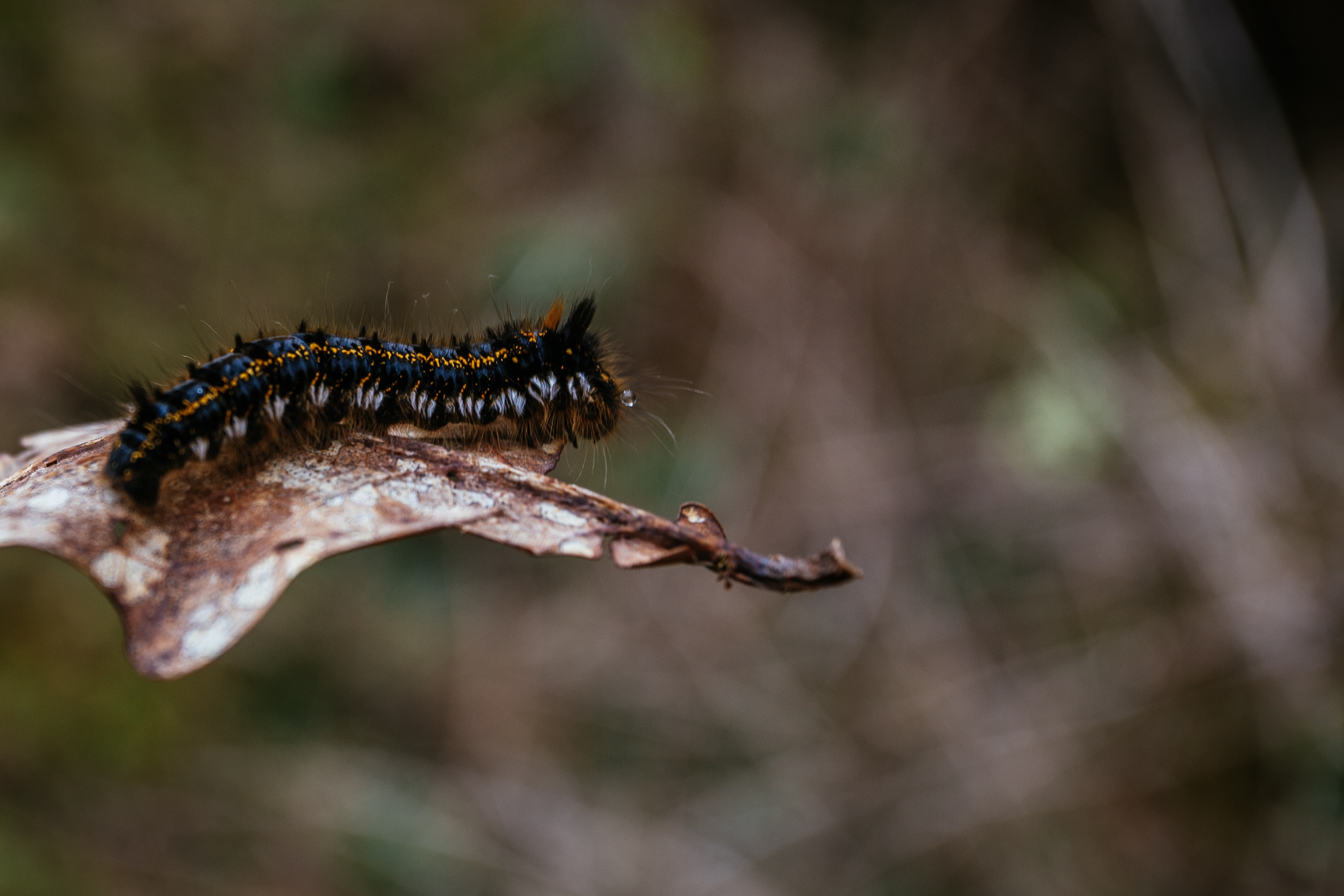 What was so nice about this nature walk was that the paths were all soft with moss! If it was a nice summers day I'm sure it would have been nice to walk along these paths barefoot!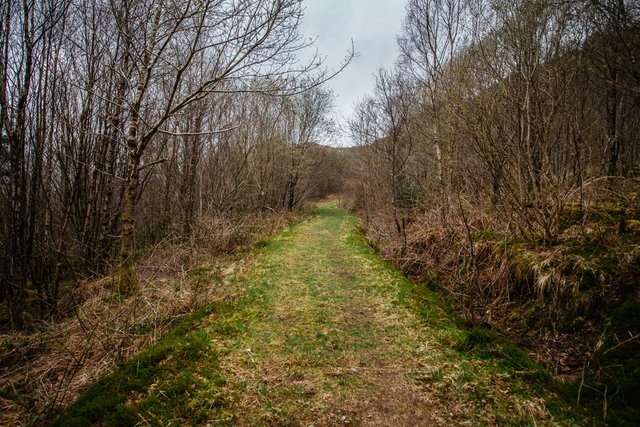 Having researched online we knew at some point we were going to have to go off the main track and try and make our own way to the "Fairy Bridge", here we came to the turning! And it didn't look as soft and mossy as what we had been walking on! But excited to see if we could find it we headed to down the muddy track!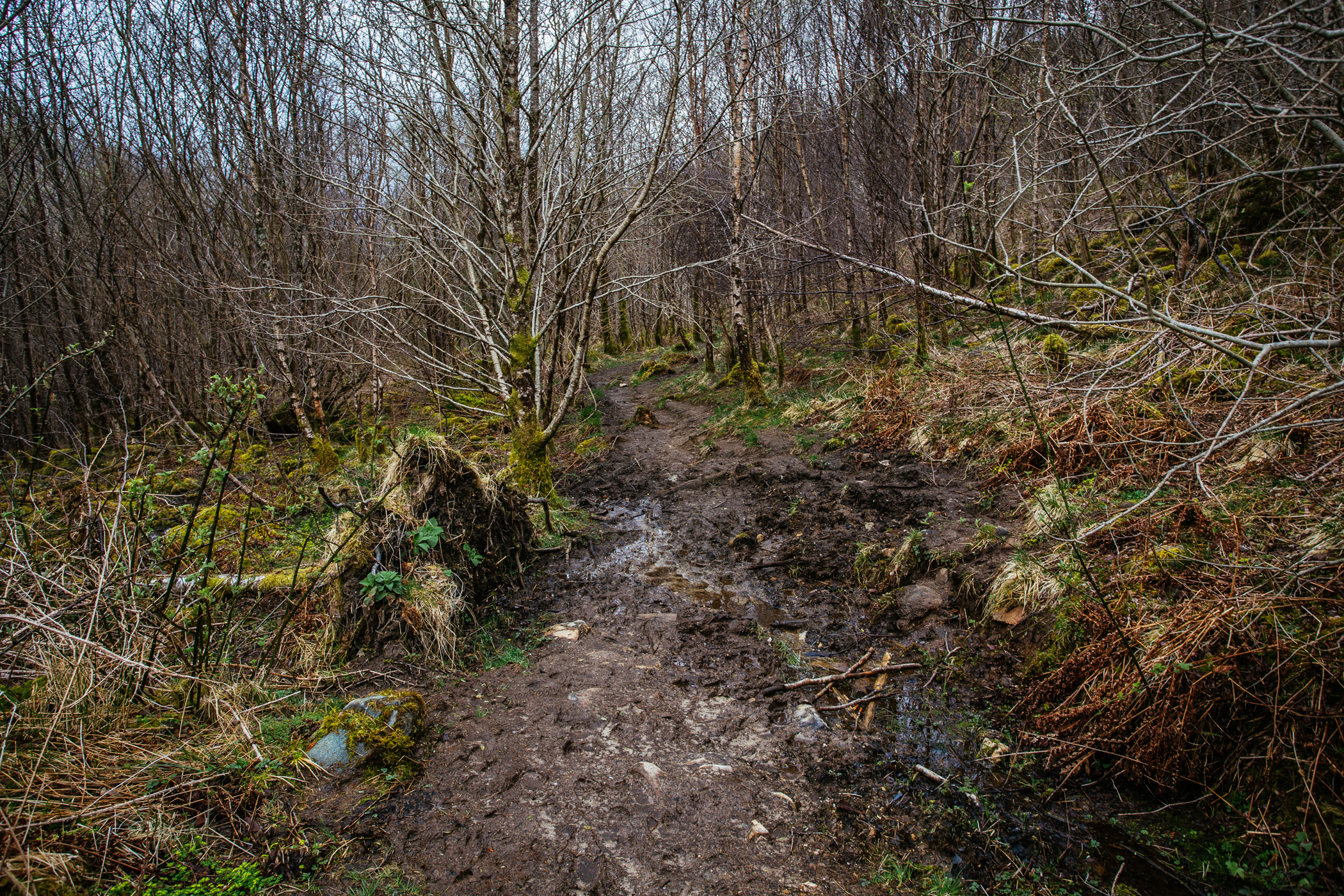 Now walking into the forest it was denser but also so pretty, we felt more connected to nature and it was so exciting! I thought this shot worked best in black and white to show you all the amazing tall trees.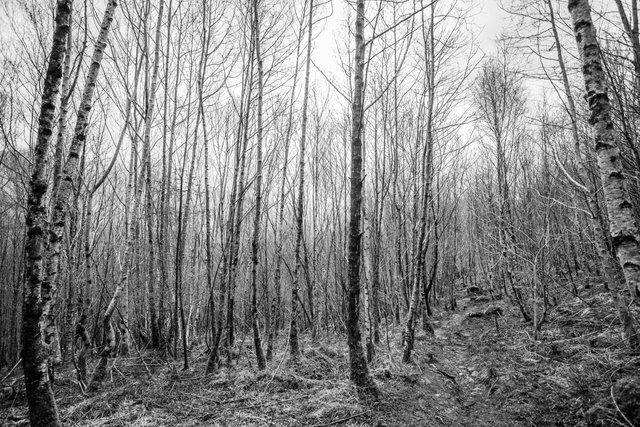 There was this lovely tree trunk that has been taken over by lots of different plants and flowers and looked like a lovely little environment all on its own, if fairies were to choose a place to live I reckon this would definitely be a good spot!
We came across a lovely stream making its way through the forest and either side of the stream there were thick banks of grass and moss, it looked so beautiful! Just what you would imagine from an ancient old forest. The trees as well were all curving and making their own way around the forest.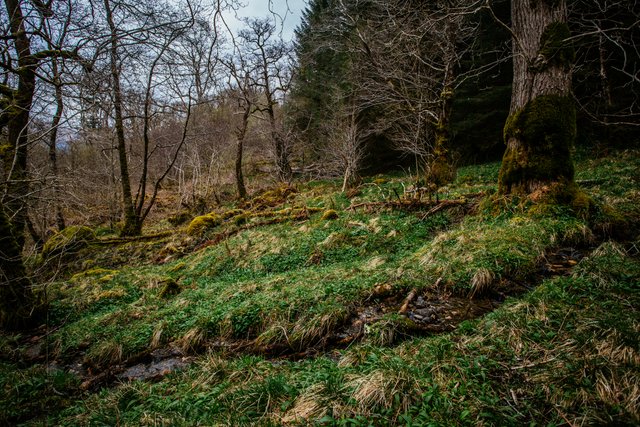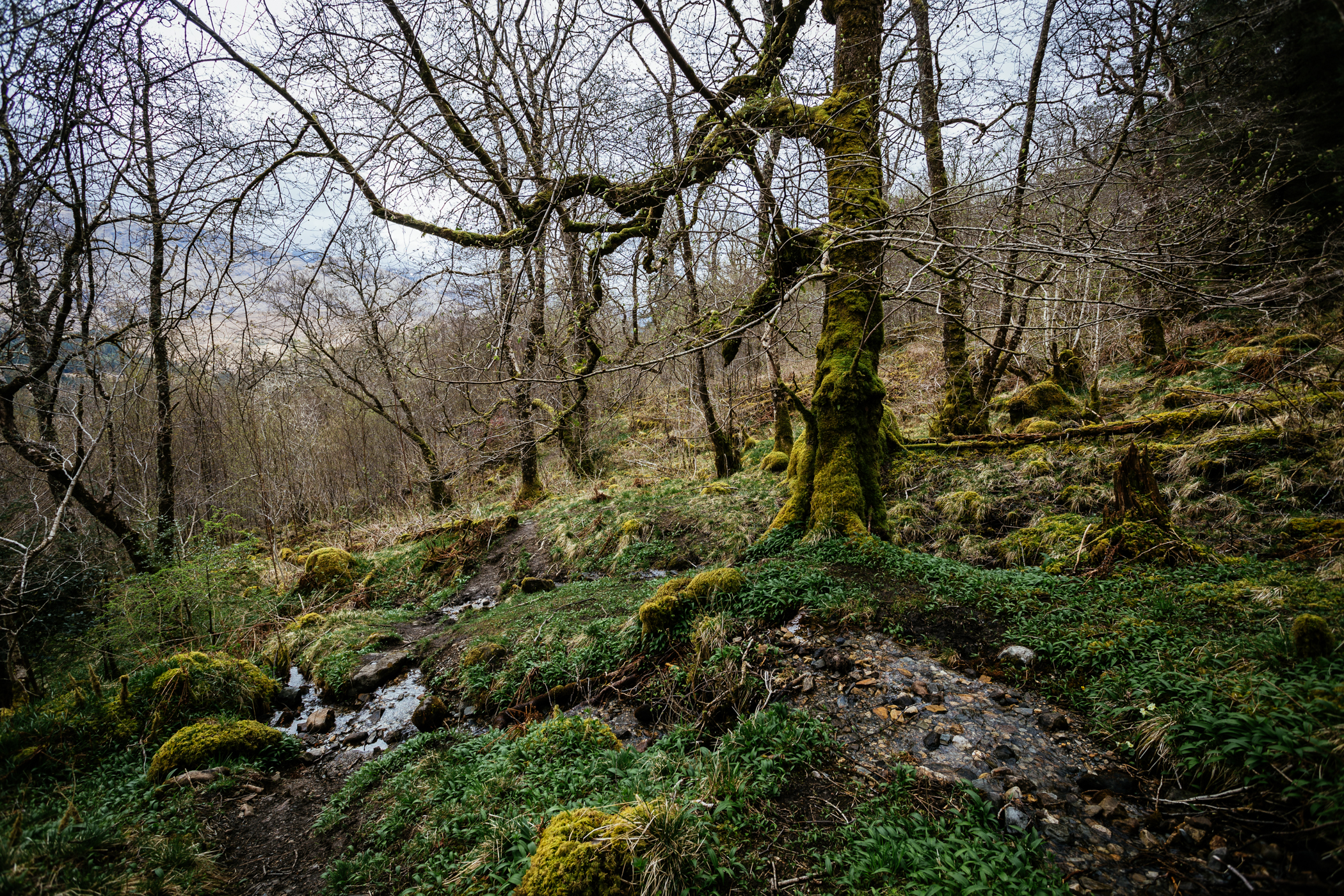 I noticed this little hole in a rock and how nice would it be to think it was a little fairy bath! Haha! Well in my imagination anyway this is what I am going to think it was!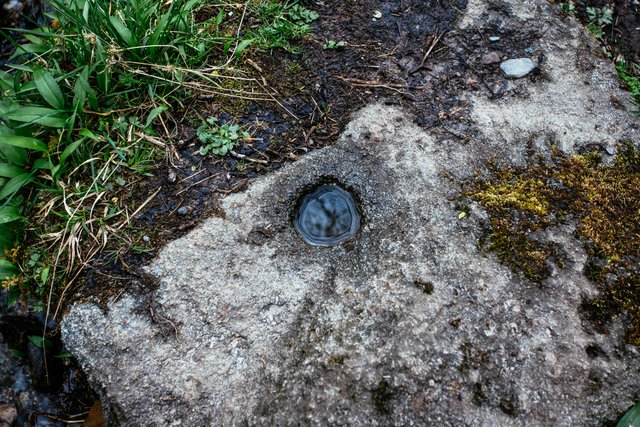 THEN... as if out of nowhere there it was !! The "Fairy Bridge!" We had found it!!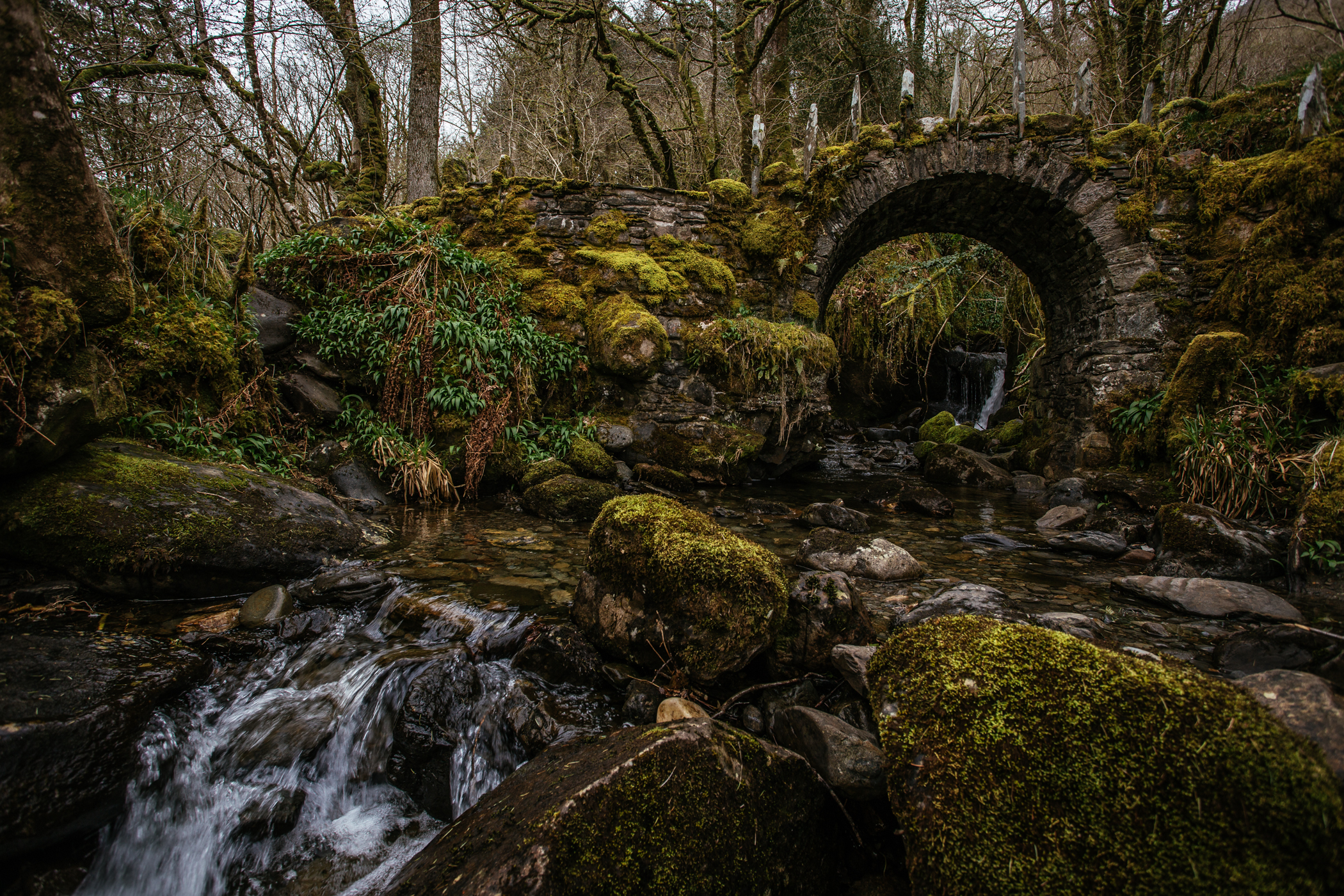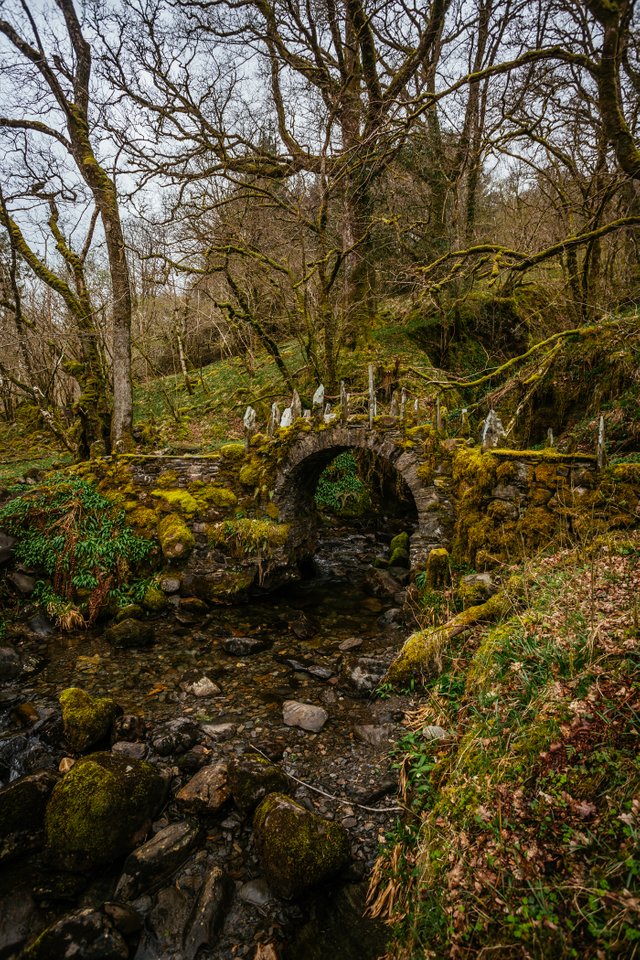 And what a site it was !! It was just as magical as I was hoping it was! There was a sense of calm and peace around the bridge and I couldn't want to go and explore around it and get some more shots!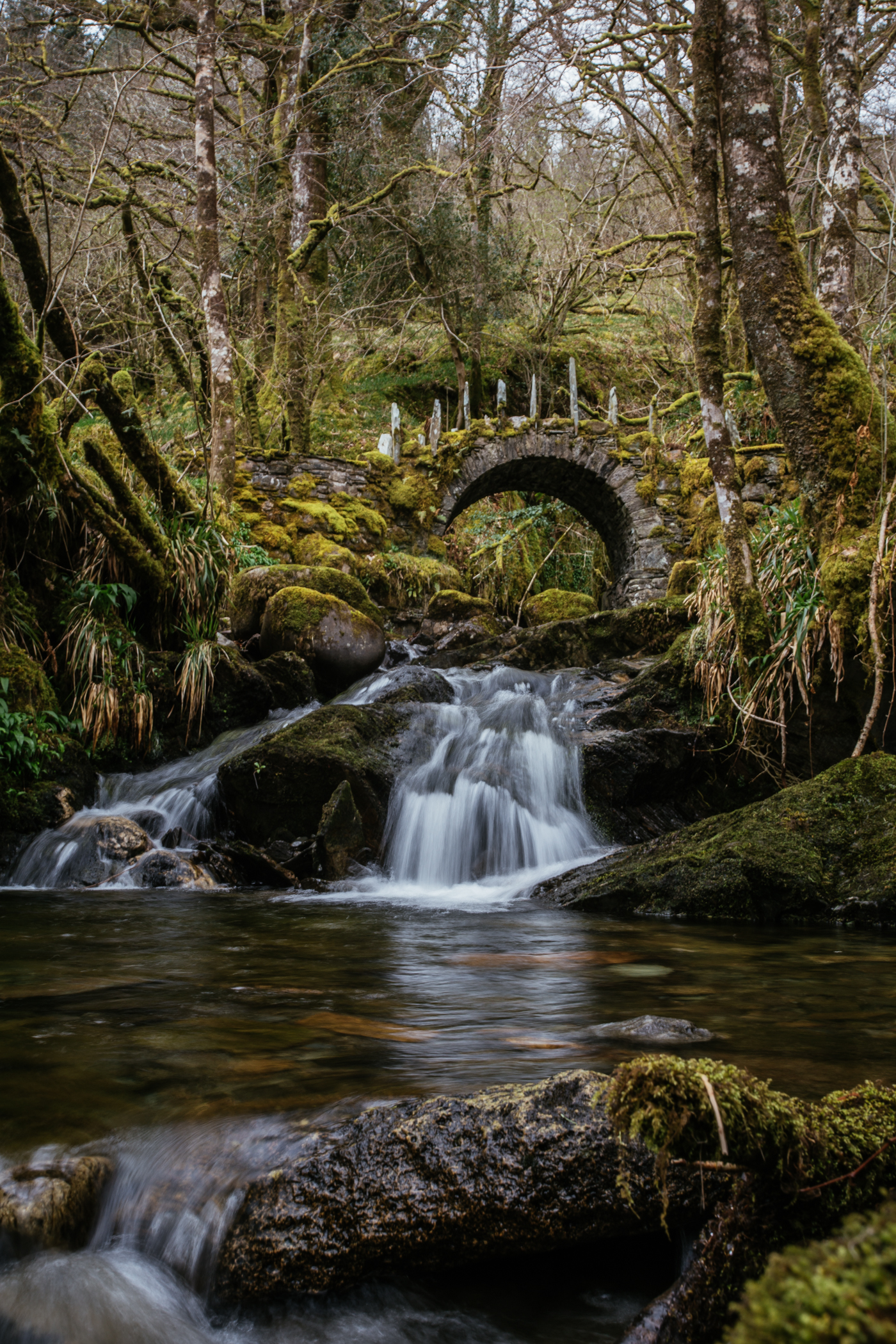 )
I normally leave the long exposure photography to my husband (@skiesandsports) but seeing as I was in this magical location I thought I would give it a go! I didn't have a ND filter or anything so all I could do was hold the camera really, really still and try what I could! It wasn't the best but just had to try it in this location!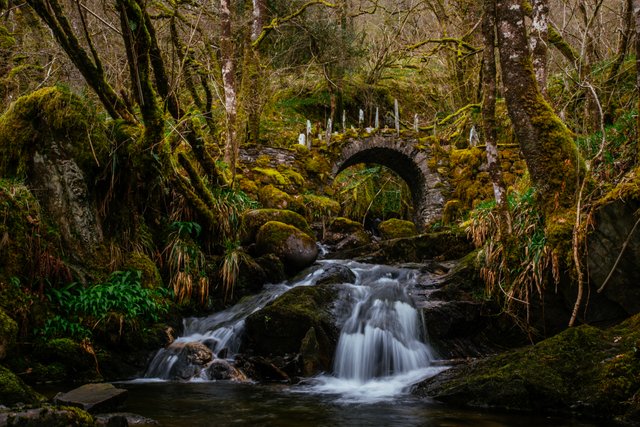 Considering it was hand held I was quite happy with the results! I just wanted to capture how beautiful the water was flowing along the waterfall and under this amazing bridge. I just couldn't stop taking photographs of it, it was so pretty. There is still NO information on WHEN or WHO built this bridge, which is so strange! When we got home we even looked on OS maps to try and find it but nothing. I think its almost best not to know, if it is new or old, its nice to leave it a mystery.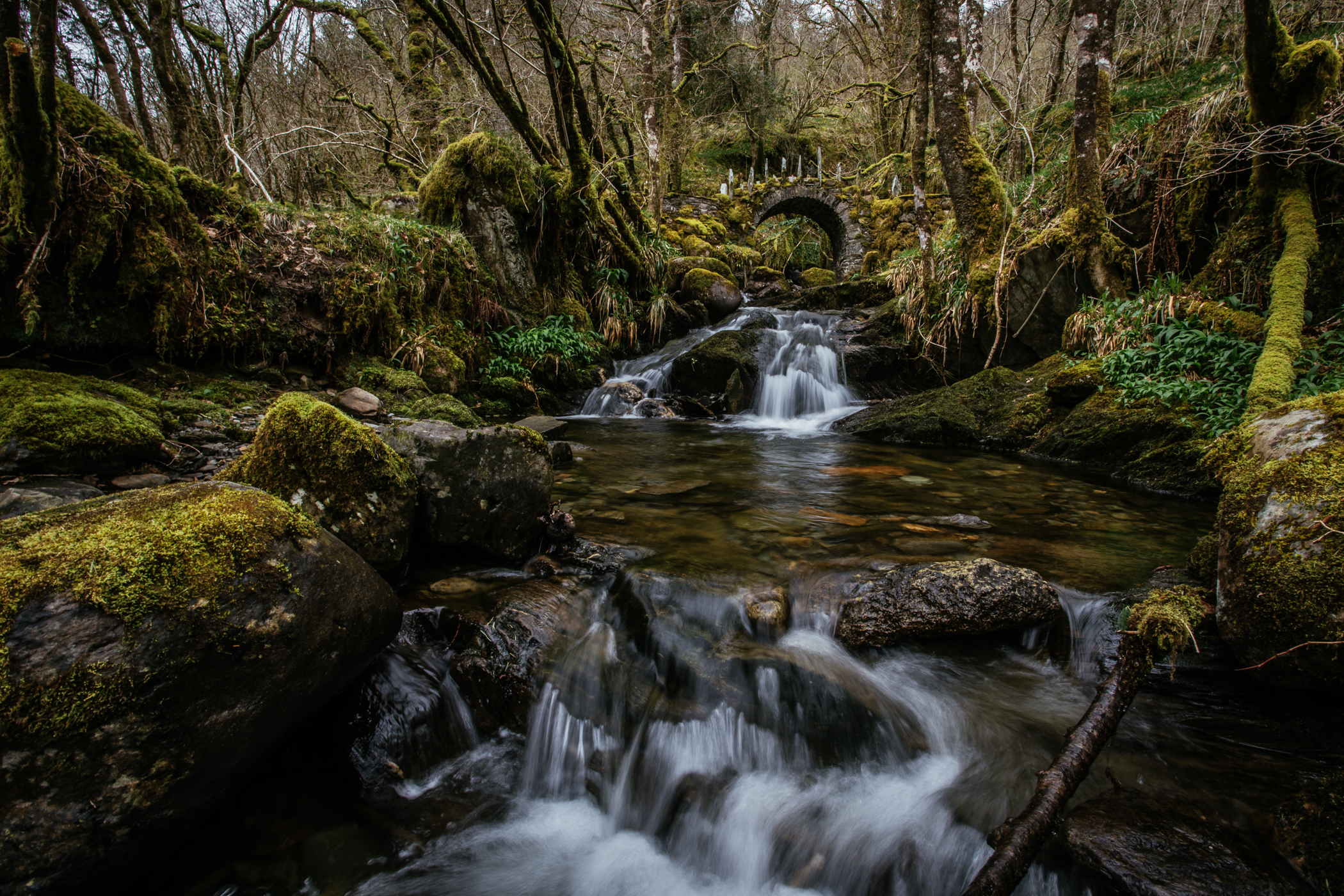 You could see that the water has eroded this amazing curve out of the rock, creating such a smooth curve for the water to flow across. Wouldn't it be nice to think that little fairies use it as a little slide!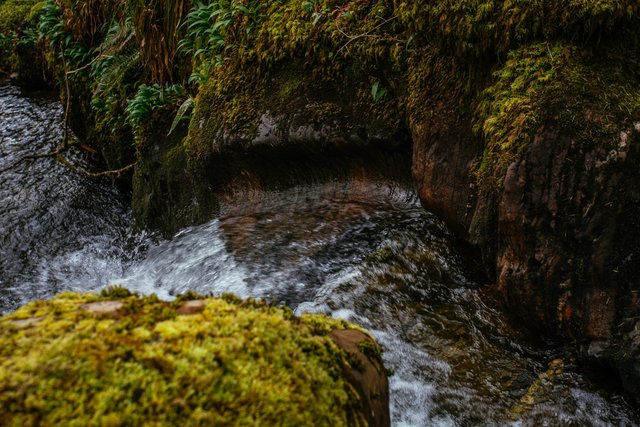 The design of this bridge is unlike any I have seen before, the amazing stone slabs that are placed upright and spaced along the top are just amazing! It gives it such a fairytale look and looks so pretty! The center of the bridge is really raised and when you are stood on it you can see further up to the waterfall!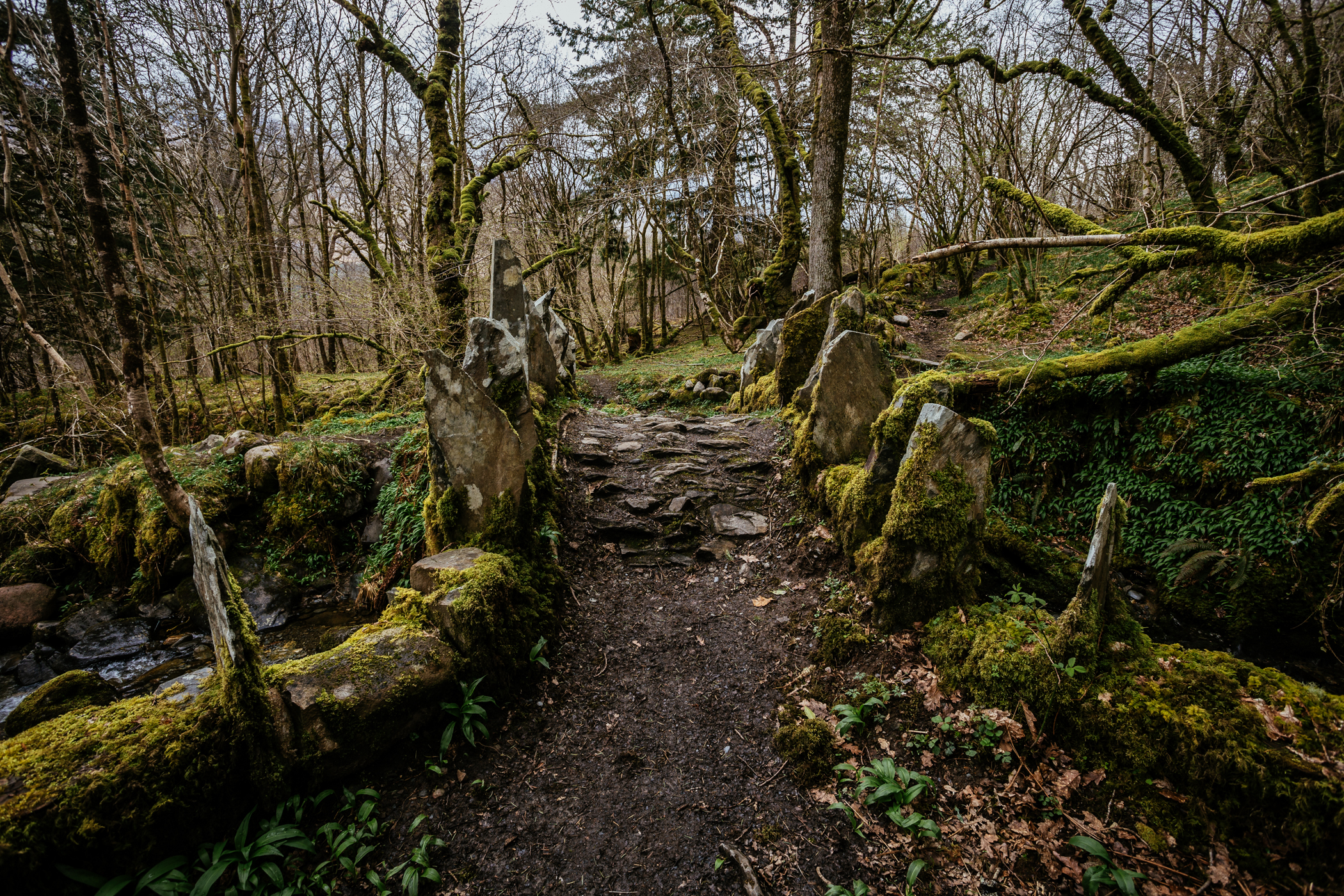 Such a beautiful little place that we have found, I can see why people don't want it to be trampled all over by tourists and it was somewhere I feel very grateful to have been to. I am glad that on the map it is not labelled and even online everything is very secretive. Somewhere like this needs to remain hidden for as long as possible!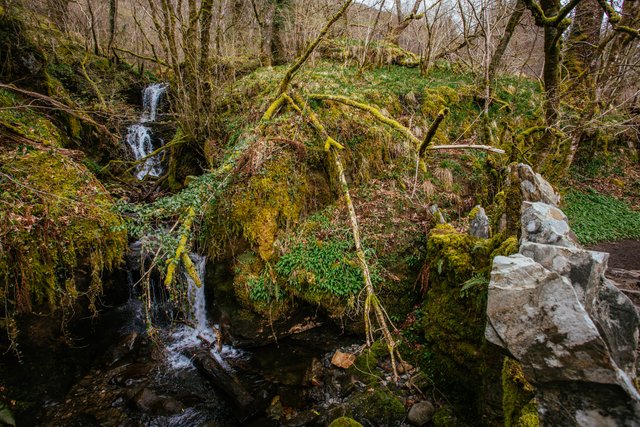 Next to the bridge there was this amazing tree that had a branch that was growing out horizontally, really unusual! I have to say that I have stopped asking why or how the trees were like this or why the bridge was here as the feeling I got from this place was enough to just accept that it just is ! And the magic of the place can do the rest!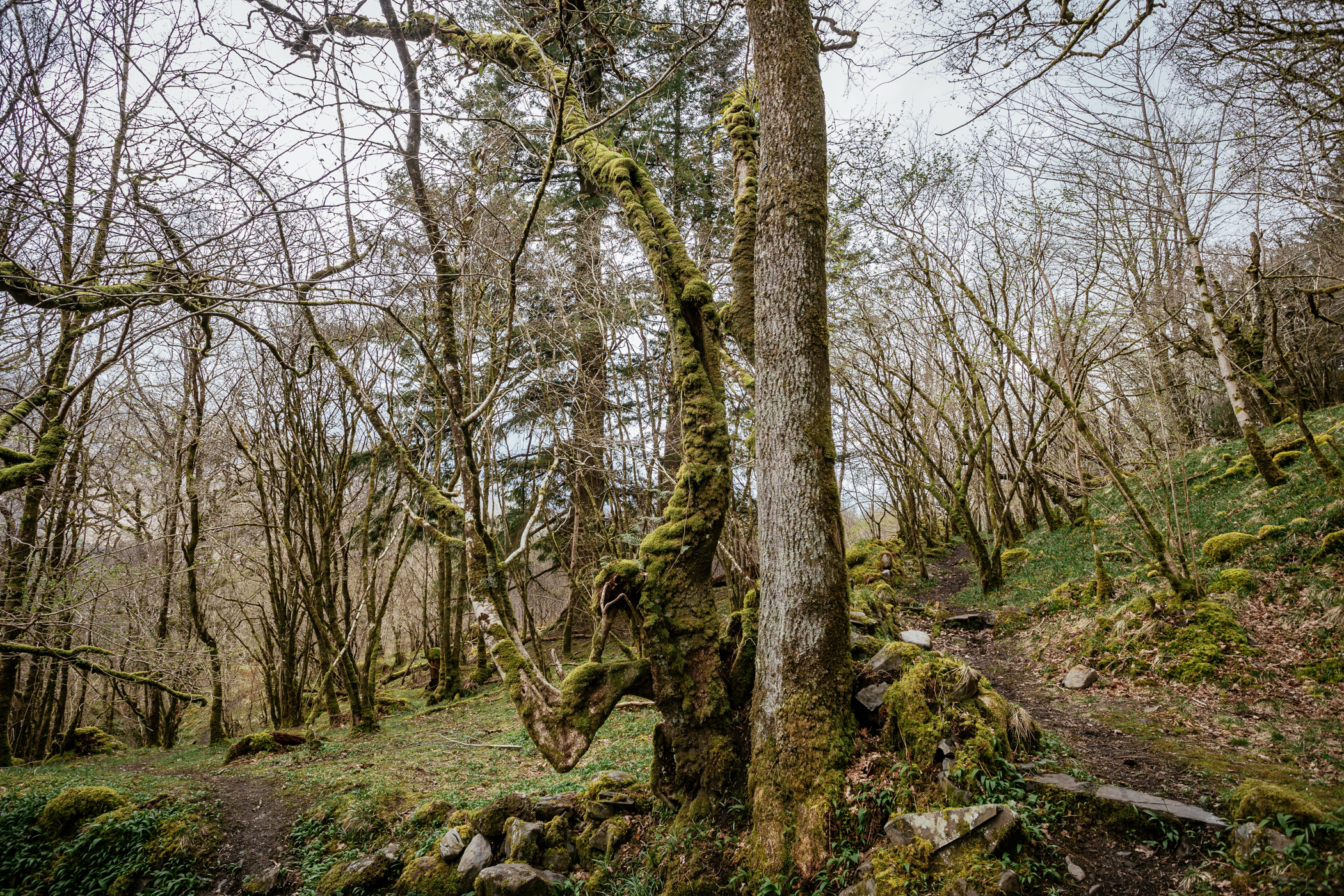 We spent a lot of time just sat near the bridge and taking it all in, after a while it was time to go. We made our way back to the main path and chose to go on the scenic path back, which we had hoped would give us amazing views down the valley! On the way we came to this tree, we think possibly that has been struck by lightning! It looked very impressive against the looming skies!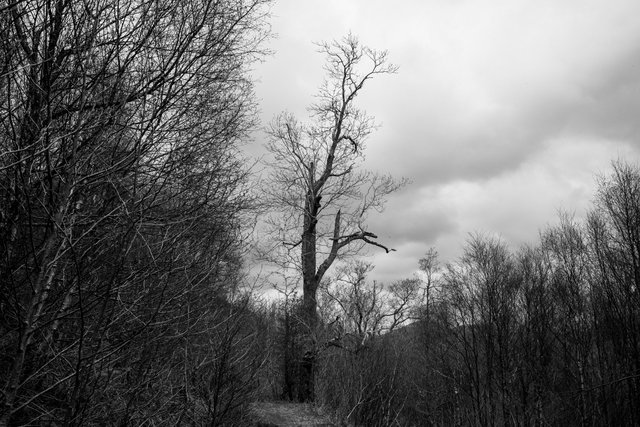 We the came to the opening where we could see all the way across the beautiful valley of Glen Ure. A plaque was there for you to read information on what went on over history in this amazing place.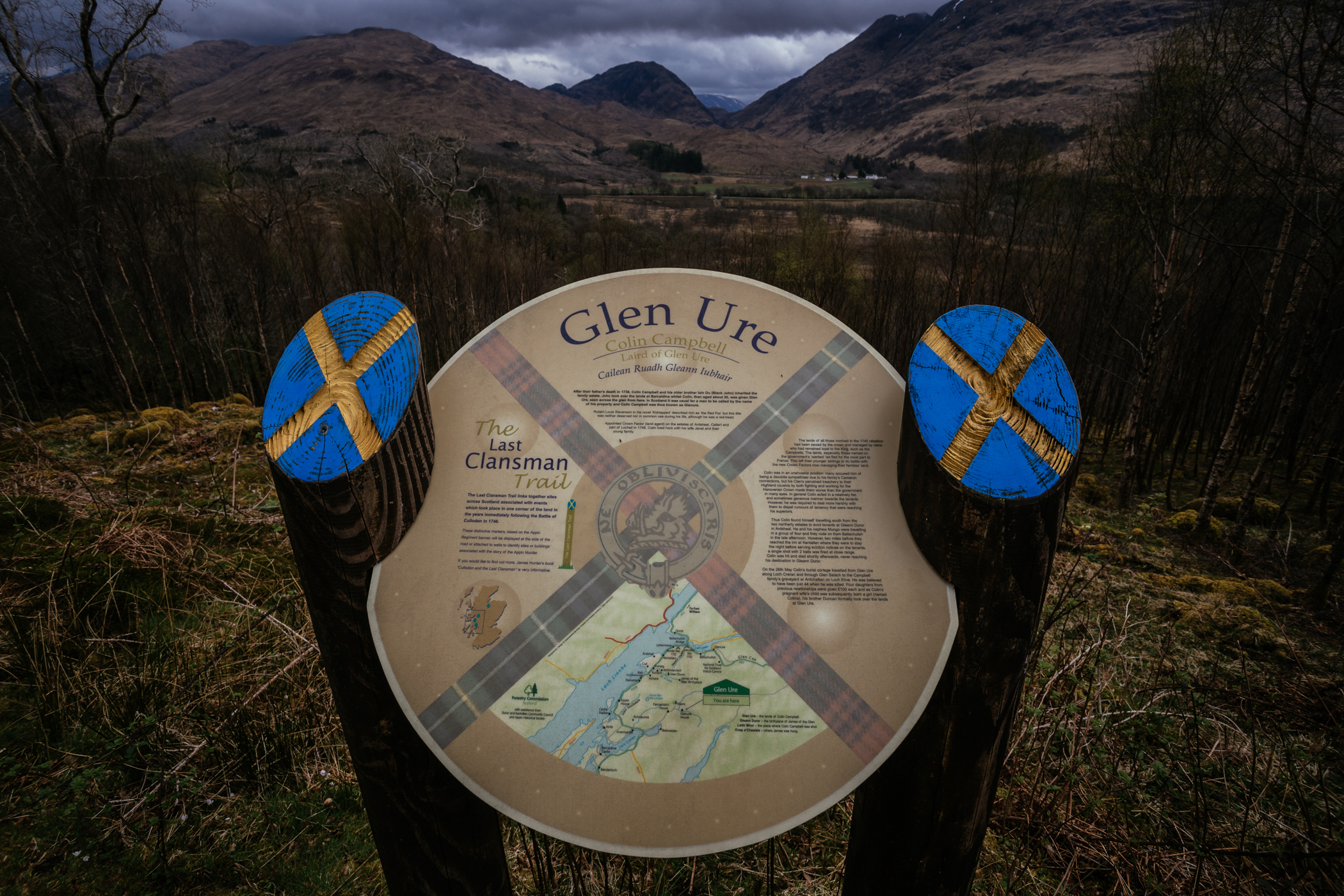 The view was pretty nice! You could see that they had cleared some trees away so that you could get a proper view. I imagine in summer when the leaves are out and everything looks green again it must look amazing, maybe I will have to come back in summer! Good excuse I guess! It does feel like such a long time since we saw green trees, we've had around 8 months of winter so far, or at least bad weather so surely that must mean that we are due a really good summer!! That's what I am saying anyway!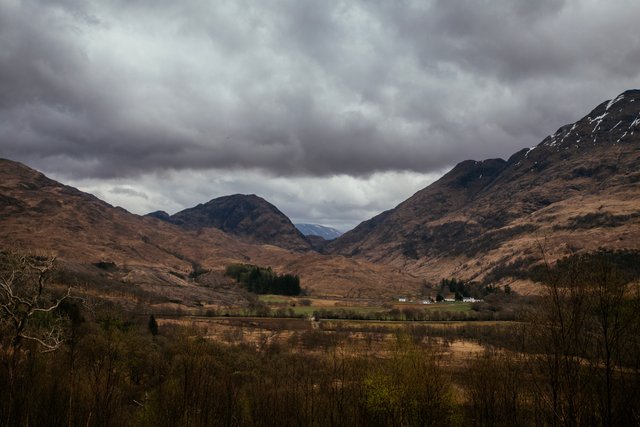 What an amazing walk! We had made our way back to our car and then started to make our way back home but wanted to go back along Loch Creran to get a few shots of the lovely loch before we went!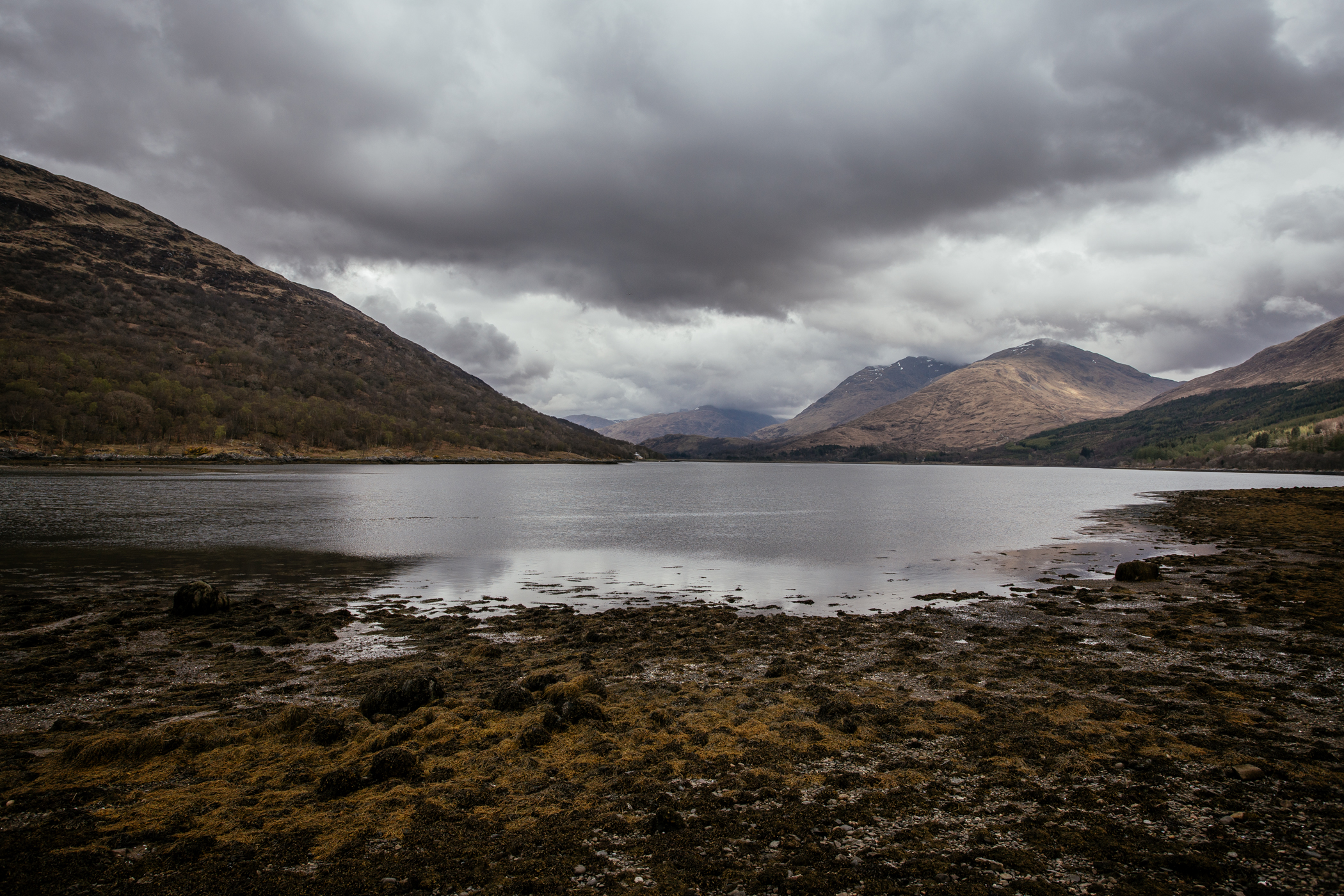 And on the way back even more amazing views were greeting us home! Just look at the light over the islands! What a great way to end the day! I hope you've all enjoyed this adventure with me! Look forward to next time!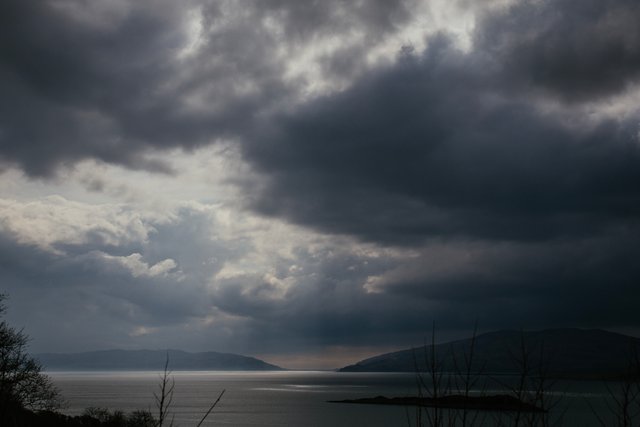 All these shots were taken on my Canon 6D and my 17-40mm Canon Lens, they are just my favourites! Even with close up shots like the caterpillar the wide angle lens is so good, I always carry a 50mm with me too but in this case I just didn't need it ! The wide is so versatile and for adventure trips like this its just the best!

- Verity x
Photography by me and copyrighted to me.
Please UPVOTE / RESTEEM / FOLLOW to support my work on Steemit - Thank you!