Welcome back to beautiful Western Australia! This is a continuation of my last post that you can view here --> Western Australia Adventure - Part I and you can see the thrilling conclusion to our journey here --> Western Australia Adventure - Part III.
A little recap before I proceed. Me, @starthere, and our little tot embarked on a 14 day roadtrip in Western Australia, flying in and out of Perth from our home in Bangkok. After checking the weather, we knew it would be warmer and drier up north, so after one night in Perth, we headed straight up the coast, then inland to Karijini National Park. Our strategy was to get the long drives out of the way earlier in the trip to be able to relax after that. Karijini was where my last post ended. After that we started heading back south.
We started early, but the drive from Karijini National Park to Coral Bay still took us about 8 hours. It was a long day of being on the road but it wasn't as painful as we thought it would be and we even had a bit of fun with it (@starthere called it "Truck Appreciation Day").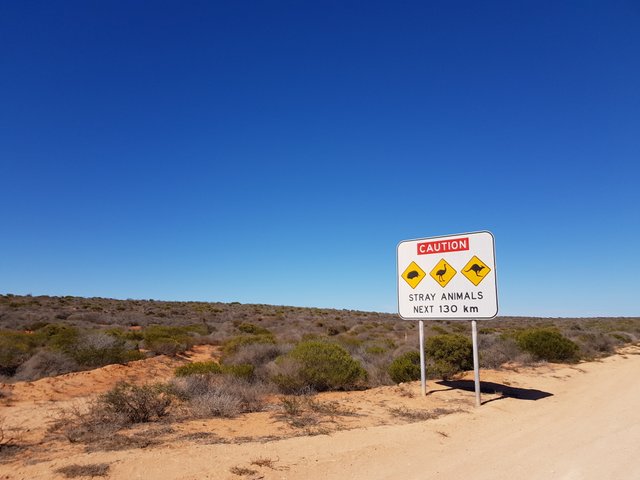 Part of the fun is when you come across signs along the way, which remind you that there is no where else in the world besides Australia where you can see road signs like this! We also encountered vandalized signs where people put the letter A in front and back of the word "stray" making it read ASTRAYA ANIMALS, which for some reason really made @starthere and I laugh. Maybe because there wasn't much to see this stretch of road, or maybe the 8 hours on the road was starting to make us crazy.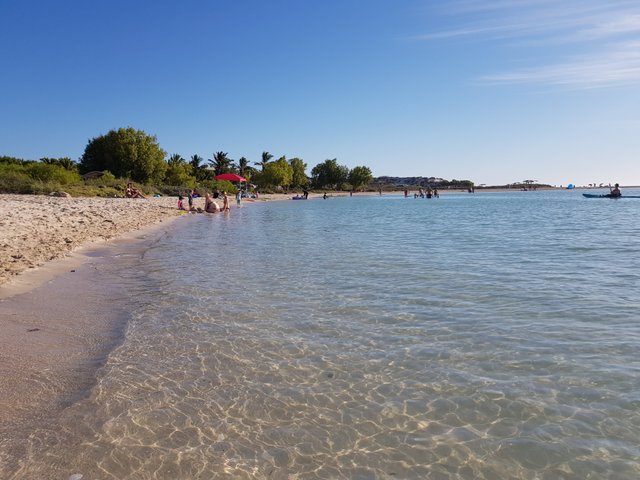 After finally arriving in Coral Bay, we got our camp site secured then went to straight to check out the beach. It's immediately obvious why Coral Bay is such a hit with both locals and tourists. First, and most notably, the water in the bay was very clear and full of sea life. @starthere even saw a manta ray swimming by when he was only knee deep in the water. Second, the bay is quite protected which makes the water very still and safe, perfect for families with small children.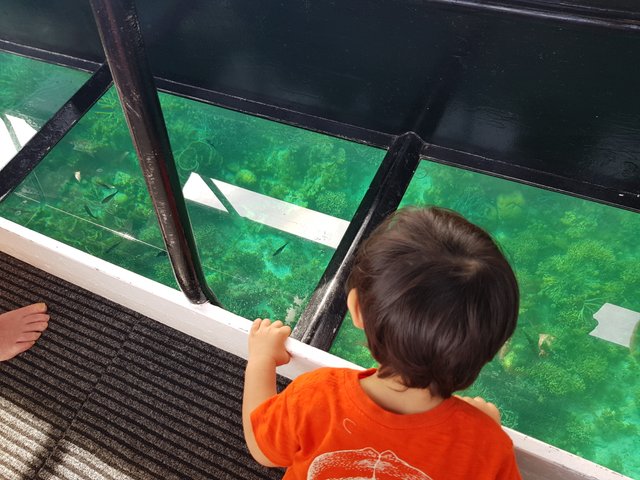 Third, this is a famous place to snorkel. We booked a glass bottom boat tour since our toddler is not old enough to snorkel, this way everybody was able to see the beautiful corals and colorful fish. The guides on the boat were very knowledgeable, pointing out everything we passed over, from the fish to 2000 year old giant coral.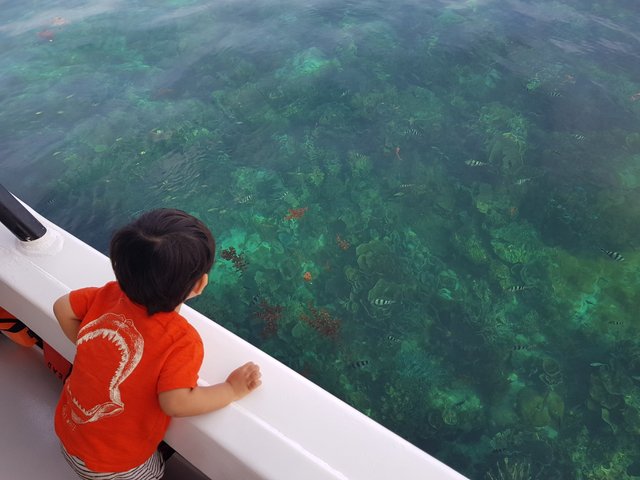 The tour also includes feeding big hungry parrot fish. You can see that the water is so clear that the glass bottom boat is almost unnecessary. Just peering over the side of the boat is like looking down into an aquarium.
Overall @starthere and I thought that Coral Bay was nice, but a bit too touristy. In fairness, we didn't snorkel or dive which is the main attraction here. You should definitely check it out if you're into underwater activities. But be warned, Coral Bay is very popular.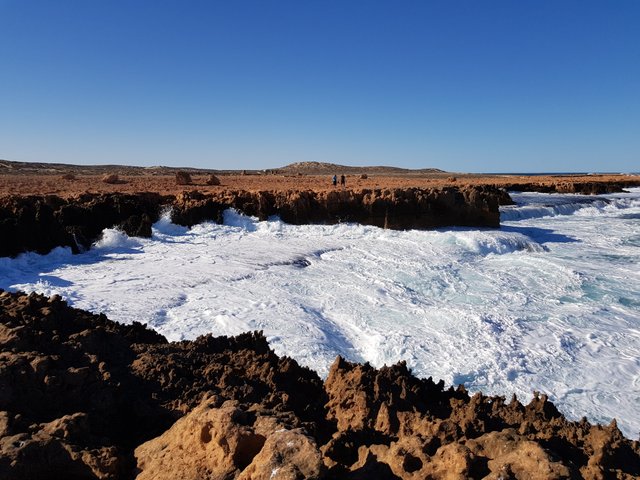 From Coral Bay we continued south and went back off the beaten track a bit as we headed to Quobba Station. The beach here is the opposite of Coral Bay. We were greeted by a very dramatic scene of cliffs being pounded by giant waves.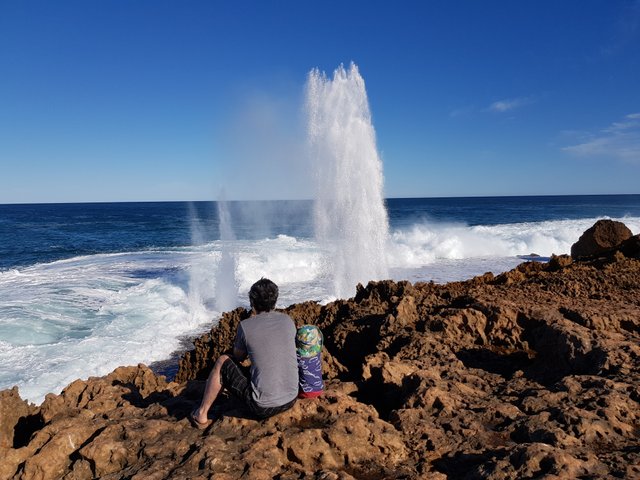 And because the swell and the tide were both high, the awesome blowhole was working, shooting water high into the air and delighting our little one who shrieked when the spray got him wet.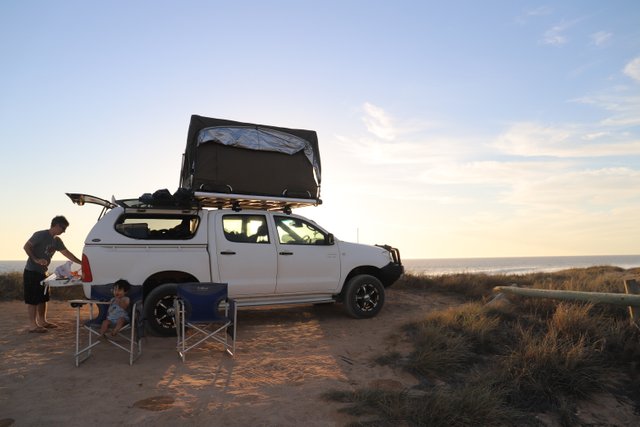 A few miles from the blowholes is where we settled in for the night. Quobba Station was definitely one of our favorite camping sites in the trip.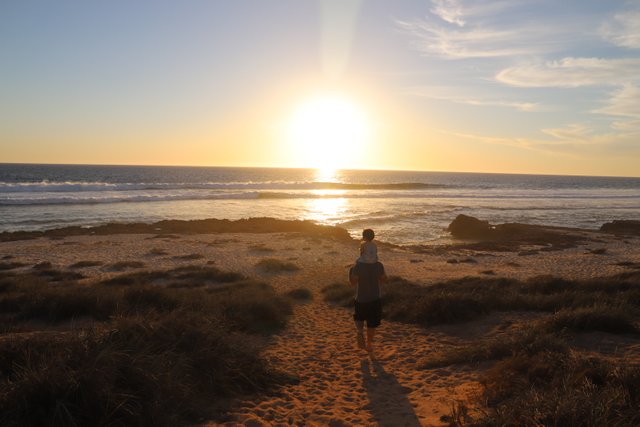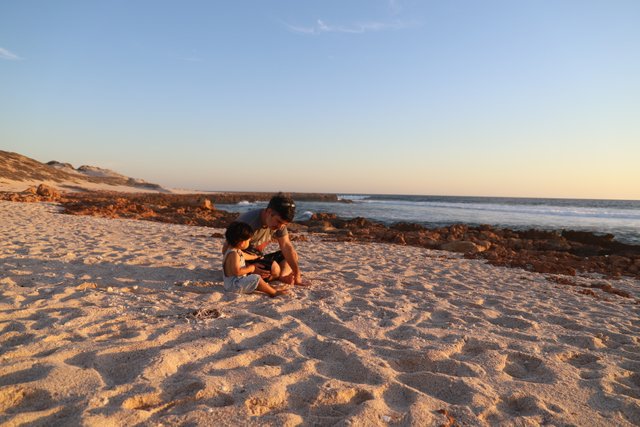 We had the whole beach to ourselves. We were able to enjoy a dramatic sunset as the day ended with not another soul in sight.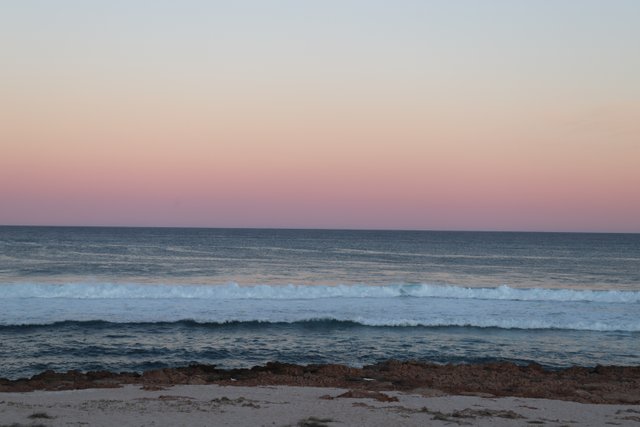 The morning greeted us with a pink gradient of sunrise painted along the ocean and the sound of crashing waves.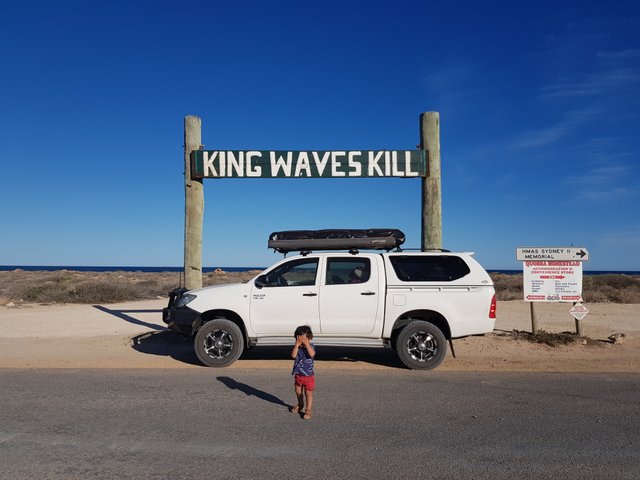 Before we left Quobba, I couldn't help but take a photo of our tiny human with the famous sign that says King Waves Kill.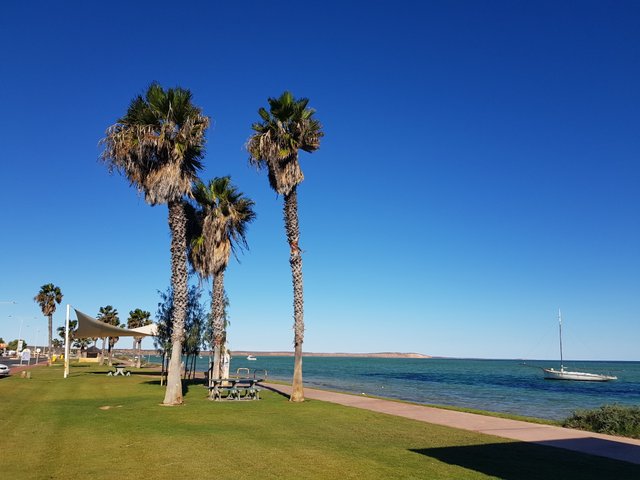 Our next shop was Shark Bay and chose to make Denham our base for two days. We had planned to camp at Monkey Mia itself, but the campsites were closed for restoration and renovation.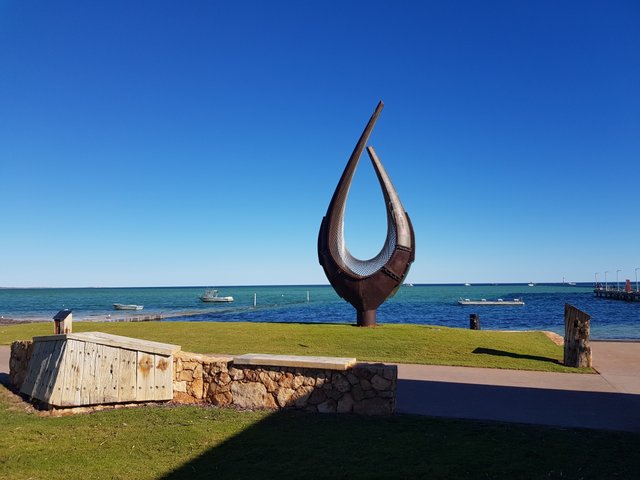 We're glad we got "stuck" in Denham. It is a charming small town with groceries and supplies and only about 15 minutes drive to Monkey Mia.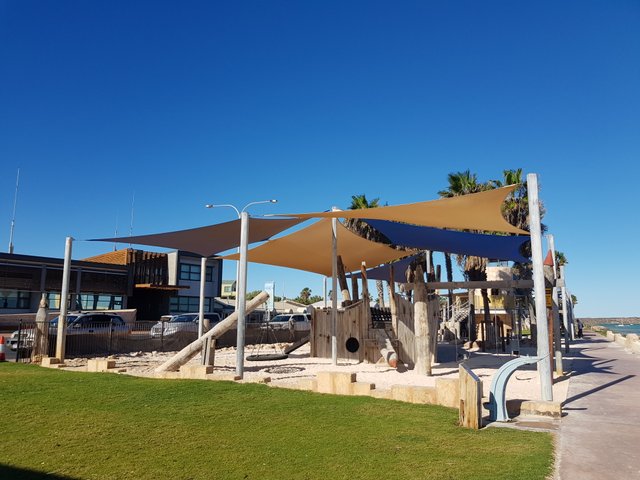 We loved hanging out on the foreshore where a wooden pirate themed playground is facing the sea. As parents @starthere and I really loved Western Australia's playgrounds.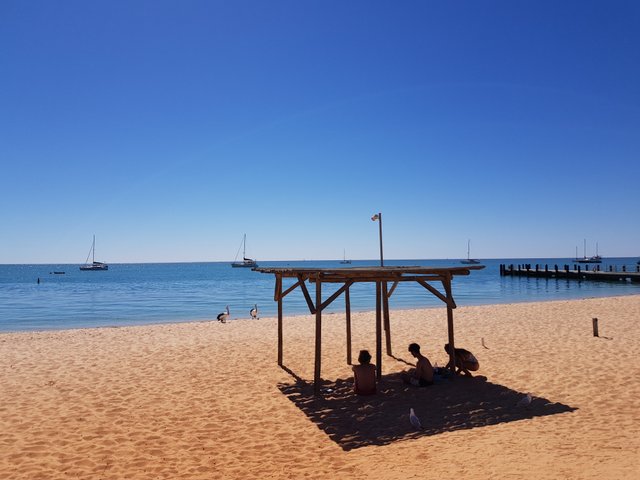 Early the next morning, we drove to Monkey Mia to see some wild dolphins.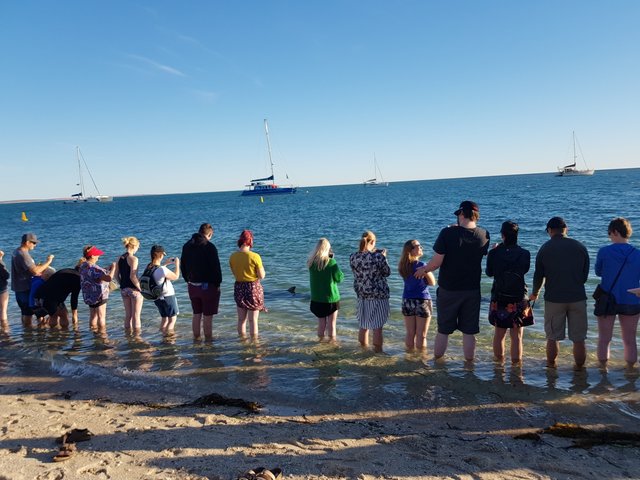 People from all over the globe came here to see these cute creatures, who have been coming in the bay for 40 years.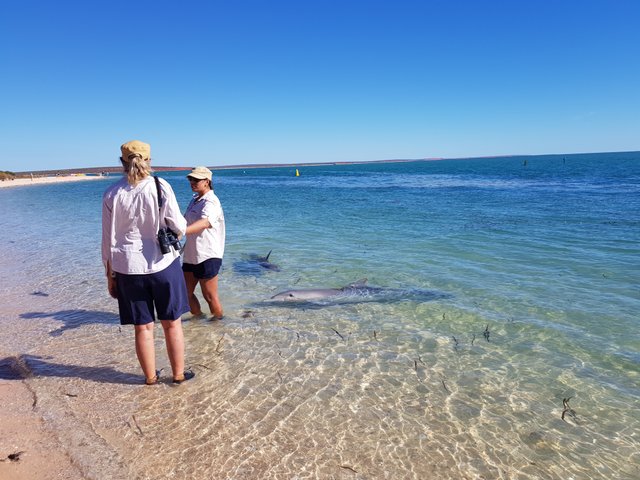 It's incredible, in Monkey Mia, dolphins show up 99.9% of mornings. That day we visited, 6 dolphins made an appearance. We were instructed not to touch the dolphins and to get out of the water or at least distance ourselves if we saw them while swimming.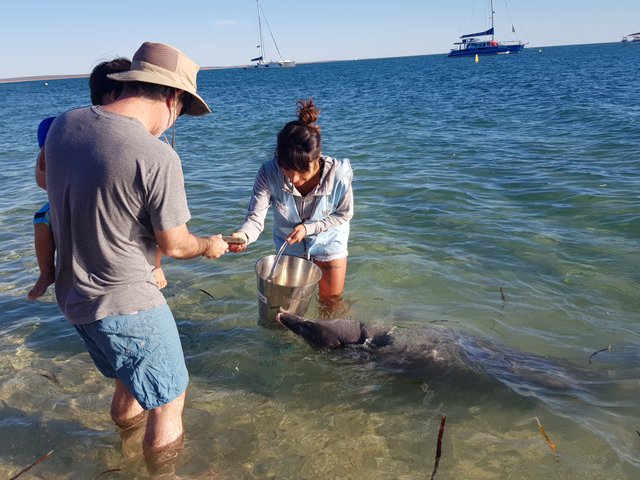 @starthere was among one of the lucky ones who got picked to feed the dolphins. It was a great treat to be so close to a dolphin. Overall we were very impressed at how well the center was run and how they treated the dolphins. They only fed them in the morning with a maximum of 10% of their daily fish intake to encourage the dolphins to hunt on their own for their remaining dietary needs.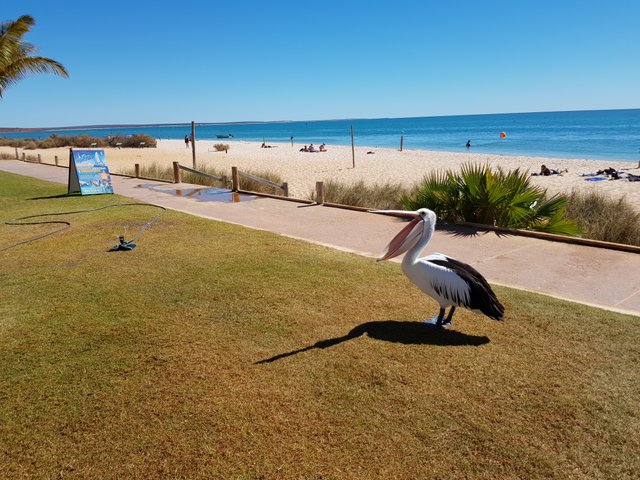 Dolphins are not the only attraction in Monkey Mia. Maybe you'll see the Australian Pelican, the largest pelican in the world, just hanging out and trying to drink some fresh water from a sprinkler.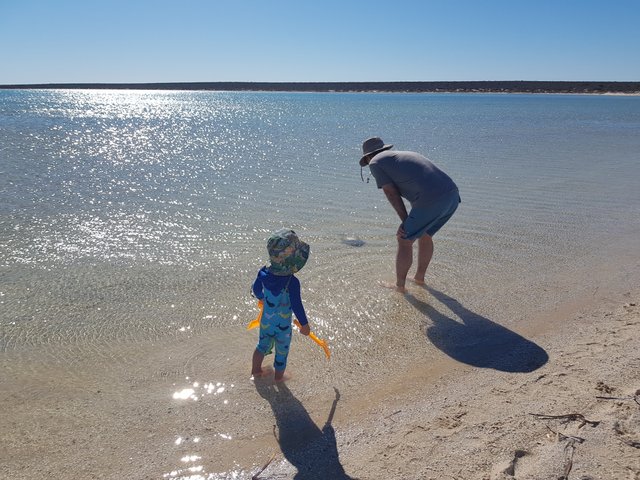 Still in the Monkey Mia area, we checked out beautiful Little Lagoon, which was on the road back to Denham. The boys found themselves a jellyfish, looked but didn't touch!
My next post will reveal the exciting conclusion of our Western Australian Adventure, stay tuned. I hope I've inspired you to consider visiting this beautiful and under visited part of the world. Again, if you have any questions regarding the journey I will be very happy to answer them.