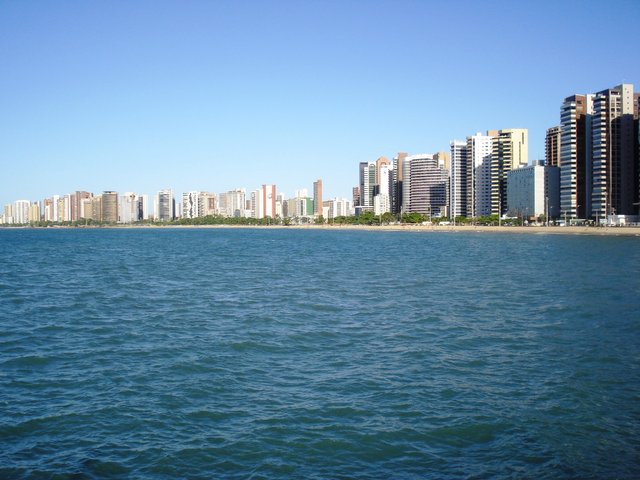 Read "Travel Diary / Ceará: walking through the exotic northeast of Brazil - Part I" on TravelFeed.io for the best experience
---
On my 40-day backpacking trip through Brazil, Fortaleza, capital of the state of Ceará, was the first city I met. I had decided that my journey through the "giant of the south" would go to several places along its coastline and go down to Sao Paulo.
Fortaleza is the great city of northeastern Brazil, with about 20 km of coastline and many interesting places to discover.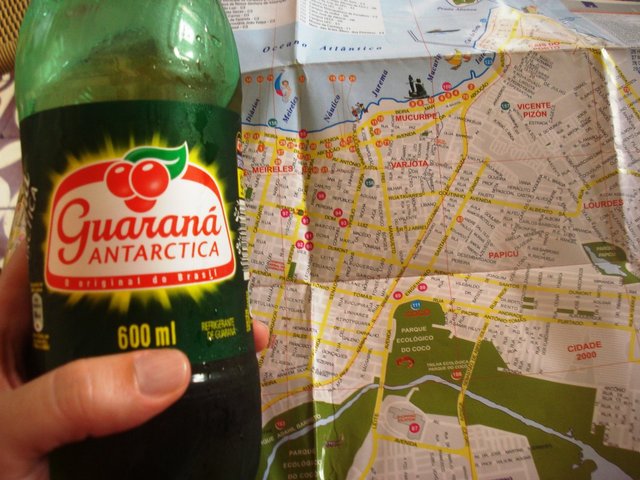 I arrived at the Pinto Martins airport early in the morning and supposedly I was going to wait for a vehicle from a hostel where I booked a room online, but after more than half an hour, no one ever arrived and as fortunately I had not paid anything there, I called another accommodation to ask if they had a room or a free bed, they said yes, I took a taxi and went there.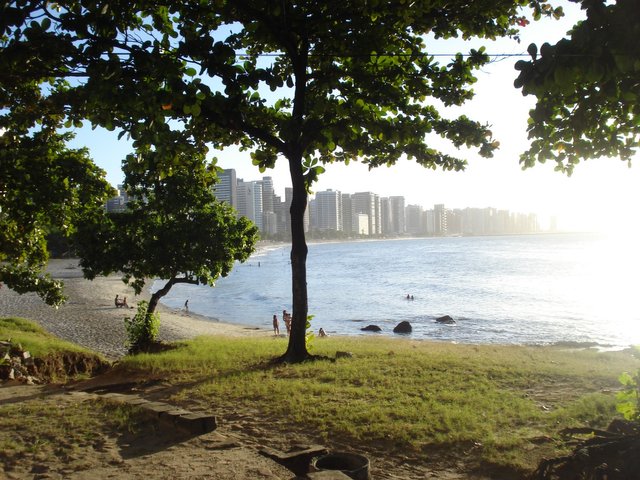 The man in charge of the hostel, located in the area of Iracema, was very friendly and talkative, like almost all the Brazilians I met during the trip, and in my Portuguese learned thanks to channels that I watched on cable, I understood I was going to be in a six-bed room where there were already two girls staying. Throughout the days I spent in this country, I realized that my level of the "Brazilian" language was quite good, thanks TV Globo! Hahaha…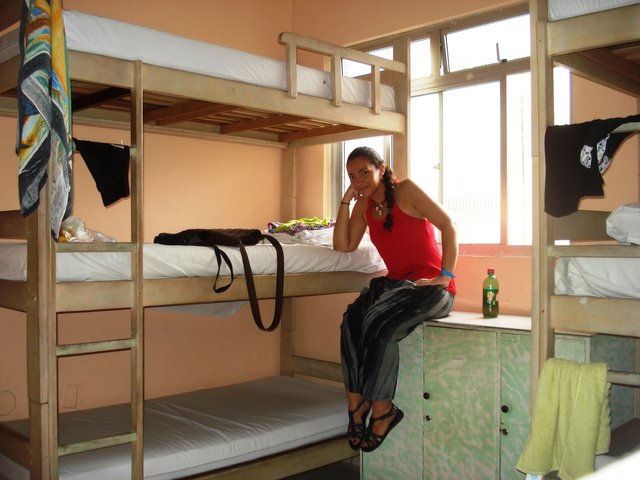 I left my big backpack in the room, took out a small bag where I put the map of the city, the camera and some money and went to see the surroundings. The hostel was very close to the Beira Mar Avenue, where you can walk miles with the beaches aside, a super nice walk to feel the rhythm of the city.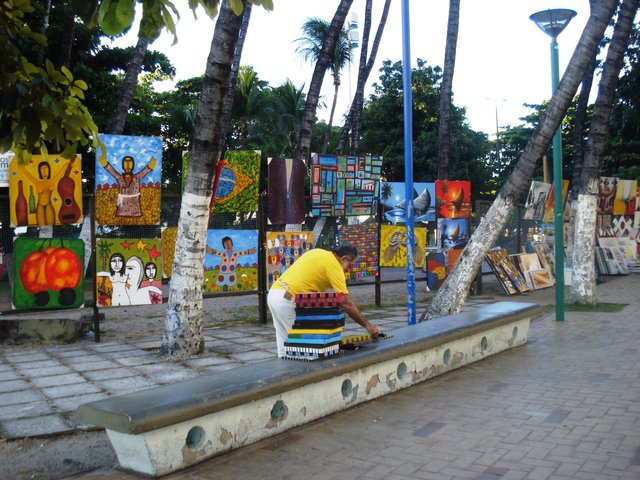 There is a large street market for handicrafts and there is a sale of popular foods such as tapioca, a tortilla made with yucca that is accompanied with both savory fillings such as cheese or sweets such as chocolate.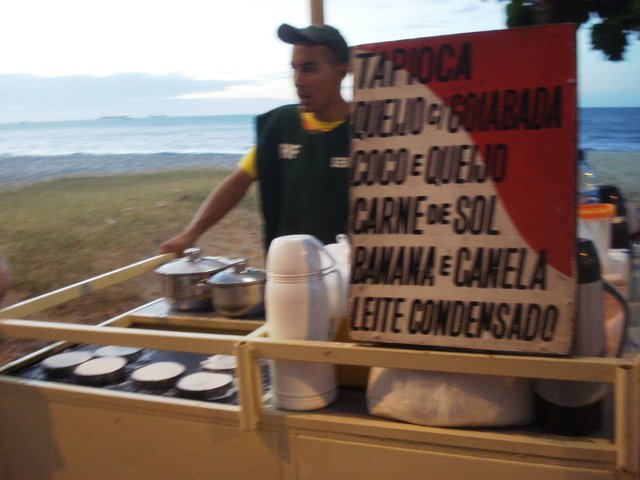 Already in the late evening I went through Praia de Iracema, where everything was very lively with many people walking through this old pier, young people skating and music that was heard from nearby nightclubs, a cheerful atmosphere.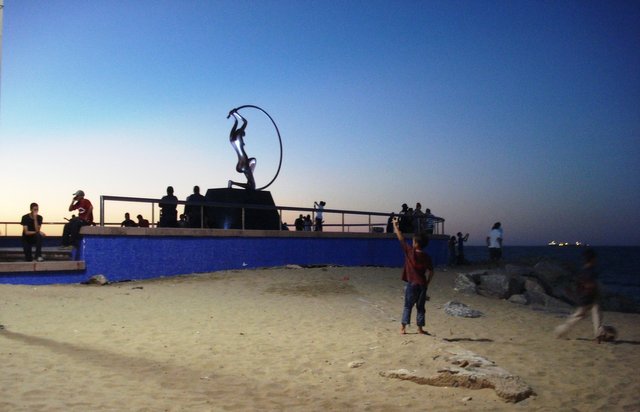 I went back to the hostel and met my roommates, it turns out they were mother and daughter. They were preparing to go out that night to dance "forró", a rhythm typical of the northeast region of Brazil. The super flirtatious mother danced while getting ready and was much more excited than the teenage daughter. I was invited to go with them but the truth was I was very tired and already had an excursion scheduled the next day early. The manager of the hostel offered rides at a good price and recommended me to know Canoa Quebrada, I had that place on my list, so I signed up.
In the morning I woke up early while my roomates slept (they arrived almost dawn) and I went down to have the "cafe da manha" (breakfast), included in the price of the daily accommodation: toasts with margarine and marmalade, coffee, cake, juice, fruits ... good enough to be such a cheap place.
The transport that would take me to Canoa Quebrada arrived, passing through several inns in the area to pick up the people who had paid for the ride, we were about 20. Fortunately when I got up I could choose a window seat.
As we moved away from the city of Fortaleza, the semi-arid geography that characterized this region of Brazil appeared before us, and suddenly, huge white dunes on the side of the road. Thus the landscape continued, with enough sand everywhere.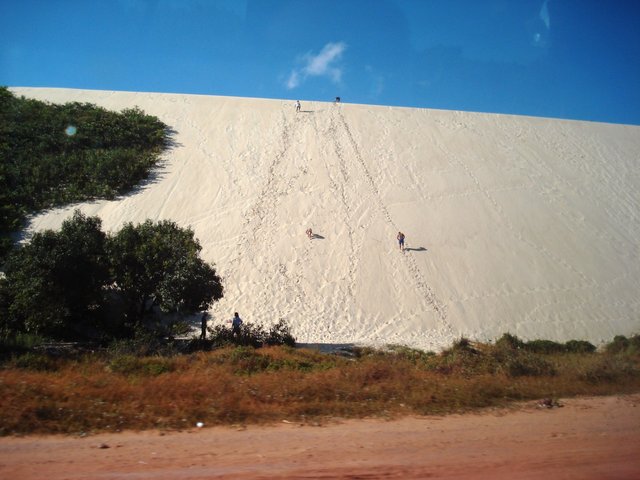 About an hour and a half later, we arrived at Morro Branco, a beautiful beach town where we were met by a guide, who would accompany us for the rest of the walk. First we took a tour of some craft stores, where objects made with marine materials (shells, snails, stones ...) and glass vases of various sizes that had drawings made with the different shades of sand that exist in the place, really awesome.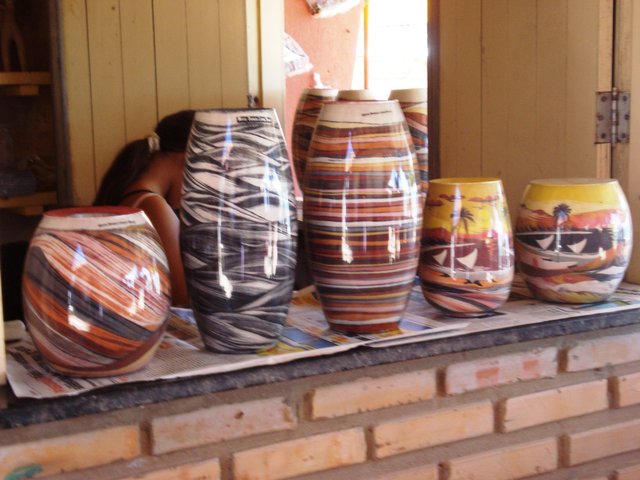 Then we walked to a street that is like a hill and from there we could see a beautiful view of the beach.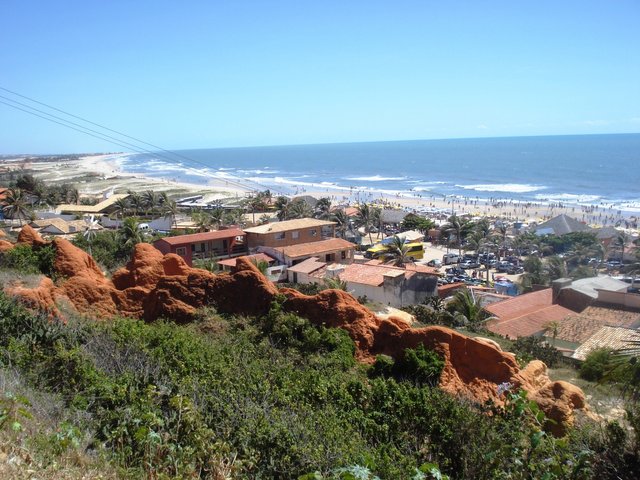 The guide took us to a very visited site of the place: the Natural Monument das Falesias (Cliffs), an area like labyrinthine, with high walls of earth or very compact sand, sometimes red, sometimes pink and with several cacti scattered around . In some places there were holes from where sulfur came out, someone from the group commented that because of the heat it was and that smoky detail we were already in hell ... hahaha.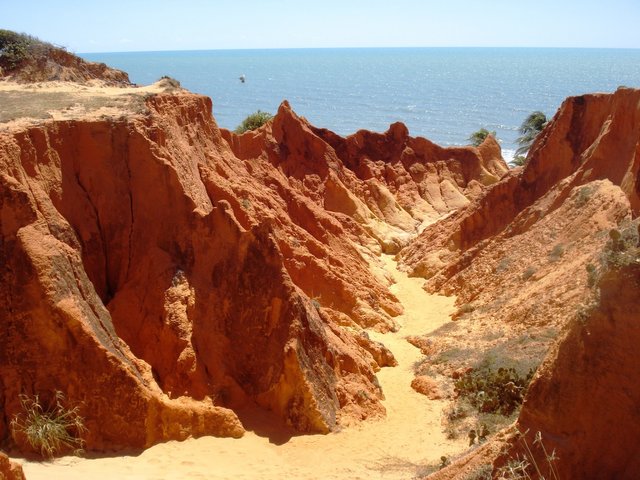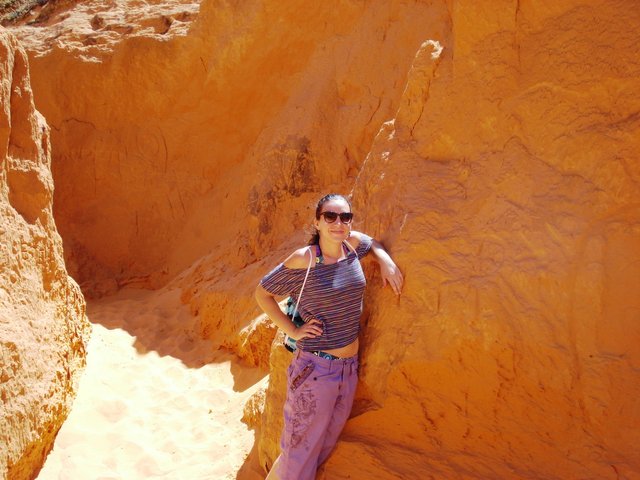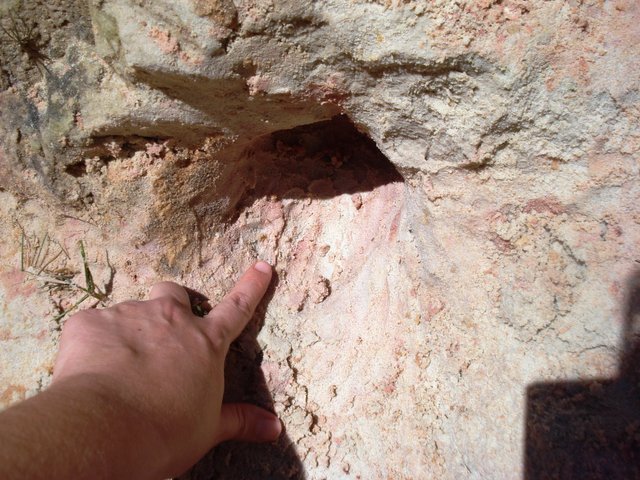 We continue the walk and go down to a lonely stretch of the beach, where we were waiting for some buggies, those special trolleys to roll on the sand, we mounted in small groups in several of these vehicles and we traveled about 15-20 minutes at high speed, passing next to the cliffs on one side and the sea on the other, a tremendous feeling of freedom!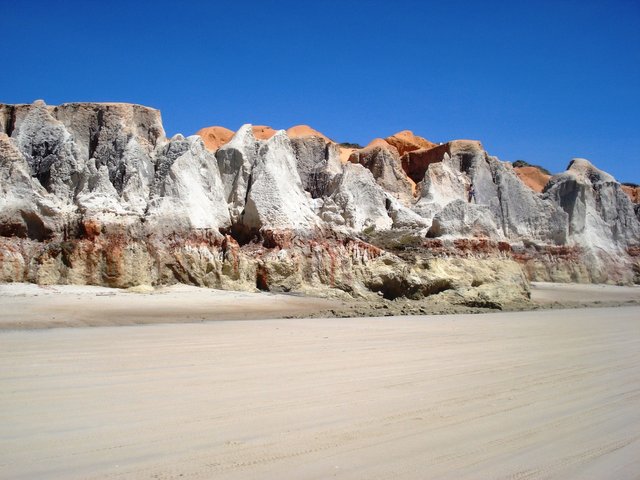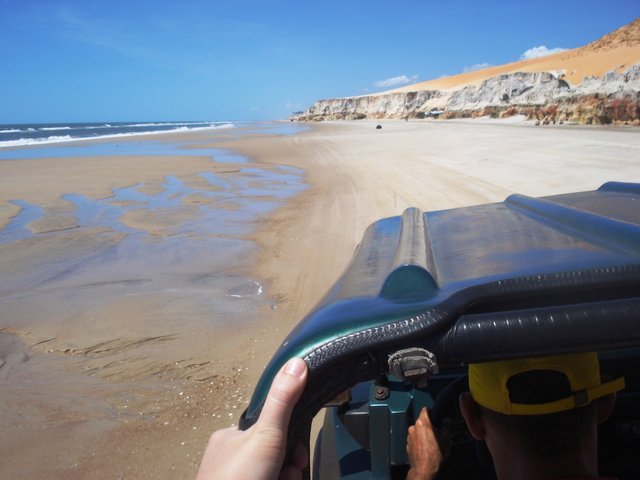 We arrived at a place with large white rock formations, they were caves, I don't remember the name, we entered and there was already another group of visitors there. In some places there were small jets of water that fell like cascades. It was a short walk and on leaving there was a crowd cooling off in what they called "the jet of youth."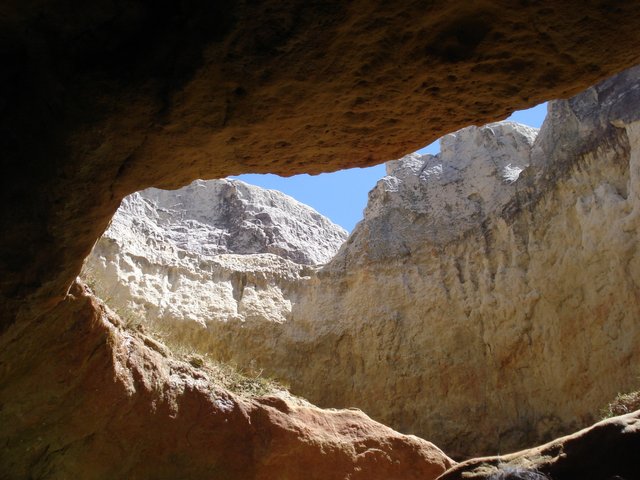 We returned to the buggies and passed through a beautiful lagoon before they took us to spend the rest of the day in Canoa Quebrada.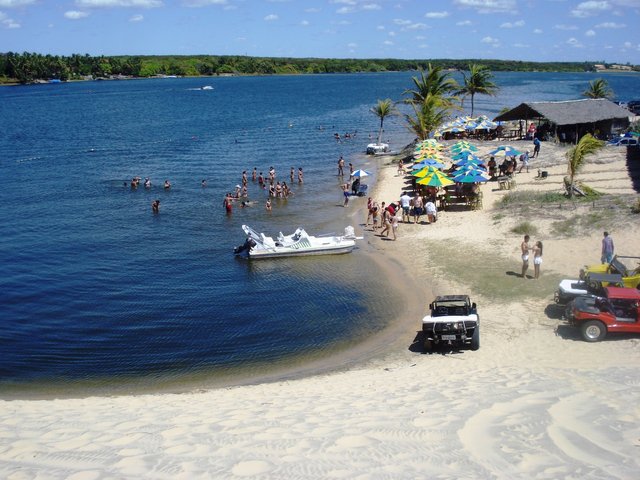 Finally we arrive at Canoa Quebrada, a very unique beach for its beautiful cliffs of reddish and pink sand. We went down a wooden ladder and before getting into the water, take pictures with the "logo" of the place carved on the natural wall!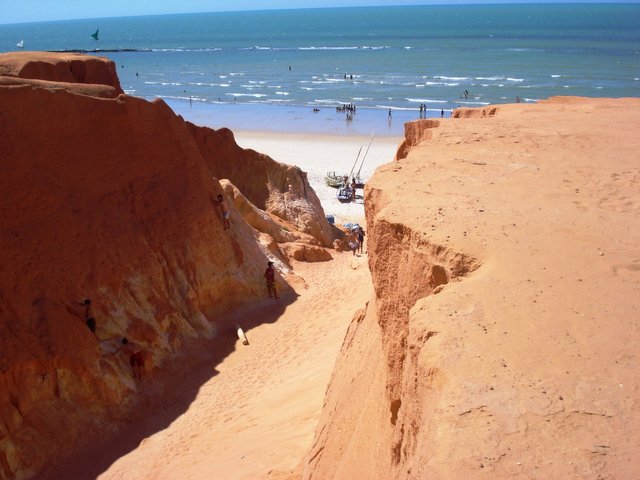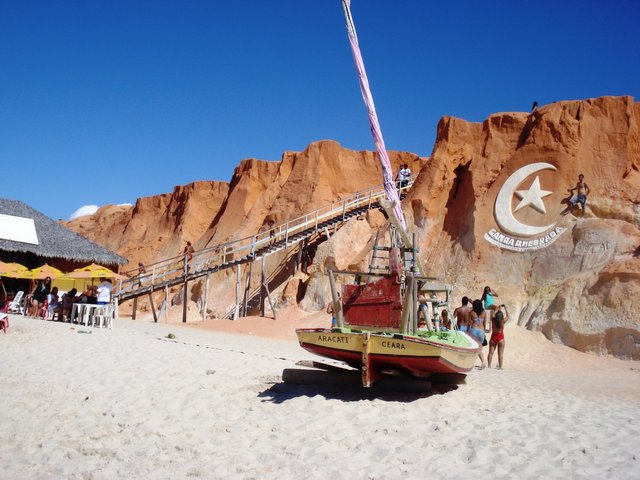 Despite the hectic atmosphere I perceived, I think Canoa Quebrada still retains a bohemian touch, as I read it was one of the places that began to be frequented by the hippie movement and then over the years, many people say lost its alternative aura a bit and became a very popular destination among Brazilians.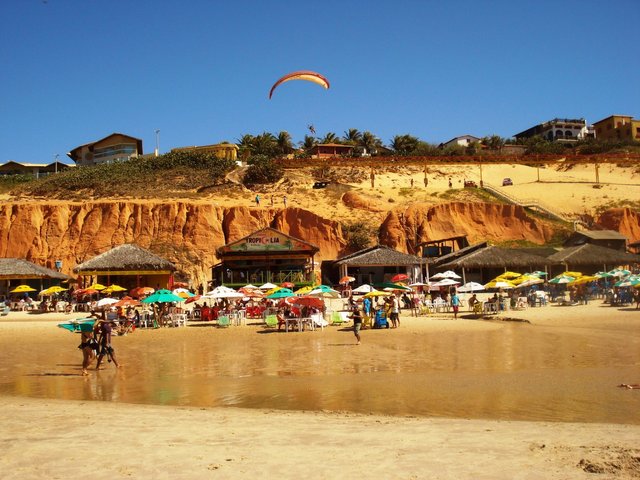 I will always remember this beach because it was where I took my first bath in Brazilian waters. Although the wind makes it more to practice sports such as kitesurfing or sailing in jangada (fishing boats with triangular sail) than to swim, I really enjoyed my dip. I also liked to see in the distance a lot of windmills or wind power towers, which give the place a futuristic vision.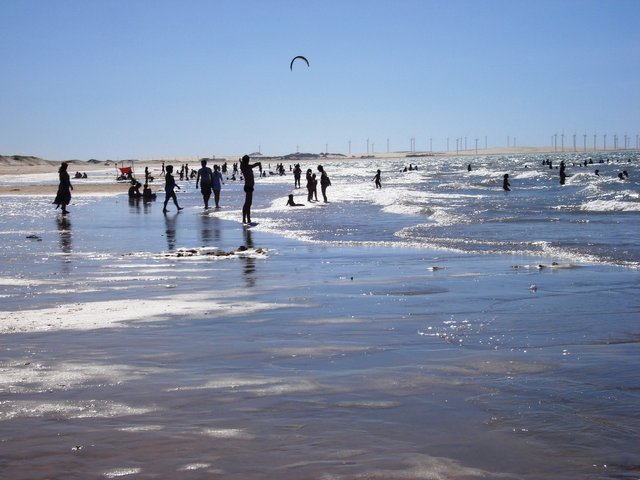 To be continue…
THANK YOU FOR READING!
All the photos were taken by me with a Sony Cyber Shot 7.2 mp digital camera
---
View this post on TravelFeed for the best experience.