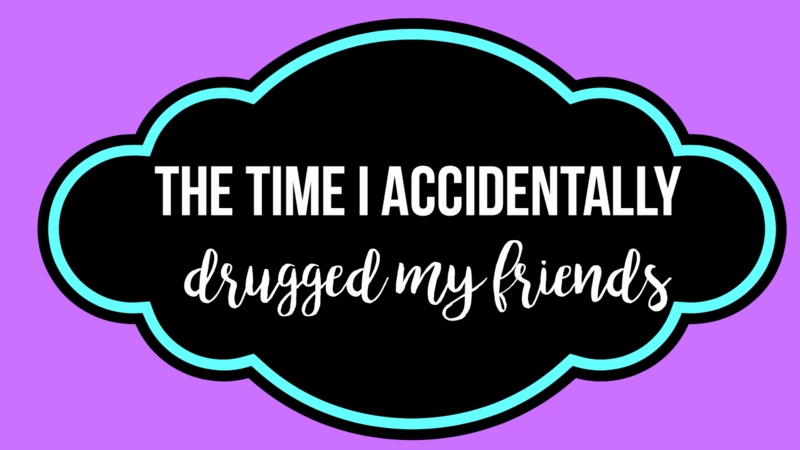 Ya never know what kind of crazy things can happen while traveling. That's why I typically like to go without too much of a plan... the crazier, the better.
Warning: A lot of times this philosophy has majorly backfired, so adopt it at your own risk!
If it's your first time traveling overseas and you're nieve like me, you might think that everything works the same as it does in the US.
"Oh, they would never give me THIS without a prescription. Or THAT. Or THIS."
Except when they DO give THAT to you without a prescription, and you quickly learn maybe things DON'T work the same as they do in the US.
It all started when I was traveling with a group of 4 people, and for some reason, none of us could sleep.
After a couple of nights of traveling, we were literally SO TIRED of having this problem, that we decided to go hit up the local pharmacy on the island of Ometepe in Nicaragua for some melatonin or some benadryl or something.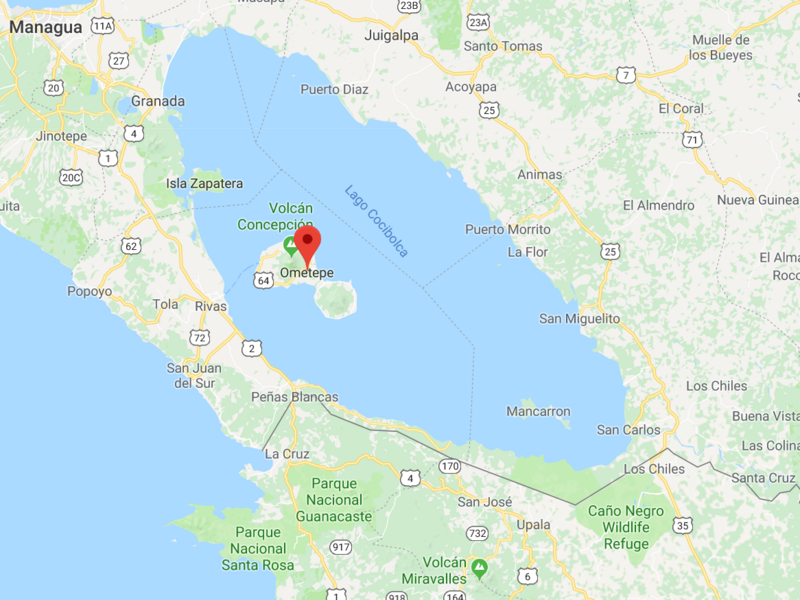 After all, we were supposed to motorbike around the island of Ometepe in Nicaragua the next day, and driving on 4 hours of sleep for 2 nights probably wasn't a good idea.
So my friend K and I were the designated people to go the pharmacy, because we spoke the best Spanish of anyone in the group.
Too bad that didn't help anyone out 😆
In case your mom didn't teach you this, you PROBABLY shouldn't take pills when someone hands them to you wrapped up in a sketchy piece of paper. That should've been our first hint that something was wrong.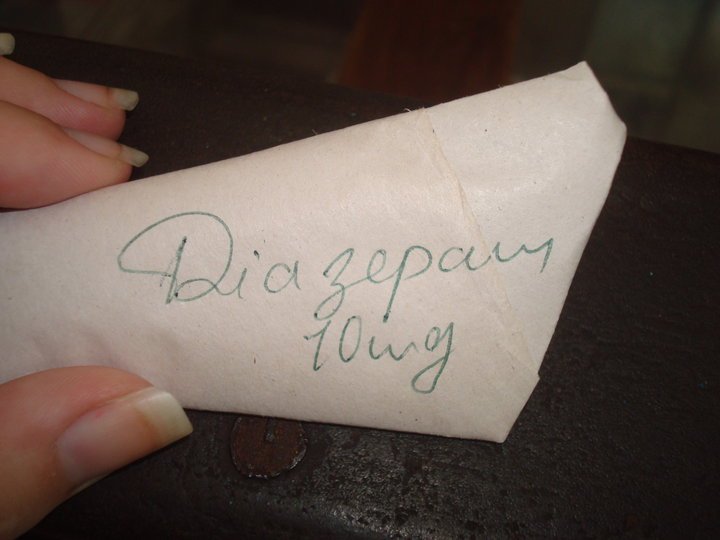 Hint: Diazepam is code for Valium!!!
But, when it's 8 years ago, and you're traveling without a cell phone because smartphones weren't really a thing, you don't really find these things out until it's too late.
If you don't know what valium is (I didn't at the time), it's an intense drug that you can't get in the US without a prescription from a doctor. And it'll knock you out.
Maybe our first hint actually should've been as soon as we walked in and realized that the pharmacy didn't actually look like a pharmacy: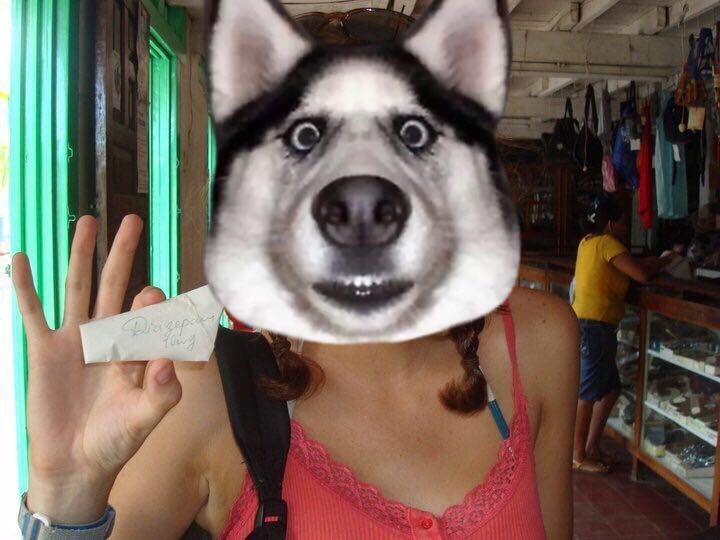 I had to cover my friend's face for the photo...
...so, after you're done looking at the weird dog, look at the background.
Does that look like a pharmacy to you?
Didn't think so.
So naturally, of course, we were like "Hey, this looks like the perfect place to buy pills that will help us sleep! Please make sure to pull them out of some random unmarked box and wrap it up in a piece of paper instead of getting it out of something pre-packaged. That would make us feel MUCH more comfortable with this whole process of taking sleeping pills when we have no idea what they actually are."
Our other hint should have been when we saw the cow trying to shop at the pharmacy: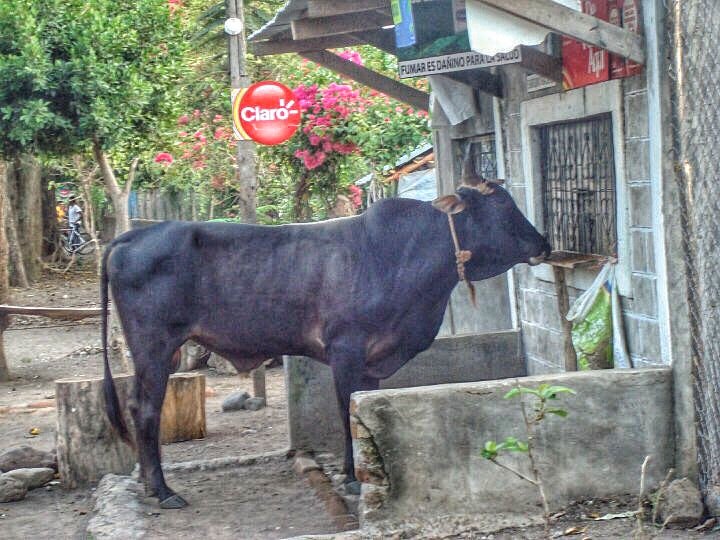 Sorry, buddy, I think they're fresh out of mad cow disease pills!!
Never ever shop at the same pharmacy as a cow. It just won't end well.
How we didn't suspect anything suspicious after all that is beyond me. But we didn't.
So that night, we went home and drugged all of our friends.
We had asked the pharmacist for "something to help us sleep."
It helped us sleep, alright.
All 4 us of slept until about 2 pm the next day, which is nuts considering we naturally were typically waking up around 7 am. We decided to go out on the motorbikes despite our late start. Everyone else was ok to go at that point...
...but not me.
I'm SUPER sensitive to pills, alcohol, substances in general.
A small cup of starbucks coffee will have me calling you on the phone BEGGING you to play leap frog with me because I just HAVE to get out me excess energy (yes, I'm an adult).
Half a glass of wine will make me tipsy.
Unmarked valium will have me sleeping all night, all day, and all night again. Even on the back of a motorcycle.
And that's exactly what happened.
I kept falling asleep on the back of the motorbike as my friend drove.
We stopped to swim in the tourist attraction "Ojo de Agua."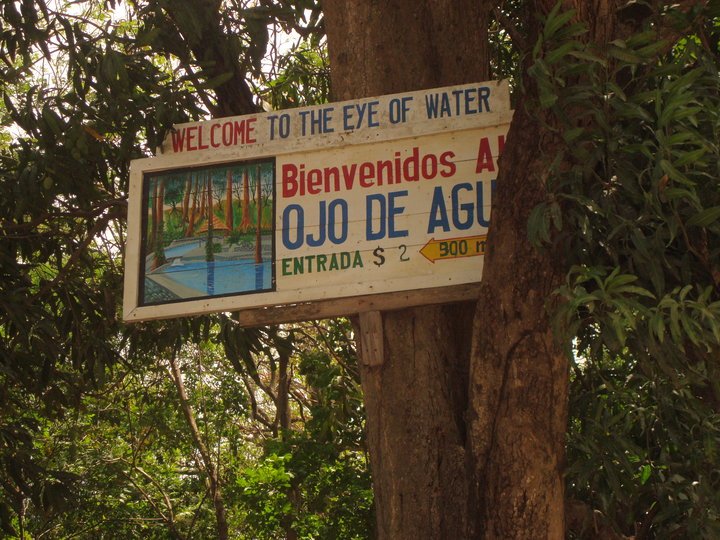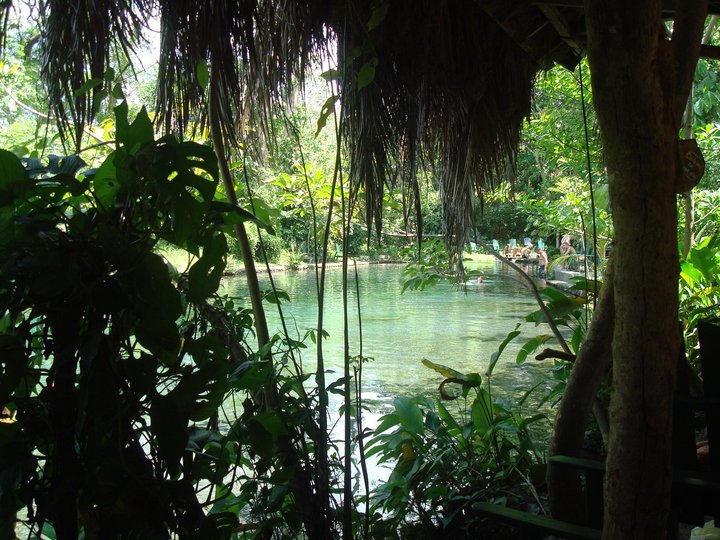 Do you notice how I'm NOT swimming in there?
It's because I was passed out on the ground while everyone else was tolerating the after effects of accidentally taking valium like a boss.
Then we stopped at a beach that looked like an ocean, but it's really just on a HUGE lake: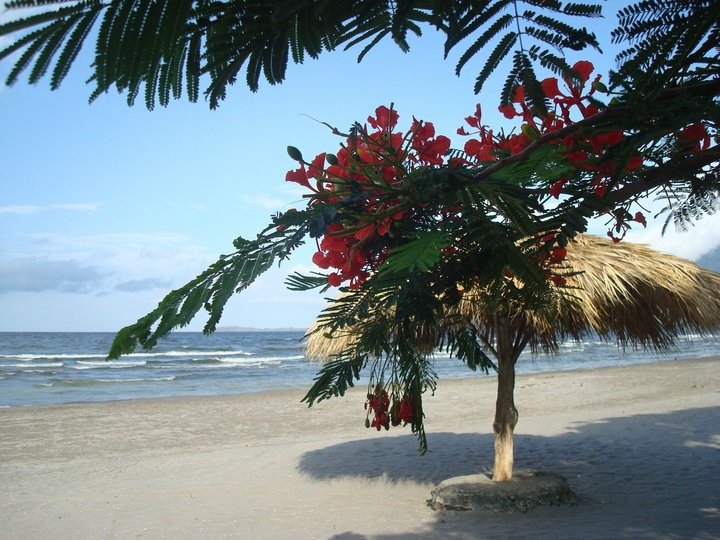 Guess what I did here while everyone else knocked coconuts out of trees and took pictures of meow birds?
Yeah, I slept on a tree branch and missed most of the fun. Which makes sense considering there was a beach chair TEN feet away. Too tired to walk that far.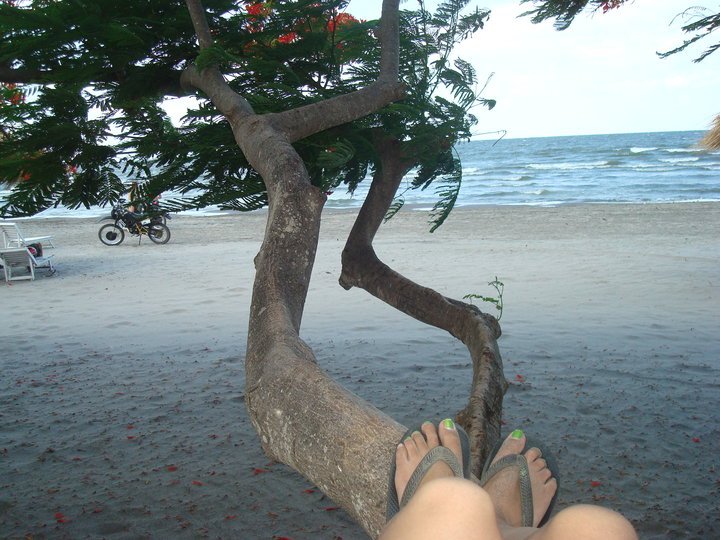 This is a "meow" bird by the way. I don't know what it's really called, but there are tons of them on the Isla de Ometepe and they sound IDENTICAL to cats. So what I'm trying to say is, they're magic.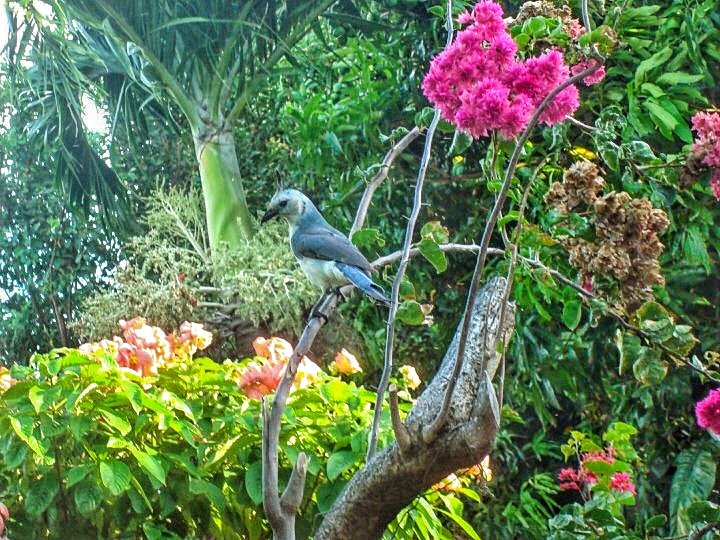 I woke up long enough to snap a picture of Volcan Conception so that you'd be impressed, before falling asleep on the motorcycle again and drooling all over my friend's back: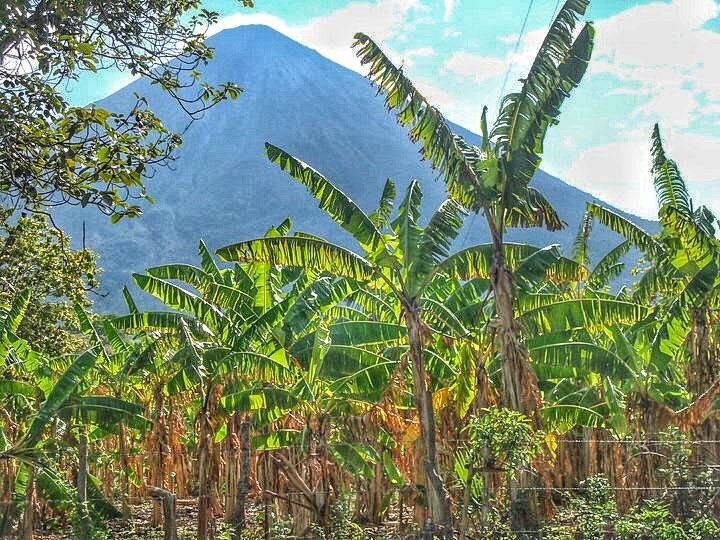 I have no idea how I didn't fall OFF of the bike. I guess I'm going to add "stays on bikes while sleeping" to my list of skills. My friends somehow STILL had the energy to go to one of the most famous waterfalls on the island.
While everyone else was hiking, I was just standing there looking for a place to lie down: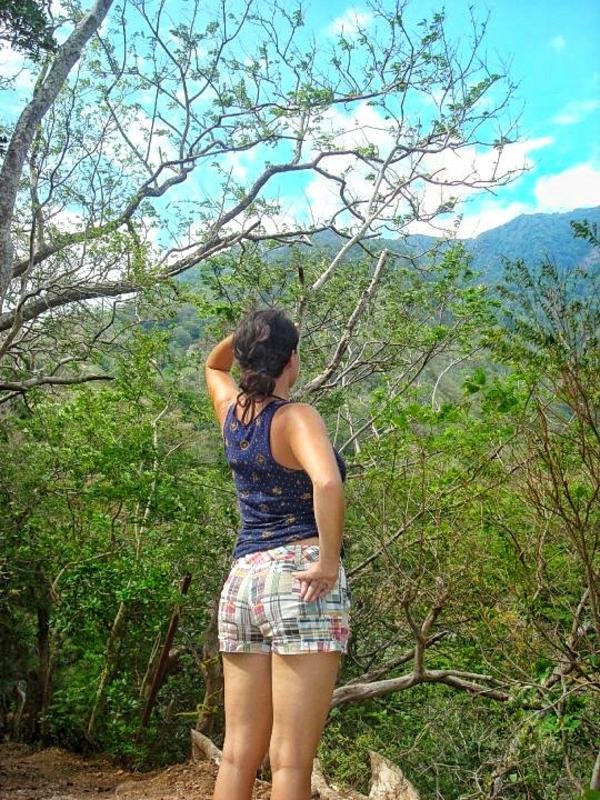 This looks like a good spot: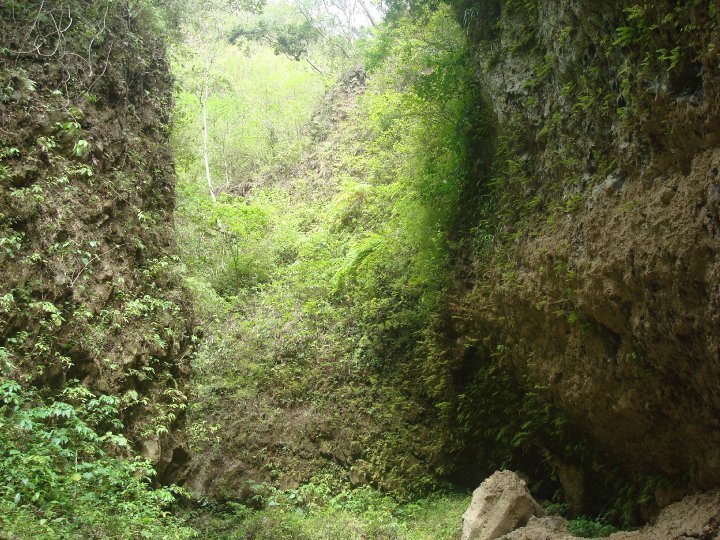 Dang it, they made me keep walking.
Maybe this would be a good spot for some valium-induced-missing-out-on-fun-nap-time: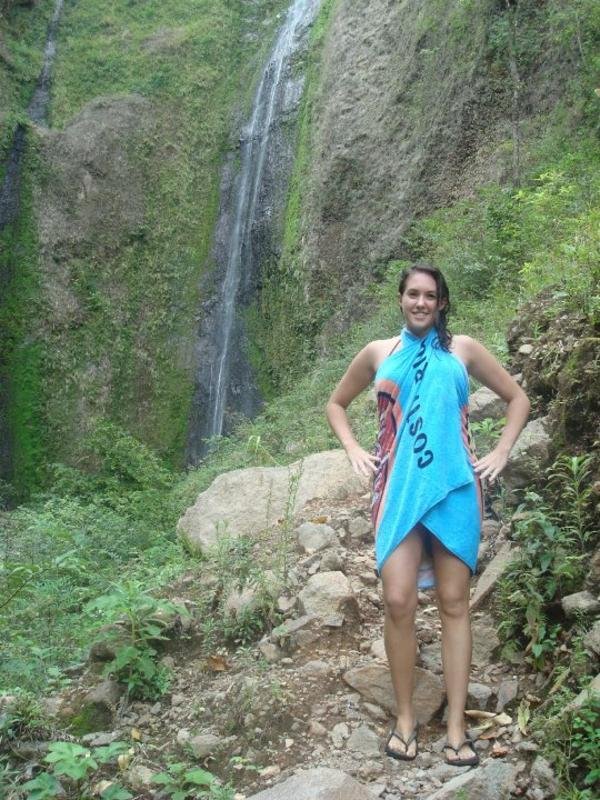 Finally made it to the San Ramon waterfalls. The place where you can nap while getting cooled off by misty waters at the same time. Sweet relief.
In real life, it was amazing and totally worth the drugged up hike.
If you're ever in Nicaragua, or Central/ South America in general, remember my pharmacy tips:
Never go to a pharmacy with cows!!
Don't trust sketchy paper!!
If it doesn't look like a pharmacy but sells pills...run the other way!
If it's actually just a back alley and someone tries to give you something in a paper bag...run the other way extra fast, and maybe call the cops later!!!
Never trust hand gestures to get you what you actually need!
I thought about all of this because I went to a pharmacy in Vietnam today 'cause I've been sick for a couple of days.
I can tell you how to navigate that one, later.