5 dishes you need to try in Lisbon and where to find them
Read "5 dishes you need to try in Lisbon and where to find them" on TravelFeed.io for the best experience
---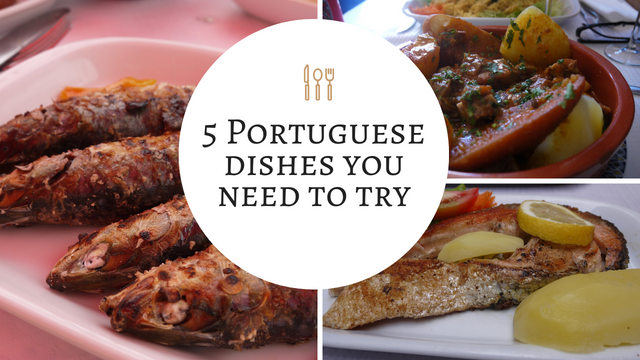 Nestled along the Atlantic Ocean, the small southern European country of Portugal has an intimate relationship with the sea. Historically, Portuguese sailors were at the vanguard of the great explorations of the Age of Discoveries. They had set foot on every continent before any other European power, bringing back knowledge but also goods, including a variety of spices.
Portuguese cuisine embodies this legacy. Seafood is at its core and the Portuguese have almost elevated grilling fish into an art. They also are among the world's biggest consumers of fish. Yet, there is more to the country's cuisine than its love for fish in all shapes and sizes. The local cuisine includes a variety of spices such as cumin, clove or paprika but also quite a few herbs like coriander, oregano or thyme. Olive oil is also widely consumed and the quality of Portuguese olives ranks among the best in Europe. Sweet tooth can have a field day as well as Portugal is known for its sweets, many of which include flavorful spices like cinnamon and vanilla.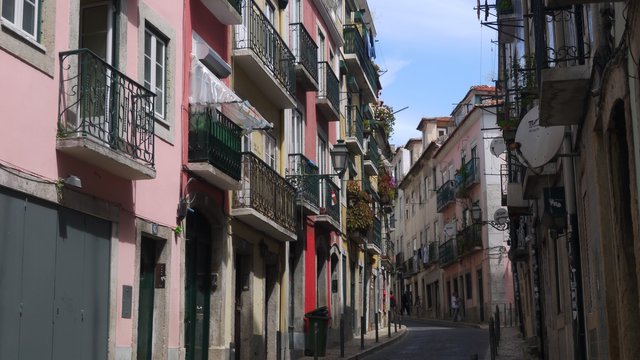 Portugal's cuisine differs depending on the region but all of the country's traditions and recipes can be found in its largest city, which also happens to be known for its quality of life. Lisbon gets 290 days of sunshine a year and its relaxed atmosphere and relatively cheap prices when compared to other European countries draw in tourists as much as expats. Its food scene is also no stranger to the city's success, making it the perfect introduction to the country's delicacies.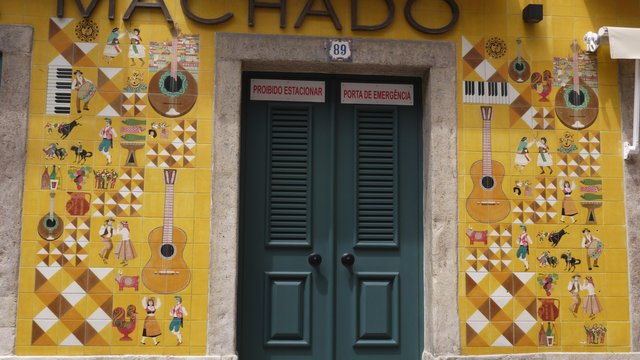 Here come our suggestions to get a taste of some of Portuguese finest dishes in one of Europe's finest cities.
Peixe assado
The Portuguese take their fish seriously. They hold the record for the highest fish consumption in Europe, meaning Portugal is the place to go if you're a massive fish lover. There will always be fish on the men, and the most popular types of fish you can find are the infamous bacalhau (cod) and sardines. Local shrimps, octopus and squids are also some of the local's favorites.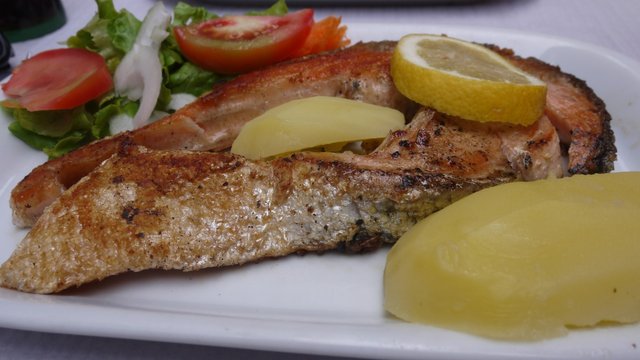 Fish can be served boiled, deep-fried or grilled on charcoal, our favourite by far, but what remains unchanged is its freshness. What's more, prices are usually quite affordable throughout the country and even in its capital city, especially considering the quality of the products.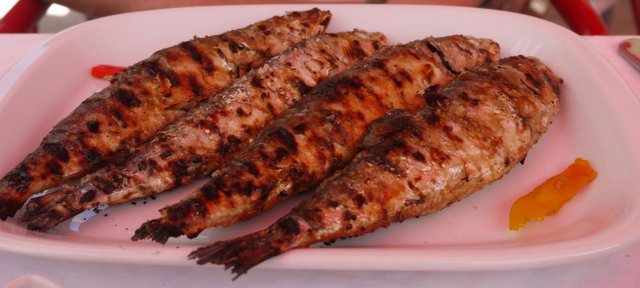 Where to try it: There's a lot of places you can go in Lisbon to enjoy some fresh and tasty fish but a place we particularly enjoyed was the restaurant O Barracao de Alfama. As the name gives away, this restaurant is located at the feet of the quaint neighborhood of Alfama and although this is quite a touristy place, the warm welcome, good-value for money and lovely terrace won us over, not to mention the amazingly big, mouth-watering sardinhas assadas served with a bit of olive oil to enhance their taste.
Arroz de marisco
Arroz de marisco means seafood rice in Portuguese and that's the most accurate description there is. This traditional dish is said to originate from Vieira de Leira, in the western part of the country, and it is basically a seafood feast made of shrimps, mussels, clams and virtually any other type of seafood that can be found locally.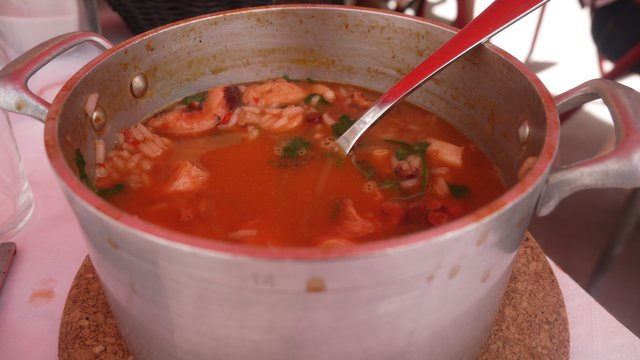 All the above ingredients are then added into the rice, which has been previously stirred with olive oil, garlic, onion and tomato and cooked in the seafood broth. Truth be told, it sounds like the Portuguese counterpart to the Spanish paella but when it's this good, it doesn't matter there's a similar dish in the neighboring country.
Where to try it: Again, the O Barracao de Alfama is a good choice to try this filling dish. The rice is beautifully served in a casserole, coming in bright red color, topped with some fresh coriander leaves. The amount of seafood is pretty commandable, comprising big chunks of squid, shrimp and scallop.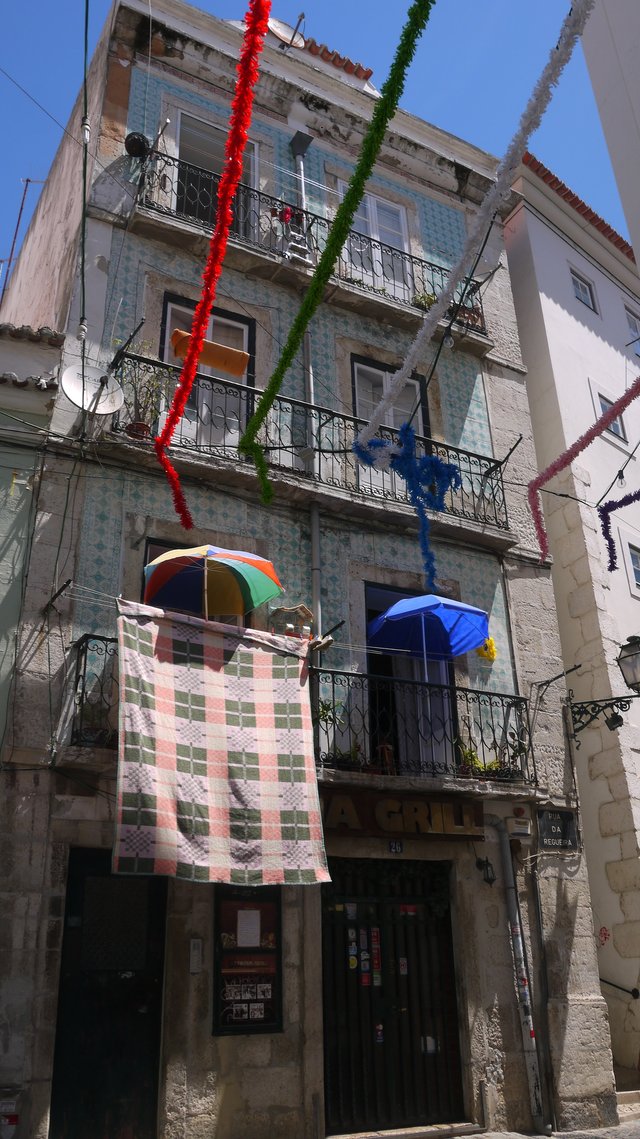 Bacalhau a braz
Fish is truly served in all shapes in Portugal, even in the most unexpected ways. Bacalhau a braz is a traditional dish that is made from shred of salted cod (bacalhau), onions and thinly chopped potatoes. Its texture is hard to describe, being somehow reminiscent of a fishy Spanish tortilla, but the end result is remarkably satisfying to eat.
This dish is often served with black olives on top and some veggies on the side. Legend has it that it was created in Lisbon, in the old neighborhood of Bairro Alto especially, by a man named Bras. Truth or myth, no-one knows but whoever created this recipe was wise to do so anyway.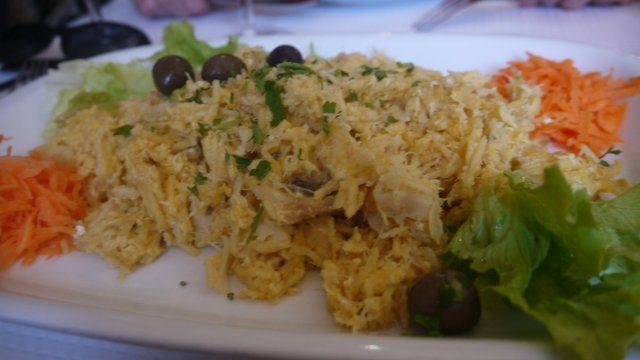 Where to try it: Belem is one of the most iconic neighborhoods in Lisbon, known for its tourist landmarks such as the Belem Tower and the Hieronymites Monastery. Strangely enough, that's where we ate a tasty and affordable plate of bacalhau a braz. The Adega de Belem stands pretty close from the entrance to the monastery and we're not gonna lie, it sees its fair share of tourists. That's why we were so pleasantly surprised by the quality of the cuisine. Beware though as you'll be brought extra sides of olives, bread and butter you haven't ordered, which are not complimentary, but that is pretty common in many restaurants in Lisbon.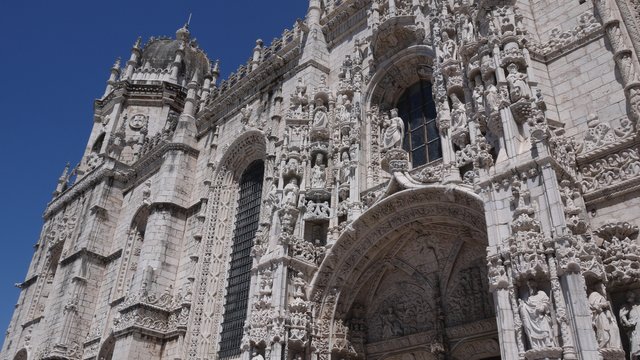 Portuguese meat stews
Portuguese cuisine isn't all about fish and seafood. Yet, eating meat used to be a privilege reserved to society's upper classes, as opposed to fish which was widely available to many and more easily preserved. Even today, cod is indeed dried or salted, a method that was used before refrigeration was invented. Still, meat and poultry are now part of Portuguese cuisine anyway, pork and beef being the most common types of meat. They are often marinated with spices, slowly cooked in wine or in a clay pot.
Some recipes can sound a bit peculiar like the carne de porco à alentejana, fried pork with clams while others are more straight-forward but quite comforting like the beef stew called alcatra, marinated in red wine, garlic and cloves.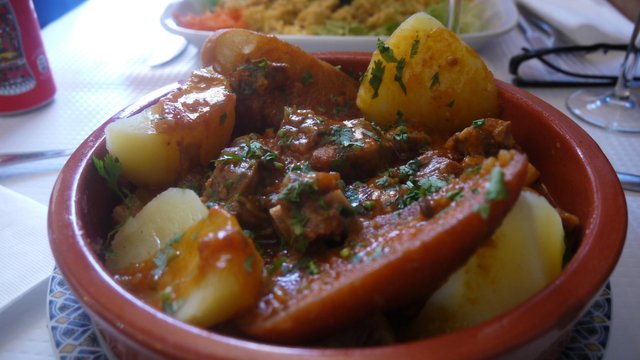 Where to try it: Not only is the bacalhau a braz tasty at the Adega de Belem, the meat dishes also stand out and especially the veal stew served in a clay pot with potatoes and carrots. The meat literally melts in the mouth, without being too fatty. Add to that the authentic atmosphere and beautiful Portuguese azulejos on the walls and you've got a quintessential Portuguese meal.
Pasteis de nata
Ask anyone to name one Portuguese dessert and the answer will probably be the pastel de nata, which are also known as pasteis de nata, in plural form, probably because it's nearly impossible to eat just one. These custard tarts look simple, quite unassuming even, but they're the biggest gem of all Portuguese sweets.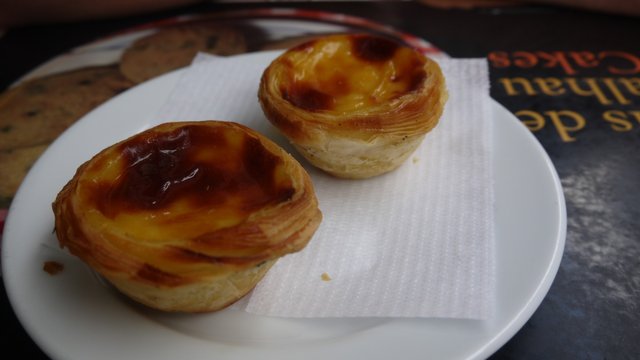 Made of egg yolks and cinnamon, they have become the flagship of Portuguese desserts and have conquered the world. Pasteis de nata can indeed be found in ancient Portuguese colonies, such as Macao and Brazil, but also in Japan, which was influenced by Portuguese tradesmen in the 16th century. To add to their credit, they were listed as one of the "50 best things to eat in the world" by the Guardian and we have to say we agree completely.
Where to try it: Pasteis de nata were invented in the Belem neighborhood and it's only natural to get your first taste there. The Pasteis de Belem bakery is the place to be to do so. It is always crowded but there are multiple rooms where you can sit and enjoy your pastel in a historical place. However, the pastel we've enjoyed the most during our stay was at the Pasteleria Carmelita, a humble-looking bakery near the Elevador de Santa Justa. We were thankful not to have judged this bakery by its looks as their pasteis were just divine, savory without being too sugary.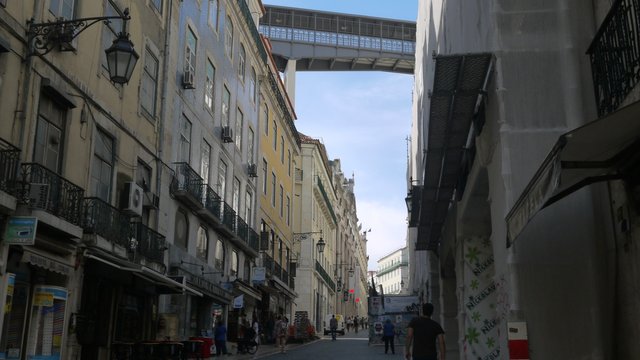 Fresh grilled fish with fragrant olive oil, aromatic seafood rice, filling meat stews and crispy egg tarts definitely have to be on your foodie bucket list if you visit Portugal, even if they're just a start. Luckily, Lisbon offers restaurants for all budgets, making sure that you leave with your belly full and your taste buds happy.
---
View this post on TravelFeed for the best experience.