Sunny Winter Holidays in Europe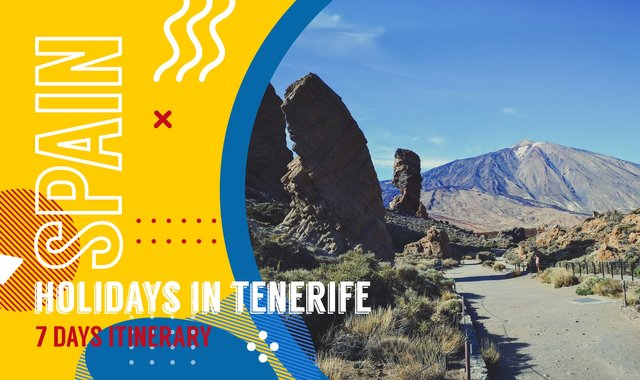 Read "Sunny Winter Holidays in Europe" on TravelFeed.io for the best experience
---
An Invitation
Winter… Winter always comes and once it does, somehow it feels that it never leaves. I hardly meet a person who doesn't want to migrate somewhere warmer during the cold season. Here in Europe, we don't have many places to run-away from the bitter cold of winter, but the Canary Islands is one of them. Yes, it lies just next to Africa in the Atlantic, but technically – it is Europe. One of the souvenirs from the long lost the great times of the Spanish Empire.
These days, due to its climate, Canary Islands is a home and holidays destination to many people looking for stable warm weather throughout the year. For this reason, this guide could easily work for any other month than February.
And don't you feel like you deserve holidays on a sunny beach too? Maybe, with a mix of one or two adventures every now and then? That would be nice, isn't it? I think February is a perfect time to put your umbrellas down and head to the biggest island of all the Canary Islands – Tenerife. Enough is enough, it is the time to get a well-deserved shot of vitamin D and happiness outside, enjoying the sun.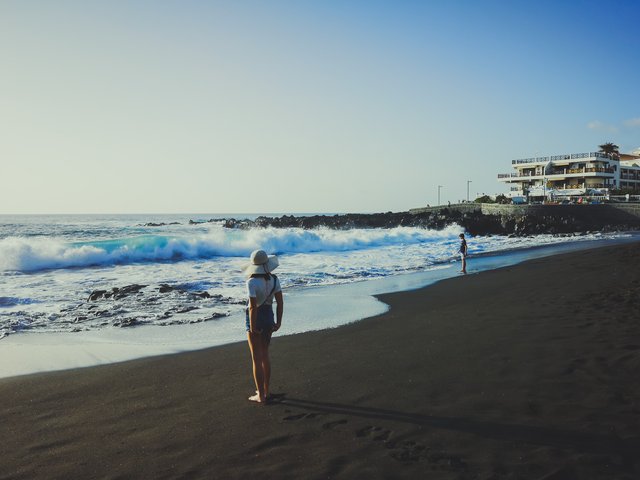 How is the weather in Tenerife?
The weather in Tenerife is just fantastic throughout the year. In winter months like February – visiting Tenerife is just surreal. Not only you get to take out your summer outfits out of the closet but to swim outdoors in a warm sea. One thing is for sure – there are not so many places with such pleasant weather during winter. Tenerife & the rest of the Canary Islands get to enjoy one of the best climates in the world. Why won't you enjoy it too?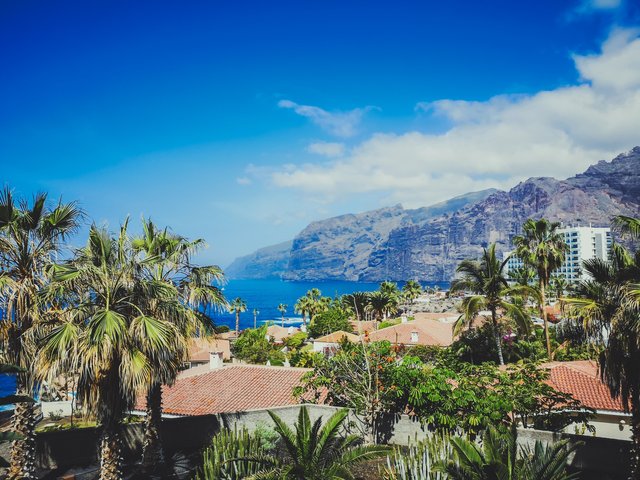 Where to Stay in Tenerife?
Most of the visitors for Tenerife holidays head to resort towns located around Playa de las Americas like Costa Adeje and Los Cristianos. Unless you are visiting Tenerife for beach holidays only, I would recommend getting a bit further from the crowds instead.
From what I saw, the popular destinations feel like they were built for people seeking package holidays getaway. It was done so in the most uninteresting part of Tenerife Island. All the cool stuff is somewhere else.
If you want to get intimate with the natural beauty of the island, Los Gigantes or La Laguna are the better choices. If you don't like calm places, Santa Cruz de Tenerife or Puerto de la Cruz are the places to go.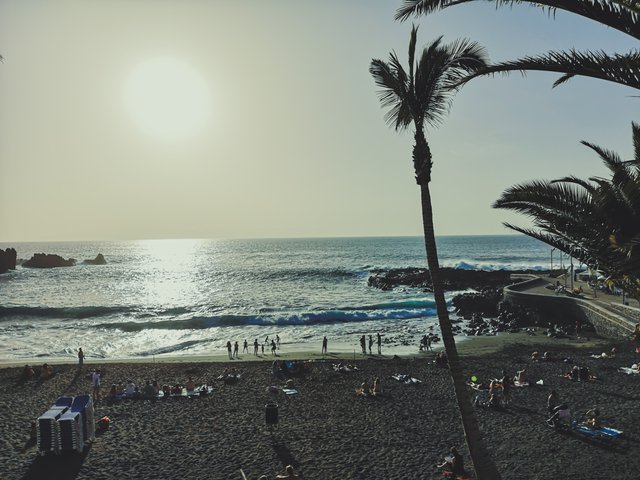 Day 1 – Enjoy the Sun and Find the Best Tenerife Beaches
To some, I imagine, this might sound a bit lame, but once you get your keys of a car and an apartment, the first thing you should is to go out and head for the closest beach. Let's start with a big chunk of Vitamin D, you know that it improves your mood, right? ² Good feels are what we are here for, be ready for a week of happiness as this feeling won't leave you for the rest of the trip. A sunny beach with warm ocean water for sure is surreal once you get here on a winter out of cold Europe.
Have in mind that due to possible big waves, some of the beaches might be closed. In that case, just head for any beach with a breakwater, I marked them on the map.
After the beach, you should walk around, get to know your neighborhood – find those grocery shops for the morning milk runs and the pubs for the late-night drinks. One thing is an absolute must is to keep one eye open for the sunsets. Another reason, besides the giant cliff, I recommend staying at Los Gigantes is the beautiful sunsets. The scenery in the evening is absolutely breath-taking.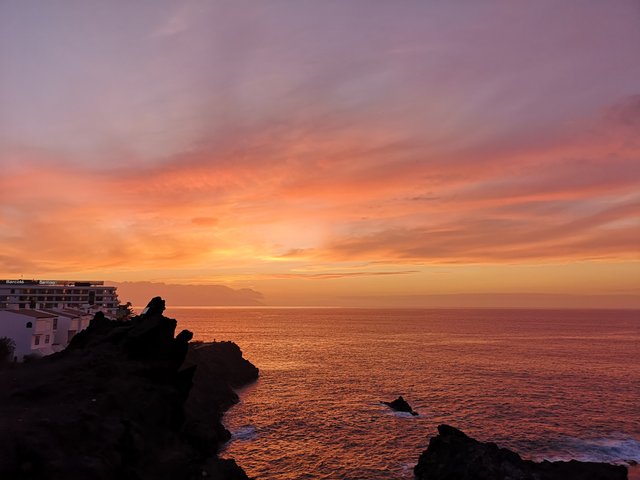 Day 2 – More Sun on a Dolphin and Whale Watching Tour
From what I heard it is very likely to see some dolphins on the tours from Tenerife. It might sound strange, but most of the dolphins seek out the boats themselves. They do it either for some wave-riding along the human vessels, or simply just because they want to befriend you. Either way, you won't be able to tell the difference. The dolphins will be there to cheer you up and that combined, with more sea, and more sun will guarantee some quality time. What is impossible to guarantee is that you'll be going to see a whale. If you do – take it as a lucky charm.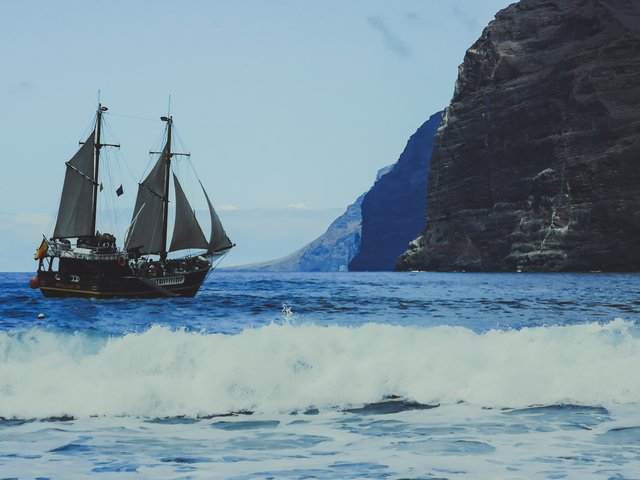 Alternatively, you can take a ferry to La Gomera and spend your day there. Most of the dolphin and whale watching tours are heading for territory between Tenerife and La Gomera anyway.
If you are afraid to get the seasickness, I would still recommend spending this day not too far from the sea. You just got here and there is still plenty of time to see the rest of the island. Today is the day for the sea and the beautiful beaches of Tenerife.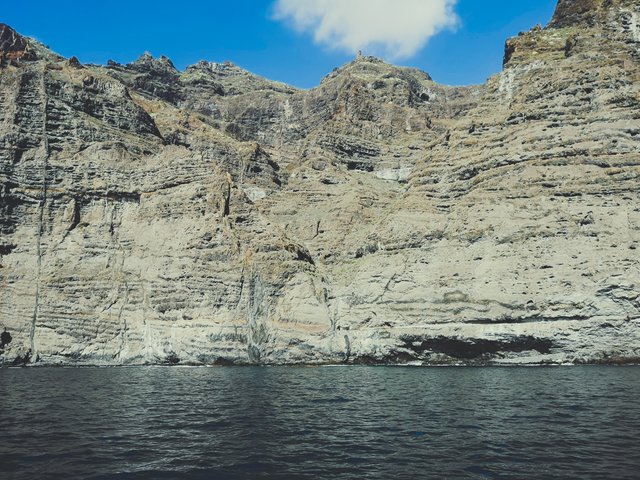 Day 3 – Visit Masca village in the Jurassic-park-like landscape
By now you probably got used to a warm weather and the sun (hopefully without too much of a sunburn). It is time to turn your holidays into an adventure. Not like it is boring to lay down on a mattress by the sea reading a book, but that mountain looks interesting, isn't it? We'll get there on time, don't worry, but for now, let's keep closer to the sea. What about getting on that big cliff called Los Gigantes?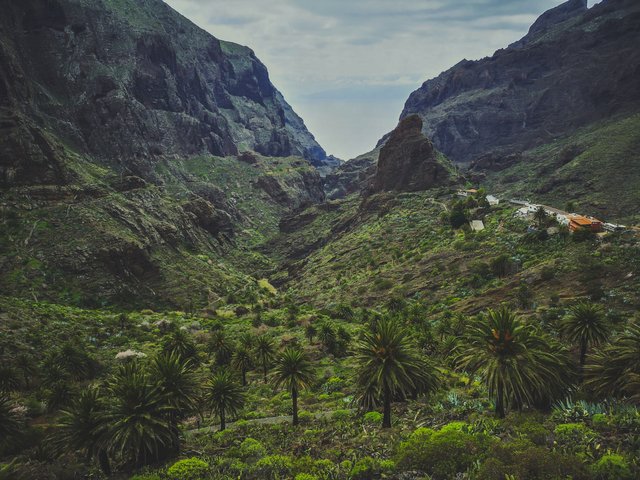 Besides Teide itself, probably the most popular natural attraction in Tenerife is Masca village and so-called Masca hike. The route goes down from the village through Masca Gorge to Playa de Masca at the sea level. Since it was closed down for safety upgrades, I never had a chance to do the track. From what I read and from what I saw, the Masca hike is usually a one-way walk to the beach from where a water taxi will take you back to Los Gigantes.
You can find plenty of tours to Masca Hike in Los Gigantes. If you want to do the hike – I'm sure they'll know if it is upgraded already or not. Despite the hike being open or closed, Masca village is highly recommended for any Tenerife visitor. The Teno Massif surrounding the settlement is absolutely breath-taking. In fact the whole Teno region used to be a separate small island, which later on joined forces with other islets to form what is now called Tenerife.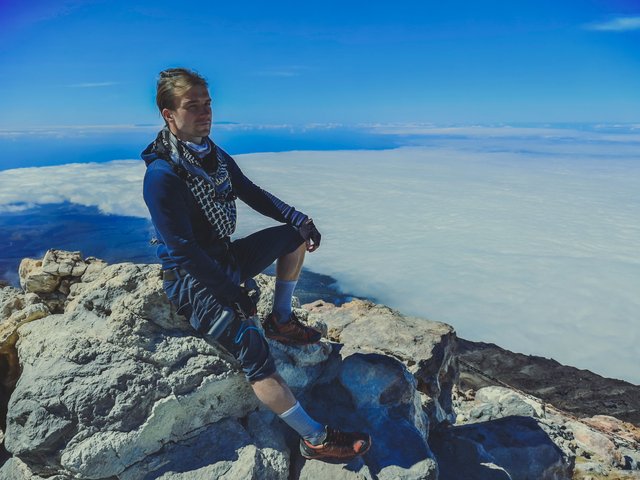 Day 4 – Get on the top of Tenerife Island – Teide Volcano
While the main reason to go to the Canary Islands is its stable climate, the main reason to pick Tenerife for your holidays is Mount Teide. Yes, it is the biggest island of all the Canaries thus infrastructure and beaches are here. There is nothing similar to Mount Teide in other islands and as a matter of fact – the whole of Spain. Teide is the highest mountain in the whole country and did I mention that it is an active volcano too? At the narrowest point up in the north, the sea level and the top of Mount Teide are separated only by 13km / 8mi. That alone makes the landscape of the island truly breath-taking. The one you cannot mistake with anything else.
What is even better – the various possibilities to reach the peak of Mount Teide. Most of us will reach it by the cable car running from the base station (2,356m / 7,730ft) to La Rambleta (3,555m / 11,663ft). The very peak of Mount Teide (3,718 / 12,198ft) could be only reached by foot with a special permit that you can get here from the park authorities.
If anybody wants to see more of Teide National Park, they can climb the whole mountain on foot. The hike could start almost from anywhere, including the full challenge of climbing Mount Teide from the sea level.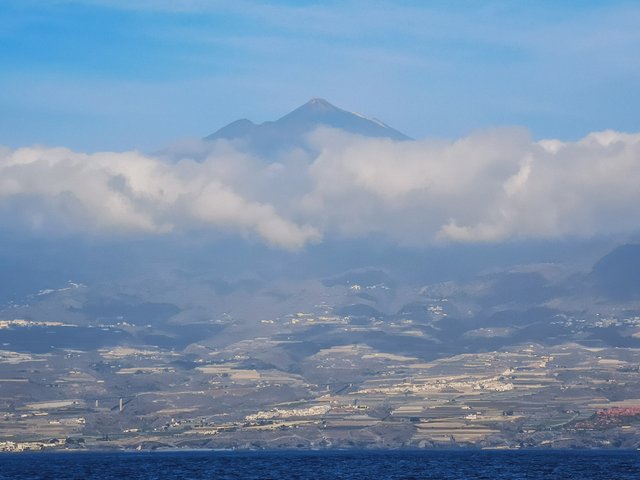 Day 5 – See the other side of Tenerife Island
Many ask which side of Tenerife they should go. North or South? There is no such thing as the right answer to this question. Both faces of Tenerife Island are totally different. It's is like Two-Face from the Batman series – the southern part sees more sun, has more spaces and golden beaches, the northern one has more of that volcanic island feeling: dark, exotic and even colder.
Los Gigantes is located on the edge of both sides. Today we go further to the North than we ever did before. The whole route will slowly bring you to a totally different world. First stop – Garachico – an old port founded in 1496 by Genoese banker after Tenerife was conquested by the Crown of Castille. Its importance diminished in 1706 when volcanic eruption destroyed part of the town. Today, Garachico is an interesting tourist destination offering informational historical walk around the city surrounded by 500m+ / 1500ft cliffs.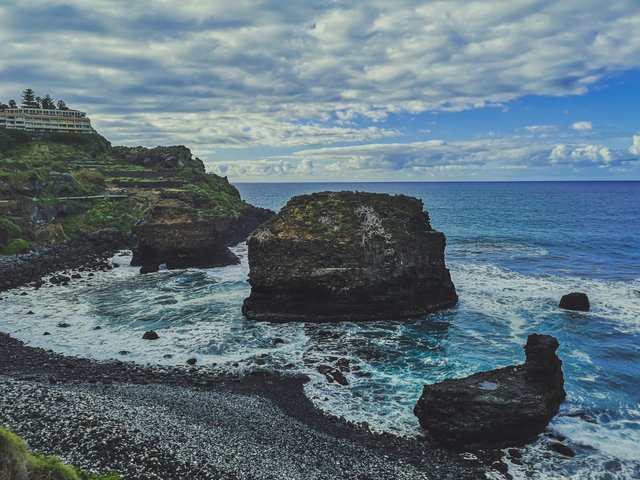 After visiting Garachico drive along the coast towards Puerto de la Cruz and don't worry about the road quality. Once you pass Teno region the road quality is as good as it is on the south part of the island. The rest of the day should be spent based on your preference. It is the time to visit Loro park or walk around Puerto de la Cruz. Our choice was to have a picnic on Playa de los Roques, or you can visit La Orotova instead. Just don't press too far – tomorrow is the time for La Laguna and Anaga Rural Park.

Day 6 – Enter the hikers' paradise – Anaga Rural Park
Most of us associate Tenerife and the whole Canary Islands with volcanic formations. Anaga Forest is a totally different landscape. It is a true jungle from the movies: lushing green, the sunlight blocked by the trees, alive & dangerous – nothing in common with desolate volcanic rocks. Well, at least, from the first sight.
The whole Anaga Forest is growing in a mountainous area formed between 7-9mya, after a volcanic eruption. Ever since life transformed this landscape to something more exotic than you'd expect from Tenerife. That is so for a reason – Anaga Rural Park has more endemic species than any other area in whole Europe. For that reason it was added to the UNESCO World Heritage Biosphere Reserve in 2015.
These unique natural features attract many outdoor enthusiasts but the Anaga Forest does something way more important. The forest controls the humidity and fertility of the island. Back in the days, when wood was the most important building material, people started deforesting the area. It was noted that the microclimate of Tenerife has changed and ever since the forest started to be preserved.
No matter where you plan to stay for the first days, you should consider relocating to Santa Cruz de Tenerife this day as you'll spend the rest of your time in the western part of the island.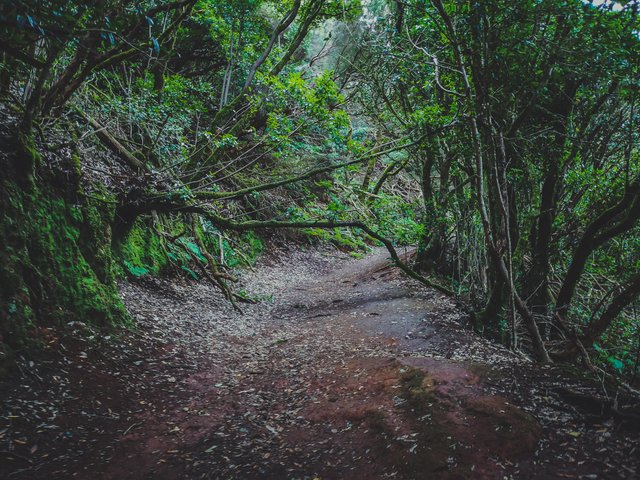 Day 7 – Party at the Capital of Tenerife Island – Santa Cruz
After all the breath-taking variety of nature Tenerife island has, it is finally the time to see some local culture, I can hardly think of a better place to do so than the Capital of the island – Santa Cruz de Tenerife.
Even though Las Palmas de Gran Canaria is the most populated city in the whole archipelago, don't underestimate Santa Cruz. After all, it does share the Capital status of Canary Islands with Las Palmas and has that feeling of a major city. There is plenty of cultural stuff to do during the day and more than enough things to do at night. It is especially so during the Carnival at the end of February or at the beginning of March. It is not a well-known fact that Santa Cruz de Tenerife hosts the second biggest Carnival in the whole world, bowing down only to the famous Rio de Janeiro.
In 2020, Santa Cruz de Tenerife starts on 6th February and continues until the final event on 1st March. This is surely one hell of an event not to miss if you are around. The whole Santa Cruz de Tenerife turns into a party day after day.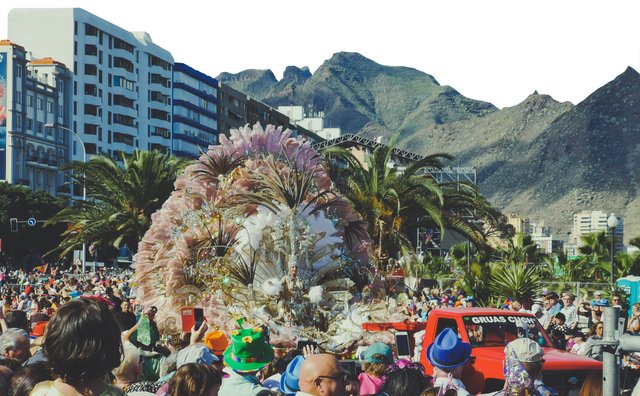 My Impressions of Visiting Tenerife Island
There were things I expected with high expectations and they didn't disappoint me. The Crown Jewel of Tenerife – Mount Teide exceeded even my most optimistic hopes. The whole Teide National Park was beyond my imagination, I never expected to see a new type of landscape ever again.
Nevertheless, it was not Mount Teide which made the whole journey across the island so exceptional. Not a single day left me disappointed, every day it felt like I was on another island and if you follow this itinerary, I'm sure you'll experience the same. Tenerife has more than enough to offer to anybody.

Originally published at https://ctdots.eu on December 12, 2019.
Newsletter Subscription
As some of you might have noticed, I don't post very often and my blog might be a bit hard to follow. Fort this reason, I created a subscription lst for anyone who is willing to get a notice once I publish a new blog post. You can subscribe to it by clicking here
Want more of this?
Any given post entry of any given place takes me around 20h to complete. This includes writing, researching, photo editing, creation of graphics and actual post. Nobody pays me to do it, therefore I must do it on my free time. I have many interesting ideas of how to put an interesting information into an easy way to digest it, like maps, infographics and other cool stuff, but what I lack is time. If you appreciate my work and happened to be in a position where it wouldn't hurt you, it would mean a world to me if you could gift me an extra hour on Patreon.
---
View this post on TravelFeed for the best experience.