Baguette - when I hear such a word, I immediately have an association with France, with croissants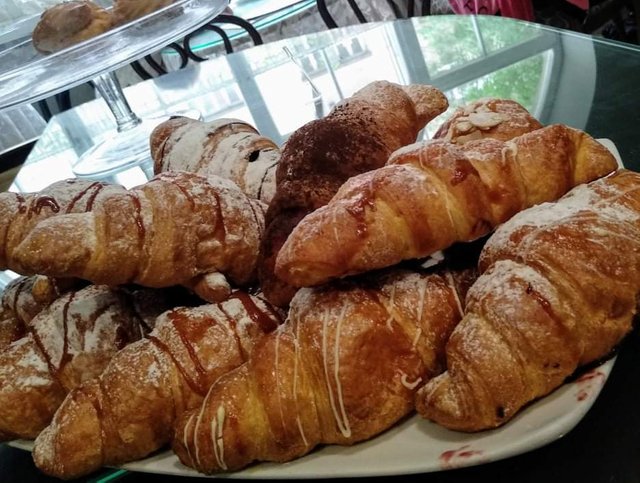 and other flour products. France is always something elegant, sophisticated and sophisticated. The design of this place, which I will show you today, combines English "Classic" style in the interior and of course French Provence style.
Provence style - is a style that embodies charm simplicity and coziness, while maintaining the spirit of aristocracy and sophistication.
https://chezaro.com/uk/provansua
In short, I will no longer lead you in circles, as you have understood by the name today, continuing your tag #huntingforacafes, I invite you to dive with me into the atmosphere of a French Provence cafe I found in Lviv!
So, this institution is located on the corner of General Chuprynka Street with the crossing of Zhukovsky Street.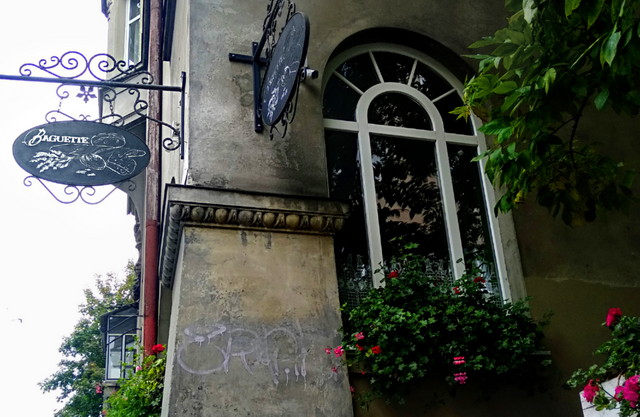 On the left side of the entrance, in a few steps, is the Church of St. Clementia. At the entrance, you can see the stairs leading to a white door with a high traditional shape that once looked like English rich houses.
(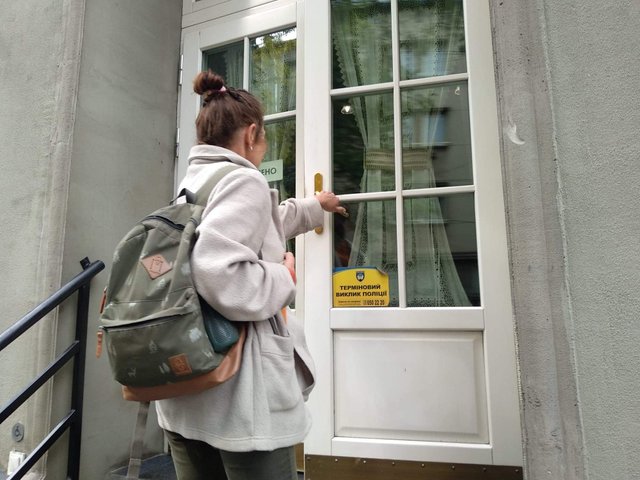 )
When you enter the middle you feel the signs of the royal palace. High ceilings, rounded hangers, walls of the same color of calm tones, chairs and tables made of wood are painted in white and white elements and contours when bent in the wall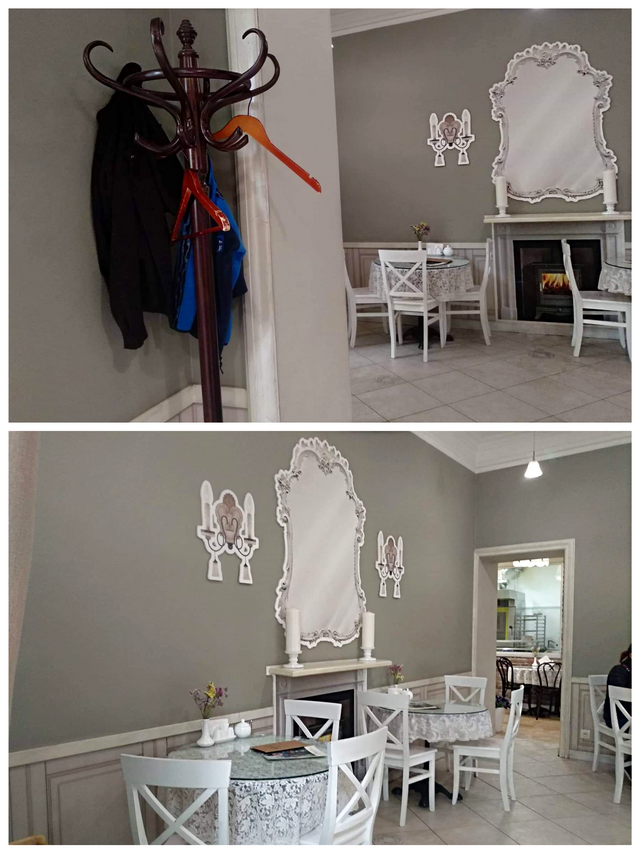 All clients are quietly communicating or focused. Closing the door, I noticed the bright signs of Provence, the doors on the inside were curtained with cream curtains with laces with a special ribbon.
(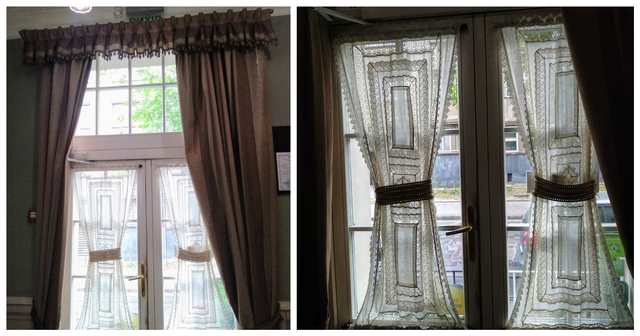 )
Walking past the first hall, you enter the next room. On the left you can see a very unusual element of the decor with a carved pattern sideboard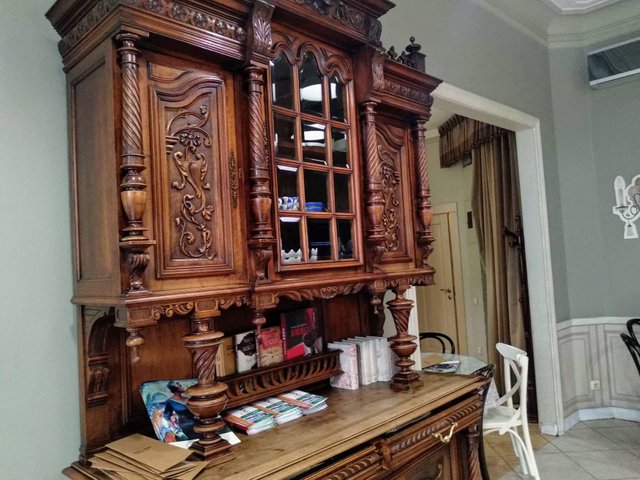 a true exhibit of times past. Right in front of it is a display case with very sophisticated desserts.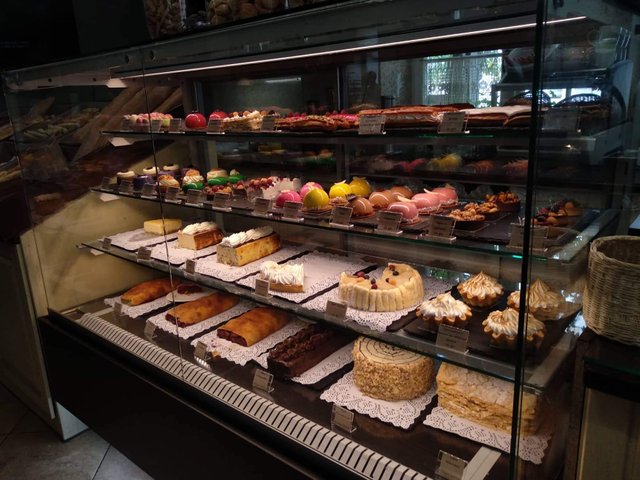 There is a wide selection of different sweets: tartlets, strudel, cakes, biscuits,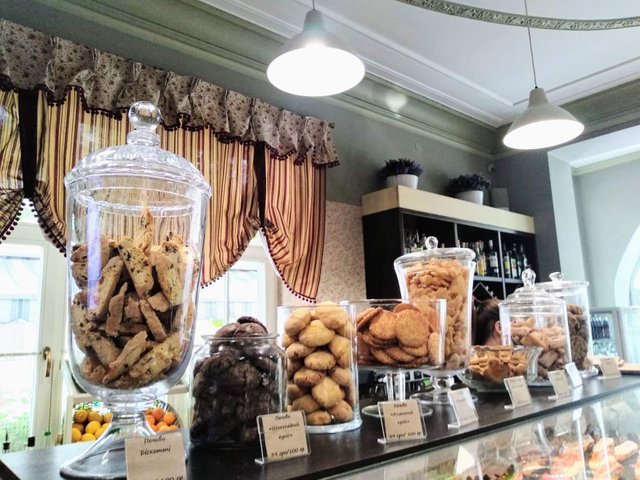 meringues, eclairs. And also such an exclusive as different breads.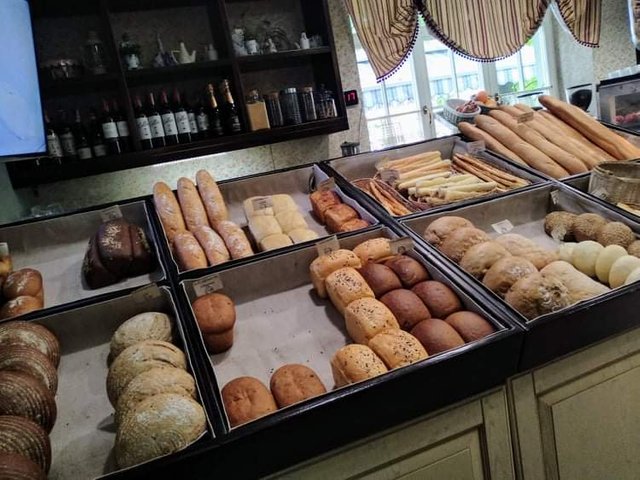 In France, too, there is a wide variety of baked baguettes and good breads, right? Who from France write, please) Workers are behind the counter, this hall can be considered the main one. One of the criteria by which I determine the level and seriousness of the institution is the waiters' clothes. If the workers go in their own clothes, I am immediately repelled, because I like when the institution has a specific rools and its own system. As for me, this immediately shows that this is a good institution. Well, that's why I keep it because all the waiters had the same black and white uniform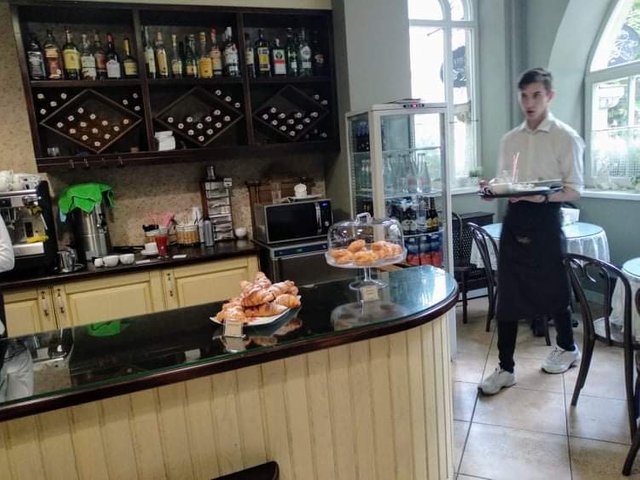 and it looked very cool, I tried to make a photo of one of them in motion.
Next we look at the place of tables for clients. In this hall they are located on the right side. As for me, this is one of the most vip places in this cafe. Three tables are under the large window in the style of Provence. As you can see in the photo, there is an arch window with wood inserts and everything is painted in white paint.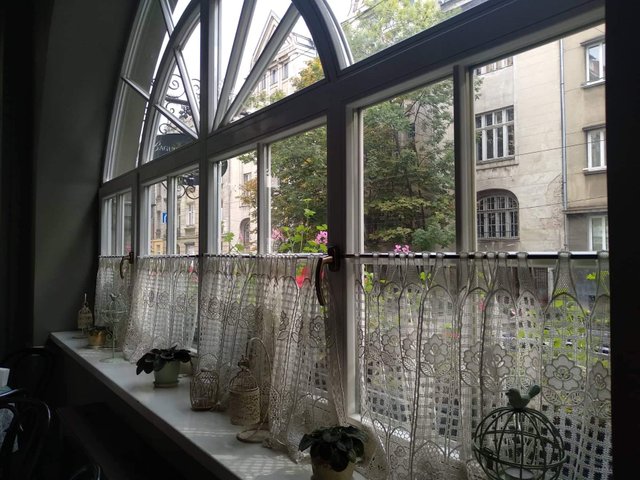 The arched windows have a rounded top that adds exquisite architectural style to any home. Most arch windows do not open and are often installed above standard windows that provide ventilation.*
https://chezaro.com/uk/provansua
So, we chose an end table that had an exclusive soft seat between the two walls.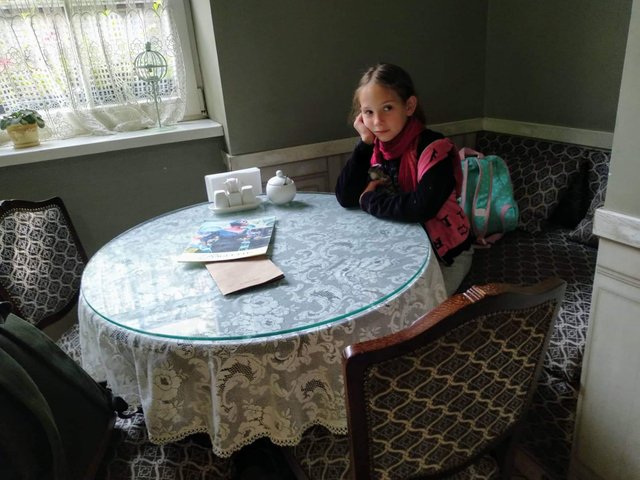 We ordered tea and selected a few flavors that looked the most delicious to our thinking. We were brought tea in a wonderful white service.

And also our desserts. They consist of a large pastry with custard, a slice of cheesecake,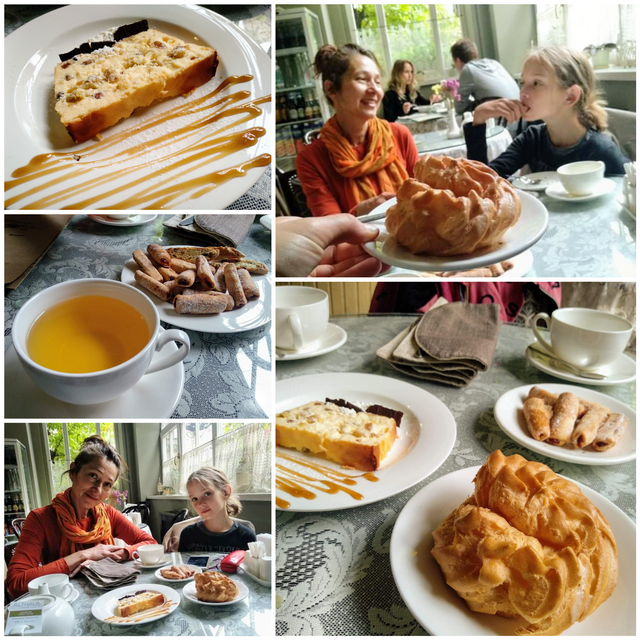 a crunchy cookie with nuts, and some cookies in the form of sticks with jam.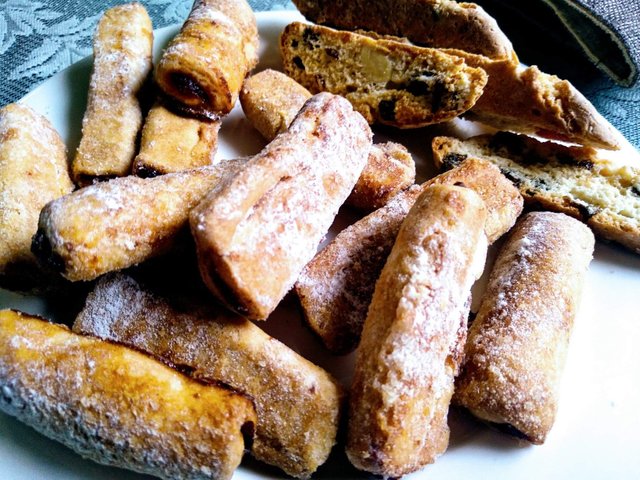 My mom (@olga.maslievich) and Darynka were very happy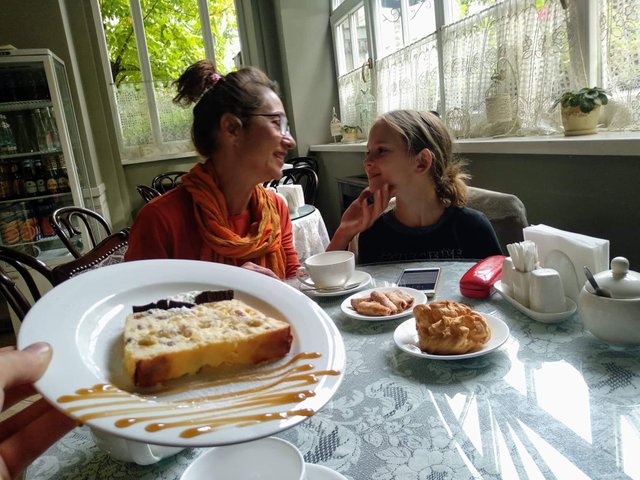 because they are here and they had a lot of fun posing for me.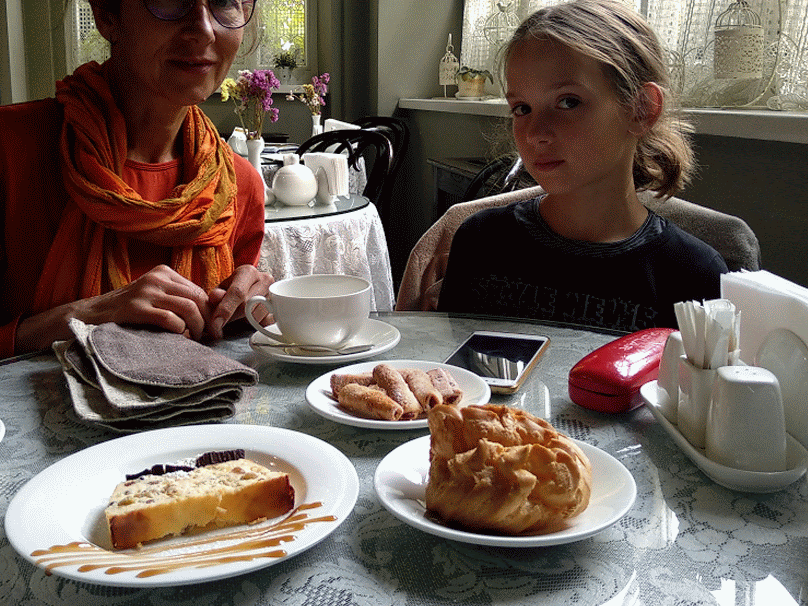 And while they eat I will continue the excursion. Next we pass into quieter and resting rooms. Walking past the old sideboard, you can then see an intermediate space that has many directions for movement. In the right corner you can see the entrance to the restroom.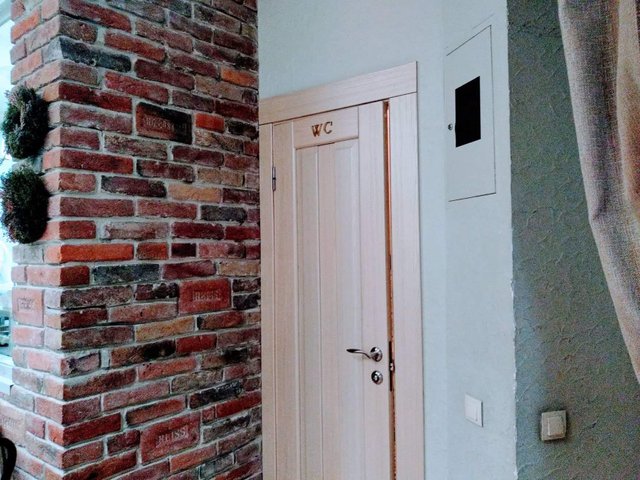 And if you look a little to the left then you can see, a narrow gap in parallel with the window in which you can see the kitchen of the cafe. Still here are two tables for which you can also sit.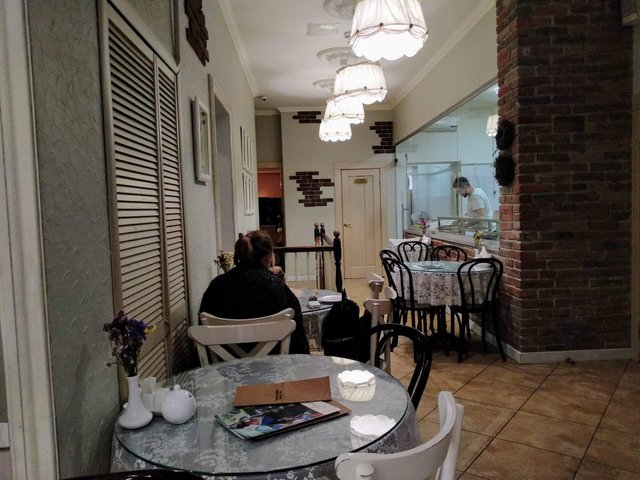 Passing this passage you can see the stairs leading down but there is a service part.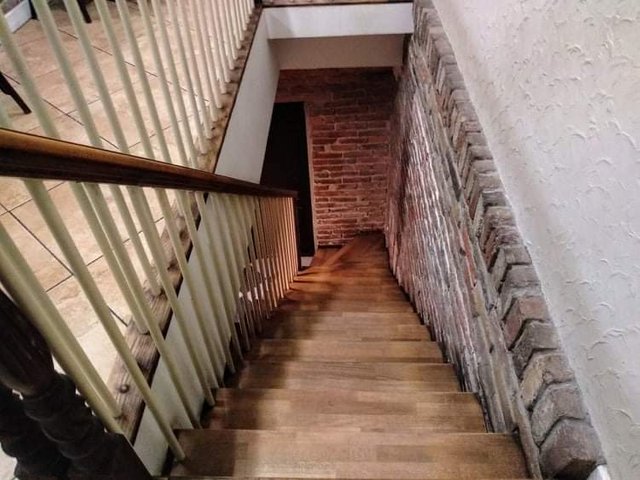 Passing a little further you can see the next hall, it is the farthest from the entrance. From the main here are hanged pictures, as well as a beautiful chandelier.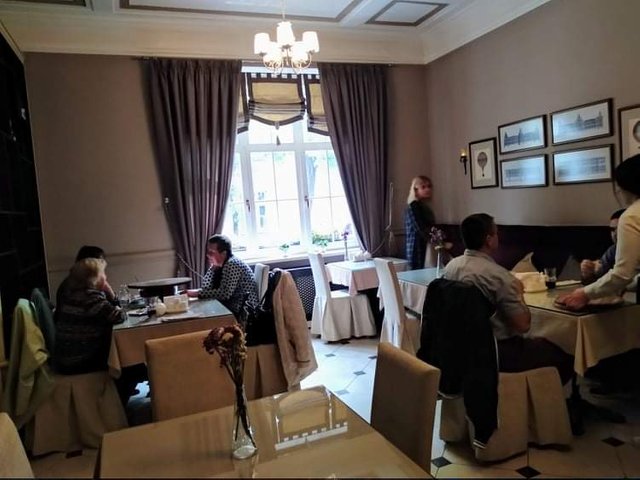 By the way, the chairs here are covered with fabric, hese are often served at weddings. There are minimal hangers at the entrance to hang clothes.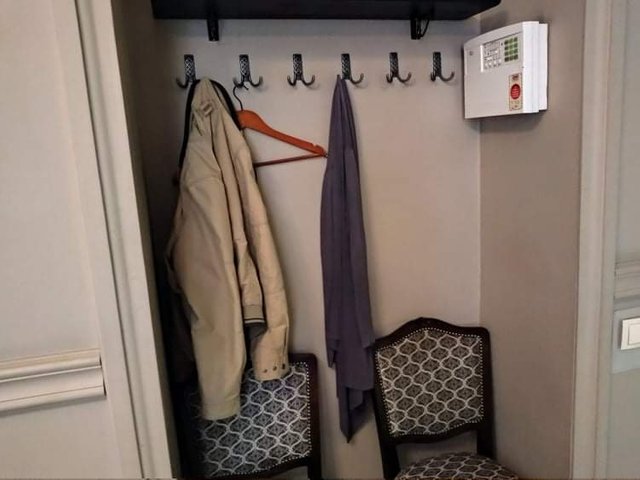 On the other hand, there are shelves with different cans of nuts and corks, and here you can choose some books to read. You can even see the old printing press here.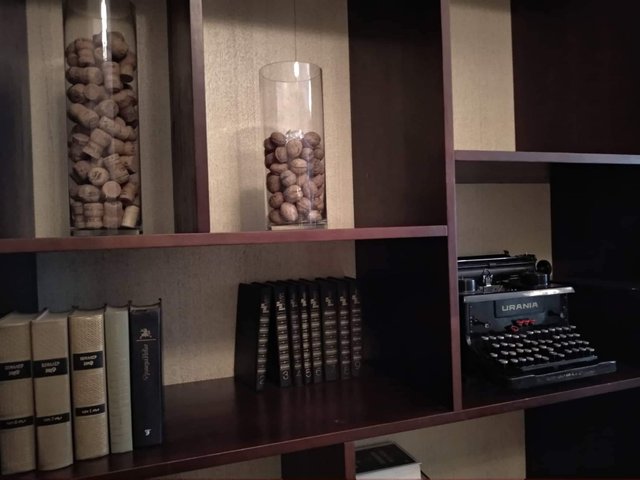 In short, we have already explored the whole territory. And you know that in these luxurious rooms you can detach and enjoy the tranquility of the French atmosphere. (Ha ha ha, at the expense of silence, maybe other days so but not exactly today, because they suddenly started work with a drill and no one could tell when it was over, and we just ran away from the house that not hear the noise of the drill from the neighbors above us, and this sound was pursued us)
My mom (@olga.maslievich) was very angry for that and we asked waiter moved us outside.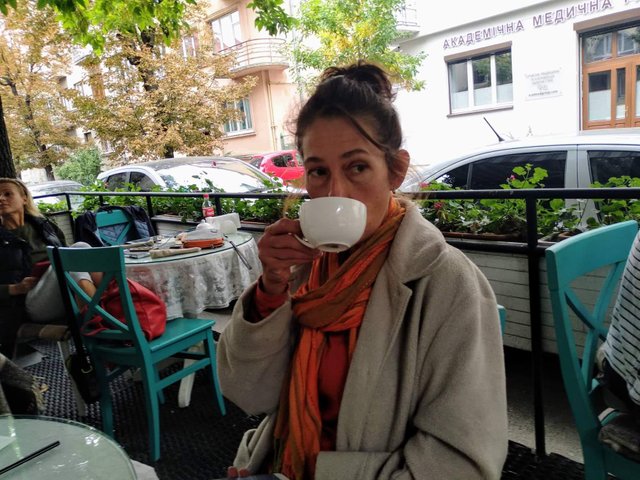 They also have an additional terrace with a magnificent overhang, which is located on the side of the premises.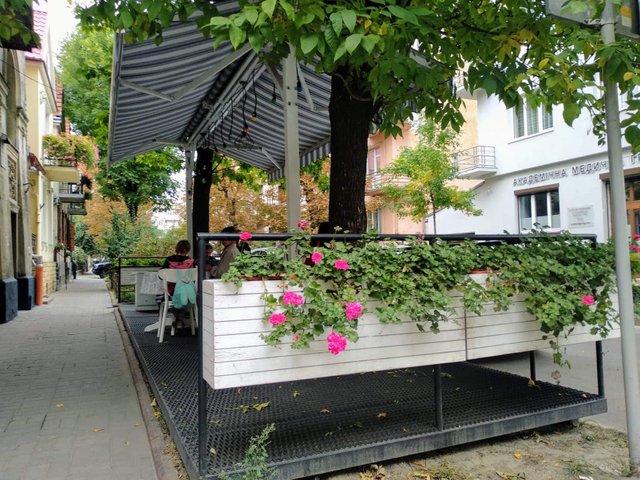 There are beautiful tables covered with white patterned tablecloths and white and turquoise chairs.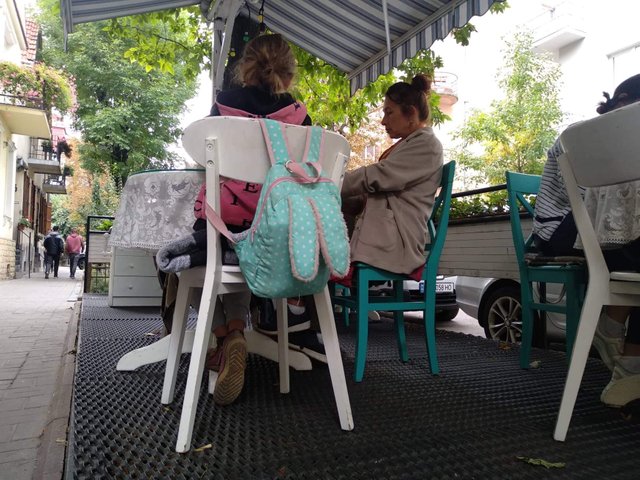 The wonderful atmosphere of a rainy day with refreshing piercing air added to its charm. There are also pots with very beautiful flowers.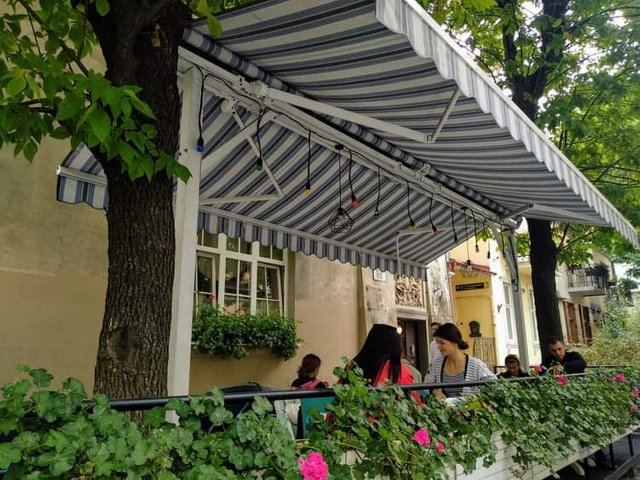 Only one problem was a bit cold. But fortunately this establishment has warm blankets that can help keep you warm in the cold even on the street.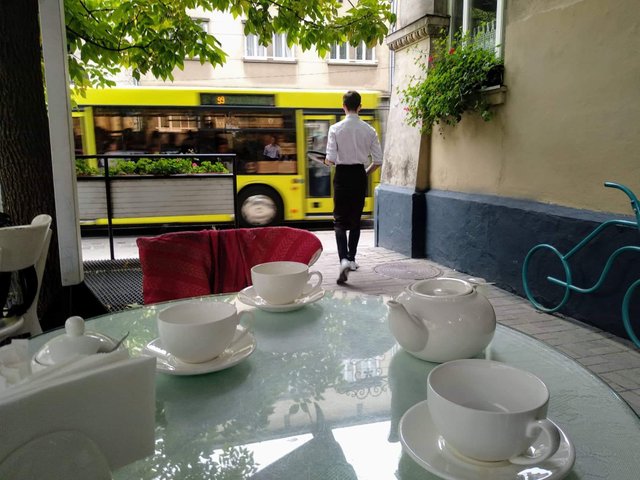 Beneath their windows were French elements like turquoise metal statues of bicycles.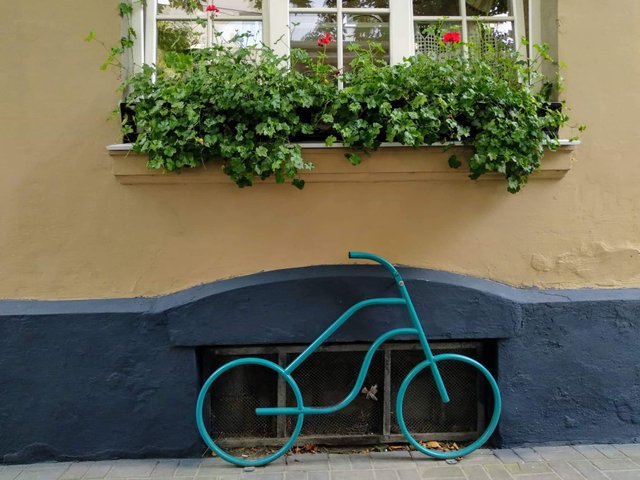 My sister Darynka, really liked this element of decor. And she even decided to check out the convenience of this transport in practice but unfortunately it did not drive.👍😁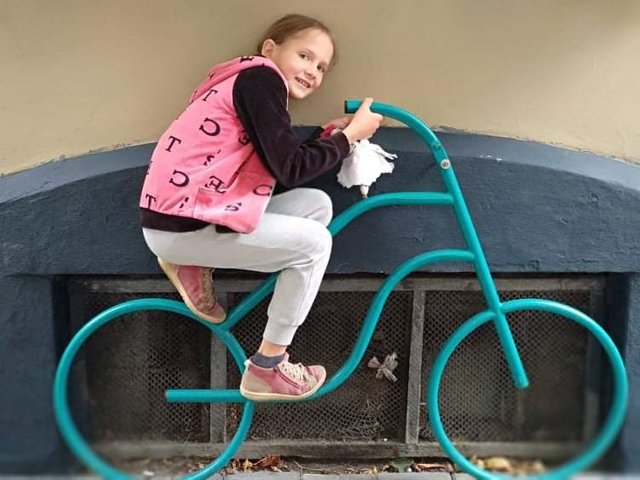 So, the conclusion is "Baguette" Excellent service, cozy design and delicious sweets. Be sure to visit this cafe for anyone who lives or ever comes to Lviv.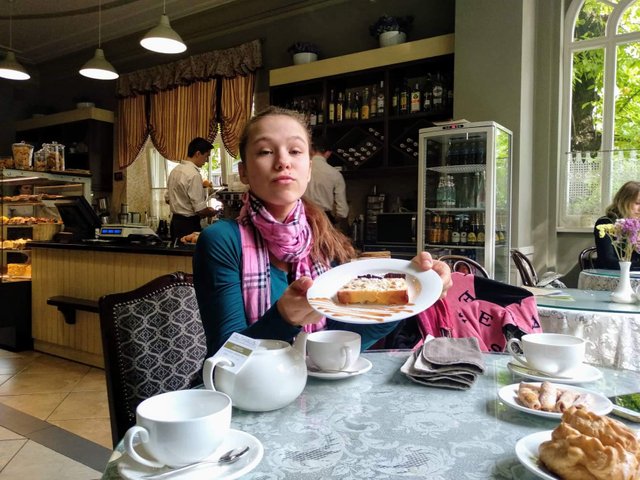 Thank you for viewing 🍁😙
---
View this post on TravelFeed for the best experience.